©
http://ottersandsciencenews.blogspot.ca/
.
Unauthorized duplication of this blog's material is
prohibited.
Excerpts and links may be used, provided that full credit and link is given to Otters and Science News Blogspot.
Link to this post:
https://ottersandsciencenews.blogspot.ca/2018/04/between-fbi-raid-on-trumps-attorney-and.html
- Thank you for visiting my blog.
~~~~~~~~~~~~~~~~~~~~~~~~~~~~~~~~~~~~~~
The American public is so polarized that yesterday's irony was lost on them.

On April 10 Facebook's CEO Mark Zuckerberg testified in Congress after it was revealed that tens of millions of subscribers had their personal information harvested and sold by Facebook, not only for targeted ads but for nefarious political ends.

Just hours earlier it was revealed that the FBI - at the instigation of Bob Mueller - had raided the office and home of the President of the United States' private lawyer.

The general public was directly victimized by Facebook, a deceitful social medium.

The US president and the office of the president itself were victimized by an outrageous act that is part of an ongoing campaign to topple him from office. This campaign is headed by Democrats and Never-Trumpers, and abetted by Swamp Republicans.

Following is the opinion of one of the best lawyers in the country, Alan Dershowitz.

He says that with this FBI raid, the long-held right to confidentiality between lawyer and client has been irretrievably damaged. Anyone could be next.

By the way, the FBI was not looking for signs or treason or major crimes against the nation. They were looking for salacious information regarding Trump's extramarital affairs and his efforts to cover them up. That's their official story, anyway. Unofficially, they will be looking for ANYTHING whatsoever that can be used to throw Trump out of office.

You can say that along with the loss of lawyer-client privilege, democracy itself and the right of citizens to elect the president of their choice have also suffered a blow. It is the swamp and Deepstate using all kinds of dirty tricks that continue to be in charge. Your vote is a mere symbolic gesture meaning nothing.
VIDEO

- SEAN HANNITY INTERVIEWS LAWYER ALAN DERSHOWITZ

ON FBI RAID ON MICHAEL COHEN'S OFFICE
Why the FBI raid on Trump's lawyer

hurts all of us
By Alan Dershowitz
Many TV pundits are telling viewers not to worry about the government's intrusion into possible lawyer-client privileged communications between President Trump and his lawyer, Michael Cohen.
The pundits say that since prosecutors won't get to see or use any privileged material taken when FBI agents raided and searched Cohen's law office, home and hotel room Monday the intrusion will not be a problem. This is because prosecutors and FBI agents create firewalls and taint teams to preclude privileged information from being used against the client in a criminal case.
But this analysis completely misses the point and ignores the distinction between the Fifth Amendment to the Constitution on the one hand, and the Fourth and Sixth Amendments on the other.
The Fifth Amendment

is an exclusionary rule. By its terms, it prevents material obtained in violation of the privilege of self-incrimination from being used to incriminate a defendant – that is, to convict him or her of a crime.
But the Fourth and Sixth Amendments

provide far broader protections: they prohibit government officials from in any way intruding on the privacy of lawyer-client confidential rights of citizens.
In other words, if the government improperly seizes private or privileged material, the violation has already occurred, even if the government never uses the material from the person from whom it was seized.
Continue reading
Not surprisingly, therefore,

firewalls and taint teams

were developed in the context of the Fifth Amendment, not the Fourth or Sixth Amendments.
Remember who comprises the firewall and taint teams: other FBI agents, prosecutors and government officials, who have no right under the Fourth and Sixth Amendments even to see private or confidential materials, regardless of whether it is ever used against a defendant.
The very fact that this material is seen or read by a government official constitutes a core violation

.
It would be the same if the government surreptitiously recorded a confession of a penitent to a priest, or a description of symptoms by a patient to a doctor, or a discussion between a husband and wife of their sex life.
The government simply has no right to this material, whether it ever uses it against the penitent, the patient, or the spouse in a criminal case.
So let's not dismiss the potential violation of the rights of Michael Cohen and President Trump, if it turns out that included among the materials seized by the government in the raid were private or confidential information or documents.
The recourses for intrusions on the Fourth and Sixth Amendments are multifold: the victim of an intrusion can sue for damages; he or she can exclude the material from use by the government in criminal or civil cases; or the victim can demand the material back.
But none of these remedies undo the harm to privacy and confidentiality done to the citizen by the government's intrusion into his private and confidential affairs.
An equally important harm is to important relationships that are protected by the law: between lawyer and client, priest and penitent, doctor and patient, husband and wife, etc.
If the ordinary citizen sees that even the president's confidential communications with his lawyer can be seized and perused, he or she will be far less willing to engage in such communications.
As a society we value such communications; that is why our laws protect them and that is why it should be extremely difficult for the government to intrude upon them, except as a last recourse in extremely important cases.
From what we know, this case does not meet those stringent standards. Much of the material sought from Cohen by the warrant could probably be obtained through other sources, such as bank, tax and other records that are subject to subpoena.
Moreover, the alleged crimes at issue – highly technical violations of banking and election laws – would not seem to warrant the extreme measure of a highly publicized search and seizure of records that may well include some that are subject to the lawyer-client privilege.
Someday soon, government is going to have to justify its decision to conduct this raid. I challenge any reader who is not concerned about the raid to honestly answer the following question: If the raid had been conducted on Hillary Clinton's lawyer's office and home, would you be as unconcerned? The truth now!
Source
http://www.foxnews.com/opinion/2018/04/11/alan-dershowitz-why-fbi-raid-on-trumps-lawyer-hurts-all-us.html
VIDEO

- Trump calls FBI raid of lawyer's office a 'disgrace'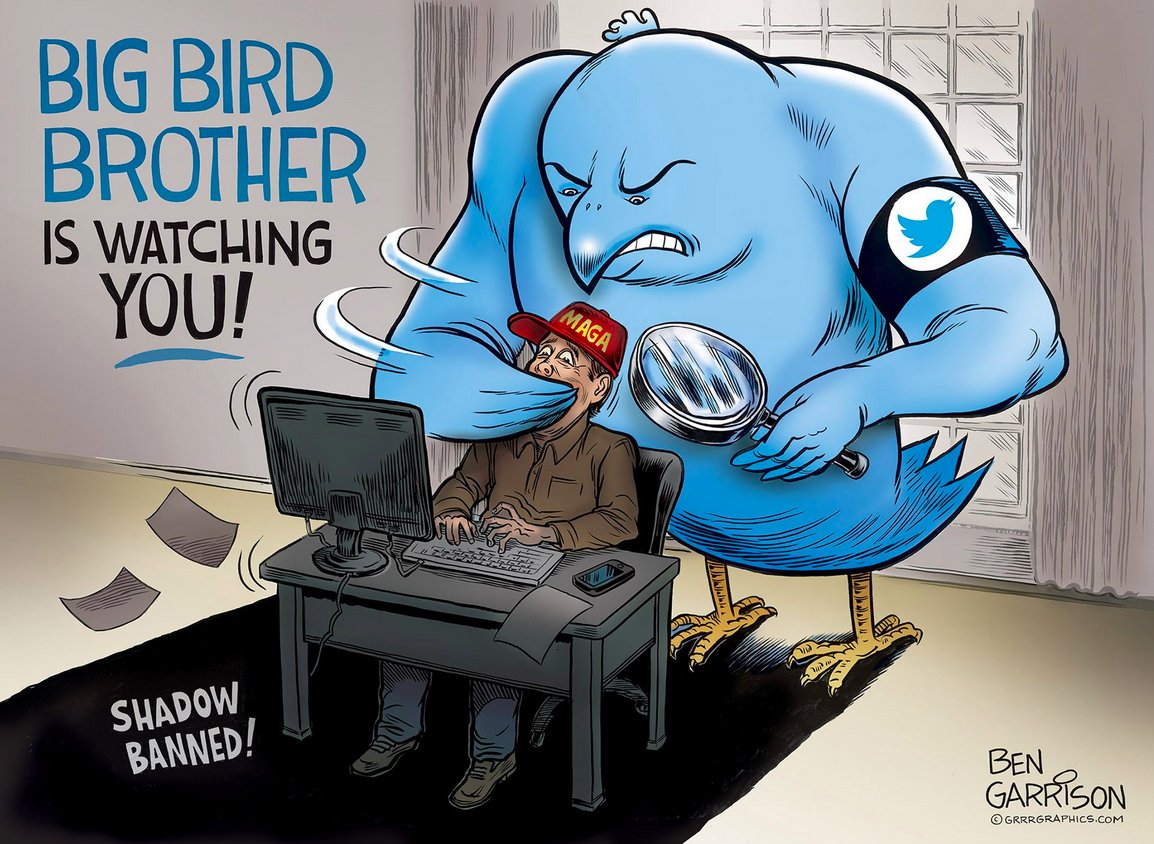 Twitter shadow-bans conservative accounts, meaning that it secretly reduces public access to them. A creative way of censoring ideas.