©
http://ottersandsciencenews.blogspot.ca/
.
Unauthorized duplication of this blog's material is
prohibited.
Excerpts and links may be used, provided that full credit and link is given to Otters and Science News Blogspot.
Link to this post:
http://ottersandsciencenews.blogspot.ca/2016/07/muslim-terrorist-massacres-at-least-80.html
- Thank you for visiting my blog.
~~~~~~~~~~~~~~~~~~~~~~~~~~~~~~~~~~~~~~
Bodies remained strewn across the road for hours.

Terrorist drove truck for over a MILE through crowd watching holiday fireworks.

Authorities will again reassure citizens that Islam is a religion of peace.

And when Muslim Palestinians massacre Israelis, those same European authorities call them "acts of resistance," and continue to send them millions of euros.

Just a couple of days ago France intelligence chief warned that the wave of Muslim rape of European women and children could unleash a civil war in Europe. (See article further on this page.)

Rape is bad enough, but as these Muslim massacres continue in Europe, will some of the native population take the law into their own hands?
Europe is finished.

Its leaders seem unwilling to face reality: that Islam is inherently a violent, imperialist, and supremacist ideology with 14 centuries of bloody conquest and oppression of subjugated cultures.
Europe will continue to coddle their Muslims, will continue to persecute critics of Islam, and will continue to admit and financially support millions of additional Muslim migrants.
Europe already has over 53 MILLION of them, including those in predominantly Muslim countries in the Balkans, descendants of those who were forced to convert during Muslim conquests.
And politicians and the media will continue to repeat the mantra that Islam is a religion of peace

... until European culture has been extinguished.
The continent will eventually become a Muslim dominated territory where the only option for non-Muslims will be to either emigrate, submit, or be killed. The word Islam itself means submission.
Muslim Palestinians often plow their vehicles
over Israelis waiting for transportation.
No international outrage. Europe calls it
"resistance".
When Muslim Palestinians plow their vehicles over innocent Israeli men, women and children,

European governments call it "resistance," and continue to shower the Palestinian Authority with billions of euros, as reward and encouragement for more "resistance".
The ongoing wave of Muslim crime, violence and terror in Europe is there to stay and get worse.
But before it arrived in Europe, it had been hitting Israel for decades. Thousands of Israelis have been murdered or maimed in Muslim "acts of resistance".
But genocidal Europe, guilty of the murder of 6 million Jews, and centuries of violent persecution of the Jewish people, has spent decades supporting and financing Palestinian terror, and pushing for Israel's partition for the creation of another Muslim terror state.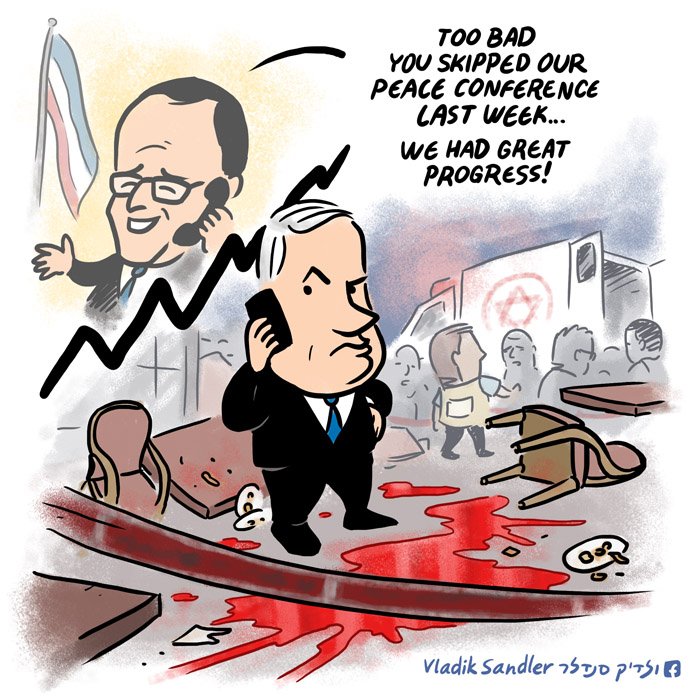 President Hollande calls the Israeli PM
just as Palestinians inflicted a massacre
at
a Tel Aviv café.
Just weeks ago president Hollande organized an international conference without Israel's presence, to impose another partition of the country. If Israel refused, threatened Hollande, the state of Palestine would be created anyway.
As many other "peace plans" before, this one fizzled out due to Palestinian non-cooperation. All this while Palestinians continued to massacre Jews.
But French intentions count. Arrogant Hollande - who can't even keep his own Muslims from terrorizing and murdering French citizens - had the gall to presume he could push the Jews into a ghetto in their own country in order to impose a French-style final solution for the Muslim-Israeli conflict.
And his gall does not end there. The French government WARNED Israel not to take measures in response to Muslim terror. And we're not talking about violent repression or retribution. It was a reasonable precautionary measure of a temporary ban of Palestinian Authority Arabs from entering Israel in the aftermath of a massacre of Israelis.
The French foreign minister went on to call for increased Israeli "appeasement" of Palestinian Authority Arabs in order to achieve the partition of Israel.
Will the French government now take its own advice and go gentle on its murderous Islamic terrorists?
French FM warns Israel that response to terror could raise tensions
French Foreign Minister Jean-Marc Ayrault warned that Israel's decision to bar Palestinians from Judea and Samaria from entering Israeli cities across the Green Line following the Tel Aviv attack could raise tensions and lead to more violence.
"The decision by the Israeli authorities today to revoke tens of thousands of entry permits could stoke tensions which could lead to a risk of escalation," said Ayrault.
"We must be careful about anything that could stoke tensions," Ayrault told reporters at UN headquarters.
"There must be a political initiative from the international community to create conditions conducive to

appeasement

and a return to negotiations," said the foreign minister, according to AFP.
Continue reading this

and related articles on why Islam is not a religion of peace, and on French authorities fearing civil war
Aftermath of a Muslim Palestinian
terror attack on Israelis
at a Tel Aviv restaurant
His comments came in response to
Israel's actions following the attack
in Tel Aviv on Wednesday, which included freezing work entry visas for some 204 members of the attackers' extended family.
Israel also rescinded some 83,000 entry permits given to Arabs from Judea and Samaria for Ramadan. Goodwill gestures to Gaza Arabs, including travel permits to Jerusalem to participate in Ramadan prayers on the Temple Mount, were also rescinded.
Israel
also imposed
a general closure on Palestinian Authority-assigned of Judea and Samaria during the Shavuot holiday.
Ayrault was at the United Nations to take part in a Security Council debate on the protection of civilians in peacekeeping, a week after France hosted an international meeting in Paris on reviving the peace process.
The Paris meeting brought together representatives from 29 countries and international organizations to agree on the way to re-start talks that have been comatose since a US peace initiative collapsed in April 2014.
Ayrault's comments are similar to those of the State Department, whose spokesman Mark Toner on Thursday
called on Israel
not to "punish innocent Palestinians" in response to the attack.
Meanwhile on Friday, United Nations rights chief Zeid Ra'ad Al Hussein's office
issued a mild condemnation
of the attack itself, but then went on to say that he was "deeply concerned" by Israel's response.
The Jewish state's reaction "includes measures that may amount to prohibited collective punishment and will only increase the sense of injustice and frustration felt by Palestinians in this very tense time," the statement said.
http://www.israelnationalnews.com/News/News.aspx/213543
Sources for news on the terror attack in Nice
http://www.barenakedislam.com/2016/07/14/breaking-france-apparent-bastile-day-terrorist-attack-in-nice-at-least-30-dead-100-wounded/
http://www.dailymail.co.uk/news/article-3691019/Several-people-injured-truck-crashes-crowd-Bastille-Day-celebrations-Nice.html
This is from a couple of days ago:
France Intelligence Chief: Migrant Sexual Assault Epidemic Could Spark Civil War
FRANCE is on the verge of civil war that could be sparked by the mass sexual assault of women by migrants, according to the country's head of intelligence.
Patrick Calvar, chief of the Directorate General of Internal Security, told members of the French parliamentary commission: "We are on the brink of civil war."
He said that the situation in France is on such a knife edge that it could just take one more major Islamist terror attack to lead to a huge right-wing backlash.
Speaking to the leading French newspaper, Le Figaro, Mr Calvar said: "This confrontation I think it will take place.
"Even another one or two attacks and it will happen. It therefore behooves us to anticipate and block all these groups."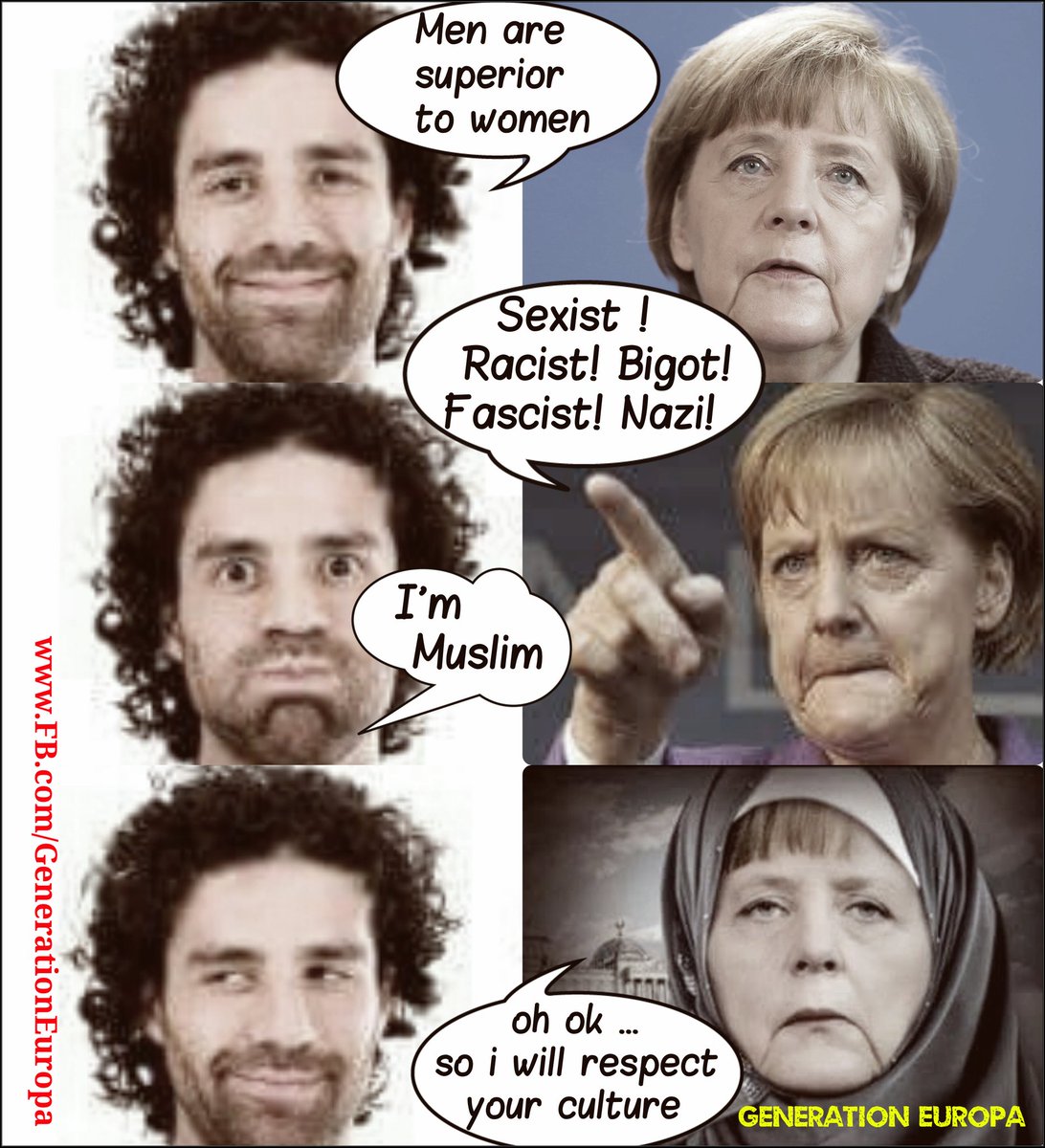 RAMADAN 2016 TOLL: At least 800 killed in carnage around the world
- This Muslim on Muslim, and Muslim on Infidel violence has been going on for FOURTEEN CENTURIES
- But the US and EU still blame ISRAEL for lack of peace and for Muslim frustration
- Islam is guilty of the genocide of at least 270 MILLION non-Muslims since its inception.
READ MORE
http://ottersandsciencenews.blogspot.ca/2016/07/ramadan-2016-toll-at-least-800-killed.html
Professor Bill Warner writes on Political Islam:
By Professor Bill Warner
These figures are a rough estimate of the death of non-Muslims by the political act of jihad.
Africa


Thomas Sowell [Thomas Sowell, Race and Culture, BasicBooks, 1994, p. 188] estimates that 11 million slaves were shipped across the Atlantic and 14 million were sent to the Islamic nations of North Africa and the Middle East. For every slave captured many others died.
Estimates of this collateral damage vary. The renowned missionary David Livingstone estimated that for every slave who reached a plantation, five others were killed in the initial raid or died of illness and privation on the forced march.[Woman's Presbyterian Board of Missions, David Livingstone, p. 62, 1888]
Those who were left behind were the very young, the weak, the sick and the old. These soon died since the main providers had been killed or enslaved. So, for 25 million slaves delivered to the market, we have an estimated death of about 120 million people. Islam ran the wholesale slave trade in Africa.

120 million Africans
Christians


The number of Christians martyred by Islam is 9 million [David B. Barrett, Todd M. Johnson, World Christian Trends AD 30-AD 2200, William Carey Library, 2001, p. 230, table 4-10] . A rough estimate by Raphael Moore in History of Asia Minor is that another 50 million died in wars by jihad. So counting the million African Christians killed in the 20th century we have:
60 million Christians
Hindus


Koenard Elst in Negationism in India gives an estimate of 80 million Hindus killed in the total jihad against India. [Koenard Elst, Negationism in India, Voice of India, New Delhi, 2002, pg. 34.] The country of India today is only half the size of ancient India, due to jihad. The mountains near India are called the Hindu Kush, meaning the "funeral pyre of the Hindus."
80 million Hindus
Buddhists


Buddhists do not keep up with the history of war. Keep in mind that in jihad only Christians and Jews were allowed to survive as dhimmis (servants to Islam) everyone else had to convert or die. Jihad killed the Buddhists in Turkey, Afghanistan, along the Silk Route, and in India. The total is roughly 10 million. [David B. Barrett, Todd M. Johnson, World Christian Trends AD 30-AD 2200, William Carey Library, 2001, p. 230, table 4-1.] 10 million Buddhists
Jews


Oddly enough there were not enough Jews killed in jihad to significantly affect the totals of the Great Annihilation. (The Jewish population was small to start with.) The jihad in Arabia was 100 percent effective, but the numbers were in the thousands, not millions. After that, the Jews submitted and became the dhimmis (servants and second class citizens) of Islam and did not have geographic political power.
This gives a rough estimate of 270 million killed by jihad.
Source Professor Bill Warner
https://www.politicalislam.com/tears-of-jihad/
~~~~~~~~~~~~~~~~~~~~~~~
FIRST THEY CAME FOR THE JEWS....
New York-based bestselling American novelist Jack Engelhard writes a regular column for Arutz Sheva. New fiction from the novelist: "News Anchor Sweetheart." Engelhard is the author of the international bestseller "Indecent Proposal." He is the recipient of the Ben Hecht Award for Literary Excellence. Website:
www.jackengelhard.com
Is President Hollande calling for a peace summit with terrorists who came to Nice to mow down hundreds of celebrants?
As I write this the terrorist who used a truck to kill dozens in Nice, France has not been identified. Chances are he, or she, is the usual Muslim extremist. Even if that is not the case, the result is the same. It is fanatical Islam that has got the entire civilized world in retreat and it all began in Israel.
President Hollande greets arch terrorist
Mahmoud Abbas, chief of the Palestinian Authority,
at an anti-terror rally in the aftermath of a
Muslim mass terror attack in Paris,
January 2015.
France does NOT regard the Arab murder
of Jews as terror
From one Palestinian Arab terrorist attack to another, going back decades, the "international community" kept telling the Israelis that they must not answer with force, but rather they must respond with appeasement.
Go forth, said the UN and the US State Department and all Liberals in between – go reason with those people who have so many complaints.
Yet every peace gesture was met with more demands and more terror and the world refused to figure it out, that it has nothing to do with land, only to commit bloodshed for the sake of bloodshed. There is no reasoning with people who have grievances against EVERYBODY. There is no reasoning with savages.
The civilized world sat back comfortably thinking that the problem was Israel's problem, so let the Jews worry.
But now the French are worried. The Germans are worried. The British are worried. The entire planet is worried upon one final realization:
That the problem was never about Israel, after all. Israel was merely a laboratory for Radical Islam.
Israel was where Radical Islam tested the world's resolve, and by proving itself weak-kneed, passive and irresolute – today it's Nice.
Before that it was nearly every other country on the map.
From the hands of Hamas or Fatah or Hezbollah or whatever they call themselves, they are Radical Muslims and over the years they murdered thousands of Israeli civilians by use of the gun, the knife, the suicide belt; any explosive would do, and now it's the automobile.
Before Nice, where was this tested? It was tested in Israel. Radical Palestinian Arabs found the car to be the latest means to convey murder.
At the moment French President Hollande is addressing the nation and the world. He says something must be done about the borders.
Something must be done to keep the savages (my term) from coming in. (Trump's message from the start.)
Yet it was this same French President who last week called for a summit that would bring Israel and the Palestinians Arabs to the "peace table."
Is he calling for a peace summit with whoever came to Nice to mow down hundreds of celebrants?
Hollande and the rest of the EU (and Britain) keep insisting on a two-state solution – for Israel and only Israel.
Will Hollande be willing to divide France after what just happened? Has he figured out how to reason with savages?
Has Merkel who keeps bringing in more migrants – by the millions?
Has Sweden's Margot Wallstrom got the answer?
Has she even got a clue?
Does Obama have a clue as he opens the door to 10,000 more migrants, probably some of whom will be radicalized, but nearly all of whom will surely bring in their anti-Semitism?
Have we forgotten everything from 9/11 to San Bernardino? Hillary sure has. She wants 10 times more.
After 9/11 here and the Passover Massacre in Netanya (30 murdered), I travelled to Israel and then wrote a book ("The Bathsheba Deadline") to warn that this is just a start. I warned that "The Koran has arrived and it has come to devour the Bible." The book finally got published, but at first 14 publishers turned it down for being too "alarmist."
"This is only about Israel," they told me. "It's got nothing to do with Europe or the rest of the world."
Nice is in France, last time I checked.
Source
http://www.israelnationalnews.com/Articles/Article.aspx/19192
More columns by Jack Engelhard on Israel National News
http://www.israelnationalnews.com/Articles/Author.aspx/18
His website
www.jackengelhard.com
Wednesday, June 8, 2016
THIS IS FRANCE - FLOODS, VIOLENT STRIKES, MUSLIM TERROR, NO-GO ZONES, GARBAGE PILING UP ON THE STREETS
- But the French government organized a conference to force ISRAEL to accept their terms for partition and the TWO STATES FINAL SOLUTION
- During World War II the French government and citizens were even more enthusiastic than the Nazis in deporting Jews to the death camps
READ MORE
http://ottersandsciencenews.blogspot.ca/2016/06/this-is-france-floods-violent-strikes.html
VIDEO:
WITH OPEN GATES