©
http://ottersandsciencenews.blogspot.ca/
.
Unauthorized duplication of this blog's material is
prohibited.
Excerpts and links may be used, provided that full credit and link is given to Otters and Science News Blogspot.
Link to this post:
http://ottersandsciencenews.blogspot.ca/2016/07/its-official-france-surrenders-to.html
- Thank you for visiting my blog.
~~~~~~~~~~~~~~~~~~~~~~~~~~~~~~~~~~~~~~
Fighting back would mean, GASP! actually doing something about Muslims killing French men, women and children - but that would be too politically incorrect for French politicians.
Worse than surrender, there is a whiff of

collaboration

, as France continues to welcome more Muslims, most of whom - at least in theory - support jihad because the Koran orders the killing of the Infidel.
French Prime Minister Manuel Valls waves the white flag.

In the aftermath of the latest massacre by Muslim terrorists in Nice, Manuel Valls made this statement:
"Times have changed, and France is going to have to live with terrorism, and we must face this together and show our collective sang-froid."
But the PM is not seen as meaning calmness, but immoral apathy in the face of evil, and a cowardly resignation to the repeated slaughter of French adults and children in the name of a foreign ideology.
It's good to have a
white flag handy
at all times
Perceiving this as a preliminary admission of retreat against terrorism, social media reacted with furious anger to the PM's assertion that France "will have to live with terrorism."
Users shamed the PM, saying that more people apparently need to be killed in terror attacks to wake up the French government.
Some examples of people who now longer believe in #hashtag diplomacy included @DamienLcc who wrote that "The government is "unable to protect French people," while @lazgougeon added that the nation doesn't have "to get used to the incompetence of our leaders!"
VIDEO

-

THE REASON WHY FRANCE KEEPS GETTING ATTACKED

-
By Paul Joseph Watson
More videos by Paul Joseph Watson
Continue reading
Manuel Valls: It's necessary to help Islam grow and solidify.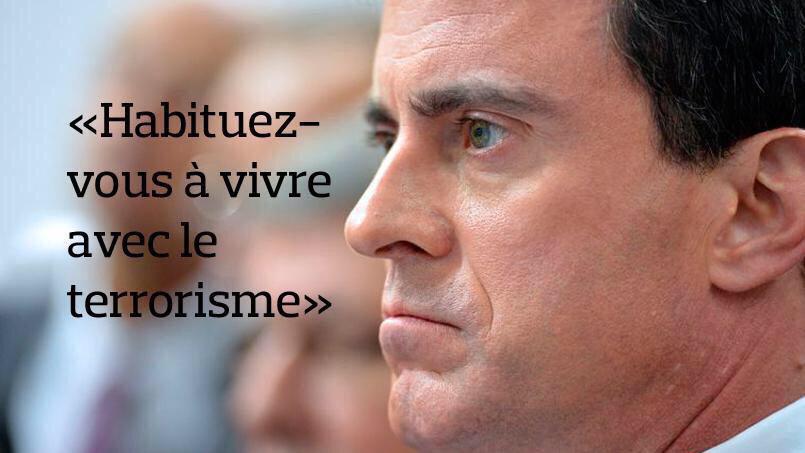 VALLS: GET USED TO IT
Learn to live with terrorism
Sources
http://www.barenakedislam.com/2016/07/16/social-media-outrage-over-french-prime-ministers-assertion-that-france-will-just-have-to-learn-to-live-with-terrorism/
http://www.zerohedge.com/news/2016-07-15/french-prime-minister-slammed-saying-france-will-have-live-terrorism
http://demeurelafrance.fr/forum/viewtopic.php?f=22&t=819&start=125
http://resistancerepublicaine.eu/
NEWT GINGRICH CALLS FOR DEPORTING MUSLIMS WHO SUPPORT SHARIA LAW -

WATCH VIDEO
- Also, according to polls, western born Muslim youth support not only sharia law but suicide bombings
- Muslims cannot integrate into a culture they despise
READ MORE AND WATCH VIDEO
http://ottersandsciencenews.blogspot.ca/2016/07/vetting-musllim-migrants-is-useless.html
~~~~~~~~~~~~~~~~~
FRENCH AUTHORITIES SUPPRESSED NEWS of gruesome torture

by Muslim terrorists at the BATACLAN, who gouged out victims' eyes, disemboweled them, and castrated them.
-

Muslim terrorists in MUMBAI did the same to Jewish victims in a 2008 attack on a synagogue.
- PALESTINIANS LYNCHED AND CANNIBALIZED the bodies of two Israelis in 2000
- French authorities' suppression of Bataclan torture news makes them appear COMPLICIT with Islam's terror
- It seems that the French government did not want to further damage the Religion of Peace's image in France by exposing the torture perpetrated during the Muslim attack at the Bataclan.
READ MORE
http://ottersandsciencenews.blogspot.ca/2016/07/french-authorities-suppressed-news-that.html
************************************