©
http://ottersandsciencenews.blogspot.ca/
.
Unauthorized duplication of this blog's material is
prohibited.  
Excerpts and links may be used, provided that full credit and link is given to Otters and Science News Blogspot. 
Link to this post:
http://ottersandsciencenews.blogspot.ca/2015/11/french-citizens-think-they-can-defeat.html
 - Thank you for visiting my blog.
~~~~~~~~~~~~~~~~~~~~~~~~~~~~~~~~~~~~~~
FRENCH CITIZENS FIGHT MUSLIM TERROR
BY PLAYING JOHN LENON'S "IMAGINE"

(a world with no borders), by swearing that they will continue with their laid back French way of life as if nothing had happened, by singing the national anthem, and by crying and laying flowers for the victims.
What if the world had reacted the same thing in face of Nazi terror?  Bombing a few ISIS sites in the Mideast will do nothing as long as the enemy is already INSIDE Europe.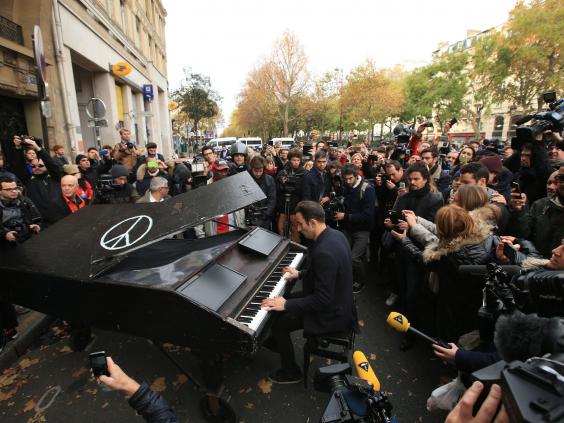 Pianist plays "Imagine" in a Parisian street,
as a response to the Muslim slaughter of French citizens. 
Something wrong with this picture?
National Front leader Marine Le Pen reacts.

  Sensing this suicidal state of mind among the French and Europe in general, the leader of the formerly far-right National Front has mellowed her message too.  
She now makes the false distinction between radical and moderate Islam, and extends a hand in friendship to Muslim countries notorious for their abuse of human rights. 
But as Turkey's president Erdogan has said,

there is no  such thing as moderate Islam,

there is only Islam.  You either believe in what the Koran says, or you don't, and if you don't, you are not a true Muslim.
On the following video she blames the Paris attacks not on "terrorism" - which she calls the murderer's weapon - but on the assassin, Islam's fundamentalism.  
 at the European Parliament on Islam and terror.
She says that up until now French politicians have avoided naming the enemy, and until they do, they will be unable to fight it.   
Perhaps you are embarrassed to name the enemy, she says, because of your close friendships and alliances with the enemy - such as Saudi Arabia and Qatar (well known sponsors of international terrorism) - or look closely at Turkey's ambiguity in dealing with ISIS.    These friendships and alliances, she adds, make France an ally of Islamist fundamentalism, rather than its enemy.
Next she proposes that France must change its alliances, making all those who fight Islamic fundamentalism its allies without any reservations.  But then she names these countries that according to her should be France's allies, including Muslim countries such as EGYPT, THE UNITED ARAB EMIRATES, and IRAN.
IRAN?  IRAN, Madame Le Pen?
Watch 2.16 minutes into the video and shake your head in astonishment. 
Iran is one of the most fundamentalist and bellicose countries in the world.  It has been behind many acts of mass terror in the West, and its leaders routinely vow to annihilate Israel, while mobs of hundreds of thousands call for Death to America, Death to Israel.  
To say nothing of Iran state's fundamentalism that perpetrates mass beheadings and denies basic human rights to women, minorities, and the population in general.  That oppressive country Marine Le Pen deems worthy of being an ally of France.  
And although she names Russia as a country fighting fundamentalist terror, she is careful not to mention ISRAEL, which has been bearing the brunt of it for decades with thousands of Israelis killed and maimed in the name of Allah.  
Next Marine Le Pen attacks France's "imbecile politics"

of mass Muslim immigration that have brought communitarianism/sectarianism into the country - a fertile ground for Islamic fundamentalism recruiting.  
She makes clear she does not accuse all migrants of being terrorists, but only those extremists who have infiltrated the immigrant community.  
She says Europe is now incapable of stopping or controlling the flood of migrants at this moments, and of checking their true identities, because the European Union has imposed austerity measures so severe on the continent that countries have been forced to cut down on police, border guards, and armed forces  - rendering them incapable of protecting national borders or dealing with terror. 
T
he passports that migrants bring with them are not fake, as it has been suggested. They are legitimate and issued by none other than ISIS in Syria.    
She says that France has had enough of the EU bureaucracy telling citizens what to do, and that France must regain its sovereignty.  Those actions by the EU she regards as "criminal". 
French president Hollande fights terror
by embracing arch-terrorist, Palestinian Authority chief Mahmoud Abbas, the financial mastermind of the Munich Olympics massacre of Israeli athletes, and inveterate inciter to terror against Jews.  
The encounter took place at an anti-terror march organized after the Muslim terrorist attack on French Jews and Charlie Hebdo cartoonists last January.  Most probably Marine Le Pen also thinks that killing Jews is not terror.
~~~~~~~~~~~~~~~~~~~~~~~~~
France's ambassador to US: Paris jihad terrorists first hit "Jews," then "ordinary citizens"
According to the French government's view, as long as terrorists hit Jews, that's no big deal and they may even deserve it 
It's only when Muslim terrorists hit non-Jewish French citizens that the act officially becomes "terror". 
Last week, French citizens residing in America received a letter from Gérard Araud, France's ambassador to the US, responding to the tragic event in Paris on November 13.
The letter expressed horror in the face of the coordinated ISIS attacks on innocent people, without mentioning the name of the terrorist organization, and an appeal for unity and solidarity during these trying times.
After expressing solidarity with the people of France and praising the United States and President Obama for "being on our side in the fight against extremism and terrorism," Araud wrote:
"These are the foundations of our model of society that the terrorists seek to destroy:

Yesterday journalists and Jews; now ordinary citizens

whose only crime was to enjoy life on a Friday night in Paris." 
The implication is that the journalists provoked the attack by drawing Muhammad, and the Jews provoked the attack just by being Jews.  Ordinary citizens, however, did not deserve it.
~~~~~~~~~~~~~~~~~~~~~~~~~
EUROPE FIGHTS MUSLIM TERROR by boycotting Jewish goods from Israel
EUROPE DECIDES TO LABEL AND BOYCOTT JEWISH GOODS

from Israeli Judea, Samaria, and Jerusalem on the anniversary of KRISTALLNACHT, the Nazi pogrom against German Jews of November 9, 1938.
~~~~~~~~~~~~~~~~~~~~~~~~~
In the following video

journalist Paul Joseph Watson agrees with Turkey's president Erdogan.  There is no such thing as moderate Islam.  And he tells you why.
Continue reading

and see references