©
http://ottersandsciencenews.blogspot.ca/
.
Unauthorized duplication of this blog's material is
prohibited.
Excerpts and links may be used, provided that full credit and link is given to Otters and Science News Blogspot.
Link to this post:
http://ottersandsciencenews.blogspot.ca/2015/11/indonesias-fires-called-crime-against.html
- Thank you for visiting my blog.
~~~~~~~~~~~~~~~~~~~~~~~~~~~~~~~~~~~~~~
While the US president and other leftist leaders blame the West for climate change (they don't call it global warming anymore), countries in Asia are perpetrating ecological crimes against humanity.
More than 1.7 million hectares (4.2 million acres) of land has been burned and six provinces severely affected by the haze, according to Indonesia's forestry ministry
Fires deliberately set by villagers to clear land are raging across Indonesia, creating thick smog that's believed to be the caused of 500,000 respiratory infections.

The government has been in readiness to evacuate victims from haze-affected provinces, while pollution caused by the fires has killed many and caused respiratory illnesses in half a million.
The conditions are so extreme that Sutopo Puro Nugroho, spokesperson for the Meteorology, Climatology and Geophysics Agency (BMKG) recently called the persistent haze

a "crime against humanity,"

adding that 43 million people have been inhaling toxic fumes from the smoke for months.
Innocent animals are being victimized
A few days ago I posted an article on Indonesia deliberately setting forests on fire to clear land, and then attacking defenseless orangutans who try to flee to safety.
It was the heartbreaking story of a starving mother orangutan with a baby reaching a village only to be stoned by villagers.
An endangered Borneo orangutan and its baby escaped from raging fires in Indonesia that destroyed their forest habitat - only to be attacked by angry villagers.
The malnourished mother and youngster, called Gito, were found distressed and clinging to one another
as locals hurled rocks at them and tried to tie them up before they were saved by International Animal Rescue (IAC).

Read more

here
Indonesia's forest fires threaten a third of endangered orangutans.
Fires have spread beyond plantations deep into primary forests and national parks, the last strongholds of the endangered apes.
But not much is being reported about Indonesia's ongoing practice of setting fire to the forests, with the resulting destruction of trees, animals' habitat and animals themselves, and the poisoning of the air with smoke that make people ill, not only in Indonesia but in many other parts of Southeast Asia.
There, a mix of industrial-scale and small-scale farmers are constantly setting fires to clear forested areas, and peaty wetlands, to plant palm oil or acacia tree plantations.
But the problem is these fires often burn out of control, torching neighbouring plots. And when these fires are set on Sumatra's peat land – on which it is impossible to grow palm trees – the earth itself catches fire, burning underground, defying efforts to extinguish it and sending up huge plumes of choking smoke that drift across the region.
Helping hand: A volunteer firefighter attempts to dowse the flames after many of the fires were deliberately started by farmers using the slash-and-burn method to clear land
This monumental problem reaches well beyond the country's borders: A professor at VU University Amsterdam estimates Indonesia's fires this year have already surpassed the total greenhouse gas emissions of Germany and the burning season, lengthened by an El Nino, is far from over. But why do the fires keep happening?
In one of Sumatra's villages, inhabitants lay claim to hundreds of acres around their plots, which they said were given to the community in 1978 by the federal government as part of the country's "transmigration" scheme to shift Javanese off Indonesia's populous isle of Java into rural areas in Sumatra.
The land was then, apparently, sold to a company by the local government in Riau – where three consecutive governors have been arrested by the country's Corruption Eradication Commission (KPK).
Where are the fires?
What is the damage?
What is causing the fires?
Who is responsible?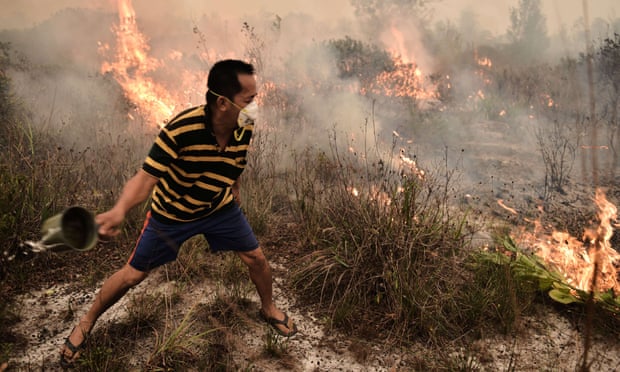 A villager tries to extinguish a peatland fire on the outskirts of Palangkaraya city, Central Kalimantan.
What needs to be done?
Indonesia's fires crimes against humanity
http://www.theguardian.com/world/2015/oct/26/indonesias-fires-crime-against-humanity-hundreds-of-thousands-suffer
http://www.theweathernetwork.com/news/articles/climate-disaster-indonesia-fires-a-crime-against-humanity/59052/
Indonesia - the flight from air pollution
http://www.dailymail.co.uk/news/article-3287801/Indonesia-shrouded-acrid-haze-forest-fire-prepared-evacuate-thousands-path-choking-pollution.html
Why Indonesia's fires burn out of control
http://www.theglobeandmail.com/news/world/why-indonesias-fires-rage-out-of-control/article26879435/
Indonesia's forest fires - What you need to know
http://www.theguardian.com/sustainable-business/2015/nov/11/indonesia-forest-fires-explained-haze-palm-oil-timber-burning
Forest fires choke much of Southeast Asia
http://www.theguardian.com/environment/2015/oct/05/forest-fires-in-indonesia-choke-much-of-south-east-asia
ORANGUTAN MOTHER AND BABY ESCAPE FOREST FIRE
ONLY TO BE STONED BY VILLAGERS IN MUSLIM INDONESIA
- That country sets fire to forests to clear land for palm oil exports
- In INDONESIA they also have the tradition of skinning and BLOWTORCHING DOGS ALIVE to be eaten as food
Read more
http://ottersandsciencenews.blogspot.ca/2015/11/orangutan-mother-and-baby-escape-forest.html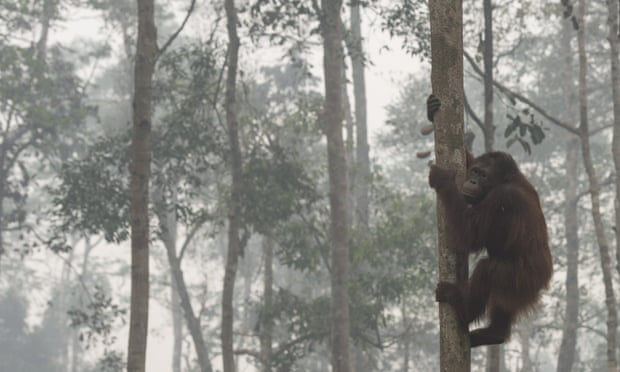 Indonesia's forest fires threaten a third of endangered orangutans
Fires have spread beyond plantations deep into primary forests and national parks, the last strongholds of the endangered apes
http://www.theguardian.com/environment/2015/oct/26/indonesias-forest-fires-threaten-a-third-of-worlds-wild-orangutans