©
http://ottersandsciencenews.blogspot.ca/
.
Unauthorized duplication of this blog's material is
prohibited.
Excerpts and links may be used, provided that full credit and link is given to Otters and Science News Blogspot.
Link to this post:
http://ottersandsciencenews.blogspot.ca/2015/11/us-government-secretly-buried-nuclear.html
- Thank you for visiting my blog.
~~~~~~~~~~~~~~~~~~~~~~~~~~~~~~~~~~~~~~
The question is how many of these secret radioactive waste dumps are there in or around our cities?
A government contractor buried tens of thousands of barrels of nuclear waste in two sites around St. Louis that may have caused more than 2,700 cases of cancer, a lawsuit and CBS News are alleging.
In 1947, the Manhattan Project, which created the first atom bomb, chose about 22 acres of land north of Lambert Airport in St. Louis as its dumping grounds for radioactive waste.
Hundreds of thousands of tons of it, all owned by the government, were carelessly stored outside, allowing the holding containers to rust and spill uranium and other contaminants out onto the ground.
By the time contamination became a concern in 1962, the now-defunct Atomic Energy Commission began shopping for potential buyers for the waste.
In the following years, waste spilled out and polluted neighboring property while in transit, before even more waste was illegally dumped in the West Lake Landfill.
The dump was ruled to have been contaminated with 150,000 tons of radioactive waste by the Nuclear Regulatory Commission in 1988, but the cleanup effort was never completed.
~~~~~~~~~~~~~~~~~~~~~~~~~~~~~~~~~
"Within a six-house radius, I knew four people with
brain cancer
, one a child, one a young professor," resident Jenelle Wright told CBS. "And I just thought, 'This is really odd.'"
What is truly disturbing is that Wright and others only figured out that something was wrong when they got together on Facebook to plan a school reunion. When they started reconnecting, they noticed that a lot of people they knew had developed cancer.
"If we did not have social media, if Facebook did not exist, we would never have put these pieces together," Wright said.
Continue reading,

including recent news report of a fire approaching a radioactive landfill outside St. Louis.
Nuclear Waste on Playgrounds
Wright and other residents of North County near St. Louis think the cause of cancer was the tens of thousands of barrels of nuclear waste dumped in the area decades ago by the Mallinckrodt Chemical Company.
The company had been hired by the US government agency to process uranium for America's nuclear weapons program. Then, "under the cover of national security secrecy, the government authorized the company to dump radioactive wastes quietly in the suburbs," according to a 1990 New York Times article.
The waste was buried in two areas near Coldwater Creek, which runs through the area.
One of the sites where the waste was dumped was located near a park where Wright and her friends played as kids. The park is now locked tight and engineers are trying to clean up the mess.
"What you see is an environmental health disaster unfolding slowly over decades," St. Louis County Health Director Dr. Faisal Khan told CBS News. "…
The rates of appendix cancer, for instance, which is relatively rare — we see about 800 cases across the nation per year. To find seven or eight cases in one zip code or one small geographic area is rather unusual."
The study on the soil could take years. That frustrates Mary Oscko, a resident who has stage 4 lunch cancer.
Another goal of the community is to gain "downwinder status" from the government, a recognition of special endangerment from nuclear pollution, which could ease what they see as a compounding problem of determining health risks.
It is currently quite a challenge for those under 40 to get tested or prescreened for cancer. They're simply deemed too young most of the time.
Karen Nickel first lived downwind of the contaminated area in 1973 and now suffers from lupus, an autoimmune disorder. She told Al Jazeera, "I lived my life outside and now I feel like my childhood was a lie," and "All that time I spent outside, I was being poisoned."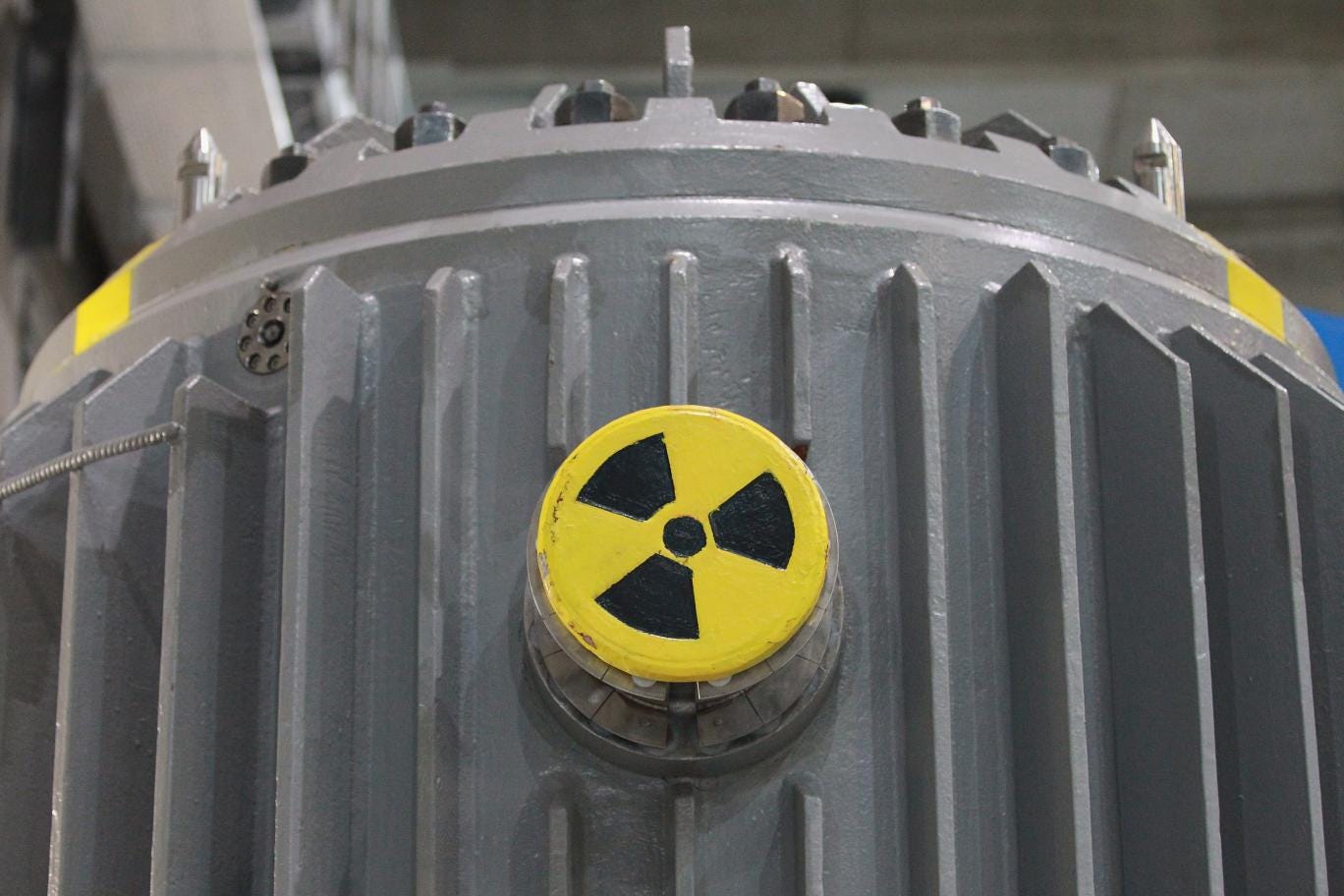 Nickel's sister was only 11 years old when doctors found cysts covering her ovaries. Nickel also remembers that a girl next door was diagnosed in the same way at an even younger age, adding that at least 15 more people from that time have lost their lives to cancer. Furthermore, she knows three others from that neighborhood who also have lupus.
This past June, the Army Corps of Engineers found radioactive soil in a public park adjacent to Coldwater Creek – enough to close down part of it.
"What we're dealing with is generally a low level contamination, but it does pose a long-term threat, and that's what we stay focused on. So, right now if you walked over a spot that has contamination, chances are it's 6 inches to several feet beneath clean soil," a spokesman told RT.
It will be years before the 15-mile Coldwater Creek is fully tested for radioactive materials.
The Missouri Department of Health & Senior Services is waiting for a federal response to a letter it sent to the Agency for Toxic Substances and Disease Registry. The letter cites significantly higher leukemia numbers near the creek, and requests further study assistance. Meanwhile, the St. Louis County Department of Public Health, led by Dr. Khan, is going ahead with its own health study.
Sources
http://www.offthegridnews.com/current-events/us-government-secretly-buried-nuclear-waste-near-playground-and-thousands-now-have-cancer/
http://www.cbsnews.com/news/cdc-investigating-possible-cancer-cluster-near-st-louis/
https://www.rt.com/usa/319322-cancer-cluster-missouri-nuclear-waste/
http://www.stlmag.com/news/think-again/The-Poisoned-Children-of-Coldwater-Creek/
http://www.coldwatercreekfacts.com/
~~~~~~~~~~~~~~~~~~~~~~~
Nuclear Waste Site Outside St. Louis
Imagine you are a parent, and that out of the blue, you get a letter from your child's school telling you not to worry — that they're ready to evacuate or shelter in place if an underground fire at a nearby landfill reaches radioactive waste on the same property.
That's pretty much what happened recently in suburban St. Louis.
Flares at the Bridgeton Landfill outside St. Louis burn off noxious fumes, including those generated by an underground fire that's been burning since 2010. The "fire" is really a high-temperature chemical reaction that consumes the waste below the landfill's surface.
Deep underground, the Bridgeton Landfill has been smoldering for a full five years. And for five years, the people of the St. Louis County neighborhoods surrounding the site have endured noxious smells released by the combusting waste.
Now, concerns about the fire—specifically, about its proximity to radioactive waste illegally buried more than 40 years ago at the adjacent West Lake Landfill—are growing. The recent
release of a county emergency plan
that lays out a course of action to be taken in "a catastrophic event" has many locals on edge.
Landfill fires are pretty common, but this one is different. It's only about a thousand feet away from nearly 9,000 tons of nuclear waste — and there's no barrier in between.
Hundreds of people packed a recent community meeting about the landfills, located in Bridgeton, Mo.
"I feel like so many people in St. Louis are not even aware this is going on," said one attendee, Cole Kelley.
Many of the people at the meeting didn't know of the landfills' existence, even though the fire started five years ago, and the radioactive waste was dumped back in the early 1970s.
Residents like Carmen Burrus and Shannon Walker came to the meeting with many questions: How can people get their children home safe from school? Why isn't there discussion about mass evacuations?
But when it comes to these landfills, it seems like whomever you ask has a different answer — including the authorities in charge.
Contractors conduct a survey at the West Lake Landfill, an EPA Superfund site in Bridgeton, Missouri, in October 2013. (U.S. EPA Region 7)
The U.S. Environmental Protection Agency, which oversees the radioactive material in what's known as the West Lake Landfill, insists it does not pose a risk to the public.
Specifically, Acting EPA Regional Administrator Mark Hague says there is "no imminent threat" of the underground fire in what's known as the Bridgeton Landfill reaching the radioactive waste at the adjacent West Lake Landfill.
But Missouri Attorney General Chris Koster says the EPA isn't doing its job.
"They have tried to avoid dealing with this in a deliberate way," Koster says.
The state's consultants say the underground fire at Bridgeton is spreading and — in a worst-case scenario — could reach the radioactive waste at West Lake in just a few months.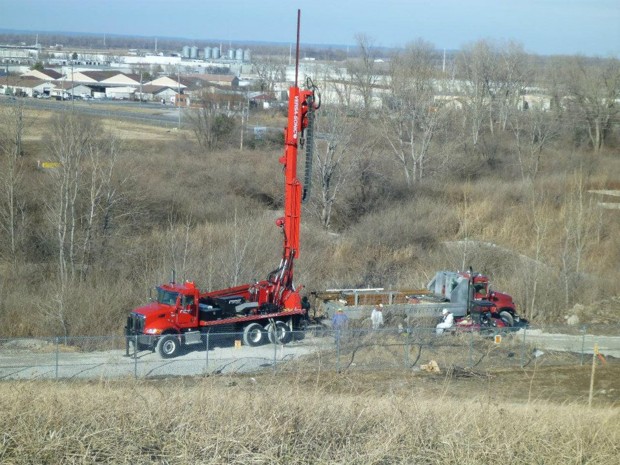 Drilling and core sampling take place at the West Lake Landfill in January 2014, to determine an isolation barrier between the site and the adjacent Bridgeton Landfill. (U.S. EPA photo)
Russ Knocke works for the landfills' owner, Republic Services, the same company that Koster, the attorney general, has sued. Knocke says the reaction is actually moving away from the radioactive waste, not closer.
"Bridgeton Landfill is in a managed state," Knocke says. "It is safe. It is intensely monitored."
But what if the fire did reach the radioactive waste — what then? According to the EPA's Hague, there's nothing to worry about.
"There might be some increased releases of radon into the atmosphere that would dissipate out," he says.
But a
report released last year by EPA scientists
said if the waste got hot enough, it could release both radon and radioactive dust into the air — and since no one knows exactly what's mixed in with the radioactive material, those other substances could be prone to explosion.
Resident Dawn Chapman has been tracking this fight for more than two years. She wants the radioactive waste gone and compares the fire to a freight train whose brakes have gone out.
"At this point, you either have to stop that train or you have to clear the tracks," she says. "And for us, clearing the tracks is getting that radioactive waste out of the way and removing the people that live right around it."
So far, there's no buyout offer for residents near the landfill — and no feasible way to put out the underground fire. The EPA says it will announce plans to build a firebreak before the end of the year and decide whether to dig up the radioactive waste sometime in 2017.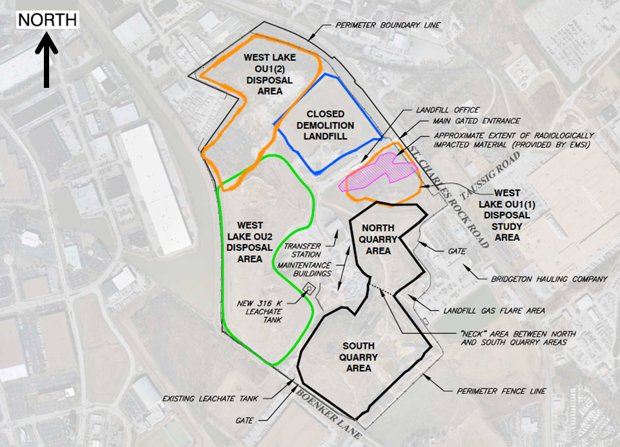 An aerial schematic of the West Lake Landfill; dangerous waste was dumped here during the Manhattan Project. (EPA)
Source
http://www.npr.org/2015/11/03/454010066/landfill-fire-threatens-nuclear-waste-site-outside-st-Louis
http://www.citylab.com/politics/2015/10/in-st-louis-fears-rise-as-a-landfill-fire-nears-a-radioactive-waste-site/409846/
******************************************************************