©
http://ottersandsciencenews.blogspot.ca/
.
Unauthorized duplication of this blog's material is
prohibited.
Excerpts and links may be used, provided that full credit and link is given to Otters and Science News Blogspot.
Link to this post:
http://ottersandsciencenews.blogspot.ca/2015/11/palestinian-poet-ashraf-fayadh.html
- Thank you for visiting my blog.
Ashraf Fayadh has been convicted of apostasy over poems he published
A complaint was made against the poet to Saudi Arabia's religious police
Prosecutors managed to secure the death penalty following a second trial
Fayadh is a Palestinian poet living in Saudi Arabia
Now Saudi authorities are hunting a
Twitter
user who criticised the harsh sentence
By June Saudi authorities had decapitated over 100 people this year alone.
Saudi Arabia is considered a MODERATE Islamic state, and has been regarded as a CLOSE ALLY OF US presidents Bush and Obama.
UPDATE

-
How Saudi Arabia's influence unleashed the terror attack in Paris - What a deal between a Belgian king and the Saudi royals brought into Europe.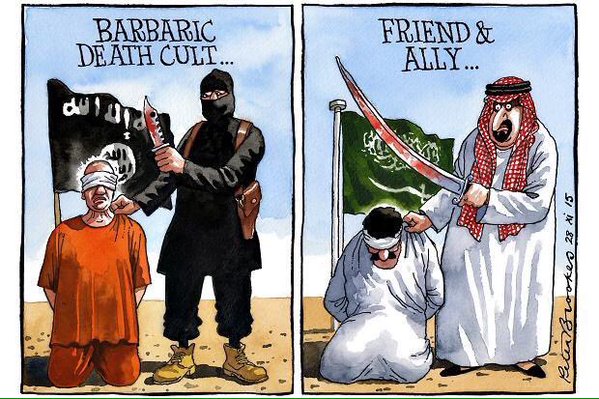 Saudi blogger RAIF BADAWI,
condemned
for criticizing Islam
Apostasy: "Whoever changes his (Islamic) religion, kill him"
Fifty out of 140 countries didn't meet the minimum standards for transparency-- but their aid won't be cut off.
Read more
http://www.usnews.com/news/articles/2015/02/06/state-department-quietly-releases-fiscal-transparency-report
Similarly, the Boston bombers, Tamerlan and Dzokhar Tsarnaev, hailed from Russia's southern predominantly Muslim province of Chechnya.
Source - Vancouver Sun
http://www.vancouversun.com/life/Jonathan+Manthorpe+Saudi+Arabia+funding+fuels+jihadist+terror/8445197/story.html
Read more
http://ottersandsciencenews.blogspot.ca/2015/04/new-book-hillary-and-bill-clintons.html