©
http://ottersandsciencenews.blogspot.ca/
.
Unauthorized duplication of this blog's material is
prohibited.
Excerpts and links may be used, provided that full credit and link is given to Otters and Science News Blogspot.
Link to this post:
http://ottersandsciencenews.blogspot.ca/2015/11/germans-in-open-revolt-as-they-accuse.html
- Thank you for visiting my blog.
~~~~~~~~~~~~~~~~~~~~~~~~~~~~~~~~~~~~~~
Flashpoint in Berlin as anti-immigration protesters clash with police and call for 'traitor to the people' Angela Merkel's resignation
Pro-Muslim migration activists tried to attack anti-immigration demonstrators in Berlin
Furious Germans condemned Merkel, under banner "Red Card for Merkel"
The Chancellor's open door migration policy has produced an ever increasing opposition among the public and Merkel's own party.
Some 40 people were arrested as police used pepper spray with aggressive pro-migration activists.
Anti-migration protesters wave banners reading
'The queen of the tractor: As Merkel brings millions into the country' and 'Foreign in their own country: As we lose our home'
The anti-mass migration

Alternativ für Deutschland (AfD)

party held a rally in Berlin to demand a stop to unlimited migration policies Angela Merkel is pushing through in spite of opposition from the people and from her own party.
Continue reading

and see more images of the demonstration
The message is clear: Merkel must go
The AfD has seen its popularity surge as Germany struggles to deal with the huge influx of migrants, and is currently campaigning in local elections in the Saxony-Anhalt region that will be seen as an indicator of public sentiment on the issue.
A RED CARD for Merkel, symbol of the German people's opposition
to seeing their country being inundated by Muslims.
Angry demonstrators chanted "Merkel must go" and "traitor to the people" under the banner "Asylum has its limits – red card for Merkel".
Beatrix Von Storch, member of the European Parliament,
gives Merkel the Red Card
Adressing the crowd, Beatrix von Storch, member of the European Parliament, accused the German chancellor of causing "asylum chaos" in Germany.
Indignation and fear over the non-stop Muslim invasion of Europe has brought otherwise peaceful folks into the streets
.
German paper
Handelsblatt
estimates
that 5,000 people joined the rally this afternoon, calling for the immediate closure of Germany's borders and introduction of Visa requirements from migrants from the Balkan states, including Serbia, Bosnia-Herzegovina and Montenegro.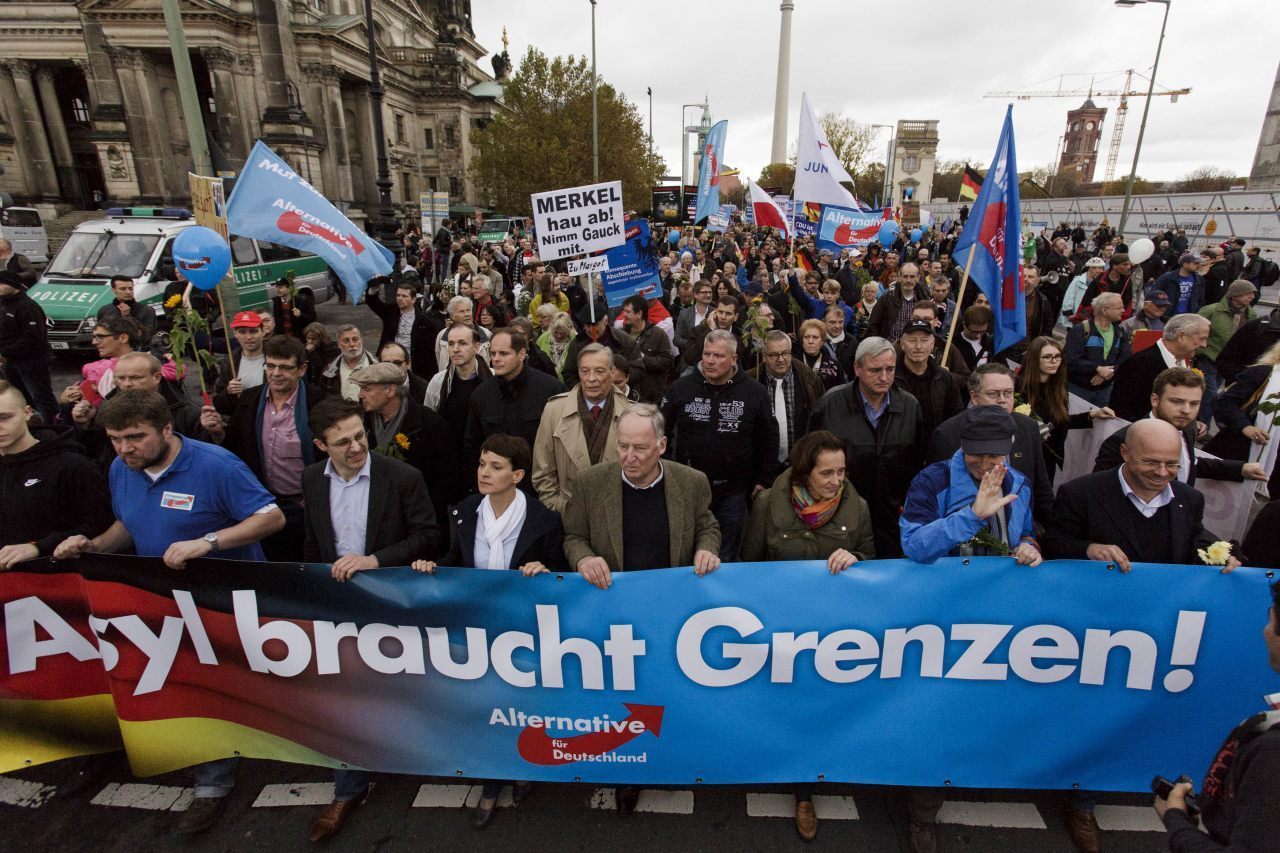 AfD protestors near the German parliament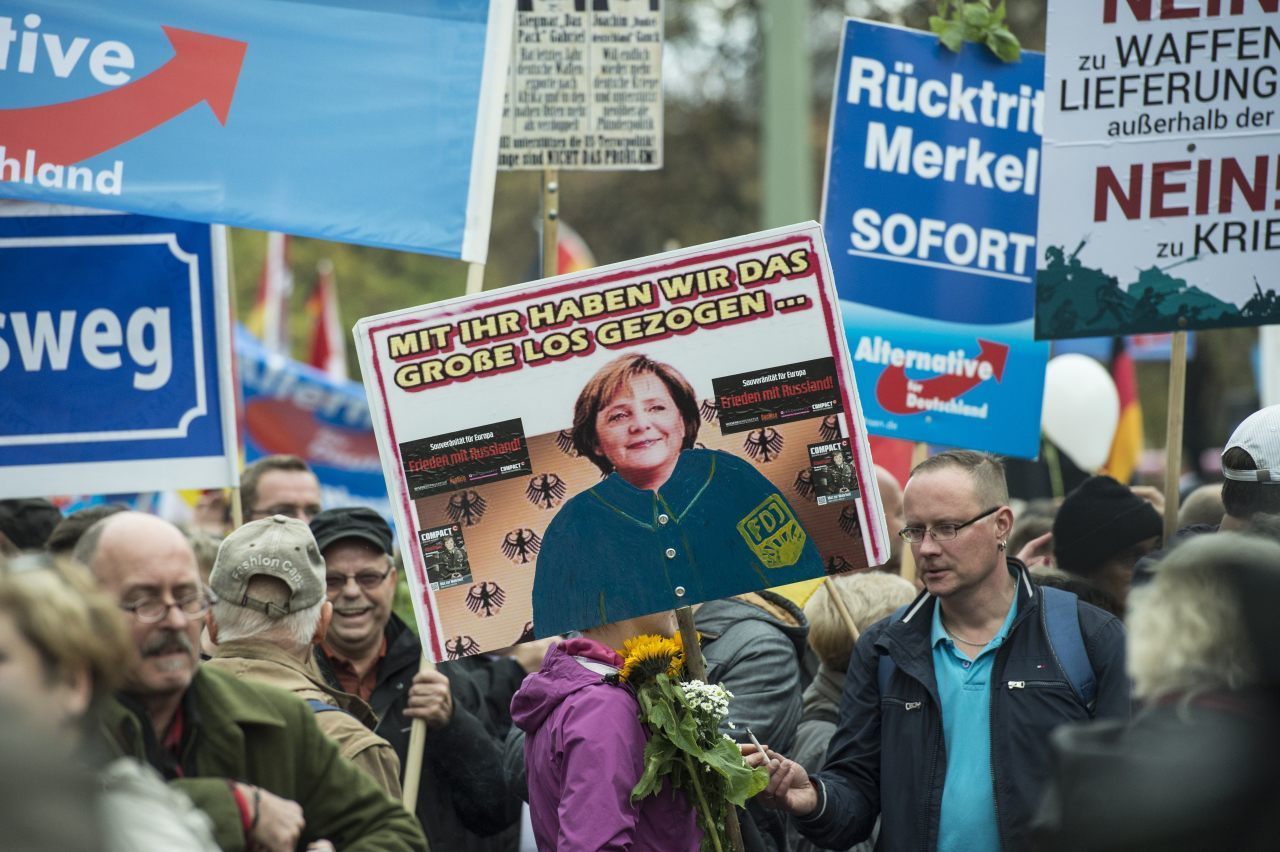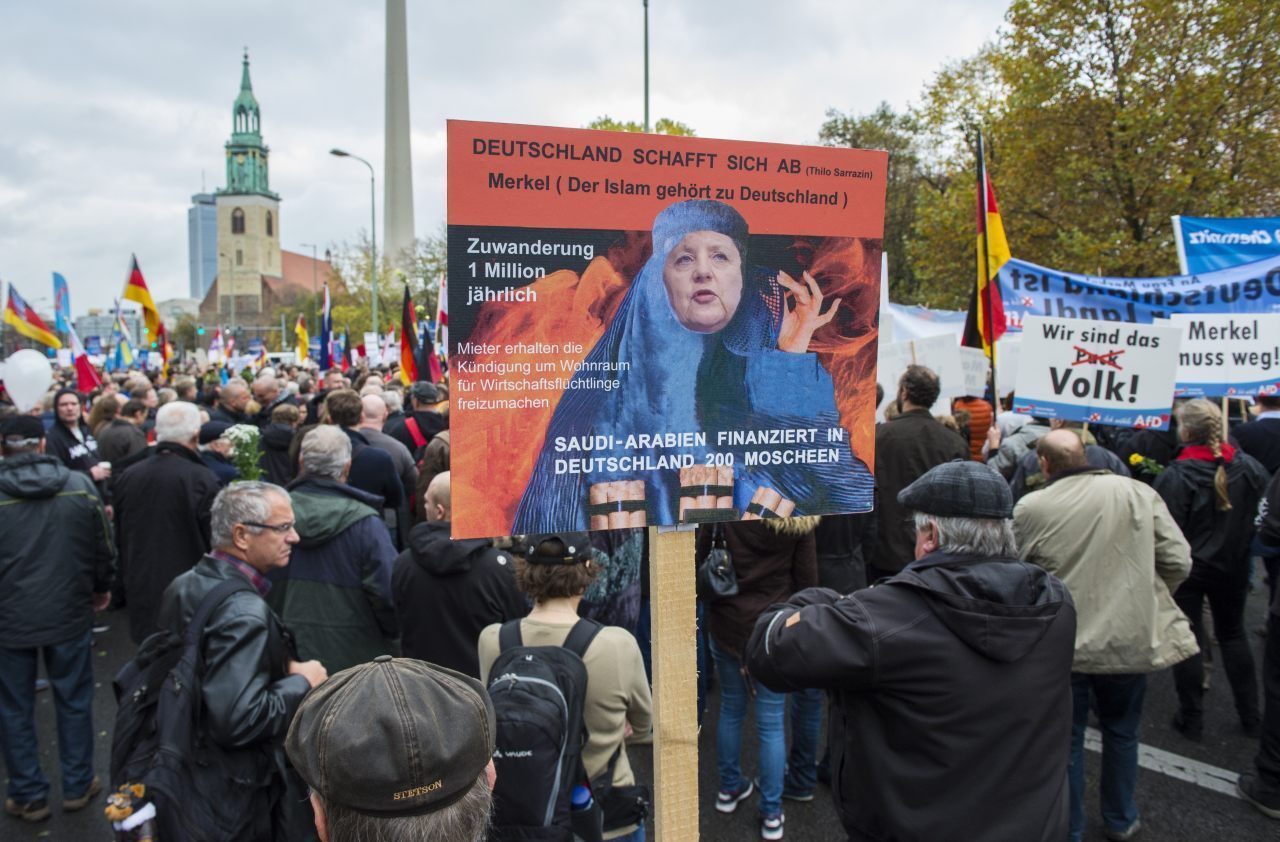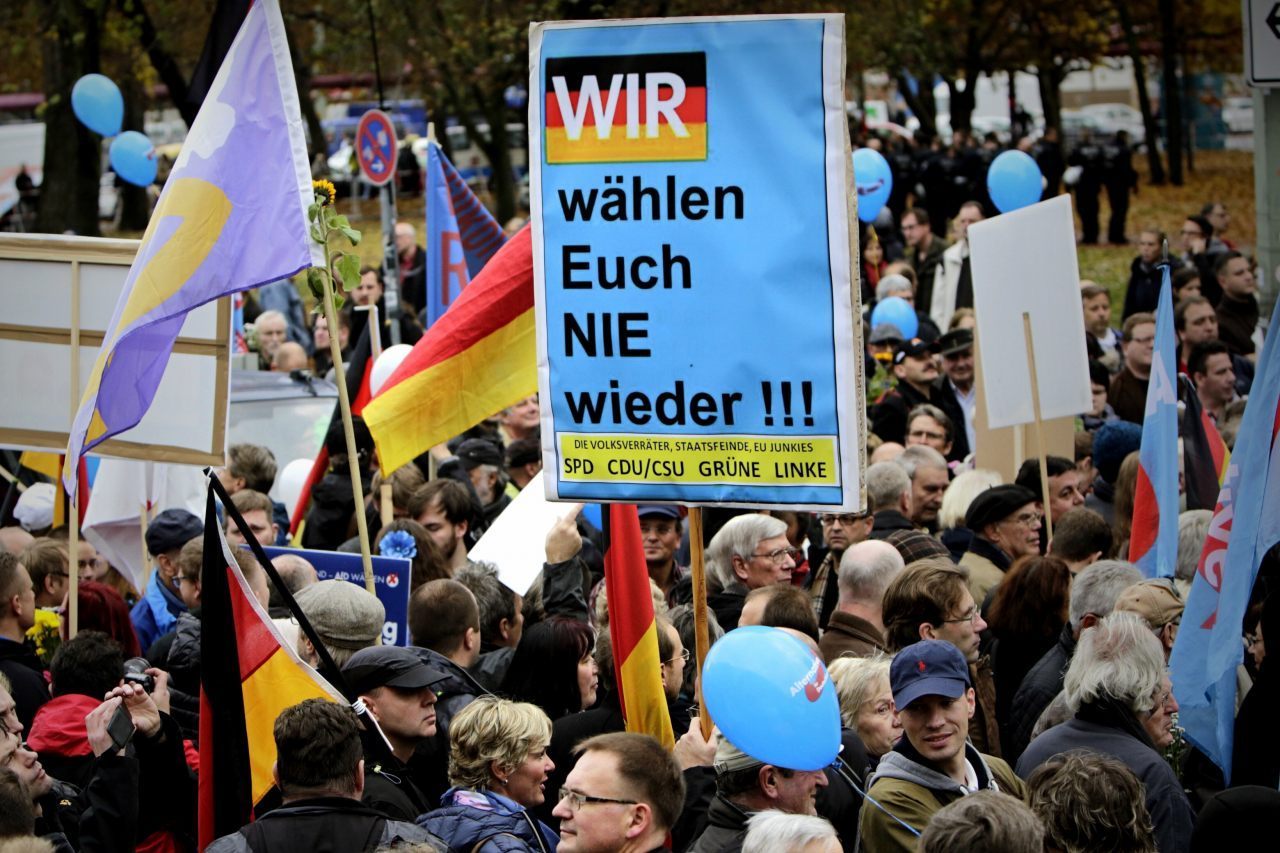 A protester holds a sign saying, "We'll never vote for you again!"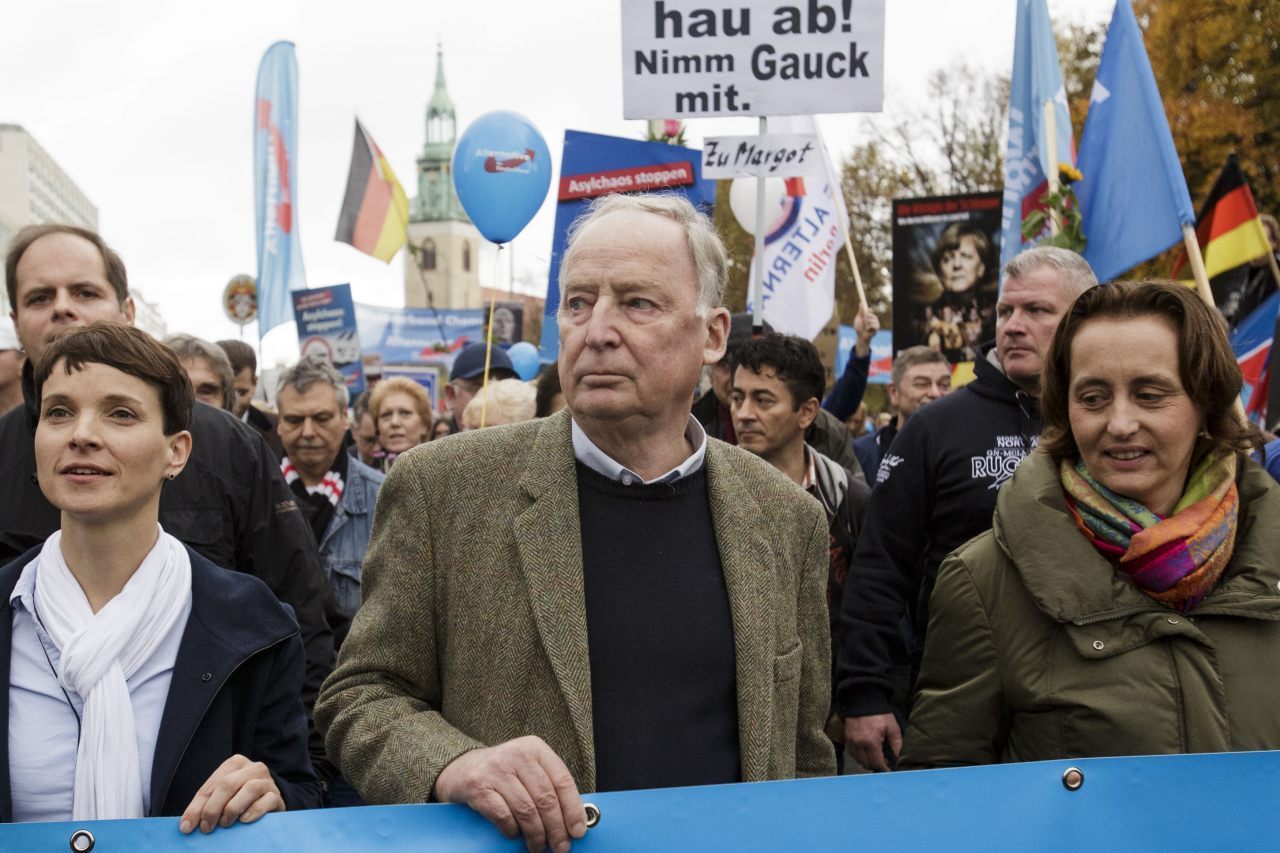 Frauke Petry (L), Chair of AfD, Alexander Gauland (C), Vice-Chair of AfD and Beatrix von Storch (R), AfD member of the European Parliament
PRO-MIGRATION demonstrators tried to push their way and attack anti-migration protesters.
Scuffles erupted after police broke up a sit-in by counter-demonstrators, some of whom tried to break through the barriers separating them from the anti-migrant march.
Pro-Muslim migration demonstrators are arrested by police.
More than 1,100 police were necessary in the capital to prevent trouble between the rival demonstrators.
Pro-Muslim migration demonstrator struggling with police.
Although the main protest was largely peaceful, several counter-protests by pro-migrant activists descended into violence, with around 40 arrests.
Pro-Muslim migration demonstrator hit by police pepper spray.
MERKEL GOES BACK ON HER PROMISE TO CURB THE INVASION
Yesterday, it was reported that the German government had agreed the
downgrade
the status of Syrian migrants, reducing the amount of time they could stay in the country and banning them from bringing their families. Today, however, the government
did a U-turn
on the plans.
Politicians have warned that popular anger is bound to develop
into outright civil war in Germany,
Sources
http://www.breitbart.com/london/2015/11/07/pictures-afd-protest-in-berlin-demands-stronger-borders-calls-for-merkel-to-resign/
http://www.dailymail.co.uk/news/article-3308583/Flashpoint-Berlin-anti-immigration-protesters-clash-police-call-traitor-people-Angela-Merkel-s-resignation.html
GERMAN SECURITY AND INTELLIGENCE AGENCIES WARN: GERMANY IS IMPORTING MUSLIM ANTI-SEMITISM,

Islamic terror and Muslim factional conflicts
- INTEGRATION NO LONGER POSSIBLE since they already live in a parallel society in Germany
- Europe's new Nazis are Muslims
Read more
http://ottersandsciencenews.blogspot.ca/2015/10/german-security-and-intelligence.html
GERMANY: Christian refugees have to be separated from Muslims because they fear for their lives
http://www.barenakedislam.com/2015/10/31/germany-christian-refugees-have-to-be-separated-from-muslims-because-they-fear-for-their-lives/
Guess what else Muslim 'refugees' are bringing into Germany
http://www.barenakedislam.com/2015/10/24/guess-what-else-muslim-refugees-are-bringing-into-germany/
ISLAM IN THE WEST
Creeping Sharia
https://creepingsharia.wordpress.com/
Bare Naked Islam
http://www.barenakedislam.com/
Refugee Resettlement Watch
https://refugeeresettlementwatch.wordpress.com/
Money Jihad (recommended)
https://moneyjihad.wordpress.com/
Sharia Finance Watch
http://www.shariahfinancewatch.org/blog/
The Muslim Issue
https://themuslimissue.wordpress.com/
Soeren Kern
http://soerenkern.com/
Gates of Vienna
http://gatesofvienna.net/
Geert Wilders
http://www.geertwilders.nl/
Tundra Tabloids
http://tundratabloids.com/
Vlad Tepes
http://vladtepesblog.com/
The Islamization of Europe and European Anti-Semitism
Columns by Dr Manfred Gerstenfeld
http://www.israelnationalnews.com/Articles/Author.aspx/908