©
http://ottersandsciencenews.blogspot.ca/
.
Unauthorized duplication of this blog's material is
prohibited.
Excerpts and links may be used, provided that full credit and link is given to Otters and Science News Blogspot.
Link to this post:
http://ottersandsciencenews.blogspot.ca/2016/07/more-photos-of-obama-in-muslim-garb.html
- Thank you for visiting my blog.
~~~~~~~~~~~~~~~~~~~~~~~~~~~~~~~~~~~~~~
The controversy over whether president Obama is a crypto Muslim or not is moot. What really matters is:
That his 'Christian' pastor

Jeremiah Wright

, whose church Obama attended for years before he became president, was a well-known

black supremacist, Marxist,

outspoken and virulent hater of whites and Jews,

and a conspiracy theorist.

That the Obama-Wright's relationship was as close as that of a father and son.

That Wright's ideology with its racist rants never seemed to bother Obama until he became a presidential candidate, when he distanced himself from his church.

That Obama's disturbing connection with Wright and his 'church' was brushed off by the media and Obama's supporters.

That the Obama administration has given

preferential treatment to Muslims

at home and abroad, no matter how many depredations they cause on a daily basis.

That he has imported about one million Muslims into the USA during his tenure.

That he has completely refused or neglected to bring in Christian and Yazidi refugees - who are innocent victims in ongoing Muslim carnage in the Middle East.
That he has taken sides with Palestinian terrorists in the Muslim-Israeli conflict, where six million Jews face the threat of 1.5 BILLION Muslims

That through his diplomatic deal with IRAN he has released enormous amounts of money to that oppressive country, while the State Department admits such money can and will be used to fund terror around the world

That through that same deal he has facilitated Iran development of nuclear weapons, in full knowledge of repeated genocidal threats by Iran to wipe Israel off the map.

That Obama's disastrous legacy includes a country more divided than ever along racial lines, and a rising tide of anti-white and anti-Semitic violence.
Fox News host Bill O'Reilly

shared photos of Barack Obama in traditional Muslim dress he claims are from Obama's half-brother Malik's wedding.
O'Reilly says they prove Obama's 'deep emotional ties to Islam'.
This has hurt the USA, he stated, because Obama has failed to combat ISIS, which he regards the Obama administration's greatest failure.
On the following video

Bill O'Reilly makes a comparison between the faithful's reaction to pedophile priests and Muslim terrorists. O'Reilly ignores a very big difference. Those priests did not abuse children on the basis of Christian beliefs, but after giving in to their base instincts. Nowhere in the Bible there is a directive to sexually abuse children.
Muslim terrorists, however, act according to Muslim scriptures. The Koran calls for the murder of the Infidel and promises paradise to those who perpetrate these and other crimes. ISIS can quote you chapter and verse in the Koran where their sadistic behavior is fully justified, condoned, and encouraged. (See excerpts of the Koran further on this page.)
VIDEO
- Bill O'Reilly:
Obama Emotional Attachment to the Muslim World Has Hurt the USA - 7/6/16
A Freudian Slip
On this other vintage video from September 2008, friendly journalist George Stephanopoulos keeps prompting Obama to deny rumours that he is a Muslim. After much meandering Obama refers to his "Muslim faith" - to which George immediately corrects him: "You mean your Christian faith".
Obama's words are often regarded as a Freudian Slip, which is defined as an inadvertent mistake in speech that reveals a person's unconscious motives, wishes, or attitudes. Usually such words don't come out unless they are suppressed but deeply ingrained in a person's mind.
VIDEO

- "MY MUSLIM FAITH"
Continue reading

, including article on the very disturbing Pastor Jeremiah Wright
In 2015
author Ed Klein
told Sean Hannity
that Barack Obama's former pastor Reverend Jeremiah Wright helped Obama accept Christianity without having to renounce Islam.
Klein also said Wright told him he "made it comfortable" for Obama to accept Christianity without having renounce his "Islamic background," which Klein said he has on tape.
Sources
http://www.thegatewaypundit.com/2016/07/new-photos-obama-muslim-garb-surface/
http://www.dailymail.co.uk/news/article-3678209/Bill-O-Reilly-reveals-pictures-young-Obama-Islamic-wedding-claims-emotional-attachment-Muslim-world-hurt-USA.html
~~~~~~~~~~~~~~~~~~~~~~~~~~~~~~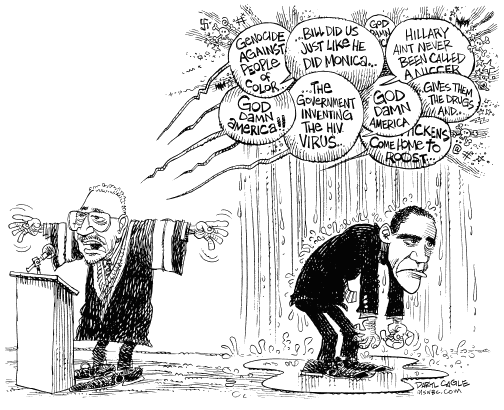 The Gospel According to Jeremiah Wright
Excerpts
from Charles C. Johnson's 2011 article on the Spectator:
In 2008 America elected a president whose pastor for 20 years preached anti-Semitic conspiracy theories, advocated bizarre pseudo-scientific racial ideas, opposed interracial marriage, praised communist dictatorships, denounced black "assimilation," and taught Afrocentric feel-good nonsense to schoolchildren.
Candidate Obama tried to distance himself from Wright's more damning comments. But, crucially, he didn't disown the pastor himself. In fact, in his rise to political fame, he had made Wright's sermons his own, drawing on Wright's "Audacity to Hope" sermon and appropriating its theme for his political coming-out speech at the Democratic National Convention in Boston in 2004.
He even borrowed the sermon's title for his second autobiography, The Audacity of Hope, in a bid to get Wright and other black churches to support his candidacy.
The question is why Barack Obama, raised without any faith at all, chose one of the most incendiary preachers in Black America to preach the word of God to him. Wright became, in Obama's words, "like family to me. [Wright] strengthened my faith, officiated my wedding, and baptized my children." Obama told a group of ministers in June 2007 that Wright helped "introduce me to my Christian faith."
TWENTY-TWO BLACK church members who did not like the direction in which Wright was taking Trinity lodged a complaint with the UCC, then left the church. Wright attacked them as Uncle Toms "running to 'massa' to tell a white man what they thought was happening to their Negro church." He had nothing but contempt for these middle-class blacks. They were, he noted, "bourgeois Negroes who wanted to be white." Wright considered himself a "new Black who is not ashamed of his Blackness."
It didn't help that the mainstream media had decided to take the issue of Obama's faith off the table. The New York Times ludicrously editorialized in 2008 that Obama's "religious connection" with Wright "should be none of the voters' business." Unlike George W. Bush, Obama wouldn't "carry religion into government," the Times promised.
In fact, Obama often invokes religion in areas–health care and economics–where it isn't normally mentioned. An analysis by Politico found that Obama invoked Jesus far more than George W. Bush did, and cited the Sermon on the Mount to make the case for his economic policies.
In his church-associated Kwame Nkrumah Academy, the congregation's children learned such canards as the claim that "[h]istorically, Europeans tried to build themselves up by tearing down all that Africans had done."
Obama biographer David Remnick notes that Obama approved of this "African-centered" grade school, where Wright's God loves all people, but black people especially. And why shouldn't he? Jesus, Wright taught, was "an African Jew," as were most of the figures of the Bible.
As Wright said in Africans Who Shaped Our Faith (1995), "evidence exists within and outside of the Bible to support the notion that the people of Israel…were of African descent!"
It is in this context that Wright's comments on Zionism should be seen. Attacking Israel's right to exist, Wright held that "[t]he Israelis have illegally occupied Palestinian territories for more than 40 years now."
America, by defending Zionism and its apartheid-like regime, had too long practiced "unquestioning" support of Zionism. Given his hostility to Zionism and non-"African" Jews, it wasn't surprising that Wright's anti-Semitism reared its ugly head in June 2009.
"Them Jews ain't going to let him talk to me," he told the Daily Press of Hampton Roads, Virginia. They were "controlling" Obama and therefore preventing the United States from sending a delegation to an anti-racism United Nations conference. (America boycotted it on the grounds that it would descend into an anti-Jew hate fest as it had in previous years.)
But when Wright became too embarrassing, it was time for Obama to distance himself from him. That was the not so subtle message behind Obama's "More Perfect Union" speech in March 2008 in which he rejected Wright, not because he disagreed with him, but he had to protect himself from the charge that Wright and Trinity disliked white people.
"Not once in my conversations with him have I heard him talk about any ethnic group in derogatory terms, or treat whites with whom he interacted with anything but courtesy and respect," Obama improbably claimed. The speech, much celebrated and quickly forgotten, did what it had to do: it derailed the whiteness issue as a campaign issue.
And yet Obama never explicitly rejected the black power, anti-capitalist core of Wright's teachings.
That includes beliefs like Wright's credo that "White folks' greed runs the world in need." For all Obama's talk, he can't claim to never have heard Wright say it.
Obama titled his second book, The Audacity of Hope, after the very sermon where that line appears. Candidate Obama's declared intention to "spread the wealth around" echoed what he had absorbed at those Trinity sermons. Now President Obama's thinking clearly shows the same imprint, as when he preaches that "at a certain point you've made enough money."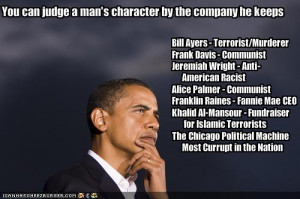 June 22, 2016:
MEDIA COVERUP

- POLICE CONFIRMS THAT THREE MUSLIM YOUNGSTERS SEXUALLY ASSAULTED FIVE YEAR OLD WHITE GIRL IN IDAHO
- The boys' families are from Iraq and Sudan.
-

Obama has imported ONE MILLION MUSLIMS during his administration
READ MORE
http://ottersandsciencenews.blogspot.ca/2016/06/media-coverup-police-confirms-that.html
******************************************