©
http://ottersandsciencenews.blogspot.ca/
.
Unauthorized duplication of this blog's material is
prohibited.
Excerpts and links may be used, provided that full credit and link is given to Otters and Science News Blogspot.
Link to this post:
http://ottersandsciencenews.blogspot.ca/2016/07/cats-on-loose-are-not-gangsters-writer.html
- Thank you for visiting my blog.
~~~~~~~~~~~~~~~~~~~~~~~~~~~~~~~~~~~~~~
The following column appeared on a community newspaper, and although I disagree with the idea of allowing cats to run loose outdoors, I post this article because of the spirit in which it was written.
Yes, cats are absolutely wonderful and not the bad guys that bird lovers allege they are.
However, allowing your cat to roam outdoors exposes him to all kinds of dangers and to having a shorter lifespan.
It's not only the traffic and aggressive dogs or wildlife you need to consider, but also psychopaths looking for an animal to torture.
It is heartbreaking to see posters alerting neighbors about the loss of a beloved cat or dog. Where do these animals end up?
The alternative:
I've seen adoring cat owners take their cats out on a leash. That makes perfect sense, considering the other options for the pet: house arrest or getting stolen.
It's best to train a cat on a leash early in his kittenhood. In the case of an older cat, training may take weeks, or even months, but it's worthwhile.
Barbara Julian usually writes about wildlife. The fact that she decided to include the never-quite-domesticated housecat in this category is rather charming.
House cats: the wildlife-wannabe
By Barbara Julian
Deep in the soul of every housecat is a longing to be wild.

Each harbours the ghost of its wild ancestors. Those living under house arrest can be seen twitching at windows, longing to breathe fresh air and smell nature rather than upholstery.
They want to scratch on a tree trunk and pad through the undergrowth. Few well-fed housecats actually bestir themselves to kill a bird, but they enjoy pretending to stalk.
They will more likely stalk a moth or pounce on dandelion fluff than on a bird, but they've been given a bad rap as gangsters of the gardens. The few have spoiled things for the many.
Remote South Pacific islands may be different, but locally even feral cats catch few birds, as we see by the state of their health. Who has ever seen a fat homeless cat? They seem to be eating little of anything, but when they kill a mouse or rat we congratulate them. Only birds are out of bounds.
If they do kill a rat they may well be saving a bird, since rats prey on eggs and nestlings. But then so do larger birds, crows on baby robins for instance. Bird-on-bird violence we seem to overlook, but some would like even innocent cats to be imprisoned as criminals, indoors.
If not cats, what are the worst hazards facing urban songbirds (other than bigger birds)? Watering restrictions are fatal. Brown grass, dusty worm-less earth and shrivelled leaves equal dead birds, since more die of thirst than of hunger.
Continue reading this

, and an article on how to leash-train your cat, plus more pictures of cute cats
Windows are another hazard, especially the huge wall-spanning ocean-facing ones so popular in new-home construction, which to a flying bird seem full of sky, not reflection.
The best things we can do for birds in the garden are to fill a bird bath and hang objects in our windows. As for high-rise blocks, experiments are sometimes made with tinting and blinds but we've got a long way to go to make them bird-safe.
A robin once flew into my living room window and fell literally into the paws of the cat sleeping in the flower bed below.
She stared in disbelief at the heap of feathers which suddenly appeared out of nowhere, which I scooped up and put in a dark box until it recovered enough to fly off.
My other cat had reacted the same way when he found himself sitting beside our escaped hamster: he was so not the intrepid hunter he sometimes pretended to be that he didn't know what to do next. (That near-victim too escaped.)
Domestic cats are much like us weekend campers who enjoy pretending we're roughing it in the bush when we set up a tent in a provincial park.
We all need a touch of nature in our noisy urbanized lives. Cats need to prowl, dogs need to race around off-leash, humans need to walk barefoot in sand. What birds most need is protection for their habitat.
The more we cut down the trees and shrubbery they need for shelter, nesting and food-finding, the scarcer the urban songird will become.
Never mind cats; we need to focus on the birds' worst enemy, which is habitat loss. We need to preserve and extend urban gardens and parkland.
Source
http://www.vicnews.com/community/386982261.html
How To Walk Your Cat On A Leash,
Cats should be trained indoors first.

For the sake of safety, it's crucial to start training indoors.
Sherry Woodard, a longtime animal behavior consultant at
Best Friends Animal Society
suggests purchasing a harness and leaving it inside the house for your cat to play with and smell, so he isn't afraid of it.
Next, strap your cat into the harness and make sure it's properly fitted and that your pet is comfortable. Then let kitty wear the harness around the house.
Let him drag the leash and grow accustomed to having something strapped around his body.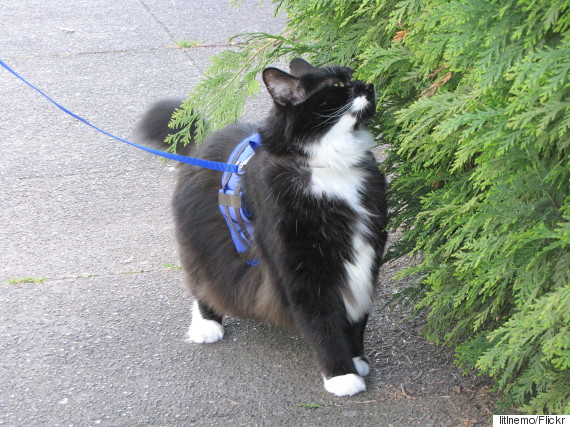 Woodard said it's smart to reward your cat with treats throughout this process; give him a spoonful of wet food while you're first adjusting the harness so he's distracted.
Cats should be comfortable on their harness before heading outdoors.
Once you are ready to take things outside, open the door and let your cat sniff around and choose the direction (while you are holding on to the leash).
Ideally, the first outdoor space should be enclosed with a fence and not be filled with stimuli. If you live in a city, consider putting your cat in a crate and driving somewhere more remote without loud sounds and masses of people, which can be overwhelming.
Once your cat seems comfortable on the leash, add walking to the long list of things you like to do together.
Not all cats will want to be walked on a leash, but every cat should be given the opportunity.

Walking a cat can provide your pet with a more enriched life. "A lot of cats love to go outside and smell things, see things and roll around in sand and grass and dirt. They love to scratch real trees. Those are things they can do on a walk," Woodard said.
When out for a walk — rather than prowling an apartment — a cat will use his brain in different and more thoughtful ways.
"The cat is thinking more. It's thinking about how to use its body and what things smell like. The cats are brighter and engaged," said Woodard. The fact that the two of you will be exercising is an added bonus.
Cats celebrating Christmas and Hanukkah.
Read more
http://ottersandsciencenews.blogspot.ca/2015/05/hilarious-kissing-cat-cat-displays-too.html
More cat pictures and articles about cats on this blog
************************************