©
http://ottersandsciencenews.blogspot.ca/
.
Unauthorized duplication of this blog's material is
prohibited.
Excerpts and links may be used, provided that full credit and link is given to Otters and Science News Blogspot.
Link to this post:
http://ottersandsciencenews.blogspot.ca/2016/07/french-authorities-suppressed-news-that.html
- Thank you for visiting my blog.
~~~~~~~~~~~~~~~~~~~~~~~~~~~~~~~~~~~~~~
A French government committee has heard testimony,

suppressed by the French government

at the time and not released to the media, that the killers in the Bataclan tortured their victims on the second floor of the club.
Police witnesses in Parliament said they vomited when they saw the disfigured bodies.
The Muslim killers apparently gouged out eyes, castrated victims, and shoved their testicles in their mouths. Women were stabbed in the genitals. They also have disemboweled some victims.
For that reason, medics did not release the bodies of torture victims to the families, investigators said.
Victims told police that the perpetrators filmed the torture for the Islamic State or Daesh.

Q. For the information of the Commission of Inquiry….can you tell us how you learned that there had been acts of barbarism within the Bataclan:beheadings, evisceration, eyes gouged out …?

Investigator: After the assault, we were with colleagues at the passage Saint-Pierre Amelot when I saw weeping from one of our colleagues who came outside to vomit. He told us what he had seen.

Q. Acts of torture happened on the second floor?

A. Bodies have not been presented to families because there were beheaded people there, the murdered people, people who have been disembowelled . There are women who had their genitals stabbed.
Q. All this would have been videotaped for Daesh !
Allah Willing Executioners Blog (recommended)
http://searchlight-germany.blogspot.ca/2016/07/islamic-jihadists-in-france-gouged-out.html
RELATED
PAKISTANI TERRORIST BEHIND 2008 MUMBAI MASSACRES CAPTURED IN AUSTRIA AFTER ENTERING EUROPE AS A REFUGEE
- Was planning to launch deadly terror attacks on Europeans
- He is also linked to masterminds of the recent Paris terror attacks
The Mumbai attacks are illustrative of the sadistic nature of Muslim violence, particularly against Jews. One of the main targets of the terror attacks in Mumbai was a Jewish center, where

they inflicted unspeakable torture, sexual mutilation, and death on the rabbi and his young pregnant wife.
What they did to those two innocent people defies the imagination. A doctor who witnessed the aftermath said:
"I have seen so many dead bodies in my life, and was traumatised. It was apparent that most of the dead were tortured. "
READ MORE
http://ottersandsciencenews.blogspot.ca/2016/04/pakistani-terrorist-behind-2008-mumbai.html
Murdered Mumbai Jews were
tortured by Muslim terrorists
By
Debbie Schlussel
As per their usual, the "Religion of Peace" members who slaughtered at least six–and probably eight–Jews at the Mumbai Lubavitch Chabad House,
first tortured their Jewish victims
before they executed them.
Jewish victims made up a disproportionate number of the foreigners killed after 10 Muslim fanatics stormed a series of sites in the Indian financial capital.
Members of the beleaguered Jewish community in Mumbai gathered at a crumbling synagogue for a memorial for Rabbi Gavriel Holtzberg and his wife Rivka, who ran the cultural centre targeted by the Deccan Mujahideen.

The couple's son, Moshe survived after his nanny, Sandra Samuel escaped with him in her arms 10 hours after the hostage incident started. The child cried "Ima" and "Dada," or mummy and daddy, as the service began.
Israeli officials confirmed six Jews were dead but the figure is likely to rise to eight. The total number of foreigners killed in the attacks stands at 22.

A forensic team arrived on a specially chartered flight on Sunday night. "There are still a few yet to be identified – not a lot, under five – and this is why we need the forensic team," an Israeli diplomat said.
"And there are two or three Israelis unaccounted for and we have a couple of bodies that could be them."
Doctors expressed horror at the condition of the bodies recovered from the Nariman Building, which housed the Orthodox Chabad-Lubavitch retreat.
"I have seen so many dead bodies in my life, and was traumatised," a mortician said.
"It was apparent that most of the dead were tortured. What shocked me were the telltale signs showing clearly how the hostages were executed in cold blood."
Muslims were specifically told to target and kill Jews and Israelis.
As I said in
my column on Friday
, the Bible was, indeed, prophetic when it said in Genesis that Ishmael and his descendants would be savage wild men.
Sources
http://www.debbieschlussel.com/4496/murdered-mumbai-jews-were-tortured-by-islamic-terrorists-were-disproportionate-of-foreign-victims/
http://israelmatzav.blogspot.ca/2008/11/tortured.html
MODERATE PALESTINIAN AUTHORITY HONORS TERRORISTS THAT LYNCHED AND DISEMBOWELED TWO YOUNG ISRAELIS who took a wrong turn on the road
- The lynching of Vadim Norzhich and Yosef Avrahami in Ramallah.
- Cannibalism of enemies is not an aberration in Islam and has been condoned by clerics
- Mutilation and decapitation is commonplace and accepted by Islamic law.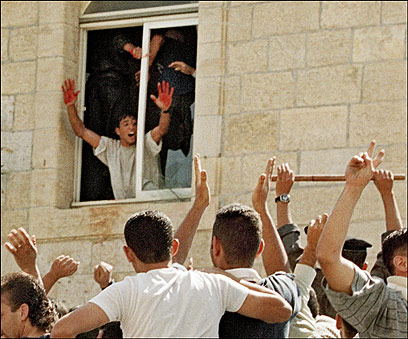 Cannibalism - Palestinians eating the organs of two Israelis
they lynched in Ramallah in 2000.
READ MORE
http://ottersandsciencenews.blogspot.ca/2015/05/moderate-palestinian-authority-honors.html
**********************************