©
http://ottersandsciencenews.blogspot.ca/
.
Unauthorized duplication of this blog's material is
prohibited.
Excerpts and links may be used, provided that full credit and link is given to Otters and Science News Blogspot.
Link to this post:
http://ottersandsciencenews.blogspot.ca/2016/03/violent-suppression-of-freedom-of.html
- Thank you for visiting my blog.
~~~~~~~~~~~~~~~~~~~~~~~~~~~~~~~~~~~~~~
This Canadian blog is not pro-Donald Trump

, or pro-anybody in the US election. But the violent attack on freedom of speech in western countries should be disturbing to all of us, no matter what our political beliefs may be.
VIDEO

- Brian Lilley of Rebel Media:
Media GUILTY of shameful double standard
on violent Trump protests
More videos on Ezra Levant's The Rebel Media

: https://www.youtube.com/channel/UCGy6uV7yqGWDeUWTZzT3ZEg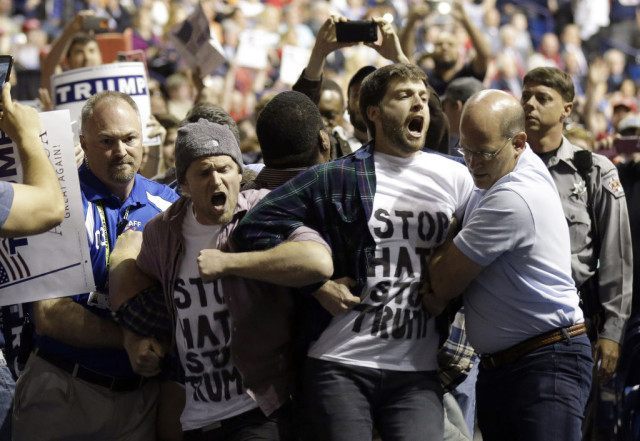 "STOP HATE"? - These men look like brownshirt stormtroopers- Quite intimidating. No
chance of rational conversation with them.
The well-organized campaign to silence Donald Trump and intimidate his supporters is impressive in its violence and viciousness and made headlines. However, the same mob rule against freedom of speech has been going on in public places and in university campuses all over America and other western countries for some time, ignored by the media.
The main targets for hate and violence
on campuses these days are pro-Israel students and speakers, and Jews in general, for being perceived to be indirectly associated with the State of Israel - although many Jewish students are far-left themselves, pro-Arab and anti-Israel.
WATCH 2015 VIDEO:
Jewish students under attack by Muslim
and other anti-Semitic students.
Pro-Life and Pro-Israel groups have been violently intimidated into silence - while university administrators look on this violence and violation of freedom of speech with indifference. The media ignores it.
Not even low key pro-life and pro-Israel visual informational displays on campuses are allowed by student governments because, allegedly, they offend the students' sensitivities. All the while the most egregious anti-Semitic speech and propaganda is considered perfectly acceptable. Just being Jewish at university campuses is enough to unleash unprovoked violence and hate.
Frontpage Magazine:
Progressive Brownshirts
Leftist protesters are making violence and intimidation a regular feature of the American public discourse. And the public submits.
Ted Cruz and others who blamed Trump for the Chicago mob violence don't realize that they too will be silenced by leftist brownshirts
Although this (anti-Trump) violence and brutalization of political opponents is a new phenomenon in American politics, it has a historical antecedent: the Nazi Brownshirts.
In
The Coming of the Third Reich
, historian Richard J. Evans explains how, in the early days of National Socialist Germany, Stormtroopers (Brownshirts) "organized campaigns against unwanted professors in the local newspapers [and] staged mass disruptions of their lectures."
To express dissent from Nazi positions became a matter of taking one's life into one's hands. The idea of people of opposing viewpoints airing their disagreements in a civil and mutually respectful manner was gone. One was a Nazi, or one was silent (and fearful).
That is just the kind of public arena that the Left has been trying to bring to the United States for years.
Years ago, the Democratic Party as a whole, along with the entire Leftist establishment, adopted the Alinskyite tactic of ridiculing, mocking and smearing their foes instead of engaging them on the level of ideas. Leftists today routinely portray their opponents as simultaneously stupid and evil, idiotic but crafty; it's practically a reflex.
Trump supporters leaving the arena in Chicago after the Left-fascists had forced cancellation of the Trump rally last Friday experienced that firsthand.
AP reported
that "the protesters closed in on the building, obstructing most of the exits just as Trump supporters began filing out.
The Trump supporters had little choice but to push through the anti-Trump crowds that parted only slightly, yelling, 'Racists go home!'…Trump supporter Bill Vail said he walked through a gauntlet of protesters who cursed at him as he pushed through holding his 9-year-old daughter's hand. She cried, he said."
Continue reading and see links to related articles, including an

update

with the list of groups preparing a spring uprising against the Trump candidacy.
Commented Vail: "They scream about tolerance, but are being intolerant themselves. That doesn't make sense." Yes, it does.
Clearly the authoritarian America-hating Left has decided that the
Brownshirts had a good idea: those whose dare to oppose their political views will henceforth be greeted with truncheon and fist.
Soon the dissenters will learn their lesson, and accept the Left's agenda with docility.
They don't like Trump's message, so they will do everything legal and illegal to silence him.
Cruz, Rubio and Kasich are already learning to do this, as they demonstrated when they had the audacity, or craven opportunism, to claim that
Trump's rhetoric
was at least partially responsible for the shutdown of the Chicago rally. Do they think they will be spared?
Do they realize that by charging that Trump bears partial responsibility for the thugs' actions, they have tacitly validated those actions, implying that under some circumstances, the forcible shutdown of one's political opponents was acceptable – if, say, that political opponent was prone to saying "outrageous" things?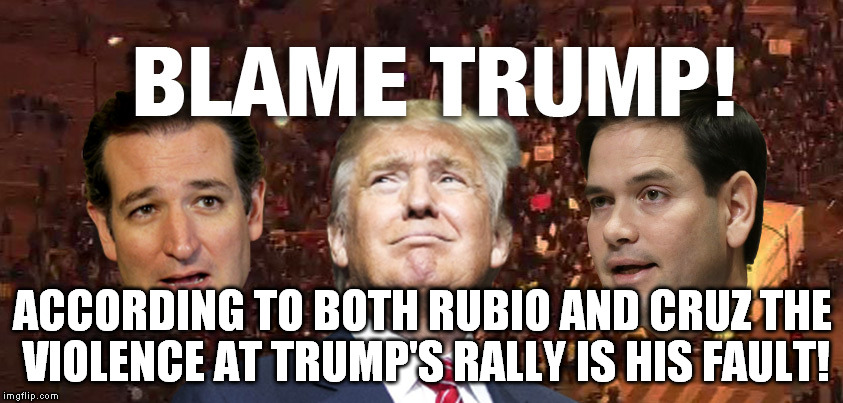 Cruz and others who blamed Trump: you don't realize you will be next
They don't realize that once that premise has been accepted, it can be turned on them. And it will be.
Now that they've apparently agreed that violent thugs can be justified in forcibly silencing those they hate, what will they possibly say when the thugs decide that they, too, have strayed beyond the bounds of what one is allowed to say?
Cruz, Rubio, and Kasich – to say nothing of Clinton, Sanders, and Obama – should have forcefully and unequivocally condemned the Chicago thugs, called for their arrest, and declared their unshakeable support for civility in the public discourse and respect for one's ideological opponents.
Instead, they all contributed to the erosion of that civility and respect, and took the U.S. just a bit closer to becoming a tyranny in which the goons who shut down politically unacceptable rallies work for the state.
Hitler and Himmler and Goebbels, if they're able to look on from their fiery graves, may be feeling a sense of having, at long last, triumphed.
Source
http://www.frontpagemag.com/fpm/262167/progressive-brownshirts-robert-spencer
UPDATE MARCH 18: