©
http://ottersandsciencenews.blogspot.ca/
.
Unauthorized duplication of this blog's material is
prohibited.
Excerpts and links may be used, provided that full credit and link is given to Otters and Science News Blogspot.
Link to this post:
http://ottersandsciencenews.blogspot.ca/2016/03/obama-laughs-drinks-and-dances-while.html
- Thank you for visiting my blog.
~~~~~~~~~~~~~~~~~~~~~~~~~~~~~~~~~~~~~~
UPDATE

March 25:

US State Dept. knew that

TWO AMERICANS

were among the victims of Muslim terror in Brussels. They notified their families but withheld the information from the media until Obama was on his way back home. The State Dept. wanted to stem additional criticism over his partying after Americans had been blown to pieces by followers of what the president calls a Great Religion.

(Details further on.)
US PRESIDENT OBAMA DANCES
THE TANGO IN ARGENTINA
Obama appears to show a calculated indifference to non-Muslim victims of Islam.

In August 2014, ISIS released a video showing journalist Foley being decapitated. Obama gave a statement and then went back to playing golf.

So far he has refused to prosecute any Palestinian guilty of murdering Americans abroad. He does not regard Palestinians as terrorists, or those they murder as victims.

The US president uses each opportunity possible to laud Islam as a great religion.

He has promoted the admission of hundreds of thousands of Muslim migrants into the American soil - some of whom have gone on to murder Americans.

Obama freed many Muslim terrorists from Guantanamo, who went on to murder Americans.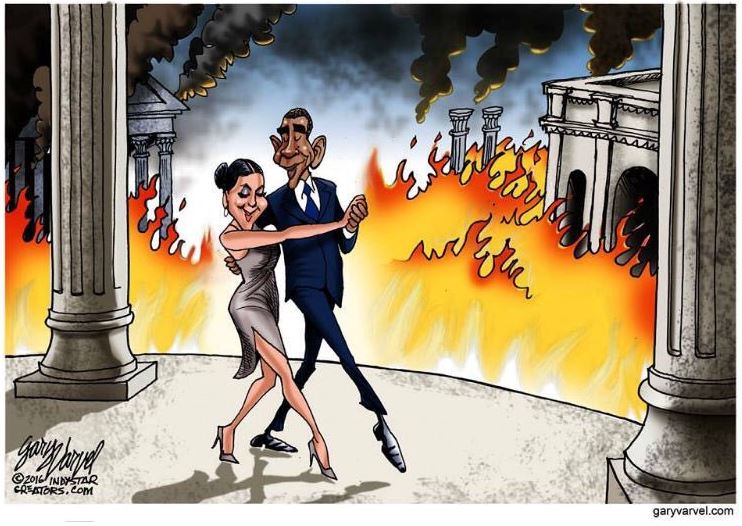 Continue reading

and see more images of the US president abroad
The Daily Mail

: -

Pundits – both liberal and conservative – complained about the optics the sultry dance sent out to the rest of the world.

The Republican National Committee released a short Vine video on its Twitter account labeling Obama's moves the 'Obama-Clinton failed ISIS strategy.'

'ISIS attacks our allies. Obama attacks the dance floor,' the tweet read.

On Morning Joe, Richard Haass, the president of the Council on Foreign Relations praised Argentina for its democratic transition of power and thought Obama right in paying the South American country a visit,

according to Politico

.

'They're doing the right things economically, they're doing the right things politically, it's a good story,' Haass said.'However the advance person who let him do the tango, that person ought to be looking for work on somebody's – in somebody's campaign very, very far away.'

'That was

a tremendous mistake

,' he continued. 'It's fine to go to Argentina, you want to do the work, but you've got to be careful of these little photo ops and optics. Baseball games and tangos, that

inconsistent with the seriousness of the day.'

The more liberal co-host Mika Brzezinski thought the whole thing 'really strange to me.'

Nicolle Wallace, the former communications director for President George W. Bush, called

the double insult of the tango and the baseball game a 'communications crime.'

Wallace called the moves 'out of step with the entire American public, not just Republicans.'

'You heard Democrats yesterday increasingly uncomfortable with the choices he makes at a moment of crisis,' Wallace pointed out. 'There were mothers laying dead while their, you know, family members were at the crime scene yesterday and to look like the priority is to go on a foreign trip instead of pausing for a minute and explaining that to America is a communications crime.'

Steve Rattner, who was also on the panel and is a bundler for Hillary Clinton, suggested that the dance and Obama's interview with ESPN, which he conducted during taking in the baseball game in Cuba, could have been handled in a more sensitive way.
US president Obama with Argentina's First Lady Juliana Awada
The Obama family at a baseball game with Raul Castro, current Cuban dictator, as his brother Fidel has retired from the top job.
'You don't send a picture of yourself laughing while people have just been blown up': 9/11 Mayor Rudy Giuliani hits Obama for attending baseball game in Cuba after Brussels bombings.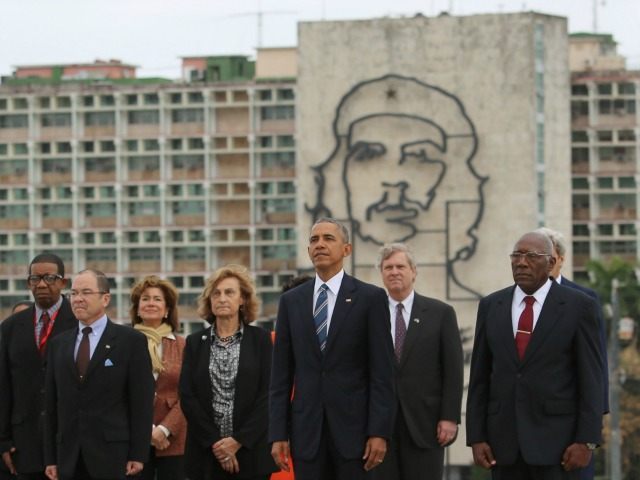 Obama, US Secretary of State (second row, right, in the back, barely visible), among other US dignitaries, in front of monument to

CHE GUEVARA

- who was one of the top bloodiest murderers during the initial years of the Cuban Marxist regime. Che Guevara later died trying to ignite a revolution in South America.
Watching a military ceremonial display in Cuba.
'I think he could have handled some of that differently. I agree certainly about the tango,' Rattner relented. 'But the idea that some people are throwing out that he should have, like, turned the plane around and rushed back to Washington. To do what?'

Over on CNN, Ana Navarro, a Republican strategist, went off about the optics.

'I think the entire thing is horrible,' she told CNN's John Berman. 'It reminded me of when he went golfing after James Foley's head was cut off.'

In August 2014, ISIS released a video showing journalist Foley being decapitated. Obama gave a statement and then went back to playing golf.

A month later the president told Meet the Press host Chuck Todd that he hadn't considered the awkward optics.

'But there's no doubt that after having talked to the families, where it was hard for me to hold back tears listening to the pain that they were going through, after the statement that I made, that you know, I should've anticipated the optics [of playing golf],' Obama said at the time, adding that he sometimes gets tripped up over the 'theater' of the presidency.

Like other Republicans, Navarro wasn't keen on Obama's trip to Cuba to begin with, but the president's 'eating peanuts and going to the baseball game like he was at Walt Disney World' during 'a day of grief for the entire world' just rubbed more salt on the wound.

'President Obama knows full well that optics matter, but he chose his legacy over optics,' Navarro said. 'It was a shameful, shameful disappointing moment for President Obama.'

'I was disappointed, I was not surprised,' she concluded.
Meanwhile in Brussels, people mourn the victims of Muslim terror
David Gergen, a CNN commentator who has worked for presidents of both political persuasions, said he understood why Obama wanted to look unperturbed by the terrorists' actions, but he still should have worked to make it look like he was taking the attack more seriously.

'Under those circumstances, I would tell the president that when you gave your speech in Cuba, the 38-minute speech, and you only gave a few seconds to Brussels, you brushed it off,' Gergen said.

'When you go to a baseball game it looks frivolous. Dancing like that,' Gergen said, suggesting that Obama should have made the 'hard call' and returned to the United States.

Perhaps as a concession to his critics, Obama said he will be sending John Kerry to Brussels on Friday to express his condolences on behalf of the American people and stand in solidarity with Belgium.

The Obamas also shared at candlelit dinner with Macri and Awada at the Centro Cultural Kirchner, named after Argentina's former President and Marci's predecessor, in the country's capital this evening.

The group paused for a photo opportunity on a red carpet on their way in with Obama and Marci dressed in suits and Michelle and Awada in glamorous evening dresses.

From there they made their way into a leafy candlelit courtyard for champagne, where champagne was served before the dancing began.
The immediate aftermath of the massacre at the Brussels airport
Anti-Obama protest in Buenos Aires, Argentina
Anti-American protest in Buenos Aires, with the burning of the US flag
The Obama Administration refuses to prosecute Palestinian terrorists who kill Americans abroad
By Adam Kredo, The Washington Free Beacon
The Obama administration has not prosecuted a single Palestinian terrorist responsible for killing Americans abroad, despite a congressional mandate ordering the Justice Department to take action against these individuals, according to
disclosures
made by lawmakers.
Palestinian terrorists have murdered at least 64 Americans, including two unborn children, since 1993.
Yet the U.S. government has failed to take legal action against those who committed the crimes, lawmakers disclosed during a hearing on the Justice Department's failure to live up to its mandate to bring these terrorists to justice.
Many of the terrorists continue to roam free across the Middle East, with one hosting a Hamas-affiliated television show in Jordan.
With criticism mounting from Congress and U.S. victims of terrorism, Justice Department officials say they are working to initiate cases, but warn that this could take "many years" to play out.
The Justice Department has repeatedly declined to comment when faced with questions from Congress about the lack of prosecutions, according to Rep. Ron DeSantis (R., Fla.), chair of the House Oversight Subcommittee on National Security.
The Justice Department "has not been able to cite one example for this committee of even a single terrorist who has been prosecuted in the U.S. for any of the 64 attacks against Americans in Israel," DeSantis said. "Indeed, many of these terrorists roam free as the result of prisoner exchanges or evasion."
This is not what Congress intended" when it
created
the DOJ's Office of Justice for Victims of Overseas Terrorism in 2005, DeSantis added. "This is not what the American people want, and this does not provide justice to the victims' families that has been so tragically elusive."
The Justice Department has sought to evade questions about its failure to prosecute known terrorists responsible for the murder of U.S. citizens.
Carnage at the Sbarro Pizza Shop in
Jerusalem in 2001.
The Obama administration
does not seem to
regard the Palestinian
perpetrators as deserving prosecution
This includes its failure to level charges against Ahlam Tamimi, the Palestinian woman responsible for blowing up (Sbarro) a Jerusalem pizza shop in 2001.
The attacks killed 15, including a pregnant American woman. Tamimi currently resides in Jordan and hosts a television show on the Hamas-owned Al Quds station.
"When the [oversight] committee questioned the DOJ about this case, the department declined to comment," DeSantis said. "If in fact bringing to justice the perpetrators of terrorism against Americans in Israel is a high priority for the DOJ, then surely people of this nature should be prosecuted for their crimes."
Sbarro massacre,
Jerusalem
Justice Department officials who testified maintain that they are aggressively working behind the scenes to make cases against foreign terrorists who have killed and injured Americans.
Brad Wiegmann, the deputy assistant attorney general in the Justice Department's national security division, maintained that there are a number of "open investigations," though he declined to provide further information.
"While I cannot discuss these investigations today or the facts of specific cases, it's important to note the absence of public charges associated with a particular overseas attack does not mean that there are no charges, or that no such charges will be brought," Weigmann said, noting that a prosecution could take place "many years" after an attack.
"I can certainly understand the frustration of some of the families that the Department of Justice has not prosecuted more cases involving terrorist attacks against Americans in Israel," Wiegmann said, noting that the Obama administration has pursued some cases against terrorists affiliated with al Qaeda and ISIS.
Yet most of "these cases do not involve any of the recent attacks within Israel," Weigmann admitted.
American victims of terrorist acts abroad who testified at the hearing offered sharp criticism of the Justice Department for failing to take on terrorists in the U.S. courts.
Sari Singer, who was injured in a 2003 Palestinian terror attack on a bus in Jerusalem, said that she has lost faith in the government.
"The government's track record in extraditing or even seeking extradition of Palestinian terrorists who have murdered American citizens is nonexistent," Singer said. "I grew up believing that my country would be there for me and protect me no matter where I was in the world. These last years have left me feeling let down."
Peter Schwartz, whose nephew Ezra was shot in the head by a Palestinian terrorist in November 2015, said that the Obama administration has not been forthcoming about any potential investigations into the incident.
"We are not aware of what if any U.S. actions have been undertaken to investigate this case, and we still have many unanswered questions about the attack that claimed Ezra's life and what role our government can play in answering them," Schwartz told the committee.
The Obama administration
was criticized
in August when it sought to limit the restitution American victims of terrorism could receive. The administration argued in a legal briefing issued to the court that a large cash award to these victims could complicate the administration's efforts to foster peace between Israel and the Palestinians.
Source
http://freebeacon.com/national-security/obama-admin-has-not-prosecuted-a-single-palestinian-terrorist-who-killed-americans/
Other References:
State Department withheld news about existence of two American victims in Brussels

- Officials had only notified their families.
Hours before Air Force One touched down on American soil, the State Department revealed that two American citizens were killed in the terrorist attacks three days earlier this week in Brussels. The attacks killed more than 30 people and wounded about 270.
The Associated Press cited a U.S. official who revealed on condition of anonymity that the families of two Americans had been informed of their deaths. The news was revealed as Secretary of State John Kerry landed in Belgium this morning to visit the city.
Source
http://www.breitbart.com/big-government/2016/03/25/state-department-reveals-american-deaths-in-brussels-hours-before-obama-returns-to-united-states/
Obama ignores calls to come home - continues to party
http://www.dailymail.co.uk/news/article-3507001/Maybe-advice-Barack-Obama-ignores-calls-come-home-wake-Brussels-attack-President-Michelle-attend-glitzy-state-dinner-Buenos-Aires.html
Former NY Mayor Giuliani aghast at Obama's callousness
http://www.dailymail.co.uk/news/article-3506098/You-don-t-send-picture-laughing-people-just-blow-9-11-Mayor-Rudy-Giuliani-hits-Obama-attending-baseball-game-Cuba-Brussels-bombings.html
President Obama has picture taken in front of monument to Cuban Revolution mass murderer Che Guevara
http://www.breitbart.com/big-government/2016/03/21/obama-poses-in-front-of-che-guevara-image-in-cubas-revolution-square/
Gateway Pundit: Obama devotes 50 SECONDS
to commiserate with the Brussels victims of Muslim terror during speech to Castro regime in Cuba
http://www.thegatewaypundit.com/2016/03/wow-obama-devotes-2-lines-to-brussels-jihadist-attacks-then-continues-prepared-remarks-to-castro-regime/
Muslim detainees freed by the US have returned to terror and the killing of Americans.
See partial list of those who have returned to terror
How the Obama administration freed terrorist who openly said he would kill as many Americans as he could
http://www.thegatewaypundit.com/2016/01/obama-releases-gitmo-detainee-who-vowed-to-murder-as-many-americans-as-possible/
Che Guevara was a mass murderer
http://www.therealcuba.com/?page_id=32
Che - from mass murderer to pin up
http://www.dailymail.co.uk/news/article-1104483/From-mass-murderer-pin-A-new-film-lionises-Che-Guevara-revolutionary-hero--truth-brutally-different-.html