©
http://ottersandsciencenews.blogspot.ca/
.
Unauthorized duplication of this blog's material is
prohibited.
Excerpts and links may be used, provided that full credit and link is given to Otters and Science News Blogspot.
Link to this post:
http://ottersandsciencenews.blogspot.ca/2016/03/merkels-new-europe-isis-soldiers-of.html
- Thank you for visiting my blog.
~~~~~~~~~~~~~~~~~~~~~~~~~~~~~~~~~~~~~~
POWDER KEG:
Clad in ISIS uniforms, 'Soldiers of Allah' set to combat Norwegian 'Soldiers of Odin,' a vigilante group originally founded in Finland to protect the public from Muslim rape and other crimes. Now Soldiers of Odin has opened a branch in Norway, eliciting threats from a new European ISIS-inspired group.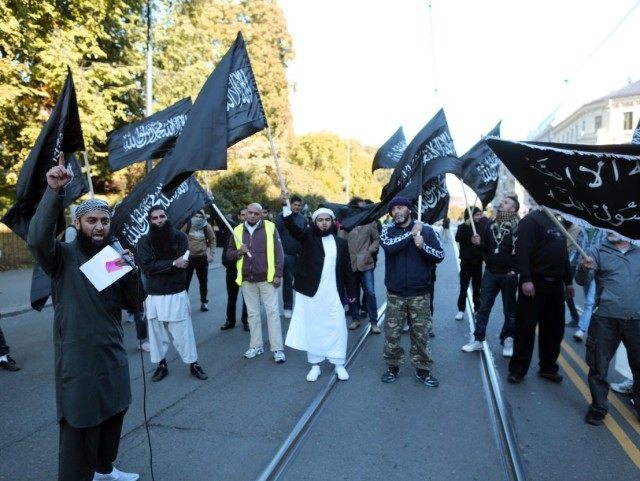 ISIS sympathizers in Norway
The Muslim group Soldiers of Allah, based in Oslo, Norway, has given itself the name of 'Jundullaah'.
Members are given black hoodie decorated with black and white
ISIS
logo.
Incidentally, 'Jundullaah' is the name of a Sunni Muslim terrorist organization linked to the Taliban. It operates in Iran and Pakistan. It is blamed for several massacres against Christians and Shia Muslims over the years.
https://en.wikipedia.org/wiki/Jundallah_(Pakistan) It has not been reported whether this European organization is a branch of the terrorist group operating in Iran and Pakistan.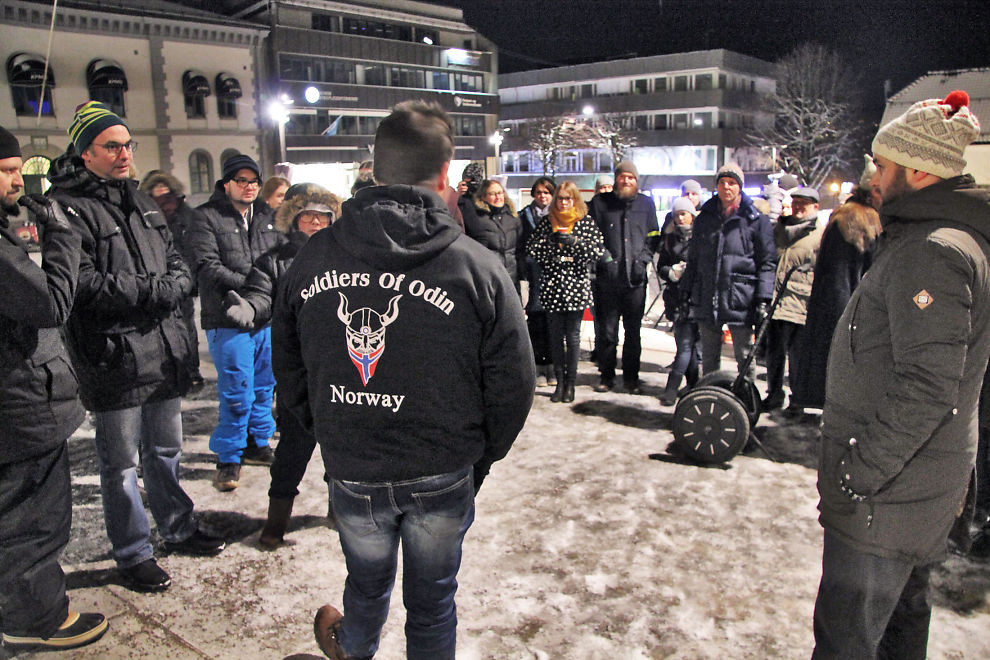 Soldiers of Odin - Norway branch
Thanks to police and courts leniency, Muslim criminal gangs operate with impunity in Europe.

The fact is that Muslims have been organized for years in criminal and terror gangs all over Europe in order to perpetrate rapes, terror, and other crimes. Police have consistently looked the other way. When arrested, the courts dismiss charges or let them go with conditional sentences.
Soldiers of Allah is different from other Muslim gangs, since it has been openly established to confront Europeans' own protective group Soldiers of Odin.
Police follow government policy of not disclosing Muslim crime.

European police are notorious for remaining aloof in face of rising Muslim crime, including in cases of rape and murder. Police go as far as routinely covering up Muslim crime so as to neither antagonize the Muslim community, nor increase European animosity against migrants. That's government policy: allow and hide Muslim crime from the public.
Cologne police even went as far as covering up the gang rape and sexual assault of hundreds of women on New Year's Eve by an organized gang of up to one thousand Muslims near the main train station. The crime went unreported by police and the media for several days until news leaked out. Apparently higher ups in government even ordered surveillance video tapes of the site of the crime to be erased.
The public are on their own.

People cannot rely on police to enforce the law. This has given rise to citizens' own patrols of streets and swimming pools, where too many cases of Muslim rape and sexual assault against women and children have taken place.
Muslims are unhappy about anything that may impede their rape and crime jihad and are ready to fight back.
Continue reading
"In response to the infidel group Soldiers of Odin patrols, we Muslims have chosen to create a group that will patrol the streets, first in Oslo, to prevent evil and encourage the good," a source within the Islamist scene
told
local paper Verdens Gang.
Norwegian government is appalled by Soldiers of Odin's appearance, while having remained silent for years at widespread Muslim crime and violence.
The Norwegian Police Security Service (Politiets Sikkerhetstjeneste - PST) declined to comment on the Muslim group, but Labour's deputy leader Hadia Tajik strongly condemned both of Norway's new self-declared 'patrol' groups.
"Vigilantism does not belong in Norway, whether they do it in the name of Odin or Allah. I assume that the police, who are the only ones who have the authority to patrol the streets and use force, are following these groups as closely as the circumstances require," she said.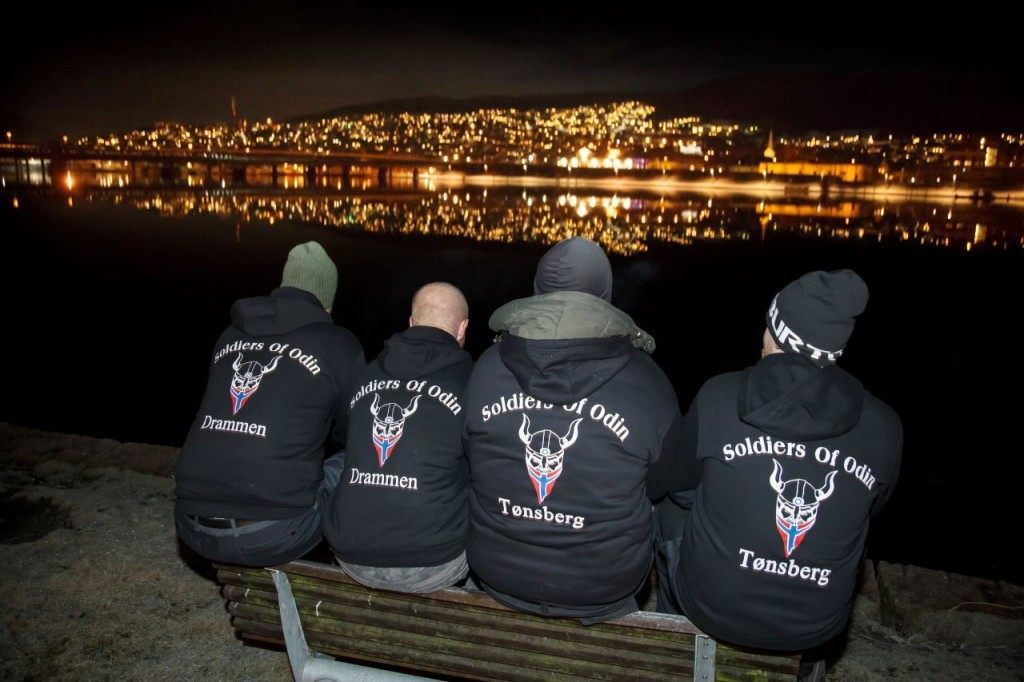 Members of the "Soldiers of Odin" pictured as they patrol through the streets of Drammen, Norway, on Sunday night, February 21, 2016 – Heiko Junge/AFP/Getty.
A Soldiers of Odin spokesman misspeaks.
"We want the streets to be safe, we want to get rid of the delinquency we see in Norway today, which the police are unable to address," Ronny Alte, a spokesman for Soldiers of Odin told AFP on Monday.
He also said that

things could "begin to get dangerous

" if the Soldiers of Allah used their patrols to recruit extremists, but claimed it was not valid to compare the groups.
"When it comes to 'Odin's soldiers' and 'Allah soldiers,' we have two completely different starting points. We want safe streets but they want to use coercion and oppression. That they use a word like 'infidel' to describe us really forces a reaction from me. What will they do – force us to convert?", Mr. Alte said.
"That they say they want to patrol for 'the good' means nothing. What is good for us and what is good for them are two different things".
However, the Soldiers of Odin have now reportedly dismissed Mr. Alte from the organization, Vespen
reports
. They said that his comments about a potential clash between the two groups was damaging for the Soldiers of Odin's image.
There is more than image at stake for Soldiers of Odin.

While giving free rein to Muslim criminals, European governments are constantly scrutinizing public reaction to Muslim crime, fearing a rise in right wing groups.
Nationalist groups could threaten traditional parties' hold on power in future elections. Leftist and centrist political parties' agenda has been to increase their voting base through immigration all along, disguised as humanitarianism.
To pre-empt public opposition, European governments use existing anti-Nazi legislation to ban any group that has anything that could be characterized as racist.
It takes only the slightest politically-incorrect comment by leaders of a right wing group to be banned by government. That's why organizations such as PEGIDA endeavor to reiterate their non-racist platform, and that their sole agenda is to oppose the Islamization of Europe.
The Soldiers of Odin was formed last autumn and have been patrolling streets in several Finnish towns to protect the Finns from Muslim crime.
Earlier this month, a group of Soldiers of Odin were seen on a vigilante walk through the town of Tønsberg in southern Norway. During what is believed to be the first appearance of Soldiers of Odin groups outside of Finland, some 14 'soldiers' walked around the town on Saturday night.
Radical Islamists protest outside the US Embassy in Oslo in 2012.
Sources
http://www.breitbart.com/london/2016/02/29/powder-keg-soldiers-of-allah-to-combat-norwegian-soliders-of-odin-group/
http://www.thelocal.no/20160226/soldiers-of-allah-pop-up-in-norway-to-counter-soldiers-of-odin
http://www.dailymail.co.uk/news/article-3465598/Islamists-form-Soldiers-Allah-group-Norway-response-controversial-Soldiers-Odin-reveal-uniform-featuring-ISIS-logo.html
http://www.vg.no/nyheter/innenriks/odins-soldater/odins-soldater-om-allaahs-soldater-et-pr-stunt/a/23624831/
http://www.vepsen.no/2016/02/full-krig-i-valhall-igjen/
Read more about JUNDULLAH
https://en.wikipedia.org/wiki/Jundallah_(Pakistan
)
Thursday, February 4, 2016
FINLAND VIGILANTES: THE SOLDIERS OF ODIN
- VIOLENT CONFRONTATION BETWEEN VIGILANTES AND MUSLIM CRIME GANGS in Sweden's Stockholm train station

as vigilantes attacked gangs in revenge for the murder of a female social worker at a refugee center
READ MORE and see additional photos of members of Soldiers of Odin
http://ottersandsciencenews.blogspot.ca/2016/02/finland-vigilantes-sons-of-odin-angela.html
~~~~~~~~~~~~~~~~~~~~~~~~
March 2016
BOOK EXPOSES 'CONMAN' TONY BLAIR'S CONSPIRACY TO FLOOD BRITAIN WITH MIGRANTS
thus destroying his own country culturally and demographically for the sake of increasing Labour's voting base.
- London now has a non-white majority, and the rest of Britain will follow - While Britain buckled under a migrant wave, Blair enjoyed close relationship with a beautiful assistant
- Today Blair engages in questionable business deals, many of them with MUSLIM governments
READ MORE
http://ottersandsciencenews.blogspot.ca/2016/02/book-exposes-conman-tony-blairs.html
Monday, February 15, 2016
WILL THERE EVER BE A NUREMBERG TRIAL FOR EUROPEAN TRAITORS

who are handing over their countries to ISLAM, refusing to protect the population from Muslim crime and terror, and violently crushing citizens' protests and dissent?
- The arrest of 75-year-old General Christian Piquemal, Commander of the French Foreign Legion, for speaking at a PEGIDA anti-Islamization rally
- WATCH VIDEO of CALAIS mother denouncing city authorities collaboration with migrants violence and lawlessness
Read more
http://ottersandsciencenews.blogspot.ca/2016/02/will-there-ever-be-nuremberg-trial-for.html
MEDIA REPORTING ON ISLAM
ISLAM IN THE WEST
BREITBART - Migrant crisis latest news
http://www.breitbart.com/tag/europe-migrant-crisis/
Bare Naked Islam
http://www.barenakedislam.com/
The Muslim Issue
https://themuslimissue.wordpress.com/
Tundra Tabloids
http://tundratabloids.com/
Allah's Willing Executioners
Soeren Kern
http://soerenkern.com/
Gates of Vienna
http://gatesofvienna.net/
Frontpage Magazine
http://www.frontpagemag.com/
Creeping Sharia
https://creepingsharia.wordpress.com/
Refugee Resettlement Watch
https://refugeeresettlementwatch.wordpress.com/
Money Jihad (recommended)
https://moneyjihad.wordpress.com/
Sharia Finance Watch
http://www.shariahfinancewatch.org/blog/
Geert Wilders
http://www.geertwilders.nl/
Vlad Tepes
http://vladtepesblog.com/
The Islamization of Europe and European Anti-Semitism
Columns by Dr Manfred Gerstenfeld
http://www.israelnationalnews.com/Articles/Author.aspx/908
MORE ON ISLAM IN THE WORLD
The Religion of Peace
http://www.thereligionofpeace.com/
The Myths of Islam
http://www.thereligionofpeace.com/Pages/Myths-of-Islam.htm
Islam's history
http://www.thereligionofpeace.com/Pages/History.htm
Islam not a religion of peace - ten reasons
http://www.thereligionofpeace.com/Pages/Top-10-Reasons.htm
Killings for Islam
http://markhumphrys.com/islam.killings.html
WikiIslam
http://wikiislam.net/wiki/Main_Page
Koran as hate speech
http://www.thereligionofpeace.com/Pages/Quran-Hate.htm
Islam

terror and genocide through the centuries
http://www.islam-watch.org/MA_Khan/IncessantTerrorism.htm
Professor Bill Warner: Video - Why we are afraid
The greatest genocide in history: Islam's slaughter of non-Muslims
Conservative estimate: 270 million killed
http://www.politicalislam.com/tears-of-jihad/