©
http://ottersandsciencenews.blogspot.ca/
.
Unauthorized duplication of this blog's material is
prohibited.
Excerpts and links may be used, provided that full credit and link is given to Otters and Science News Blogspot.
Link to this post:
http://ottersandsciencenews.blogspot.ca/2017/01/arab-and-jewish-dna-shocking-results-of.html
- Thank you for visiting my blog.
~~~~~~~~~~~~~~~~~~~~~~~~~~~~~~~~~~~~~~
Arab-conquered lands are shown in green.
Israel is a small sliver in red.
The following article from
EOZ
is based on the results of a National Geographic DNA study of Middle East populations. They have to be taken with some skepticism for a variety of reasons, one of them being the unscientific collection of data. People were invited to voluntarily submit their DNA.
What is key to understand is that Muslim Arabs invaded and conquered the Middle East in the seventh century. Rape, slavery, and wives taken from forcibly converted populations added to the DNA mix. The same scenario afflicted Africa, much of the rest of Asia, and even parts of Europe, as Arabs conquered new lands.
Continue reading,

see charts indicating racial origin of Arab and Jewish populations, and watch video.
National Geographic
has a project where they identify the origin of "native" populations using DNA. I don't know the exact methodology but the results are interesting. For example, and not surprisingly, most of Tunisia's collective DNA
comes from north Africa
and only 4% from Arabia.
Egypt is a bit more Arab, but not that much. And it has a small but significant number of Jewish genes.
Lebanon is much more of a mix, with less than half from Arabia and 14% from Jews:
Ashkenazi Jews themselves are mostly Jewish, not surprisingly, with some admixture from Eastern Europe and Arab countries.
Ashkenazi Jews, along with Sephardi Jews, are those who migrated to Europe after the Romans invaded Israel in the first century AD. The Romans slaughtered millions of Jews, and either enslaved or expelled the rest. They razed the Jewish kingdom of Judea and renamed it Palestine, to erase all memory of Judea and the Jews, or so they hoped.
This ancient relief is in the Arch of Titus in Rome. It shows the enslaved Jewish population and Romans carrying looted Jewish treasure, including a menorah.
However a small number of Jews managed to stay in Israel, particularly in the city of Jerusalem. In spite of numerous invasions, there has been a continuous Jewish presence in Israel through thousands of years.
A significant portion of world Jews survived in other countries in the Middle East.
When Israel declared its independence in 1948, a million Jews living in Arab lands were expelled by violent Arab mobs and had to seek refuge in Israel. Today they and their descendants constitute about half of Israel's Jewish population.
I'm including an interesting comment to the EOZ article by reader Irene:
One would have to look into it more.
The first thing to consider is the sample sizes. Next, since the results are based on DNA samples submitted it could reflect the economic status of the participant - the kit lists for $200/US.
The last factor would be the reach of the publication in terms of availability both in language of the target countries and in general popularity of National Geographic.
My guess is that Jews generally have a high degree of interest in genealogy that might not be found in populations that have remained in one place in a single community where everyone knows to whom they are related.
As such they may be oversampled. In the latter case they might not even want to know that they genetically might not completely belong to their social in-group.
For example, you have Lebanon, a relatively small country, but not Algeria or France.
The study might be suspect - a co-designer designer of the detection chip, according to Wiki, is Dr. Eran Elhaik, the same individual who wrongly claimed that Jews were Khazars.
I wouldn't make a conclusion right away as to the validity (or invalidity) of the results. The important thing to reflect upon is that the use of genetic data is of interest from a scientific and migratory history POV, but should not be used for political purposes. It basically states who slept with whom, but nothing about allegiances or political beliefs.
Sources
http://elderofziyon.blogspot.com/2017/01/dna-shows-where-people-in-arab.html
https://genographic.nationalgeographic.com/reference-populations-next-gen/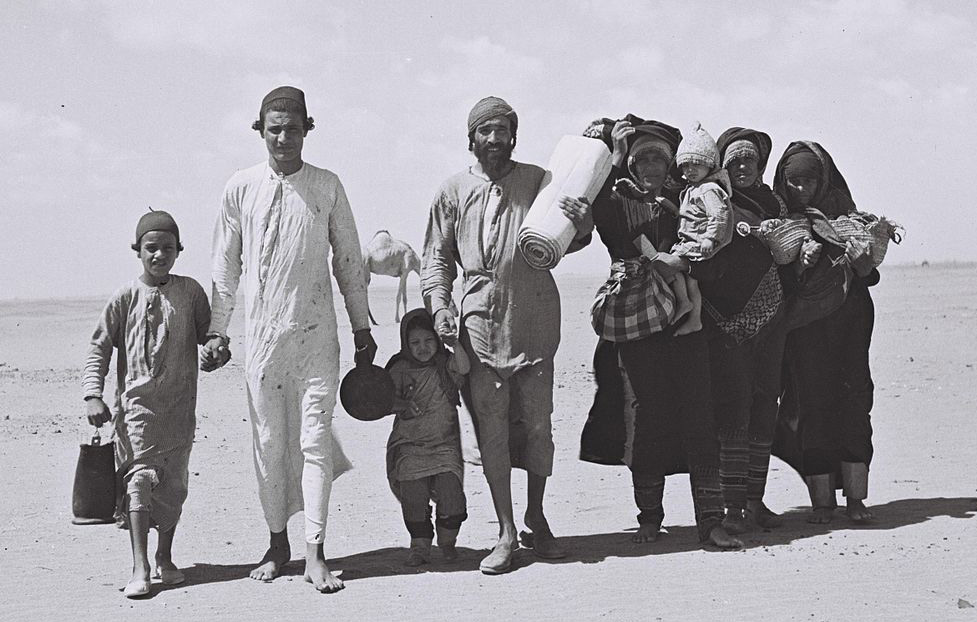 THE FORGOTTEN REFUGEES
More than half of Israeli Jews have deep roots in the Middle East and a million of them arrived as refugees from persecution and violence in Arab countries
READ MORE
http://ottersandsciencenews.blogspot.ca/2014/10/the-forgotten-refugees-more-than-half.html
ARE ARABS THE INDIGENOUS PEOPLE OF ISRAEL?
MUSLIM COLONISTS and Palestinian Arabs' case of identity theft.
The truth about the Arab claim to Jewish land.
VIDEO

- WHAT IS PALESTINE,
AND WHO ARE THE PALESTINIANS?
READ MORE
http://ottersandsciencenews.blogspot.ca/2015/04/are-arabs-indigenous-people-of-israel.html
*******************************