©
http://ottersandsciencenews.blogspot.ca/
.
Unauthorized duplication of this blog's material is
prohibited.
Excerpts and links may be used, provided that full credit and link is given to Otters and Science News Blogspot.
Link to this post:
http://ottersandsciencenews.blogspot.ca/2016/01/shocking-video-of-cologne-war-zone-with.html
- Thank you for visiting my blog.
~~~~~~~~~~~~~~~~~~~~~~~~~~~~~~~~~~~~~~
Muslim migrants shoot guns
in downtown Cologne, Germany, turning it into a
war zone
UPDATE - See also video of gang rape of European journalist in Cairo.
The Muslim sexual assaults in Cologne and in many other cities during New Year's celebration is was an organized act of war - of rape jihad - and the reaction by different levels of government has been

shockingly

mild, timid and confused at best, and Muslim apologist at worst, aiming their anger and police power at critics of Muslim crime rather than at the criminals themselves.
More than the Muslim invasion itself, the biggest threat to European civilization is Europe's

lack of a proper and
honorable
reaction to this latest heinous crime and humiliation, as well as a sense of collective
survival.
EU governments are still willing to welcome more Muslim terrorists, criminals and rapists!
And the public will do nothing but quietly demonstrate in the streets, as if that is going to influence governments that have a powerful and hidden nefarious agenda!
Apparently there is NO ONE to defend Western civilization and the honor of women assaulted by Muslims in Germany and in the rest of Europe.
Mass protest demonstrations are for college kids. Governments will just send a couple of thousand cops to break them up. Nothing will be accomplished. This crisis demands a grownup reaction.
The whole country - actually the whole European continent - should have stopped on its tracks and demanded that their governments close all borders immediately and start proceedings for the repatriation of illegal migrants and foreign criminals. Legitimate refugees should be assisted by refugee camps located in the Middle East and Africa, and funded by the international community.
If Europe does not react with honor to this latest assault, we - the entire Western civilization - are doomed.
Continue reading
, and see additional video of gang rape, and related articles
Shocking video taken in Berlin on New Years Eve shows migrants shooting guns and hurling fireworks in scenes that resemble something out of a war zone.
The clip shows terrified women with children and prams running from the scene as fireworks explode in every direction.
Infowars confirmed with a source who was in the area that the incident happened on the same night that around a thousand migrants molested German women in Cologne.
http://www.infowars.com/shock-video-shows-migrants-in-berlin-shooting-guns-throwing-fireworks/
~~~~~~~~~~~~~~~~~~~~
This is TAHARRUSH - mob rape of European journalist in Egypt - Video
The clip shows a white woman being set upon by a violent mob during protests against Egyptian President Mohamed Morsi in Tahrir Square on June 30, 2013. She is heard screaming before being pushed to the floor and, according to Egyptian journalist Dina Zakaria, was then viciously molested.
What we are seeing in the video is an example of 'Taharrush' – where gangs of men attack, assault, rob and in some cases rape women. The phenomenon is a particular problem in North African countries during public demonstrations or festivities.
Mass sexual assaults in Cologne and numerous other cities across the continent on New Year's Eve committed by Arab men illustrate how 'Taharrush' is now being imported by European countries as a consequence of the 'refugee' red carpet.
"In Egypt, sexual harassment is widespread and touches the lives of the majority of women whether on the streets, in public transportation, or at the work place, the super market, or political protests," reports online journal
Jadaliyya
, adding that even Muslim women who wear the veil are targeted.
CBS reporter Lara Logan

was
infamously molested
by up to 200 men in the same location – Tahrir Square – during the 2011 uprising in Egypt. Logan was sexually assaulted so violently that she thought she was going to die.
Although mass molestations by migrants are clearly connected to the fact that Islam treats women as second class citizens, authorities in Europe are still almost completely ignorant to the problem.
Vienna's chief of police
echoed comments made by Cologne Mayor Henriette Reker when he advised Austrian women not to go out at night alone.
Meanwhile,
it's emerged
that the Syrian ISIS supporter who attempted a jihadist attack on a police station in Paris last week had previously been arrested for sexually assaulting women in Cologne and may even have been involved in last month's attacks on New Year's Eve
.
UPDATE

- Links to latest headlines:
Reuters: Germans File 600 Sexual Assault Complaints with Cops
http://www.breitbart.com/london/2016/01/11/reuters-600-criminal-complaints-filed-by-germans-on-sexual-assaults-by-migrants/
TAHARRUSH - Muslim gang rape
http://www.breitbart.com/london/2016/01/11/taharrush/
Mob rapes were planned and coordinated
http://www.breitbart.com/london/2016/01/11/cologne-sex-mobs-co-ordinated-and-planned-europe-wide-phenomena-possibly-linked/
Rape is also jihad - Terrorist was also a rapist
http://www.breitbart.com/london/2016/01/11/paris-police-station-attacker-was-arrested-in-cologne-for-sexual-assault/
MULTIPLE SEX ATTACKS IN SWEDEN NEW YEAR
http://www.breitbart.com/london/2016/01/08/multiple-new-years-eve-sex-attacks-in-sweden-police-compare-it-to-cologne/
GERMAN DEVELOPMENT MINISTER MILLIONS OF MIGRANTS ON THE WAY
COLOGNE WOMEN WALK IN FEAR - IN THEIR OWN CITY
http://www.dailymail.co.uk/news/article-3392512/How-beautiful-multicultural-cathedral-city-Cologne-gripped-fear-mistrust-MailOnline-reporter-Sara-Malm-visits-city-no-woman-walking-alone.html
THEY ARE NOT STOPPING - TEENAGER HOSPITALIZED IN COLOGNE AFTER MOB RAPE, DAYS AFTER THE MASS ASSAULT AT THE TRAIN STATION
http://www.breitbart.com/london/2016/01/08/cologne-out-of-control-one-week-on-from-migrant-attacks-and-another-teenager-hospitalised-by-gang
GERMANY' LONG LIST OF ROBBERIES IN THE LAST 3 YEARS - ALL MUSLIMS s
https://themuslimissue.wordpress.com/2016/01/09/germany-in-cologne-11000-people-robbed-in-past-3-years-all-perpetrators-are-muslim-males/
WND THE LIST OF RAPES KEEPS GETTING LONGER
http://www.wnd.com/2016/01/muslim-sex-attacks-rock-6-countries/
DAILY MAIL - ORGANIZED SEX JIHAD TO GET WORSE
http://www.dailymail.co.uk/news/article-3388422/Huge-influx-migrant-men-lead-sex-attacks-like-Cologne-says-analyst-police-reveal-gangs-blocked-reaching-women-screamed-help.html
TO THE EMASCULATED MEN OF EUROPE

- While migrants rape your women you sing IMAGINE, light candles, and continue to sip your champagne - What feminists have done to the Western man
By Zbiegniew Zwgstkstwig
Read more
http://ottersandsciencenews.blogspot.ca/2016/01/to-emasculated-men-of-europe-while.html
~~~~~~~~~~~~~~~~~~~~~~
NEW YEAR OF MUSLIM RAPE AND TERROR IN EUROPE
Raping women travellers at COLOGNE train station, stealing, terrorizing the public, torching hundreds of cars in PARIS, and plotting mass terror attacks at various European cities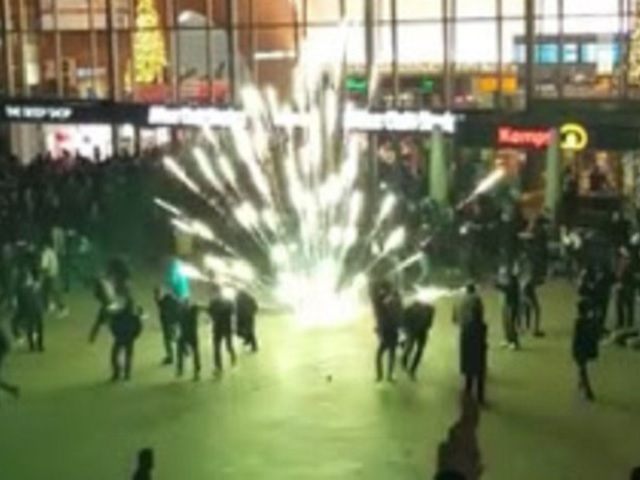 On this page: The New Europe:
GERMANY:

1,000 migrants brawl, rape, and steal at Cologne

train station on New Year's Eve.

PARIS:

Over 800 cars torched in what is

now a Muslim tradition in France.

GERMANY:

Authorities close Munich train

stations over credible reports

of impending carnage by Muslim terrorists.

BRUSSELS:

Migrants set fire to

a Christmas tree in a public plaza

.
Read more
http://ottersandsciencenews.blogspot.ca/2016/01/new-year-of-muslim-rape-and-terror-in.html
~~~~~~~~~~~~~~~~~~~~~~
Europeans

- Germans and their collaborators in France and other countries - murdered six million Jews only to replace them with Muslims.
But strangely, Europeans haven't stopped killing Jews. They do it by proxy now. They have contracted out Muslim Arabs living in Israel to do the killing.
Germany

and other EU countries contribute MILLIONS of Euros to the Palestinians, knowing perfectly well that the money will be used to pay salaries to terrorists. They also finance organizations devoted exclusively to demonize Israel and to subvert the law, security, and democracy in that country.
The reason why

the Muslim invasion of Europe is so ominous is that once they become a majority - and they WILL become a majority because the indigenous population is shrinking due to low birth rate - Western civilization will die. Europe will be like Turkey, or like Syria, but with nuclear bombs.
Muslim numbers are still low in the USA but their influence is rising exponentially by means of intimidation and bribery of public officials, and with help from influential leftists and media, and from top officials who are sympathetic to Islam.
Once Islam gains full dominance over the West, the dark ages will be back with a vengeance.
is not considered terror in Europe.
German Chancellor Angela Merkel warmly greets Palestinian terrorist Mahmoud Abbas
at an anti-terror march in Paris in January 2015, after the Charlie Hebdo murders by Jihadists. Abbas was a guest of honor at that march that included top leaders of the world. Israel's PM was asked to stay home because the French government felt "uncomfortable" with his presence. He attended anyway.
~~~~~~~~~~~~~~~~~~~~
April 13, 2014 - Otters and Science News:
All European Life Died in Auschwitz
Barcelona Jewish Quarter
The following article was written under the name Sebastian Vilar (or Vivar) Rodriguez and published in a Spanish newspaper several years ago. The name is a pseudonym, and there is no record of who the real writer was. Some of the statistics are outdated and I have updated a couple of them. The writer published this before 9/11, and before Muslims invaded Europe in large waves only to increase incidents of Muslim rape, crime and terror.
I
walked down the street in Barcelona,

and suddenly discovered a terrible truth, Europe died in Auschwitz . . .
We killed six million Jews and replaced them with 20 million Muslims. (There are now over 53 MILLION of them, since this article was originally published - Blogger.)
In Auschwitz we burned a culture, thought, creativity, talent. We destroyed the chosen people, truly chosen, because they produced great and wonderful people who changed the world.
The contribution of this people is felt in all areas of life: science, art, international trade, and above all, as the conscience of the world. These are the people we burned.
And under the pretense of tolerance

, and because we wanted to prove to ourselves that we were cured of the disease of racism, we opened our gates to 20 million Muslims, who brought us stupidity and ignorance, religious extremism and lack of tolerance, crime and poverty, due to an unwillingness to work and support their families with pride.
They have blown up our trains and turned our beautiful Spanish cities into the third world, drowning in filth and crime.
Shut up in the apartments they receive free from the government, they plan the murder and destruction of their naive hosts.
And thus, in our misery, we have exchanged culture for fanatical hatred,

creative skill for destructive skill, intelligence for backwardness and superstition.
We have exchanged the pursuit of peace of the Jews of Europe and their talent for a better future for their children, their determined clinging to life because life is holy, for those who pursue death, for people consumed by the desire for death for themselves and others, for our children and theirs.
Approximately 1,200,000,000; that is ONE BILLION TWO HUNDRED MILLION or 20% of the world's population are Muslims. (Now 1.6 BILLION MUSLIMS. - Blogger)
The Jews are NOT brainwashing children in military training camps, teaching them how to blow themselves up and cause maximum deaths of Jews and other non Muslims.
The Jews don't hijack planes, nor kill athletes at the Olympics, or blow themselves up in German restaurants. There is NOT one single Jew who has destroyed a church. There is NOT a single Jew who protests by killing people.
The Jews don't traffic slaves, nor have leaders calling for Jihad and death to all the Infidels.
Perhaps the world's Muslims should consider investing more in standard education and less in blaming the Jews for all their problems.
Muslims must ask 'what can they do for humankind' before they demand that humankind respects them.
Regardless of your feelings about the crisis between Israel and the Palestinians and Arab neighbors, even if you believe there is more culpability on Israel's part, the following two sentences really say it all:
'If the Arabs put down their weapons today, there would be no more violence. If the Jews put down their weapons today, there would be no more Israel .

" (Israel's PM Benjamin Netanyahu)
General Eisenhower Warned Us: It is a matter of history that when the Supreme Commander of the Allied Forces, General Dwight Eisenhower, found the victims of the death camps he ordered all possible photographs to be taken, and for the German people from surrounding villages to be ushered through the camps and even made to bury the dead.
He did this because he said in words to this effect: 'Get it all on record now, get the films, get the witnesses, because somewhere down the road of history some bastard will get up and say that this never happened.'
Recently, the UK debated whether to remove The Holocaust from its school curriculum because it 'offends' the Muslim population which claims it never occurred. It is not removed as yet. However, this is a frightening portent of the fear that is gripping the world and how easily each country is giving into it.
It is now more than 60 years after the Second World War in Europe ended. This e-mail is being sent as a memorial chain, in memory of the, 6 million Jews, 20 million Russians, 10 million Christians, and 1,900 Catholic priests who were 'murdered, raped, burned, starved, beaten, experimented on and humiliated' while the German people looked the other way.
Now, more than ever, with Iran, among others, claiming the Holocaust to be 'a myth,' it is imperative to make sure the world never forgets.
Source
http://supportisrael.us/news/?p=746
More about the above column
http://plancksconstant.org/blog1/2011/02/who_wrote_all_european_life_died_in_auschwitz.html
Photos
above of Barcelona Jewish Quarter from Wikipedia, and of the Holocaust Memorial in Jerusalem.
WHAT IS ANGELA MERKEL'S REAL AGENDA

behind her promotion of Europe as a welcoming destination for millions of Muslim migrants and jihadists?
- Watch video where she fails to answer a straight question about her duty to keep Germany safe from Muslim terror
Read more
http://ottersandsciencenews.blogspot.ca/2015/09/what-is-angela-merkels-real-agenda.html
Germany funds anti-Semitism
German government funds are transferred from front organization to others that contribute to the growing demonization of Israel and
BDS (boycott, divestment, and sanctions)
campaigns, in direct contradiction to German foreign policy.
The German government knows this.
These NGOs oppose peace and negotiations, and promote narratives that reject the legitimacy of a Jewish state.
Additionally, in some cases, German funding has been granted to organizations involved in blatant antisemitism.
Millions of euros originating with German taxpayers are provided annually to these NGOs.
Direct funding frameworks include the German Ministry of Foreign Affairs, the Ministry for Economic Cooperation and Development (BMZ), and other branches; indirect funding includes church-based aid groups and powerful political foundations associated with German political parties.
*********************************