©
http://ottersandsciencenews.blogspot.ca/
.
Unauthorized duplication of this blog's material is
prohibited.
Excerpts and links may be used, provided that full credit and link is given to Otters and Science News Blogspot.
Link to this post:
http://ottersandsciencenews.blogspot.ca/2016/01/atheist-scientist-richard-dawkins.html
- Thank you for visiting my blog.
~~~~~~~~~~~~~~~~~~~~~~~~~~~~~~~~~~~~~~
Caveat: Although I do not have - and have never had - any religion, I believe in God, an unknowable God. To me His existence feels real, while it is obvious that religions are in one form or another a human creation. Somebody heard voices, had a dream, or witnessed an apparition. And it goes from there.
People confuse God with man-made religion. And that's the start of a whole set of problems. But that's my humble opinion.
In the case of Israel,

it is the Jewish people's historical land by right. Even if you take Judaism out of the equation, Muslims are the real occupiers who invaded the land many centuries after Jews had established a Jewish kingdom and a major civilization in Israel. There was always a Jewish presence in Jerusalem and in the rest of Israel, even as invaders came and went.
Religions

- man-made and all - are useful because they codify the principles by which a society is to be ruled. The Ten Commandments for the Jews - Jihad, slaughter of non-Muslims, and raping of women according to the Koran.
Sometimes tyrants go as far as to declare themselves to be a god, or to be directly guided by god. It all works to get control the masses more effectively.
We must also acknowledge that religious inclination is almost instinctual in human beings. Wherever there is no religion, people manage to invent one to fill the gap. Even atheists have a superstition or two, so it's not that they don't believe in the supernatural.
So it's a matter of deciding which set of religious beliefs will cause the least amount of damage to individuals and society.
Militant atheists

have been waging an all out war on Christianity, and to a lesser extent on Judaism, because they are easy targets. Neither Christians nor Jews issue fatwas against those who insult their religion. It's safe to denigrate both Christianity and Judaism. So put in very stark terms, those who target those religions while being mostly silent about Islam's depredations are being intellectually dishonest.
Richard Dawkins' buyers' remorse.

But critics of Christianity can now realize that at some point their words have had a deleterious effect on society. Richard Dawkins is now expressing the equivalent of buyer's remorse. After denigrating Christianity for years, he is now forced to confront the fact that the expanding cult of Islam is a much greater threat than even the most fanatic sort of Christianity could ever be.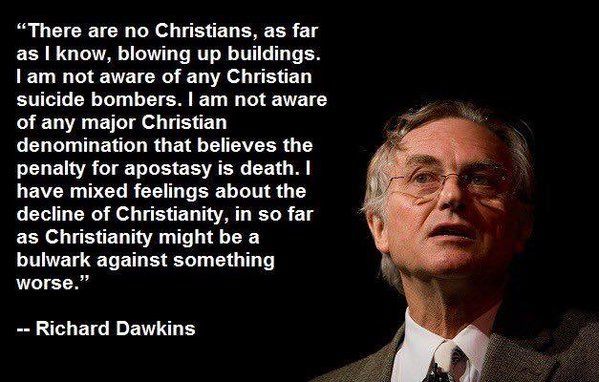 Many people can live righteous and happy lives without believing in God. But the majority cannot. Once Christianity and its general moral values are eradicated, we are left with a vacuum that is filled with damaging activities such as different forms of addiction, and a with sense of purposelessness, in addition to the quasi-deification of notions such as moral and cultural relativism.
Devoted Christians too engage in immoral and criminal activities, and can be prone to depression. But for society in general, Christianity is a safety net available for everyone, and should not be thrown away.
Militant atheism,

by the way, does not guarantee that a society will be ruled by reason and compassion. Take the Soviet Union, China, and North Korea as examples. The horrors these officially atheist societies have inflicted on individuals and on the environment surpass any sins that Christian capitalism may have perpetrated so far.
Nazism also waged war on traditional Christianity, while attempting to obliterate Christianity's roots, the Jews and Judaism, elevating the cult of the German race and their Fuehrer into a religion. See how depraved civilized people can get once you remove Christian social restraints.
Science as religion.
Scientists have an almost religious attitude towards science itself, and they get extremely upset whenever anyone challenges their theories. They hold scientific doctrine as fact, always forgetting that scientific knowledge is always evolving, and that what was considered "an established fact" 50 years ago, or even 10 years ago, is now being replaced by new - and often contradictory - "established facts".
This is particularly important in medicine, where much harm is being done in the name of approved medical practice. Although you will be chastised for daring to challenge a doctor's authority, those practices continue to be revised all the time. There is no sacredness to science, although scientists would like you to regard it as sacred dogma.
Scientists' adherence to scientific doctrine based on political ideology is well known. Scientists who don't follow the established dogma to the letter are shunned, and deprived of jobs and grants for research. This is how the dogma is usually maintained.
Please read recent ARTICLE
about the intelligence gene. Leftists, who dominate the media and academic institutions, have always insisted that intelligence and race are a social construct. Now they are being led kicking and screaming to admit that yes, according to the latest research genes and race can determine a person's intelligence.
VIDEO

- Real Time with Bill Maher:
Richard Dawkins
Regressive Leftists (HBO)
On Islam: "The hell with their culture"
Professional Atheist Dawkins Says
Christianity 'Bulwark Against Something Worse'
By Thomas D. Williams, Breitbart
In a text that is coursing about on social media, professional atheist Richard Dawkins begrudgingly admitted that Christianity may actually be our best defense against aberrant forms of religion that threaten the world.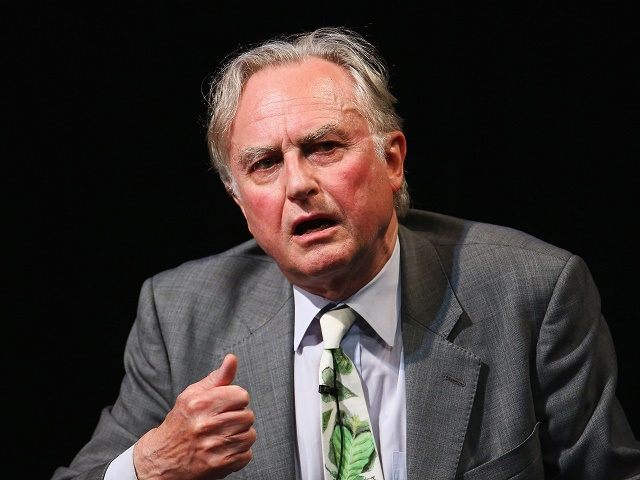 "There are no Christians, as far as I know, blowing up buildings," Dawkins said. "I am not aware of any Christian suicide bombers. I am not aware of any major Christian denomination that believes the penalty for apostasy is death."
In a rare moment of candor, Dawkins reluctantly accepted that the teachings of Jesus Christ do not lead to a world of terror, whereas followers of radical Islam perpetrate the very atrocities that he laments.
Continue reading
Follow Breitbart author Thomas D. Williams on Twitter @tdwilliamsrome
Source
http://www.breitbart.com/national-security/2016/01/12/professional-atheist-dawkins-says-christianity-bulwark-against-something-worse/
THE UK EXPRESS - TOP academic and atheist Richard Dawkins has attacked western society's relaxed attitude to radical Islam in an extraordinary statement.
Source
http://www.express.co.uk/news/uk/611231/Richard-Dawkins-in-extraordinary-blast-at-Muslims-To-hell-with-their-culture
More articles about Richard Dawkins on Breitbart
http://www.breitbart.com/tag/richard-dawkins/
Richard Dawkins denounces leftists for granting a free pass to Islam
http://www.breitbart.com/video/2015/10/02/bill-maher-richard-dawkins-denounce-regressive-leftists-for-granting-free-pass-to-islam/
Richard Dawkins denounces the regressive left
http://www.breitbart.com/video/2015/10/02/bill-maher-richard-dawkins-denounce-regressive-leftists-for-granting-free-pass-to-islam/
Video interviews with Richard Dawkins on YouTube -
https://www.youtube.com/results?search_query=richard+dawkins+bull+maher+islam+2015
Source
http://www.algemeiner.com/2013/10/29/richard-dawkins-perplexed-by-high-number-of-jewish-nobel-prize-winners/
#
INTELLIGENCE GENES ACTUALLY EXIST
- Scientists discover genes that determine intelligence
- There are plans to manipulate them
- Nicholas Wade's book A TROUBLESOME INHERITANCE was pilloried for presenting links between genes, race, and human development. Scientific studies vindicate him.
Read more
http://ottersandsciencenews.blogspot.ca/2015/12/intelligence-genes-really-exist.html
Source
https://richarddawkins.net/2014/07/why-dont-i-criticize-Israel
Listen to the audio
here
.
AUTHOR SAM HARRIS
http://www.samharris.org/
Source
https://en.wikipedia.org/wiki/Sam_Harris
August 2015:
POLISH REPORTER CONFIRMS HAMAS USED HUMAN SHIELDS IN GAZA

- He witnessed how they deliberately provoked Israeli fire by launching rockets from residential areas so as to use casualties as propaganda - He is one of several media correspondents exposing this practice. - Hamas officials have confirmed their use of human shields - It's in their war manual, found by the IDF
ON THIS PAGE:
Polish reporter's witness account of Hamas launching rockets from crowded civilian areas in order to use Arab civilian casualties as anti-Israel propaganda.

Map of Gaza showing the many empty areas in the region. They are not used for rocket launching precisely because there are no civilians for human shield use.

Links to other foreign correspondents' reports of Hamas use of human shields

Daily Mail report of Hamas ADMITTING they use human shields.

IDF found Hamas' own urban warfare manual recommending the use of human shields

Thousands of Arabs expelled from their homes at the Gaza-Egypt border and their houses destroyed BY EGYPT because of jihadi activity. The media ignores it because they can't blame Israel.

The plight of thousands of Palestinians in Yarmouk, Syria. Blockaded by Assad, starving, victimized by ISIS. The media ignores it because they can't blame Israel.

Ex AP correspondent exposes widespread bias in international reporting from Israel and Gaza.
~~~~~~~~~~~~~~~~~~
LATEST HEADLINES January 2016
Palestinian Authority ruling Fatah political faction:
Drown Israelis "in a sea of blood"
Music video on Fatah-run Awdah TV:
"Besiege them in all their neighborhoods
Drown them in a sea of blood