©
http://ottersandsciencenews.blogspot.ca/
.
Unauthorized duplication of this blog's material is
prohibited.
Excerpts and links may be used, provided that full credit and link is given to Otters and Science News Blogspot.
Link to this post:
http://ottersandsciencenews.blogspot.ca/2016/01/cologne-anti-migrant-rape-crowds.html
- Thank you for visiting my blog.
~~~~~~~~~~~~~~~~~~~~~~~~~~~~~~~~~~~~~~
TIMIDITY AND POLITICAL CORRECTNESS

on the part of politicians AND the public will bring on the rise of the extreme right in Germany and in other European countries.

Neo-Nazis

will be the only ones daring to say what politically-correct politicians and demonstrators don't. Donald Trump is not an extreme right politician, but he is free from political correctness, so the crowds love him unquestionably. That should tell us something.
The main concern for the German government now is to contain popular anger at the ongoing problem of Muslim rape in Germany
USELESS DEMONSTRATIONS COULD GO ON FOR YEARS - THE GOVERNMENT IS NOT LISTENING.
There is an agenda for replacing the indigenous European population with Muslims from Asia and Africa.
Angela Merkel

has backed a toughening of expulsion rules for convicted refugees in

Germany

-

Tough words that mean absolutely nothing, as she continues to welcome millions of potential rapists, criminals, and terrorists into German society.
The only proper response should have been

a moratorium

on further Muslim immigration.
Around 1,700 protesters from the anti-Islam Pegida movement were kept apart from 1,300 counter demonstrators (who were probably foreigners for the most part)
Under the potential new rules, migrants who commit a crime will be requested to leave Germany
Deportation is very unlikely to be implemented. The accused will appeal and re-appeal the order, claiming persecution in their home countries, and will get another chance. Furthermore, there will soon be another Muslim generation born in Germany but with the same culture of hate and rape, as it's the case now in Britain.
German police confirmed the number of reported case sexual assaults on New Year Eve cases is now up to

379
There were also multiple cases of migrant gang rapes in Finland, Sweden, and in the rest of Germany.
Continue reading

and see more pictures of the rally.
POLICE out in force - not to stop rapists, but to stop anti-rape demonstrators. Here they are pepper-spraying them.
Banner: Rape-fugees not welcome - Who could argue with that?
Supporters of HoGeSa (hooligans against Salafists) take part in a demonstration march with anti-immigration right-wing movement PEGIDA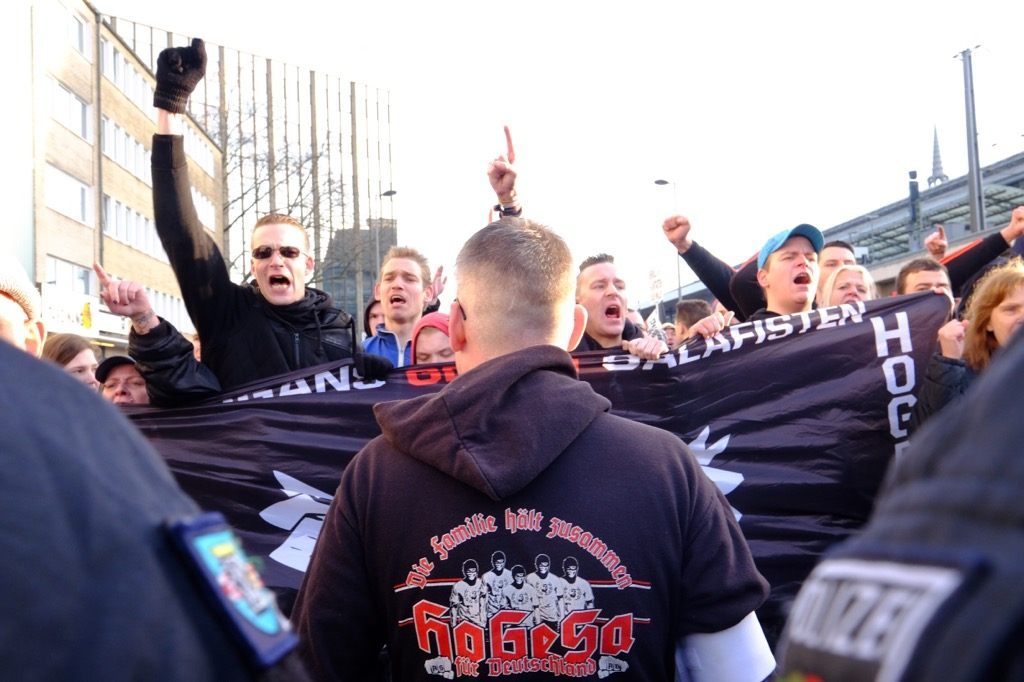 More Ho-Ge-Sa right wing hooligans.
One of the large banners held at the demonstration read: 'Citizens stand up. Protect our children and future. We are the people'
Neither rape nor murder will deter the Left. These demonstrators want open borders, and more migrants, regardless of what they do. Those who oppose them are "racists".
More police action against demonstrators. Where were they when migrant crowds were raping German women?
Sources
http://www.dailymail.co.uk/news/article-3391678/Feminists-far-right-groups-hold-separate-rallies-Cologne-Merkel-backs-new-powers-expel-migrant-criminals-wave-sex-assaults.html
http://www.breitbart.com/london/2016/01/09/exclusive-pictures-pegida-rally-in-cologne-derailed-by-violent-protesters/
MIGRANT RAPISTS GANGS CONTINUE TO RAPE EUROPEAN WOMEN
THEY HAVE ANGELA MERKEL AND THE LEFT ON THEIR SIDE
Illustration -
http://www.barenakedislam.com/
MULTIPLE SEX ATTACKS IN SWEDEN ON NEW YEAR'S EVE
http://www.breitbart.com/london/2016/01/08/multiple-new-years-eve-sex-attacks-in-sweden-police-compare-it-to-cologne/
HELSINSKI, FINLAND - WIDESPREAD SEXUAL ASSAULTS ON NEW YEARS EVE BY ASYLUM SEEKERS
http://www.breitbart.com/london/2016/01/07/helsinki-cops-widespread-sexual-harrasment-by-asylum-seekers-on-new-years-eve/
OUT OF CONTROL - COLOGNE TEEN HOSPITALIZED AFTER MIGRANT RAPE ONE WEEK AFTER THE MASS RAPE AT COLOGNE TRAIN STATION
http://www.breitbart.com/london/2016/01/08/cologne-out-of-control-one-week-on-from-migrant-attacks-and-another-teenager-hospitalised-by-gang/
COLOGNE POLICE - WOMEN RAN A GAUNTLET AT TRAIN STATION - INDESCRIBABLE HORROR
http://www.breitbart.com/big-government/2016/01/07/cologne-police-report-details-new-years-chaos-women-ran-gauntlet-words-cannot-describe/
EXPERTS: MIGRANTS DO NOT HELP THE ECONOMY
http://www.breitbart.com/london/2016/01/08/will-migrants-benefit-the-german-economy/
Nothing will deter the Left from defending Islam
GERMAN FEMINISTS DEFEND MUSLIM RAPISTS
http://www.breitbart.com/london/2016/01/07/feminists-blame-german-born-men-for-mass-sex-attacks-apease-migrants/
COLOGNE - LEFTISTS' BEST EXCUSES FOR MIGRANT RAPE
http://www.breitbart.com/national-security/2016/01/08/cologne-rapefest-the-best-liberal-excuses-so-far/
THE UK GUARDIAN -
POOR MIGRANTS RAPE WESTERN WOMEN BECAUSE THEY HAVE SMARTPHONES
http://www.breitbart.com/london/2016/01/08/guardian-poor-migrants-rape-western-women-because-they-have-smartphones/
NEW YEAR OF MUSLIM RAPE AND TERROR IN EUROPE
Raping women travellers at COLOGNE train station, stealing, terrorizing the public, torching hundreds of cars in PARIS, and plotting mass terror attacks at various European cities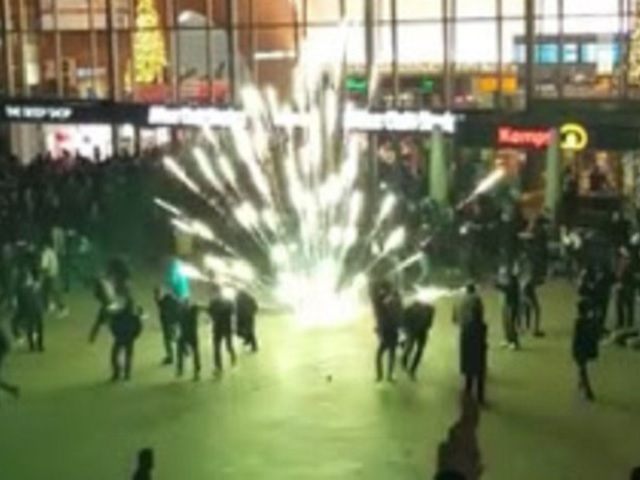 On this page: The New Europe:
GERMANY:

1,000 migrants brawl, rape, and steal at Cologne

train station on New Year's Eve.

PARIS:

Over 800 cars torched in what is

now a Muslim tradition in France.

GERMANY:

Authorities close Munich train

stations over credible reports

of impending carnage by Muslim terrorists.

BRUSSELS:

Migrants set fire to

a Christmas tree in a public plaza

.
Read more
http://ottersandsciencenews.blogspot.ca/2016/01/new-year-of-muslim-rape-and-terror-in.html