©
http://ottersandsciencenews.blogspot.ca/
.
Unauthorized duplication of this blog's material is
prohibited.
Excerpts and links may be used, provided that full credit and link is given to Otters and Science News Blogspot.
Link to this post:
http://ottersandsciencenews.blogspot.ca/2016/01/new-year-of-muslim-rape-and-terror-in.html
- Thank you for visiting my blog.
UPDATES
January 06:

Massive PEGIDA anti-Islamization rally planned. It follows spontaneous protest last night in Cologne. (More further down this page.)

Read accounts by some of the victims

One of them felt "so dirty, so used". When another victim reported the assault to a police officer, he sent her to the police station.
UPDATE

January 05:
COLOGNE MAYOR BLAMES VICTIMS
READ MORE further down this page.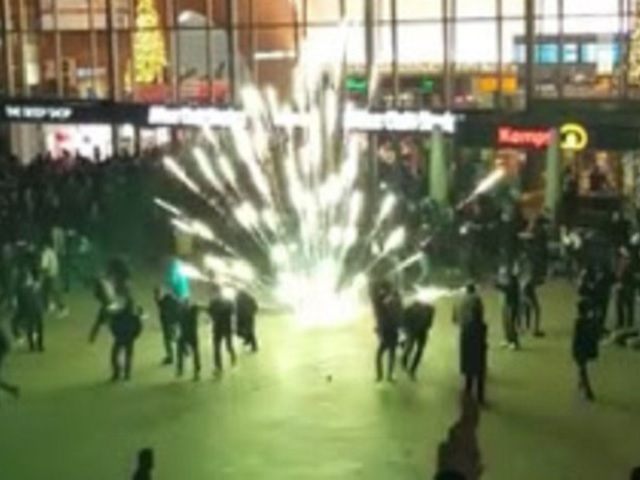 Just five arrests have been made by German police after central Cologne was transformed into a war-zone on New Year's Eve, as an estimated 1,000 migrants celebrated by launching fireworks into crowds and sexually assaulting German women caught up in the chaos.
Cologne t
rain station in 2015:
"Refugees Welcome" with smiles.
2016 New Year's Eve: Just hell.
A growing number of women and young girls housed in refugee shelters in Germany are being raped, sexually assaulted and even forced into prostitution by male asylum seekers, according to German social work organisations with first-hand knowledge of the situation.
http://www.jihadwatch.org/2016/01/islamic-state-threat-prompted-new-years-eve-closings-of-munich-train-stations
BRUSSELS CANCELS FIREWORKS OVER TERROR FEARS
MIGRANT CRIME IN GERMANY UP BY ALMOST 50%
GERMAN POLICE ADMITS TO EXISTENCE OF MUSLIM NO GO ZONES where they can't enforce the law.
AMERICAN THINKER
http://www.dailymail.co.uk/news/article-3378985/Police-Germany-covering-extent-migrant-crime-claim-Bild-country-revealed-taken-1-1-MILLION-people-2015.html