©
http://ottersandsciencenews.blogspot.ca/
.
Unauthorized duplication of this blog's material is
prohibited.
Excerpts and links may be used, provided that full credit and link is given to Otters and Science News Blogspot.
Link to this post:
http://ottersandsciencenews.blogspot.ca/2016/01/facebook-censored-this-poster-for-being.html
- Thank you for visiting my blog.
~~~~~~~~~~~~~~~~~~~~~~~~~~~~~~~~~~~~~~
This poster was created by the EoZ blog
(Read more about Facebook's censorship of this poster further down this page.)
The following is an amazing and disturbing expose of Facebook's bias against Israel and the Jews.
And here is a must-see short video about an experiment testing the moral integrity and impartiality of Facebook standards.
An Israeli NGO created two identical pages on Facebook using exactly the same hateful terms, but with one denigrating the Jews, the other the Arabs. After FACEBOOK received denunciations against both pages, they found only the anti-Arab page objectionable and removed it. The viciously anti-Israeli page apparently conformed to their standards and was left untouched.
WATCH VIDEO:
Video produced by the Israeli Law Center:
https://www.youtube.com/channel/UCp3Nz7q11qC7ebCEVJGZDOA
Continue reading
about the Facebook Experiment, and more articles exposing Facebook's anti-Israel and anti-Jewish bias when it comes to applying standards for publication, and about

Facebook's deception

as it posts virulent anti-Jewish material that can be seen in "Palestine" and Arab countries, but is blocked from Israel and the West.
BREITBART - A new
experiment
in which two hate-filled Facebook pages were created proves that the social network has double standards when it comes to incitement against Israel.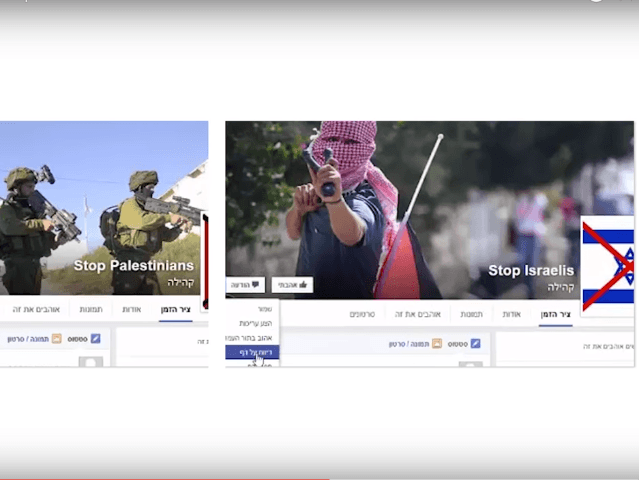 Shurat Hadin, an Israeli civil rights NGO, launched "The Big Facebook Experiment," in which two identical Facebook pages were created with only one difference. One, called "Stop Israel," was filled with inciting messages against Israel, while the other, "Stop Palestinians" was anti-Palestinian. Only the latter was removed by Facebook as being in violation of their community standards.
The NGO posted hateful content every day on both pages since their launch on December 29. A post on the anti-Israel page read, "The Zionist bites Palestine part after part and the world is silent. We'll stop them any way we can," whereas a similar post on the pro-Israel page read: "Greater land Israel should return soon from the hands of the Muslim enemy back to Jewish sovereignty! We'll do it in any way we can."
The pro-Palestinian page vowed to "demolish the Zionist invader" and threatened "death to all the Jews." Meanwhile, the pro-Israel page called for war against the "Palestinian enemy" with the claim that "more and more soldiers in the IDF know that there is a need to destroy the Arab enemy."
Shurat HaDin then reported both incitement pages to Facebook to see if they would be taken down.
On the very same day that they sent the report, the anti-Palestinian page was closed for "containing credible threat of violence."
The sister page, however, was deemed "not in violation of Facebook's rules" and remains active.
The page inciting against Palestinians was closed by Facebook for "containing credible threat of violence" which "violated our [Facebook's] community standards." The page inciting against Israelis, however, was not shut down, despite its identical hateful content. Facebook claimed that this page was "not in violation of Facebook's rules."
In October, Shurat HaDin
announced
that it was suing Facebook for being an accessory to terror by not removing pages expressing Arab support for attacks against Jews.
Source
http://www.breitbart.com/middle-east/2016/01/06/watch-undercover-op-exposes-facebooks-double-standard-on-israel/
More on the poster about murdered Israeli women:
EoZ writes:
Facebook removes EoZ poster of murdered Jewish women for "violating community standards"
Posts by the people who call these murderers heroes permeate Facebook, but pointing out that fact violates the rules!

I just looked at a
thread from Shehab News Agency
mentioning that the Jew who was
stabbed yesterday in Givat Ze'ev
was in serious condition, and the righteous Arab Facebook commenters are wishing that he dies and goes to hell.
Source
http://elderofziyon.blogspot.co.il/2016/01/facebook-removes-eoz-poster-for.html#.VqpiB8rSmM8
The article that originated that poster:
Moderate Palestinian faction Fatah Facebook page says Mahmoud Abbas inspired Palestinians to start their murder spree
More on this story here:
http://elderofziyon.blogspot.ca/2016/01/fatah-says-mahmoud-abbas-inspired.html#.VqpjzMrSmM8
The EoZ poster that accompanied that story:
Facebook: "Death to Israel" does not violate their community standards
Yes, Facebook really decided that this didn't violate their

'
community standards
.'
December 22, 2015: This was Facebook's response to a complaint:
"Thank you for taking the time to report something that you feel may violate our Community Standards. Reports like yours are an important part of making Facebook a safe and welcoming environment. We reviewed the Page you reported for containing graphic violence and found it doesn't violate our Community Standards."
The following are reasons why a page would be removed:
Facebook removes hate speech, which includes content that directly attacks people based on their:
Race,
Ethnicity,
National origin,
Religious affiliation,
Sexual orientation,
Sex, gender, or gender identity, or
Serious disabilities or diseases.
Organizations and people dedicated to promoting hatred against these protected groups are not allowed a presence on Facebook. As with all of our standards, we rely on our community to report this content to us.
Source:
http://israelmatzav.blogspot.ca/2015/12/facebook-this-doesnt-violate-our.html#links
Some recent headlines related to Facebook:
STREET SIGNS ASKING FACEBOOK TO STOP ALLOWING MUSLIM ARAB INCITEMENT AGAINST JEWS AND ISRAEL
Read more
http://www.israelnationalnews.com/News/News.aspx/206577
~~~~~~~~~~~~~~~~~~~~~~~~
A HATEFUL ANTI-JEWISH PAGE FULL OF INCITEMENT CAN BE SEEN ON FACEBOOK IN ARAB COUNTRIES,
BUT NOT IN THE WEST
What else are they hiding from Israel and the West?
Here's what's going on. A number of years ago people reported a page on Facebook called "
Jewish Ritual Murder
". It was also know as "
The Truth About Jews
". It consistently ran the classical old blood libel that Jews, ordered by their Torah, kill non-Jews (especially children) and use their blood for various invented rituals.
Well this Facebook community did appear to go away. Certainly if you're in Australia or in Israel, you can't see their page. But if you're in most of the Arab world you can. So how is this deception by Facebook helping anyone, when the people most likely to be incited to go out and stab a Jew can still see the lies, while those most likely to report it can't see it? I don't know.
Read more
http://www.israellycool.com/2016/01/06/watch-facebook-doesnt-let-israelis-learn-truth-about-jews/
VIDEO - FACEBOOK hides anti-Jewish material from Israel but it can be seen in "Palestine" and Arab countries.
Watch video:
https://www.youtube.com/watch?v=_o0Sn5fOkYo&feature=player_embedded
Video via
http://tundratabloids.com/
FACEBOOK HESITATES, THEN REMOVES ISIS PAGES
http://www.breitbart.com/national-security/2015/11/23/facebook-islamic-state-page-not-violate-community-standards/
Israeli NGO sues Facebook
Israeli NGO sues Facebook over pages inciting terror - Ben Ariel
20,000 Israelis sue Facebook for publishing incitement
20,000 Israelis sue Facebook for "Palestinian" jihad incitement
Every two and a half hours on average there is a murder attempt against Jews in Israel
http://www.jewishpress.com/indepth/opinions/weve-gotten-used-to-terror/2016/01/24/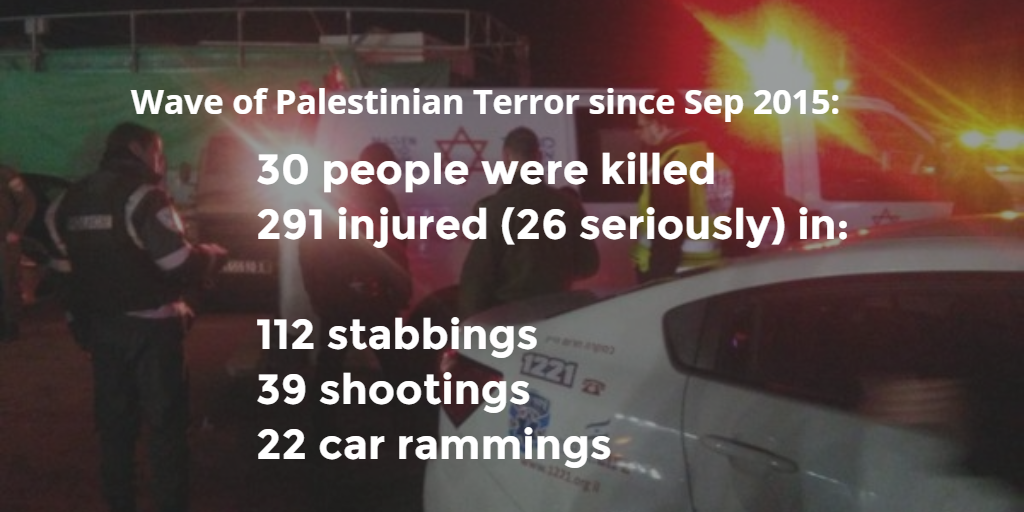 https://twitter.com/IsraelMFA
Muslim Arabs also target Israeli babies
WAR ON TERROR IN ISRAEL - NEWS FILE
**************************************