©
http://ottersandsciencenews.blogspot.ca/
.
Unauthorized duplication of this blog's material is
prohibited.
Excerpts and links may be used, provided that full credit and link is given to Otters and Science News Blogspot.
Link to this post:
http://ottersandsciencenews.blogspot.ca/2016/01/elin-krantz-was-brutally-raped-and.html
- Thank you for visiting my blog.
~~~~~~~~~~~~~~~~~~~~~~~~~~~~~~~~~~~~~~
THREE TIMES ABUSED:

Once by manipulative indoctrination

by leftist educators and media

, then

by her Muslim assailant

, and finally

by the pro-Muslim left again

, which continues to make excuses for Muslim criminality and mass rapes, dishonoring her memory and that of so many other victims of migrant rape.
The leftist female mayor of Cologne blamed women for the recent migrant gang rape of women at the train station at that city. Told them it was women's responsibility to avoid being raped. How exactly, since these men roam all parts of the city?
Elin Krantz

was a beautiful Swedish woman, young and full of life, a strong supporter of Muslim immigration. Then an African immigrant followed her after she got off the bus and brutally raped her and killed her.
Continue reading

and watch video about the Rape of Sweden
She was a member of the "We Like Diversity" Facebook page,

called herself "multicultural" and a supporter of Third-world immigration into Sweden, the country of her birth.
Maybe in those last few moments of life, she changed her mind about a few things, as if it made any difference.
On that day, Elin and her African immigrant killer were riding the same tram to the Hisingen neighbourhood in Sweden. Shortly thereafter Krantz was found raped and murdered in a wooded area not far from the tram stop.
Her 23-year
old African"refugee" (who supposedly once lived in the US) killer was arrested shortly after the killing.

He was charged with murder and aggravated rape. According to the prosecutors, the attack was one of "extreme ruthlessness

".
The dead woman was reported to have been a member of the Facebook community "We like diversity."
VIA

-
http://conservativepost.com/she-was-a-strong-supporter-of-bringing-muslim-refugees-to-swedenyet-this-was-her-fate/
See disturbing image of how she was found
http://www.barenakedislam.com/2015/10/30/told-ya-that-swedens-exploding-muslim-immigration-problem-would-have-to-get-even-worse-before-the-swedes-turn-on-their-leftist-leaders/
RELATED
NEW YEAR OF MUSLIM RAPE AND TERROR IN EUROPE
Raping women travellers at COLOGNE train station, stealing, terrorizing the public, torching hundreds of cars in PARIS, and plotting mass terror attacks at various European cities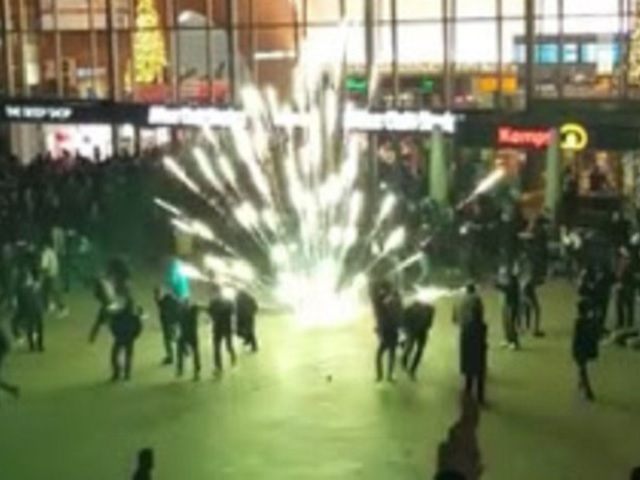 On this page: The New Europe:
GERMANY:

1,000 migrants brawl, rape, and steal at Cologne

train station on New Year's Eve.

PARIS:

Over 800 cars torched in what is

now a Muslim tradition in France.

GERMANY:

Authorities close Munich train

stations over credible reports

of impending carnage by Muslim terrorists.

BRUSSELS:

Migrants set fire to

a Christmas tree in a public plaza

.

UPDATE

- MAYOR OF COLOGNE blames victims
Read more
http://ottersandsciencenews.blogspot.ca/2016/01/new-year-of-muslim-rape-and-terror-in.html
VIDEO - The Rape of Sweden - Pat Condell
More videos by Pat Condell -
https://www.youtube.com/user/patcondell