©
http://ottersandsciencenews.blogspot.ca/
.
Unauthorized duplication of this blog's material is
prohibited.
Excerpts and links may be used, provided that full credit and link is given to Otters and Science News Blogspot.
Link to this post:
http://ottersandsciencenews.blogspot.ca/2015/10/united-nations-members-rife-with.html
- Thank you for visiting my blog.
~~~~~~~~~~~~~~~~~~~~~~~~~~~~~~~~~~~~~~

Just elected to chair the UN Human Rights Council -
SAUDI ARABIA

-
will behead and crucify Ali Mohammed Al Nimr for participating in a protest at age 17 1n 2012, to serve as an example to other dissidents.
'If I die I've had a happy life', he said
Why have we allowed ourselves to become complicit with this grotesque joke called the United Nations?
Anne Bayefsky is a
human rights
scholar and activist. Director of
Touro College
Institute on Human Rights and the Holocaust. Barrister and solicitor of the Ontario Bar. Expert in international human rights law, equality rights, and constitutional human rights law.
The parade of dictators and despots taking the U.N. stage on Monday, as the organization marks its 70th anniversary, was nothing short of spectacular.
As were the lies they told without batting an eye to a friendly and respectful audience. U.N. Secretary-General Ban Ki-moon has his hand out for an additional $20 billion this year, so let's look at what American taxpayers are getting for their large chunk (one-quarter) of the U.N's bills.
Up until month of June
Saudi Arabia had
carried out
100 beheadings

in 2015

.
S. Arabia
chairs the
UN Human Rights Council
Xi Jinping, President of

China,

said "we must endeavor to meet" the goals of "democracy and freedom." Meanwhile, he is an iron-fisted ruler of an undemocratic state where 1.3 billion people languish without civil and political rights.
Vladimir Putin, President of

Russia

, said that without the U.N. — "unique in its legitimacy" — "we would be left with no other rules than the rule of force."
This from a megalomaniac who gobbled up Crimea and now occupies other parts of Eastern Ukraine by force.
Putin also said, "Everything that contravenes the U.N. Charter must be rejected." Except apparently Chapter 1, article 1, which commits the organization to maintaining international peace and security and suppressing acts of aggression.
Raúl Castro, president of

Cuba

, said: "The international community can always depend on Cuba to raise its honest voice against injustice . . . and for . . . international order that really focuses on the human being, his dignity and well-being." No matter that the Castro brothers have denied elementary freedoms to the people of Cuba for more than half a century.
Robert Mugabe, president of

Zimbabwe

, said that "respecting and upholding human rights is the obligation of all states" and that "now is our time to leave our own positive mark in the history of human development." A racist ruthless tyrant, Mugabe spent decades raping and pillaging Africa's breadbasket until it was a basket case.
Tamim Bin Hamad Al-Thani, emir of

Qatar

, said: "We affirm our commitment to fight terrorism," adding that Qatar is "pursuing an approach based on the rule of law, transparency, justice, and human dignity." This polygamist bankroller of Hamas, with close ties to the Taliban and the Muslim Brotherhood, inherited the country — like his father before him — as a family business.
And then there was Hassan Rouhani, president of

Iran

, who described his rise to power this way: "Two years ago, the people of Iran in a competitive election with their votes gave me a mandate." It was an election in which 686 candidates tried to register, eight were allowed to run, and every woman was disqualified.
Rouhani continued: "We propose . . . no country be allowed to use terrorism." These are the words of the leading state sponsor of terrorism. "Iran . . . has never had the intention of producing a nuclear weapon," he claimed. But in the words of the IAEA: "Iran has carried out activities that are relevant to the development of a nuclear explosive device."
To top it off, Rouhani threw in some deep-rooted anti-Semitism: "The inhumane actions of the Zionist regime" lay at the "roots of today's wars, destruction, and terror."
VIDEO

-

Anne Bayefsky speaks at the UN -
"The UN is the leading purveyor of anti-Semitism in the world"
The current prevailing opinion in state departments, foreign ministries, and college lecture halls is that all this is unsurprising, irrelevant, and harmless hot air.
That claim, however, is harder to sustain after listening to the U.N. chief whose outlook and behavior is fashioned in the image of these thugs.
The secretary-general condemned Israel before he thought to criticize "Da'esh [ISIS], Boko Haram, and Al-Shabab."
He worried that "the fight against terror" and terror itself were a "cycle" of human-rights abuses. Democracy merited one mention near the end of his remarks.
It's

Barack Obama,

though, who provided the most pitiful image. Casting but a shadow of America's former self on the world stage, he stepped into this moral morass for the seventh time in his presidency.
He said: "Democracy in the United States is certainly imperfect. At times, it can even be dysfunctional."
And for the umpteenth time in his tenure, he trotted out the warmongering, trigger-happy, American straw man: "We see an argument made that the only strength that matters for the United States is bellicose words and shows of military force." Said no American ever.
The president belittled his opposition at home with his most revealing statement of all: "We see in our debates about America's role in the world a notion of strength that is defined by opposition to old enemies,

perceived adversaries

, a rising China, or a resurgent Russia; a revolutionary Iran, or an Islam that is incompatible with peace."
Since when are China, Russia, revolutionary Iran — still holding American hostages — and the self-proclaimed Islamist brand that is actually incompatible with peace, only "perceived" adversaries?
Obama's fibs are no less toxic than those of the men who took the U.N. podium when he was done.
He boasted, "The last two decades prov[e] that in today's world, dictatorships are unstable."
If we're not counting Xi Jinping, Vladimir Putin, Raúl Castro, Hassan Rouhini, Robert Mugabe, and Tamim Bin Hamad Al-Thani (and more) — since these tyrants alone are the living embodiment of five decades to the contrary. Bad guys rarely go quietly into that good night.
The US president conceded that Iran, "as of this moment, continues to deploy violent proxies." But his response was surreal: "Chanting 'Death to America' does not create jobs."
The U.N. at 70 is an institution where the big lie wins, so it falls to an American president to be — at the very least — a truth-teller.
The U.N. at 70 is akin to a false God whose devotees are the morally bankrupt, intimidated, neutered, or ashamed.
Shame on us if it turns 71.
Source:
http://www.israpundit.org/archives/63609702
Article originally appeared here
http://www.nationalreview.com/article/424807/un-70th-anniversary-parade-horribles-obama?mc_cid=8f1797db0f&mc_eid=c0f0a64dae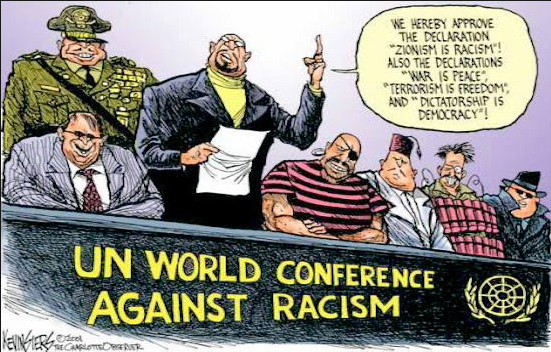 Caption reads: We hereby approve the declaration "Zionism is racism"! Also the declaration "War is Peace," "Terrorism is freedom," and "Dictatorship is democracy".
Saudi Arabia to behead and crucify young dissident
http://www.humanrightsvoices.org/victims/voices/?p=3031
http://www.dailymail.co.uk/news/article-3253285/If-die-ve-happy-life-Astonishing-bravery-boy-faces-beheaded-crucified-Saudi-Arabia-taking-protest-17.html
June 15, 2015 - Saudi Arabia carries out its 100th execution in 2015
http://www.independent.co.uk/news/world/middle-east/saudi-arabia-carries-out-100th-execution-this-year-and-is-on-course-to-set-beheadings-record-10320995.html
Saudi-led Airstrikes on Yemen Wedding Kill More Than 100 Civilians - Where's the outrage?
Nowhere. Saudi Arabia chairs the UN Human Rights Council.
The UN says at least 2,355 civilians have been killed in fighting since March, when the coalition began launching airstrikes against Shiite Houthi rebels and allied army units, who control the capital and are at war with the internationally recognized government as well as southern separatists, local militias and Sunni extremists.
http://www.humanrightsvoices.org/victims/voices/?p=3034
Accusations of UN peacekeepers' rape
August 2015 - More allegations of rape by UN Peacekeeping Forces. Some of the victims were minors.
There have been at least 61 claims of misconduct against them, 12 of which involve sexual abuse.
http://www.telegraph.co.uk/news/worldnews/africaandindianocean/centralafricanrepublic/11813395/Fresh-rape-allegations-against-UN-peacekeepers-in-the-Central-African-Republic.html
UNITED NATIONS

CAUGHT IN CORRUPTION AGAIN

-

War crimes Investigator was taking money from Arab terrorist organization PLO
Read more
http://ottersandsciencenews.blogspot.ca/2015/02/united-nations-caught-in-corruption.html
UNITED NATIONS THE LEADING PURVEYOR OF ANTI-SEMITISM IN THE WORLD

- Scholar and human rights advocate Anne Bayefsky accuses UN of inciting hatred against Jews with its unremitting campaign against Israel
Read more
http://ottersandsciencenews.blogspot.ca/2014/09/united-nations-leading-purveyor-of-anti.html
The United Nations is notorious for singling out Israel almost exclusively for condemnation, while looking away from egregious violations of human rights in many other parts of the world.
The time when a United Nations translator (on an open mike) found it weird that Israel was the only country being singled out for criticism, while human rights abuses raged all over the world
Hot mic catches UN interpreter saying anti-Israel votes are 'a bit much'

November 2013 - The truth comes out when we think no one else is listening
Under the mistaken impression that she was speaking only to colleagues, the interpreter
uttered the following words
into the headphones of every UN delegate, and before a live webcast audience worldwide
I think when you have… like a total of ten resolutions on Israel and Palestine, there's gotta be something, c'est un peu trop, non? [It's a bit much, no?]
I mean I know… There's other really bad shit happening, but no one says anything about the other stuff."
Laughter erupted among the delegates. "The interpreter apologizes," said the unfortunate truth-teller, moments later, followed by her audible gasp. I sincerely hope she won't get fired.
Because the one who should really apologize today is the UN. Founded on noble ideals, the world body is turning the dream of liberal internationalists into a nightmare.
For by the end of its annual legislative session next month, the General Assembly will have adopted a total of 22 resolutions condemning Israel—and only four on the rest of the world combined. The hypocrisy, selectivity, and politicization are staggering.
Listen to the interpreter's words on hot mike here on 1.50 min of the video:
https://www.youtube.com/watch?v=V7W5tsnd0BE
~~~~~~~~~~~~~~~
Palestinian refugees are suffering at the hands of ISIS and other tyrants.
But the UN representing the world does not care
unless it can blame Israel
Read more about the mistreatment of Palestinians
http://ottersandsciencenews.blogspot.ca/2015/04/palestinians-beheaded-by-isis-in-syria.html
~~~~~~~~~~~~~~~
MORE ON ANNE BAYEFSKY
Twitter
https://twitter.com/AnneBayefsky?ref_src=twsrc%5Egoogle%7Ctwcamp%5Eserp%7Ctwgr%5Eauthor
Facebook
https://www.facebook.com/annebayefsky
Websites
http://www.humanrightsvoices.org/?h=1
http://www.bayefsky.com/about.php
Why is the U.N. Rewarding the Perpetrators?

UN Testimony, 6/15/15 - Why is Saudi Arabia, a perpetrator of egregious abuses against human rights, rewarded with a seat at the UN Human Rights Council? Since then Saudi Arabia was elected TO CHAIR the Human Rights Council.
UN ADMITS Gazans fired rockets from UN schools
The UN finally investigated the Palestinian storing of rockets in UNRWA schools and their use of the schools to launch rockets against Israel, all of which constitute grave violations of the Geneva Conventions and international humanitarian law.
Key findings gleaned from the
UN report
:
Hamas and/or Islamic Jihad stored rockets in UNRWA schools. The board found, in the case of the UNRWA Jabalia Elementary "C" and Ayyobiya Boys School, referring to the discovery of weapons there on 22 July

2014

, that "it was highly likely that a Palestinian armed group might have used the premises to hide weapons."

Hamas and/or Islamic Jihad stored rockets in schools that were in active use by children.
Read more
Explosive: UN admits Palestinians fired rockets from UNRWA schools
History of Israel-UN relationship
In his speech to open the 61st General Assembly of the United Nations in September 2006, then-Secretary General Kofi Anan admitted that Israel is often unfairly judged by the international body and its various organizations.

"On one side, supporters of Israel feel that it is harshly judged by standards that are not applied to its enemies," Annan said. "And too often this is true, particularly in some UN bodies."
The world supports terrorism against Israel through the UN
Recently, UNRWA educators have been caught supporting terror, but this news, uncovered by the "Elder of Ziyon" blogger, has not made it to the mainstream media. More specifically, the contents of the
social media accounts of UNRWA school principals
demonstrate blatant anti-Semitism and full support of terror against
Israel
. As "Elder of Ziyon" writes, "Is it a UN principle for principals to support terror?"
The principals are not alone. A
UNRWA teachers group on Facebook includes
"inspirational jihadist videos," jokes about "prescribing" Zionist patients "a rocket in the morning and a rocket in the evening" before eating, photos of children dressed up for jihad and admiration for Hitler.
In 1948, there were approximated 700,000 "Palestinian" refugees (if you could call them refugees- many of them left because the surrounding Arab countries advised them to leave before attacking the Jews, hoping to "send them into the sea."
Now this number of 700,000 has turned into over 5 million.

How does the number of refugees grow? It turns out, "
Palestinians
" are a privileged group. Not only are the original Arabs who left "refugees" (most of whom have died by now), but their descendants are as well.
The West has contracted out the Palestinians to finish off the job Adolph Hitler left undone - |And the money keeps pouring in, regardless of murderous Palestinian terror, vicious anti-Semitism, and corruption.
2012 - Where are the missing billions? -
http://www.rubincenter.org/2012/06/where-did-all-the-billions-of-dollars-given-to-the-palestinian-authority-go/
2013 - Palestinian corruption -
http://www.gatestoneinstitute.org/4022/palestinian-corruption
2013 - Billions missing -
http://www.algemeiner.com/2013/10/13/report-billions-of-dollars-of-aid-to-palestinian-authority-lost-to-corruption/
2015 - WHAT ARE PALESTINIANS DOING WITH US MONEY
http://www.gatestoneinstitute.org/6353/palestinians-us-aid
2015 - Palestinian chief Abbas builds himself a palace
http://www.israelnationalnews.com/News/News.aspx/199934
2015 - PLO EMPLOYEES TO GET RETIREMENT PAY AT 50
http://www.frontpagemag.com/point/259957/nice-job-plo-employees-get-paid-retirement-50-daniel-greenfield
UPDATE
Israel's PM Netanyahu blasts UN for its silence on IRAN's threats to ISRAEL
on his speech to the UN General Assembly
"The UN won't help peace by trying to impose solutions or by encouraging Palestinian rejectionism," the Prime Minister stated. "And the UN should do one more thing: the UN should finally rid itself of the obsessive bashing of Israel. Here's just one absurd example of this obsession: in four years of horrific violence in Syria, more than a quarter of a million people have lost their lives. That's more than 10 times the number of Israelis and Palestinians combined who have lost their lives in a century of conflict between us.

"Yet last year this assembly adopted 20 resolutions against Israel, and just one resolution about the savage slaughter in Syria. Talk about injustice! Talk about disproportionality!"
Read more
http://www.israelnationalnews.com/News/News.aspx/201301#.Vg15s5tdGM8
http://www.jewishpress.com/news/breaking-news/netanyahu-speech-at-un-nuclear-deal-with-iran-will-bring-war/2015/10/01/
WATCH VIDEO
UNFORTUNATELY....
the Israeli PM is himself silent about the Palestinian-Iran relationship, while he continues to offer Jewish land to Iran's proxy, the Palestinians, for the creation of a terror state.
Read shocking article:
Why does NETANYAHU ignore years of collusion between the PALESTINIAN leadership and IRAN, and continues to offer "LAND FOR PEACE" knowing that a state would be used to destroy Israel?
And WATCH VIDEO exposing the IRAN-Palestinian alliance, and the LAND FOR PEACE HOAX
http://ottersandsciencenews.blogspot.ca/2015/07/so-obama-capitulated-to-iran-and.html