©
http://ottersandsciencenews.blogspot.ca/
.
Unauthorized duplication of this blog's material is
prohibited.
Excerpts and links may be used, provided that full credit and link is given to Otters and Science News Blogspot.
Link to this post:
http://ottersandsciencenews.blogspot.ca/2015/10/palestinians-set-fire-to-josephs-tomb.html
- Thank you for visiting my blog.
~~~~~~~~~~~~~~~~~~~~~~~~~~~~~~~~~~~~~~
ON THIS PAGE:
Latest Palestinian arson of Joseph's Tomb

What is Joseph's Tomb?

The October 2000 Arab arson and desecration of Joseph's Tomb

The 2011 murder of unarmed Jewish worshiper at Joseph Tomb by a Palestinian Authority policeman, armed with weapons by the USA. One of several murders of Jews by Arabs at the site.

Link to Joseph's Tomb's news archive.

The September 2015 set fire to St Charbal's church in Bethlehem, a city under the control of the Palestinian Authority.

The May 2014 Palestinian attack on worshipers at a village church near Bethlehem.

The 2002 siege of the Church of the Nativity in Bethlehem,

where Arabs desecrated the place, defecated in it, and used bibles as toilet paper.

What the arson at Joseph's Tomb tell us about the Palestinians

When Jerusalem was under Jordanian occupation before 1967, the

Arabs used Jewish tombs from Mount of Olives as latrines.

Pal

es

tinian persecution of Christian Arabs

Israeli Christian priest makes speech at the UN stating that Israel is the only safe place for Christians in the Middle East

Watch VIDEO

of the latest fire set by Palestinians at the Joseph's Tomb compound.
Continue reading, see additional images, and watch video
Several hundred Palestinian Authority Arabs set fire to parts of the Joseph's Tomb compound
Joseph's tomb has been venerated throughout the ages by Jews, Christians, and Samaritans.
After Judea and Samaria were restored to Israel in 1967, the shrine was gradually turned into a Jewish prayer room. Friction and conflict from competing Jewish and Muslim claims over the tomb became frequent, and, eventually, the site fell under the jurisdiction of the Palestinian Authority according to the Oslo Accords that specifically stated that Jews would have free access to the holy site.
In 2000, just after being handed over to the PA, Joseph's Tomb was looted and razed by an Arab mob. Starting in 2002, Jewish groups returned to the site intermittently.
On April 24, 2011, PA police opened fire on three cars of Israeli worshipers after they finished praying at Joseph's Tomb, killing as Israeli citizen and wounding three others.
An IDF investigation concluded that the Palestinian Authority police officers had acted "maliciously" and with the intent to harm unarmed Jewish worshipers. Then-IDF Chief of Staff Benny Gantz declared that the Arab policemen fired "without justification and with no immediate threat to their lives."
On July 7, 2014, Arabs tried to burn down Joseph's Tomb during a riot.
On December 22, 2014, Jews who were visiting the tomb to light Chanukah candles discovered that the site had been vandalized. Lights were broken and electrical wiring had been cut.
WATCH VIDEO:
RebelMedia
short newscast -
Arab Muslims set fire to Joseph's Tomb,
Iran launches ballistic missile that threatens Israel
~~~~~~~~~~~~~~~~~~~~
What is Joseph's Tomb - or Kever Yosef?
Joseph's Tomb

(Wikipedia)
Conflicting views exist as to whether or not the patriarch Joseph was buried there; nevertheless, the tomb is recognized as a Jewish shrine.
According to Jewish tradition, Joseph was buried in the biblical town of Shechem, which is near the present-day city of Nablus.
1967

- Following the
1967 War
, Israel liberated the site and a small Jewish seminary was built there in the 1980's. The site was also used as a military outpost, and a number of soldiers were stationed there to protect the seminary students and the site itself.
1995

- Nablus was given to the Palestinians in 1995, but the Israelis retained control over the site. Following clashes with Muslim Arabs, Israelis surrendered control to Palestinian police, who were supposed to guard it.
Previous arson of Joseph's Tomb
by Muslim Arabs
Below: Arabs celebrate
the destruction
Instead, the Palestinian Police stood by as a mob ransacked the site, burned books and destroyed reading stands; the mob also burned down the army outpost. On that same day, an American-born rabbi, who taught at the seminary, was found slain outside Nablus.
The Mayor of Nablus, Ghassan Shakaa, said that the site would be repaired. Workers were seen fixing the damage, however, they were also painting the top of the dome green - the color of Islam. Workers say that they want to return the shrine to its former appearance before 1967, but news reports indicated the Palestinians were planning to build a mosque on the spot.
For Israelis, the destruction of a Jewish shrine raised serious doubts as to whether the
Palestinian Authority
would protect religious sites belonging to Jews and Christians and guarantee access to them.
Israel guarantees access to all holy places under their control according to
1967 Law for the protection of the holy places
. (Which the state is failing to do by denying Jews the right to pray at their most sacred site in the world: Temple Mount, where the Jewish Temple once stood before being razed by the Romans.)
2015

- Violence surrounding access to the Temple Mount stoked by leaders of Hamas and the PA sparked attacks on Joseph's Tomb during October 2015. A crowd of 100 Palestinians descended on the Tomb, throwing molotov cocktails and setting the area ablaze.
Photos of the previous arson:
Violence against Jewish worshipers, rioting, firebombing, and the desecration of the site
have been an ongoing issue at Joseph's Tomb over the years
One of many acts of Arab arson and desecration of Joseph's Tomb - The 2000 attack
October 7, 2000 - Palestinians stand on the roof of Joseph's Tomb in Nablus, after Palestinian fighters and civilians had stormed the Israeli enclave, destroyed holy books, and set the sacred site on fire in a victory "celebration" held a few hours after the IDF evacuated the site.

(AP photo/Lefteris Pitarkis)
In October 2000, with the beginning of the riots that heralded the outbreak of the Second Intifada, Samaria Brigade Commander Yossi Adiri ordered that Joseph's Tomb be cleared of civilians. His request that the compound also be cleared of military personnel, however, was not approved.
A short time later a large group of armed Palestinians attacked the small force that was stationed at the compound. During the attack, on the second day of Rosh Hashanah, October 1, 2000, Border Policeman Madhat Yusuf was wounded, and in the next hours he bled to death. Attempts to coordinate his rescue with the Palestinian police failed.
Over the following days the force that had defended the compound several times was replaced by IDF contingents that were accompanied by Palestinian forces. Finally on October 7, after six days of battle and under a hail of fire, the IDF soldiers withdrew from the compound after the Palestinians had promised to safeguard it.
Soon after, however, the Palestinians, including PA policemen, broke into the tomb, ransacked and desecrated it, and gutted it. Subsequently they painted the roof of the tomb green, claiming that the site was not Joseph's Tomb but rather a Muslim shrine.
Read more on

Danger to Jewish and Christian places in case of Israel's partition for the creation of an Arab terror state

.
Jewish worshiper shot and killed by Palestinian Police at Joseph's Tomb for the crime of praying at the sacred site
Ben Yosef Livnat
or Benyo
Father of four
Murdered.
April 2011 - Palestinian Authority police Sunday morning shot and killed one Israeli and wounded four others after they prayed at Joseph's Tomb (Kever Yosef). The murder victim (pictured below) was identified as 24-year-old Ben Yosef Livnat, a nephew of Likud Minister Limor Livnat and father of four children.
Arabs attacked the funeral procession with rocks as it proceeded from his childhood home of Elon Moreh where he lived with his wife and four children, to Jerusalem. At least one car windshield was broken in

the rock

attacks, but no one was injured. People from Elon Moreh stood by the highway in dozens of cars as the funeral procession passed.
One of the four who were wounded in the shooting attack is in serious condition, and

Army

helicopters evacuated the injured to a

hospital

for emergency care. A group of 15 worshippers from the Breslov Chassidic sect had driven to the site and were returning when they were gunned down by Palestinian Authority police in a jeep.
The PA security forces continued to fire at the cars as they fled.
Kever Yosef is a Jewish holy site that was supposed to be under Israeli control and open to worshippers as stated in previous agreements. However, the government has surrendered the area to Palestinian Authority control, and local Arabs have desecrated it several times.
The Breslov group was known to Palestinian Authority authorities as people who frequently prayed at Kever Yosef without any other intentions, according to Gershon Mesika, chairman of the Shomron (Samaria) Regional Council. He called the shooting attack a "massacre at close range."
National Union Knesset Member Dr.

Michael

Ben-Ari indirectly blamed the American government for having "trained and armed the enemy army that is called the 'Palestinian Authority police' and is directly responsible for the murder at Kever Yosef."
The attack on the morning before the last day of the Passover

holiday

comes less than a month after the savage stabbings of Rabbi Udi Fogel, his wife Ruthie and three of their six

young children

, including a three-month-old baby, in community of Itamar, also located in Samaria.
Residents of Judea and Samaria frequently have warned that the removal of roadblocks and checkpoints in the area would make it easier for Arab terrorists to stage attacks and would encourage PA police to attack Jews. Defense Minister Ehud Barak has argued that the easing of security measures are "goodwill" measures that strengthen PA Chairman Mahmoud Abbas's popularity and help him fight terror.
More about Ben Yosef Livnat, Joseph's Tomb, and other Jews murdered at or around that holy site.
Benyo is not the first Jew to lose his life as a result of total dedication to Joseph's tomb and the Shomron – Samaria region. This holy site, was, according to the cursed Oslo Accords, supposed to remain under Israeli control, despite the fact that the city Shechem, was abandoned to Arafat and the Arabs.
However, numerous violent attacks at the site led to the murder of Israeli Border policeman, Cpl. Madhat Yusuf, there in October, 2000. Yusuf, injured by Arab gunfire, bled to death at the tomb when Israeli forces were forbidden to entire the site and save him.
A week later, Hillel Lieberman, was murdered by Arabs while trying to access the tomb following Israel's decision to abandon the area to the Arabs.
A week and a half later Rabbi Binyamin Herling, also from Elon Moreh, was killed during a hike in an area just outside Shechem. He too bled to death after being wounded, when Israeli forces were forbidden to take actions necessary to end Arab shooting in the area.
See news archive of incidents
at Joseph's Tomb over the years.
Muslim vandalism at this sacred Jewish cite,
and violence against Jews have been ongoing
Palestinians set fire to Christian church
Media silent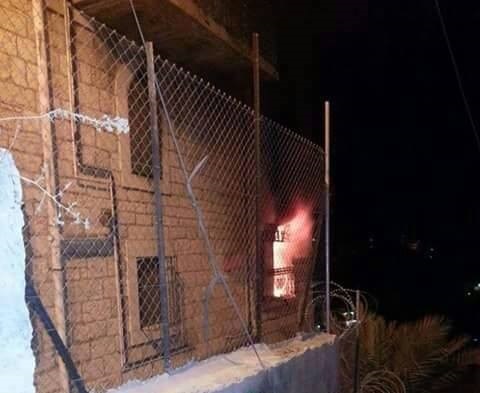 September 2015 - The Palestinian Authority has been curiously silent over a major fire at a

Christian

church in Bethlehem.
In its sole statement, the PA said that the fire at the St. Charbal church in the city was caused by an "electrical malfunction" - a description that is at odds with an account by Israeli Christian Arab Father Gabriel Naddaf, who said that the church was burned down Saturday night by "Palestinian extremists."
"I condemn with all my heart the laxness of the Palestinian Authority in protecting Christian holy places it controls. I also hope that all the Christian leaders who demonstrated when the Church of Bread and Fishes near Tiberias was burned down will also demonstrate against this terrible act," Naddaf wrote on his

Facebook page

.
According to Christian community leaders in Bethlehem, the fire was started by extremist Islamists who for months have been threatening community members with harm. As a result of the fire, several rooms on the church's second floor were completely destroyed. No one was killed or injured.
Bethlehem, now under the control of the Palestinian Authority
Sources quoted by Naddaf said that the fire was just another in a long

series

of attacks by Muslims against

Christians

in Bethlehem. "The PA tries to sweep these incidents under the rug but it never condemns these acts, which interfere with freedom of religion," the sources said. Before PA chief Mahmoud Abbas "lectures Israel on its morality, he should look at his own responsibilities and deal with them appropriately," Naddaf wrote.
Source
Muslims stone and attack Christians at a church near Bethlehem, as they commemorated Good Friday
May 2014 - Christian Arab residents of the village of El-Khader in the

Bethlehem

area were savagely attacked by local Muslims as they celebrated a Christian holiday last week.
A report by CAMERA, an organization which monitors anti-Israel bias in the media, reported that Christians attempting to enter Saint George's Monastery in the village were intimidated and attacked with rocks and stones.
Some local Muslims either tried to park a car too close the

church

and/or tried to enter the church during a service honoring St. George - the initial instigation isn't clear," she wrote. "But when the intruders were asked to leave, one of them stabbed a Christian man who was outside the church serving as a guard. He was hospitalized. Several then started throwing stones at the church. 7 or 8 Christians were injured and some physical damage was done - broken windows etc. Palestinian police didn't show up for an hour."
Christian Arabs in Israel
In an Op-Ed piece in the Wall Street Journal, former Israeli ambassador to the US,
Michael Oren
, wrote that "As 800,000 Jews were once expelled from

Arab countries

, so are Christians being forced from lands they've inhabited for centuries" throughout the Middle East.
Citing statistics, Oren wrote that Ramallah was 90% Christian before the 1948 War of Independence and Bethlehem was 80% Christian. Today Ramallah is a large Islamic city and Bethlehem's Christians are near extinction (because of Muslim harassment and violence).
El Khader, which is in the Gush Etzion region, is also a center of Muslim attacks on Jews. Cars traveling near the town are frequently attacked by Muslim youths throwing rocks and even firebombs. Rock attacks perpetrated by Arab terrorists have killed and maimed many people, including babies.
During the 2002 siege of the Church of the Nativity in Bethlehem, Palestinians took over the building and desecrated it, defecated in it, used the Bible as toilet paper.
A Greek Orthodox priest, held hostage by Palestinians who took refuge in the Church of the Nativity in Bethlehem, is holding a sign saying "PLEASE HELP," April 2002. (Government Press Office)
Palestinian gunmen, members of Yasser Arafat's Al Aqsa Martyrs Brigade, seized church stockpiles of food and "ate like greedy monsters" until the food ran out, while more than 150 civilians went hungry, the Washington Times report said.
The indulgence lasted about two weeks into the 39-day siege, when the food and drink ran out, according to an account by four Greek Orthodox priests trapped inside. A church helper told the Times the quantity of food consumed by the gunmen in the first 15 days should have lasted six months.
Angry Orthodox priests showed reporters empty bottles of whiskey, champagne, vodka, cognac and French wine on the floor along with hundreds of cigarette butts.
"They should be ashamed of themselves. They acted like animals, like greedy monsters.
Come, I will show you more," said one priest, who declined to give his name.
Computers were taken apart and a television set dismantled for use as a hiding place for weapons.
"You can see what repayment we got for 'hosting' these so-called guests," said Archbishop Ironius, according to the Times report.
"They should be ashamed of themselves. They acted like animals, like greedy monsters. Come, I will show you more," said one priest, who declined to give his name.
Computers were taken apart and a television set dismantled for use as a hiding place for weapons.
"You can see what repayment we got for 'hosting' these so-called guests," said Archbishop Ironius, according to the Times report.
Not infrequently during the intifada, youths threw stones from the Church of the Nativity at nearby Christians and pilgrims.
In August 1989 a large PLO flag was raised over the cross at the top of the Carmel Monastery in Bethlehem. Slogans such as "Islam will triumph" and "PLO everywhere" were inscribed on the monastery's walls. IDF forces, when they entered the monastery to take down the flag, discovered that the flagpole was booby-trapped with explosives. The explosives were safely neutralized and the flag removed.
What happened, and Christian clergy reaction
What the latest arson against Joseph's Tomb tells us about the Palestinians
Whether or not it is historically the real tomb of Joseph, it is certainly a major Jewish shrine.
It is the most important Jewish holy place under Palestinian rule. There are some important synagogues and sites but none associated with a Biblical figure that I am aware of.
Under every agreement between Jews and Arabs, holy places were to be protected and free access allowed.
Lists of holy sites
for all religions were compiled by the UN. But Jewish holy sites under Arab rule have never been protected by Arabs; Jordan destroyed dozens of synagogues and did not allow Jews to enter the Old City.
Not Israelis - Jews.
Joseph's Tomb is the exception that proves the rule. It is the only Jewish shrine that Israeli Jews have been allowed to access under Arab rule, but that access was severely restricted - only once a month, in the middle of the night, with the IDF protecting the worshipers from Arabs that riot every single time.
If the world community had its way and Israel would withdraw to the Green Line, the situation at other Jewish holy sites like Rachel's Tomb and the Tomb of the Patriarchs would be like that has been at Joseph's Tomb at best. Access would be very limited, accompanied by riots at the very idea of Jews entering "Muslim holy sites."
Yes, by a massive coincidence, every Jewish holy site becomes also a Muslim holy site.
It just so happens that Mohammed chose the Western wall of the Jewish Temple to tether his flying donkey, thereby superseding Jewish rights.
The Cave of the Patriarchs was converted to the Ibrahimi Mosque. Rachel's Tomb v
ery recently became a venerable old Muslim mosque c
alled the Bilal Bin Rabbah mosque. Samuel's Tomb is also claimed by Muslims as their own.
Joseph's Tomb is no different. While Muslims generally associated it with the biblical Joseph, more recently mny have claimed that it is the tomb of an altogether different person, a sheikh coincidentally named Yusuf.
Yet if it was really a Muslim holy site, why are Muslims setting it on fire?
A similar situation happened several months ago, when Muslims set fire on the southern wall of the Temple Mount, in an attempt to draw Israeli forces there.
Besides that, they have used the Al Aqsa Mosque as a weapons depot, they practice soccer and volleyball and parkour on the supposedly sacred grounds (I've never seen them do that at the Kaaba in Mecca.)
If these sites were really holy, they would be venerated, not desecrated.
Either they are not really holy sites, or the idea of burning a Jewish holy place is far more important than the holiness they supposedly have for Muslims.
The overnight fire has, as of this writing, received next to no international coverage because the suspects are Arabs.
Jew attacked for drinking water at Temple Mount (see VIDEO)

Background historical article by Eli Herz: Does Islam have a connection to Jerusalem?

Outline of Jerusalem history

PM Netanyahu's appeasing pro-Arab policies behind police harassment of religious Jews at Temple Mount

Archaeologist slams Arab destruction of Jewish heritage at Temple Mount

Jews made to wait three hours in the hot sun to access Temple Mount, while Christian visitors are whisked right in.

Jewish groom arrested on wedding day for praying at Temple Mount

Obscene: US District Attorney says Israel has no right to Jerusalem.

NEWS UPDATE June 5

- Religious Jewish student part of Hebrew University school field trip to Temple Mount is blocked by police from entering Temple Mount because of his religiosity (was wearing a kippa under his baseball cap).