©
http://ottersandsciencenews.blogspot.ca/
.
Unauthorized duplication of this blog's material is
prohibited.
Excerpts and links may be used, provided that full credit and link is given to Otters and Science News Blogspot.
Link to this post:
http://ottersandsciencenews.blogspot.ca/2015/10/muslim-terror-onslaught-against-jews-in.html
- Thank you for visiting my blog.
~~~~~~~~~~~~~~~~~~~~~~~~~~~~~~~~~~~~~~
By Gil Ronen, Arutz Sheva
Worse than Arab terror is the consistently appeasing attitude of the Israeli government that thinks that allowing Muslim terror gangs to run unimpeded in Jerusalem and all over the country - instead of arresting them - will prevent Arab violence from escalating even more.
Perfect for smashing car windshields
and murdering Jews
So as more innocent Jews are slaughtered, the government continues to make repeated promises "to get tough" on terror, while in fact doing what only amounts to nothing but theatrics - token and temporary security measures to calm down the increasingly traumatized Jewish population.
Muslim terror in Israel has been going on for decades. Babies, students, rabbis, men and women of all ages are wounded or murdered at the hands of Muslims by means of stabbings, gunshots, rocks, firebombs, or by being deliberately run over by a car. In response to each attack the government repeats its promise to get tough on terror.
But the government actual policy centers on appeasing Arabs while intimidating and silencing Jews who dare to object to terror, and even those who defend themselves from terror.
In addition, the government breaks the law by ordering the arrest of Jews who LEGALLY try to pray at their most sacred site, ancient Temple Mount, just because the Jewish presence near a mosque built on the site by the Muslim conqueror offends Islamic sensitivities.
Photo

on the right shows Israeli police pouncing within seconds on a Jew who stopped to quietly pray at Temple Mount.
Temple Mount is the focus of violent Muslim attacks on Jewish worshipers and on police. But if a Jew dares to pray, he or she gets immediately arrested.
UPDATE OCTOBER 9
Jews peacefully march against terror. Muslims attack and injure Jews. Police arrest Jews for just being there, leaves Muslim aggressors alone.
Typical procedure.
Four people - three adults and a 15 year-old - were arrested in Kiryat

Arba

on Friday afternoon, during a protest march over the stabbing attack earlier in the day in the area, according to legal rights group Honenu.
According to the report, at least one of the detainees was injured in a rock-throwing attack by Palestinian

Arabs

staging a counter-protest at the site. Israel Police apparently arrested Jewish protestors at the site, but not the Arab rock throwers.
http://www.israelnationalnews.com/News/News.aspx/201661
http://honenu.org/
David Wilder is one of many writers and community leaders who denounce the Israeli government policy of appeasement. He lives in the besieged community of Hebron, a town with a long Biblical history, now mostly under Palestinian Authority. PM Netanyahu gifted this important part of the Jewish heartland to the Arabs. Here is his abridged column.
Why do Arabs keep killing Jews?
The most probable answer to this seemingly ridiculous question is just as ridiculously easy.
We continue to allow it to happen.
The logic is very

difficult

to defeat.
Continue reading,

including a compilation of the major Muslim terror attacks against Jews in the past eight days.
For example, when a child is hit by a sibling, or friend, the most expected reaction is that they hit back. If someone throws rocks at them, they throw rocks back. If a policeman, or soldier is shot at, he shoots back. If a country is

attacked

by another country, well, they attack back.
Right? Well, usually right, unless discussing the State of Israel.
Here, if any of these occurrences take place, well, a child who hits an Arab back or anyone who returns a falling rock, is arrested.
Policemen or soldiers who defend themselves or others (against Arabs), are arrested, suspended and jailed.
When missiles fall in Israel, we show restraint.
When terrorist murderers go on hunger strikes, they are released from jail.
On Arab holidays, when Imams and others preach 'death to Jews,' Israel eases restrictions on them.
When Jews visit Temple Mount

and respond in any way, shape or form to hostile Arabs, they are arrested for disruption of

public

order. When a person dares to say a blessing on Temple Mount before drinking water, they are arrested for causing Arabs to become upset. When a Jew bends down on Temple Mount to pick something up, he is arrested for praying and breaking the status quo.
When Israeli ministers attack the Prime Minister's failed defense policies, they are reprimanded.
And, when Arab terrorists kill Jews, ………….
This, it seems, is Netanyahu's policy. Quite similar to what we witnessed last week in the UN, when he stood for almost a minute in silence. This was supposed to be an act of defiance, but here in Israel, we know better. This is his way of dealing with

security

issues; standing in silence.
Here in Hebron we deal daily with heavy gunfire heard from the hills surrounding us. We are told that this is either: an Arab wedding, or fights between various 'hamoulot' that is, Arab clans, or political disputes between warring factions.
However it seems that our security forces and other leaders haven't yet realized that our enemies, who surround us, have huge amounts of arms and ammunition.
And it seems that they've forgotten that these, or other weapons were turned on us, exactly 15 years ago, when the 2nd intifada broke out and cause the cold-blooded deaths of well over 1,000 Jews. And that it could easily happen again, very soon.
What is happening now is not an intifada, rather it is a war

. The PA, Hamas, and all the others have declared war on the State of Israel, because of our presence here, be it Hebron or Jerusalem.
And they say this, in no uncertain terms.
But today, as 15 years ago, we refuse to recognize it as such.
Well, I have a gut feeling that there are many people who are tired of watching people die, hearing news of more terror attacks, of listening to children say Kaddish for their murdered parents, of attending funerals.
Netanyahu has one of two choices: to act like Biblical David, or to sit back in fear, like Saul, and watch others taking up the challenge as did David.
EIGHT DAYS OF MUSLIMS KILLING JEWS
While the government promises
Below there is a compilation by Israel National News of the major terror attacks of the last eight days. New attacks are reported every few hours. There have been over 100 smaller-scale violent incidents during the same period.
See
http://www.israelnationalnews.com/ for the latest news.
Thursday, October 1:
Rabbi Eitam and Naama Henkin
were gunned down
in their car near Itamar, in Samaria. The young

parents

, who were in their thirties, were residents of Neria in Samaria.
They were murdered in front of the eyes of their four children, aged four months, four years, 7 and 9, who were in the car at the time.
Friday, October 2:
Israel Police and the IDF arrested Palestinian Arabs across Israel after hundreds participated in violence against Israeli military forces and civilians. The riots took place at Rachel's Tomb in Beit Lehem (Bethlehem) Friday afternoon,

where

Arabs threw rocks, firebombs and burning tires at the Jewish holy

site

, in Hevron, and near Beit El, in the Binyamin region.
Police arrested a 25 year-old from Shuafat in Jerusalem for attempting a terror attack on a Border Police officer in the Old City. The suspect tried to throw firebombs at civilians.
In the coastal town of Lod, Arab gunfire wounded a five-year-old child, Maoz Shiloh, as he sat in a sukkah. The bullet caused a fracture to the young boy's skull, and he was admitted to intensive care following a complicated surgery.
A 16-year-old girl who slept in her family's sukkah in Kokhav Ya'akov in the Binyamin region of Samaria was lightly wounded in the lower body, by a bullet which was fired from a nearby Arab village.
Saturday, October 3:
Rabbi Nehemia Lavi, 41, and Aharon Banita Bennett, 21, were murdered in
a stabbing attack
in Jerusalem's Old City. Bennett, along with his wife and two-year-old son, were attacked by the terrorist; his wife was seriously wounded and the child lightly wounded.
Rabbi Lavi, a father of seven, went out of his home with his gun to try and save Bennett and his family, but the terrorist stabbed him and took his weapon. Arab onlookers
laughed, spat and kicked
Bennett's wife, who had a knife stuck in her shoulder and tried to get help.
A 15-year-old Jewish teen was
stabbed at a gas station
near the Damascus Gate in Jerusalem's Old City. He was listed in moderate-to-serious condition after being stabbed in the upper body. The attacker who fled the scene was shot dead by security forces.
Sunday, October 4:
Shortly after 11:00 PM,
two rockets were fired
from Gaza towards Israel. The first one missed the target and exploded on the Gazan side of the border. A second rocket exploded in an open area of the Eshkol Regional Council. There were no physical injuries or damages.
A terrorist threw a firebomb at security forces at the Tomb of Rachel outside Bethlehem. A Border Guard officer was injured in that attack.
Tuesday, October 5:
A 16-month-old baby was
lightly wounded
when Arab terrorists threw rocks at a car on Highway 60 near Ma'ale Levona in Samaria. Both she and her mother, 32, were brought a local hospital for treatment, though both are stable and fully conscious.
Wednesday, October 7:
A

female Arab terrorist
stabbed and moderately wounded
a Jewish man, aged 36, at the Lion's Gate in the Old City, on the eastern side of the Temple Mount. The man shot the terrorist, who is in serious condition. The stabber sneaked up from behind the man and stabbed him near the neck. He turned around and shot her in self defense. She tried to run away but nearby Border Police gave chase, pounced on her and neutralized her.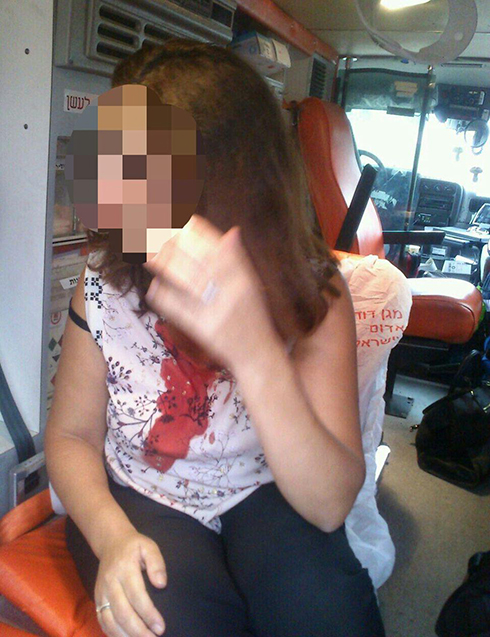 Ohayon after the attack

An Arab mob ambushed a female Jewish motorist with rocks, then proceeded to kick her and try and wrest her from the car with the intention of lynching her.

The woman, 38-year-old Tekoa resident Rivi Lev-Ohayon, was left wounded by rocks and kicks to her entire body, but managed to escape after other Jewish motorists intervened, with one allegedly shooting and injuring one of her attackers.
An Arab terrorist stabbed an IDF soldier and tried to steal his gun in Kiryat Gat. The Arab terrorist arrived in Kiryat Gat on a bus, spotted the soldier and stole his weapon. The soldier fought to regain his gun, at which point he was stabbed in his head. He suffered moderate injuries. Police reached the scene within minutes, and rushed into a building to which the terrorist had escaped. They opened fire and eliminated him after he fired at them.
An Arab terrorist injured at least one person in
a knife attack
on passersby outside Petah Tikvah's

central mall

close to Beilinson Hospital. The attacker drew his knife and ran towards a crowd of civilians as he and his victim left the city's #1 bus, and succeeded in stabbing at least one of them before security guards opened fire in his direction, and succeeded in overpowering him.
A female soldier and four civilians were stabbed and lightly wounded by a terrorist in central Tel Aviv's Begin Street. An Air Force soldier and policemen who were at the scene chased after the terrorist to nearby Mozes street, where they shot and killed him. Magen David Adom teams evacuated the soldier, 20, to hospital, along with a woman aged about 60, a man aged about 40 and another woman aged about 40. They are all conscious and were stabbed in the upper body. A fifth victim was also reported.
An Arab terrorist stabbed a 25-year-old Jewish man in Kiryat Arba, in Judea. The victim was seriously wounded with stab wounds to his back, in an attack that took place at the western gate of the town, which opens on to the Arab majority city of Hevron. Medical teams began treating the victim, who apparently is a resident of Kiryat Arba, and after initial treatment, they evacuated him to Shaare Tzedek Hospital in Jerusalem.
A 25-year-old yeshiva student was seriously injured and another man lightly injured in a terror attack at the Jerusalem Light Rail station in front of national police headquarters near Ammunition Hill. Magen David Adom teams on scene at Haim Bar Lev Road treated the seriously injured man and brought him to Shaare Zedek Medical Center, where he arrived in critical condition, was subsequently sedated and was breathing through a respirator.
An initial police investigation revealed the terrorist, 19-year-old Subhi Abu Halifa from Shuafat in eastern Jerusalem, approached the light rail station, stabbed the haredi student in the neck with a knife and tried to escape. As he fled, Abu Halifa passed a light rail guard, who he attacked in an attempt to steal his weapon. Police SWAT forces chased after the terrorist, arresting him with the assistance of police reinforcements on the scene.
A Jewish man in his twenties was stabbed and moderately wounded in an Arab terror attack in the northern city of Afula. The young victim was attacked on Arlozorov Street. Magen David Adom (MDA) and United Hatzalah crews were called to the scene and provided medical treatment, afterwards evacuating him to Haemek Hospital in the city. Initial reports indicate that the terrorist was apprehended by civilians who happened to be passing by at the time, and then arrested by police.
Source
http://www.israelnationalnews.com/News/News.aspx/201597#.VhanJ5tdGM8
Baby wounded by rock throwers, father arrested for going after them
A 16-month-old baby was wounded after

Arab

terrorists threw rocks at a car on

Highway

60 near Ma'ale Levona in Samaria.
Read more
http://www.israelnationalnews.com/News/News.aspx/201500
Jewish youngster mumbles prayer and gets arrested
A Jerusalem district police officer arrested a Jewish minor on the Temple Mount on suspicion that the youth mumbled a silent prayer at the holiest site in Judaism.
Compounding the arrest on the site where the Jordanian Waqf continues to enjoy de facto control and has banned Jews from praying - a demand Israeli police appear eager to enforce despite Israeli law stipulating freedom of worship - was the harsh police

treatment

of the minor.
Read more
http://www.israelnationalnews.com/News/News.aspx/201264#.Vgw4KJtdGM8
Israeli police arrests Jewish teen for pepper-spraying Arab mob while they were attacking his family
Read more
http://www.jewishpress.com/news/breaking-news/israel-police-detain-jewish-teen-for-pepper-spraying-arab-attackers/2015/09/29/
*******************************************************************