©
http://ottersandsciencenews.blogspot.ca/
.
Unauthorized duplication of this blog's material is
prohibited.
Excerpts and links may be used, provided that full credit and link is given to Otters and Science News Blogspot.
Link to this post:
http://ottersandsciencenews.blogspot.ca/2016/06/this-is-france-floods-violent-strikes.html
- Thank you for visiting my blog.
~~~~~~~~~~~~~~~~~~~~~~~~~~~~~~~~~~~~~~
THE FRENCH GOVERNMENT organizes conference to expedite the partition of Israel regardless of the strong possibility that a Palestinian state would fall into the hands of ISIS.

In the meantime, this is what France has had to deal with in the past week or so: Floods, violent labor strikes, roads and highway blockades, garbage piling up on the streets, Muslim migrant camps in urban areas, and the ever present threat of Muslim terror.

You would think they had their hands full - but the French always have enough time and resources when it comes to harassing Israel to gain points with French Muslims.
France finds itself besieged on many fronts. The meteorological one is the least to worry about. Floods come and go from time to time. People clean up, start over.
Strikes, usually of the violent kind, are also part of the French social landscape. Shortages of gasoline, delays at airports, road blockages, all that is part of the excitement of living in France. The French are just as passionate about their labor strikes as about their love affairs.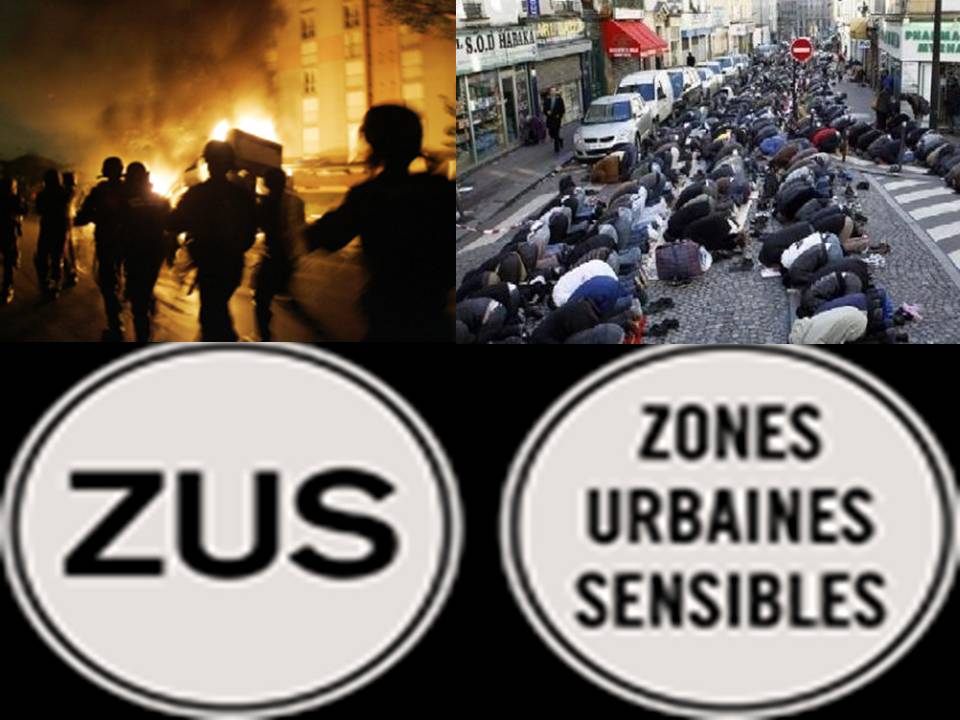 But there is a dark cloud that does not go away, and it's there to stay, to grow, and to eventually swallow up the whole country and the whole of Europe: Islam. It's too late to reverse this invasion. It's too late to start over.
It's too late to remove the No-Go Zones - "ZUS" or Muslim enclaves ruled by sharia law - where France has only nominal sovereignty, and where French police hesitate to enter or enforce French law. They only enter in cases of extreme urgency, such as one of the many Muslim terror crisis that besiege France all the time.
Politicians, who value their careers more than the fate of their country, are running around trying to find ways of pacifying their Muslims if only for one more week, one more day. What to do? Pounce on Israel, of course.
And so the government of President Hollande organized an international conference - without Israel's presence - in order to impose on Israel their demand for partition.
In the photo above President Hollande warmly greets arch-terrorist Mahmoud Abbas, chief of the Palestinian Authority, and welcomes him to the anti-terror march in Paris in January 2015.
Yes, Abbas was a guest of honor at that "Je Suis Charlie" march because France does not regard the murder of Jews as terror. Hollande's government also asked the Israeli PM not to attend because he would make everybody uncomfortable.
So in that spirit, and with its own Muslim problem at home, France feels entitled to tell Israel how to achieve "peace" with Islam. But shouldn't the roles be reversed? How about

a two states solution for France?
Further on this page

read article by David Ben-Meir on this bizarre and desperate attempt by the French to meddle with Israel while the rest of the Middle East is on fire. He says:
Now the French are hosting a so-called international conference on peace in the Middle East. It won't deal with Syria or Iraq, nor will it address the chaos in Libya. Instead, it will deal with the least destructive and harmful conflict in the Middle East: the Arab-Israeli conflict.
France is concerned about that tiny bit of red on this map: Israel. The countries in green are Arab countries - all of them in serious turmoil. There are 22 Arab countries in the world, and there are 49 countries with a Muslim majority - all of them undemocratic and inflicting profound abuses on human rights. Europe and the White House want to use Israel's biblical Jewish heartland to create another Muslim country.
Let's remember that two big slices have been carved out of the territories liberated by Israel in 1967: Gaza and the Sinai peninsula. Both places are now cauldrons of terror.
The Sinai,

which was handed over to Egypt, is a large area now beyond the control of the Egyptian army ISIS and other extremist groups rule there, and threaten both Israel and Egypt. The Sinai was surrendered for "peace".
Gaza

, instead of building a model country with all the generous aid from the West and the Arabs that keeps pouring in, is a corrupt tyranny that enriches the Hamas elite and builds tunnels in the hope of infiltrating Israel and massacring Jews. Israel also vacated Gaza for peace.
The day Israel surrenders its heartland - Judea and Samaria (West Bank) - the area will be first ignited by Arab factional civil war, and then will fall into the hands of ISIS. France knows that. But to President Hollande and his cohorts, gaining one more day of peace with his Muslims is worth the effort.
The following is a series of photos that illustrate the state of labor instability, violence, social tension, and the Muslim migrant crisis affecting beautiful France these days.
Strike - they're not picking up the garbage anymore
Meeting violence with violence
Historical floods in Paris and in much of the rest of France
See more images
about all the violent conflicts and disasters besieging France,
and read column about France's past betrayals and its current "peace" conference
A good photo op - Protests were infiltrated by anarchists and professional protestors who made violence even worse.
Homes have been ruined by the massive flood and contaminated waters
Barricades on fire - this protestor came prepared for mayhem.
"Open Air Toilet" Muslim migrant camp in the streets of Paris
This particular one was later cleared, only to sprout elsewhere again.
Muslim migrants set their own camp on fire at Calais
Many roads were impassable due to protestors barricades - Gas stations ran dry for lack of supplies.
MAIN NO GO ZONES IN PARIS
MAIN NO GO ZONES IN FRANCE
Marseille, used to be a nice place for whites to visit - today it is a major Muslim enclave and a crime center. Although police regard it as a No-Go Zone, the government refuses to officially designate it as such.
http://www.barenakedislam.com/2013/08/01/france-is-considering-declaring-marseilles-its-second-largest-city-a-no-go-zone-due-primarily-to-rampant-muslim-violence/
Muslims praying in Paris streets and obstructing traffic - their way of asserting their presence, testing social boundaries, and pressuring authorities to build more mosques for them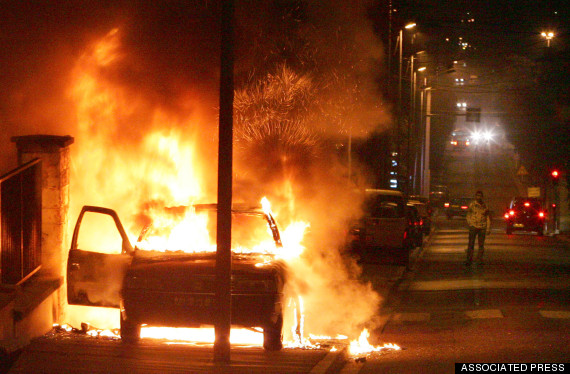 Burning hundreds of cars every time they feel angry - Muslims' cultural contribution to France.
VIDEO
With Open Gates: The forced collective suicide of European nations - Extended Cinematic 1080p
David Ben Meir on the French Conference to Partition Israel
http://www.jewishpress.com/blogs/guest-blog/vive-la-france-but-their-conference/2016/06/06/
Abbas admits:
'I rejected Israeli offer of PA state'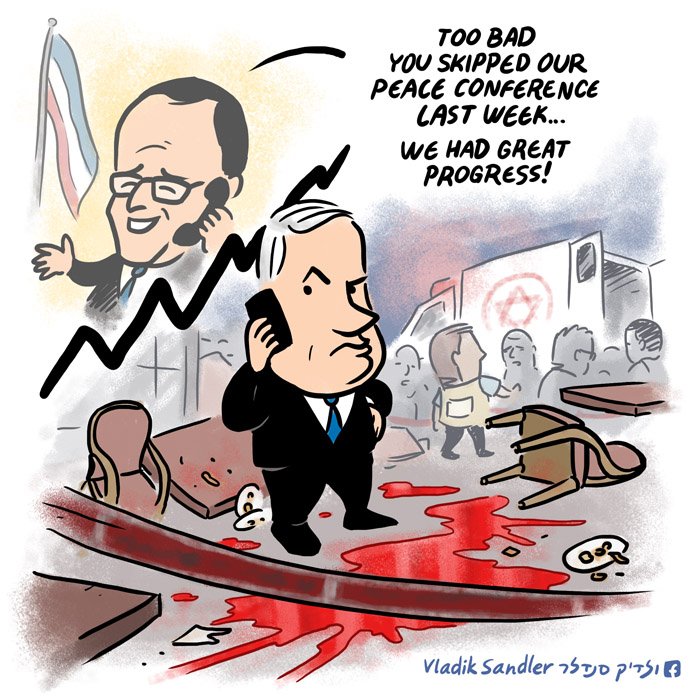 President Hollande phones PM Netanyahu. Bloodbath in Tel Aviv on June 8. Four Jews murdered by Arab terrorists. Give them a state.
Daniel Pipes NO GO ZONES IN EUROPE
PILES OF RUBBISH IN PARIS
FLOODED PARIS
RIOTS IN FRANCE POLICE HITS WOMAN
PETROL SHORTAGE
France, plagued by terror, looks to solve Israel's problems
Posters
http://www.barenakedislam.com/