©
http://ottersandsciencenews.blogspot.ca/
.
Unauthorized duplication of this blog's material is
prohibited.
Excerpts and links may be used, provided that full credit and link is given to Otters and Science News Blogspot.
Link to this post:
http://ottersandsciencenews.blogspot.ca/2016/06/duped-by-left-homosexuals-you-will.html
- Thank you for visiting my blog.
~~~~~~~~~~~~~~~~~~~~~~~~~~~~~~~~~~~~~~
They've been suing Christian bakeries into bankruptcy, and calling for the boycott of states with laws that ban males from entering girls' bathrooms. Soft targets. All the while gay activists have been supporting Muslims whose doctrine calls for the execution of homosexuals.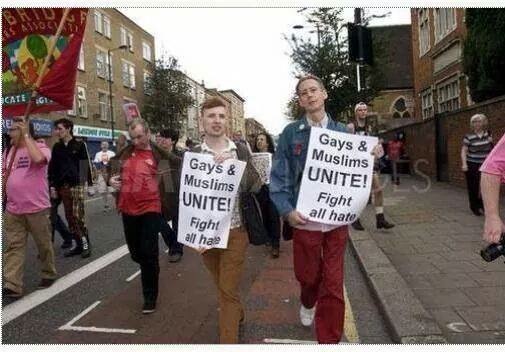 The leftist media and Democrat leaders are already spinning the tragedy of the massacre of 50 homosexuals at a gay night club in Florida by placing the blame on gun ownership and on American Christian homophobia - but never mentioning the word Muslim in association with repeated acts of terror and violence.
PULSE HAD BEEN DISARMED

- If the Pulse night club had not been a gun-free establishment maybe someone would have been able to shoot the Muslim terrorist before he killed so many people. Lesson: Instead of repeating Democrat anti-gun slogans, protect the Second Amendment and the right of individuals to carry guns for self-defence.
CHRISTIANS BLAMED

- And according to American Civil Liberties Union attorneys, Christian conservatives are responsible for the mass shooting at a gay bar in Orlando because they "created this anti-queer climate". But these pro-liberties activists have nothing
to say about the fact that the Koran and Hadith condemn

homosexuality and call for the execution of anyone engaging in homosexual activity.
Eleven Muslim countries impose the death penalty

, and all others ban homosexual activism. No special rights for them. No gay pride parades or gay marriage or promotion of homosexual lifestyle in schools, work, media, or anywhere else.
Fight tolerant Israel, support homophobic Muslims

- Pro-homosexual activists refuse to demonstrate or even publicly denounce homophobic Muslim countries and Palestinians.
But they continue to join their leftist allies in demonizing and condemning Israel, the only Middle East country where gays have full civil rights and are protected from harassment and discrimination.
American homosexual activists defend the same Palestinian Arabs who would put homosexuals to death, were they get their own terror state on Jewish land.
Homosexual activists have NEVER called for the boycott of those Muslim countries that execute gays,

but they have enthusiastically joined the BDS movement for the boycott and isolation of Israel, because they feel indebted to their leftist and Democrat allies, who have been betraying them all along by bringing homophobic Muslims into the USA in the hundreds of thousands.
Liberal American Jews are no smarter

, by clinging to their unwavering support for Muslims, even after so many Muslim attacks targeting Jews in the USA, Europe, Israel, and so many other places. They too have joined the boycott Israel movement, and call for the partition of Israel to create another Arab terror state where no Jews will be allowed, and where gays will be persecuted and killed.
Last December over 1000 American rabbis signed a petition asking the American government to bring in MORE Muslim refugees.... knowing that they will bring their virulent anti-Semitism along with them.
The Obama administration is flooding the US with Muslims

- In the meantime, oblivious of the Muslim-caused carnage in the US (don't forget the over 3,000 victims in 9/11), the Obama administration is engaged in an aggressive program of resettlement of African and Middle Eastern Muslims into American towns and cities.
Photo: Somali migrants in Minnesota. One in five tests positive for TB.
MUST WATCH:
WILD BILL OF AMERICA LATEST VIDEO
"ORLANDO BLEEDS" - War is upon us
MORE by Wild Bill for America
And don't miss the following:
VIDEO
-
The Truth About the Gay Nightclub Massacre
VIDEO

-

Muslim scholar speaking at the Orlando Mosque just a few weeks ago:
GAYS MUST DIE
VIDEO

-

We need Islam control, not gun control
Politically correctness kills - By Paul Joseph Watson
Employers ignored complaints about Omar Mateen homophobic and violent comments... because he was a Muslim, that is, protected from criticism.
YES, ISLAM DECREES DEATH FOR HOMOSEXUALS
In
Egypt
, openly gay men have been prosecuted under general public morality laws.
In Saudi Arabia, the maximum punishment for homosexual acts is public execution, which is often carried out. The government will sometimes use lesser punishments—for example, fines, time in prison, and
whipping
—as alternatives.
In
India
, which has the third largest Muslim population in the world, and where
Muslims
form a large minority, the largest Islamic seminary (
Darul Uloom Deoband
) has vehemently opposed recent government moves to abrogate and liberalize laws from the
British Raj
era that banned homosexuality.
Nothing to do with Islam?