©
http://ottersandsciencenews.blogspot.ca/
.
Unauthorized duplication of this blog's material is
prohibited.
Excerpts and links may be used, provided that full credit and link is given to Otters and Science News Blogspot.
Link to this post:
http://ottersandsciencenews.blogspot.ca/2016/06/leftist-media-blame-murder-of-uk-mp-jo.html
- Thank you for visiting my blog.
~~~~~~~~~~~~~~~~~~~~~~~~~~~~~~~~~~~~~~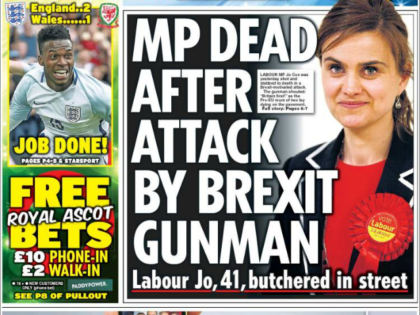 A mentally ill man murdered British MP Jo Cox, and this act was immediately seized by the left and the media to make connections between him and the anti-European Union BREXIT movement. (Pictured: Daily Star.)
JUNE 18, 2016 - VIDEO UPDATE BY STEFAN MOLYNEUX
MP Jo Cox's killer was described as a timid gardener with a long history of mental illness. Family and those who knew him in town say he never expressed political views or violent tendencies.

Even if he did,

is there a chance that someone put this mentally ill man up to perpetrating an assassina

tion

so as to blame it on the right and thus tarnish the pro- BREXIT campaign

?
Continue reading

and watch previous VIDEO by Stefan Molyneux and Paul Joseph Watson,
VIDEOS ABOUT BREXIT
by Pat Condell and Paul Joseph Watson,
and

"Brexit,

the Movie"
PREVIOUS VIDEO

-
Paul Joseph Watson and Stefan Molyneux discuss the murder of Jo Cox and the way the media and leftist activists and politicians have reacted.
Detectives were questioning Thomas Mair over Jo Cox's murder

He suffers from chronic mental illness and until recently was under psychiatric care.

One of his relatives said he cleaned himself with Brillo pads due to an obsession with cleanliness.

There are allegations that the 52-year old supported right wing causes

Pe

ople who knew him well, including family, agree he never expressed any political views and that this act of violence was completely out of character

He helped his mom and other people with odd jobs and

volunteered at a special school several times a week.

The left and the establishment elites all over the EU are panicking as there is increasing support for BREXIT, the separation of Britain from the European Union. If Britain goes, other EU countries will certainly follow.
BRITAIN NEEDS TO LEAVE THE EUROPEAN UNION because it has turned into a disastrous dictatorship
VIDEO - The Truth about Brexit
Paul Joseph Watson
VIDEO - BREXIT - A MOMENT OF TRUTH
with Pat Condell
VIDEO - BREXIT, THE MOVIE
Labour MP Jo Cox (42) with her husband,