©
http://ottersandsciencenews.blogspot.ca/
.
Unauthorized duplication of this blog's material is
prohibited.
Excerpts and links may be used, provided that full credit and link is given to Otters and Science News Blogspot.
Link to this post:
http://ottersandsciencenews.blogspot.ca/2016/02/undecided-between-cruz-and-trump.html
- Thank you for visiting my blog.
~~~~~~~~~~~~~~~~~~~~~~~~~~~~~~~~~~~~~~
WATCH VIDEO by Robert Reich:
Robert Bernard Reich is an American political economist,
professor, author, and political commentator. He served in the administrations of Presidents Gerald Ford and Jimmy Carter an
d was
Secretary of Labor
under President Bill Clinton
from 1993 to 1997. Reich is currently Chancellor's Professor of Public Policy at the Goldman School of Public Policy
at the University of California, Berkeley
.

Source
https://en.wikipedia.org/wiki/Robert_Reich
1. Cruz is more fanatical.

Sure, Trump is a bully and bigot, but he doesn't hew to any sharp ideological line. Cruz is a fierce ideologue.
He denies the existence of man-made climate change, rejects same-sex marriage, wants to abolish the Internal Revenue Service, believes the 2nd amendment guarantees everyone a right to guns.
He doesn't believe in a constitutional divide between church and state, favors the death penalty, rejects immigration reform, demands the repeal of Obamacare, and takes a strict "originalist" view of the meaning of the Constitution.
2. Cruz is a true believer.

Trump has no firm principles except making money, getting attention, and gaining power. But Cruz has spent much of his life embracing radical right economic and political views.
3. Cruz is more disciplined and strategic.

Trump is all over the place, often winging it, saying whatever pops into his mind. Cruz hews to a clear script and a carefully crafted strategy. He plays the long game (as he's shown in Iowa).
4. Cruz is a loner who's willing to destroy government institutions to get his way.

Trump has spent his career using the federal government and making friends with big shots. Not Cruz. He has repeatedly led Republicans toward fiscal cliffs.
In the Fall of 2013, his opposition to Obamacare led in a significant way to the shutdown of the federal government. Both men would be disasters for America, but Ted Cruz would be the larger disaster.
(Cruz sounds better and better as the video goes along, the opposite of what Robert Reich intended.)
Continue reading,

including how less principled - or 'fanatical' politicians than Cruz can be made malleable with a good infusion of Muslim donations
This article originally appeared on AlterNet.org - VIA
http://tundratabloids.com/2016/02/leftist-robert-reich-explains-why-he-has-less-to-fear-from-trumpkin-rubio-than-from-a-president-ted-cruz/
RELATED
Former president Carter, the one who counts terrorist Hamas leaders as his close friends, and who writes books to demonize Israel, is terrified of Cruz and would prefer

Trump

as president because he is

MORE MALLEABLE.
GAZA, where there are no human rights
whatsoever, that's Jimmy Carter's kind of place
as long as they kill Jews

.
"I think I would choose Trump (over Cruz), which may surprise some of you," he said.
"The reason is, Trump has proven already he's completely malleable. I don't think he has any fixed (positions) he'd go the White House and fight for.
On the other hand, Ted Cruz is not malleable. He has far right wing policies he'd pursue if he became president," Carter concluded.
A warm embrace for Hamas leader
Just keep launching
those rockets, my friend.
Carter expressed that he would ultimately support whomever the Democratic Party's nominee turns out to be.
"Of course, I'm a Democrat and I will support the nominee," he stated.
Source
http://www.breitbart.com/big-government/2016/02/03/jimmy-carter-chooses-malleable-trump-over-far-right-wing-cruz/
~~~~~~~~~~~~~~~~~~~~~~~~~~~
ON THIS BLOG:
IS DONALD TRUMP A TRUE CONSERVATIVE? -
-

Breitbart gives us the rundown of his erratic opinion track record
- The strong public approval for Trump and the still lingering support for Hillary Clinton show how voters hear what they want to hear
In a sea of electoral candidates' mediocrity, and with at least one top candidate with a very disturbing past, Donald Trump has managed to rise to the top without having to explain much about his views - just by the power of a few slogans and politically incorrect statements that resonate with an angry public.
As you will see below, he happily makes up his mind as he goes along, according political winds or his mood of the day.
Republicans are deeply divided, while Democrats are still supporting a candidate who apparently broke important government security laws, and who could very likely end up serving a jail sentence.
Such lack of scrutiny by supporters is dangerous. It shows how easily American voters can be emotionally swayed without having to think too hard. Recent presidential choices show how people vote without bothering to consider the consequences.
The following is Breitbart's editor Ben Shapiro's analysis of Donald

Trump's erratic opinion track record.
~~~~~~~~~~~~~~~~~~~~~~~~~~~
More articles on how MONEY TALKS:
March 31, 2015 - Agents of the enemy.
US SENATORS, JOHN KERRY, AND OTHER TOP OFFICIALS RECEIVED DONATIONS FROM IRAN'S AGENTS
- Senators now favor Obama's deal of surrender to a nuclear Iran
- Since Iran is an enemy of the USA, writer Daniel Greenfield thinks this is treason
On this article:
Daniel Greenfield's article detailing how US Senators, John Kerry, Hillary Clinton, and even president Obama, have taken money from lobbyists from Iran - an enemy of the United States.
The scandalous Iran-Kerry connection.

Names of some of the Senators beneficiaries of money from Iran.

Names of individuals and organizations lobbying for Iran and donating money to top US government officials.

Links to articles exposing the pervasive money influence from Muslim countries on US

officials.
US SENATE - FOR SALE
JOHN KERRY ADVOCATED FOR GIVING IRAN
NUCLEAR FUEL IN 2004 CAMPAIGN
- His top fundraiser was Iranian-American multimillionaire Hassan Nemazee, who also became chief fundraiser for Hillary Clinton
- Nemazee was accused of being an Iranian government agent
- He is now in federal prison for bank fraud.
Read entire article:
http://ottersandsciencenews.blogspot.ca/2015/08/us-senators-john-kerry-and-other-top.html
~~~~~~~~~~~~~~~~~~~~~~~~~~~
FIVE DEMOCRATS RECIPIENT OF MUSLIM DONATIONS -
Jimmy Carter, Bill Clinton, Al Gore, John Kerry, and Barack Obama
Saudi Arabia in particular has a long history of trying to buy elections around the world, not only supporting Wahhabi causes and groups, but "secular" and mainstream entities such as universities and philanthropies in order to curry broad institutional favor from the West.
Photo
shows former president Carter in lovely chat with terrorist Hamas chief
~~~~~~~~~~~~~~~~~~~~~~~~~~~
Kerry should recuse himself from participating in the Switzerland nuclear talks due to his longstanding close relationship with his Iranian counterpart, Mohammad Javad Zarif. Kerry's daughter is married to an Iranian, and has been to Iran to meet her in-laws. Zarif's son was best man at the wedding.
The subject of Kerry's links to Iran
never came up
in his Senate confirmation hearing, either because Kerry never disclosed it, or because his former colleagues were too polite to bring it up. An Iranian journalist tells how Kerry is acting on behalf of Iran at the talks.
Read more
http://www.frontpagemag.com/2015/kenneth-r-timmerman/agents-of-the-enemy/
March 31, 2015 - Obama adviser on Iran worked on pro-regime lobby
The White House released a list of its high-ranking officials who took part in a video conference with President Obama late Tuesday. Among them appears Sahar Nowrouzzadeh, who apparently has formerly worked for the National Iranian-American Council.
Read more
http://www.breitbart.com/national-security/2015/03/31/obama-adviser-on-iran-worked-for-pro-regime-lobby/
Saudi Arabia was her third largest foreign donor.
Wall Street Journal: The Clinton Foundation swore off donations from foreign governments when
Hillary Clinton
was secretary of state. That didn't stop the foundation from raising millions of dollars from foreigners with connections to their home governments, a review of foundation disclosures shows.
http://www.wsj.com/articles/clinton-charity-tapped-foreign-friends-1426818602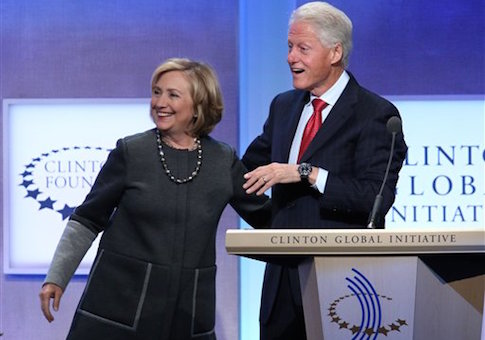 March 2015 -
The Clintons refused to return money from Iranian government front group. Man pardoned by Bill Clinton tied to Iranian foundation.
March 2015 - DOES IRAN NOW CONTROL WASHINGTON DC AS WELL? -
Iranians brag that they control FOUR Arab capitals - The White House acting as an agent for Iran and doing Iran's bidding at Geneva meeting to make Iran's nuclear dreams come true - White House threatening and BULLYING US ALLIES to make them submit to the deal without criticism
Read more
http://ottersandsciencenews.blogspot.ca/2015/03/does-iran-now-control-washington-dc-as.html
March 2015 - THE WHITE HOUSE TWO-FACED POLICY TOWARDS ISRAEL - OBAMA TURNED IRAN INTO HIS MAIN ALLY IN THE MIDDLE EAST -
Secret talks and secret arrangements -
Helping Iran become a nuclear power and a regional thug tasked with keeping order and subduing the Sunnis -
Iran's military already THREATENING ISRAEL IN THE NORTH
Read more
http://ottersandsciencenews.blogspot.ca/2015/03/the-white-house-two-faced-policy.html
~~~~~~~~~~~~~~~~~~~~~~~~~~~