©
http://ottersandsciencenews.blogspot.ca/
.
Unauthorized duplication of this blog's material is
prohibited.
Excerpts and links may be used, provided that full credit and link is given to Otters and Science News Blogspot.
Link to this post:
http://ottersandsciencenews.blogspot.ca/2016/02/pablo-huneeus-chilean-writer-found.html
- Thank you for visiting my blog.
~~~~~~~~~~~~~~~~~~~~~~~~~~~~~~~~~~~~~~
Chilean writer found moral equivalence between the Holocaust and Israel's destruction of arsenals and rocket launchers in Gaza.
Key issues on this article:
Pablo Huneeus is a prolific Chilean writer.

He reveals a surprisingly lack of knowledge when criticizing Israel.

PABLO HUNEEUS

He finds moral equivalence between the Nazi slaughter of millions of innocent Jews, and Israel's defensive war against Gazan terror.

He calls the death of Arab human shields "a Palestinian Holocaust".

He fails to take into account how the IDF takes extreme care to warn civilians before bombing arsenals and rocket launching sites, purposely located in homes, hospitals and schools.

There is no occupation of Gaza, since the last Israeli left in 2005.

There is no Israeli "occupation" in Judea and Samaria (West Bank), since Jews had a civilization in the Land of Israel for thousands of years.

Jews are the indigenous people of Israel. Arabs are from Arabia, and started the invasion and occupation of the land in the 7th century.

Accusing Israelis of being occupiers (of their own historical land) is rather ironic, since inhabitants of Chile - Mr Huneeus included - and of all other countries in the Americas are occupiers of Indian land, brutally conquered by European invaders.

Chile also engaged in a war of conquest in the late 19th century that left Bolivia to this day landlocked and without access to the sea.

Chile also occupies several islands, among them famous Easter Island, a Polynesian territory far removed from continental Chile.

Watch video on Hamas training children for war, terror and suicide bombing

See links to articles on Hamas corruption and their terror war against Israel.
VIDEO: WHO IS REALLY GUILTY OF WAR CRIMES IN GAZA?
HAMAS SPOKESMAN ADMITS GAZAN CIVILIANS "WILLING" TO SACRIFICE FOR THE CAUSE AS COLLATERAL DAMAGE.

Ratio of civilian deaths in Israeli attacks MUCH LOWER than that in other wars. For example in Kosovo it was 4:1, in Afghanistan 3:1, Global Average 3:1 -

in Gaza is 1:1
UK Colonel Richard Kemp, former commander of forces in Afghanistan, talks about the Israeli Defense Forces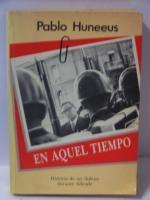 I just started to read a book

I picked up about 15 years ago during a trip to Chile. "En Aquel Tiempo," by Pablo Huneeus, is about life in that country during the presidency of Salvador Allende, a government characterized by social strife and economic chaos, eventually toppled by a military coup d'état, and followed by years of dictatorial repression.
Out of curiosity I checked the author's website and his twitter account. His picture reveals a rather handsome man.
I began to read some of his articles posted on his website, and then I found this comment from 2009, when
comparing the bloody military dictatorship in Chile and Israel's war on Gaza:
Violencia no faltaba, pero nada como el holocausto palestino practicado por Israel semanas atrás, donde mataron a mansalva a más de 500 niños, sin que a la "comunidad internacional" le importe.
Translation: "There was no lack of violence (during the dictatorship) but nothing like the Palestinian Holocaust put in practice by Israel some weeks ago, where they killed more than 500 children, without the "international community" caring about it."
Pablo Huneeus' sense of moral equivalence

- The word Holocaust is improperly used here to make a moral equivalence between the Nazi systematic rounding up, enslaving, and gassing of millions of innocent people for just being Jews - and Israel defending itself against relentless Muslim terror from Gaza, with the subsequent UNINTENDED casualties among women and children used by Hamas as human shields.
Israel's retaliation against Gaza came after Muslim terrorists had showered Israeli communities with hundreds of rockets. Although the rockets are rather crude and haven't killed many Israelis, their objective is not to inflict casualties but to unleash terror.
The terror is real, as it forces tens of thousands of Israeli men, women and children to live in constant fear, with only a few seconds to run to the nearest bomb shelter before a rocket hits a school, a home, or a playground. Children, and even adults, suffer from emotional trauma.
And how did this situation come about?
Continue reading
CHILE is that long and
narrow country on the left
ABOVE

: Chilean territorial gains
(diagonal lines)
after the War of the Pacific
in the late 19th century
BELOW

: Map of Chile's
territorial areas
:
In blue: Continental Chile
In red: Chile's islands in the Pacific.
In green: Antarctic Chile.


Pablo Huneeus on Wikipedia
https://en.wikipedia.org/wiki/Pablo_Huneeus
Source
http://www.cbc.ca/news/world/chile-dictatorship-victim-toll-bumped-to-40-018-1.998542
http://www.pablo.cl/index.php?seccion=articulos&art=225
WOMEN are considered
civilians, so they are being
recruited to make jihad.
ON THIS PAGE:
Read more
Dr. Ammar Dwaik, Director General of the Independent Commission for Human Rights, a Palestinian group, revealed that his group received 782 complaints regarding torture (by Arab authorities) -- 168 in the West Bank and 614 in the Gaza Strip
.
Hamas child abuse camps - Training them to kill and to die
Yes, it was confirmed by international reporters.
Hamas used hospitals to launch rockets against Israel.
Iconic photo of Gaza children
deliberately placed atop a building
that was a war target
NEWS ARCHIVE:
http://www.israelnationalnews.com/News/Tag.aspx/39833
Israel would be reduced to a territory split in two, and only 9 miles wide at its narrowest point.
A recipe for a second Holocaust, and that is exactly the unspoken intention of the Two States Final Solution.