©
http://ottersandsciencenews.blogspot.ca/
.
Unauthorized duplication of this blog's material is
prohibited.
Excerpts and links may be used, provided that full credit and link is given to Otters and Science News Blogspot.
Link to this post:
http://ottersandsciencenews.blogspot.ca/2016/02/muslims-torture-dog-to-death-in-egypt.html
- Thank you for visiting my blog.
~~~~~~~~~~~~~~~~~~~~~~~~~~~~~~~~~~~~~~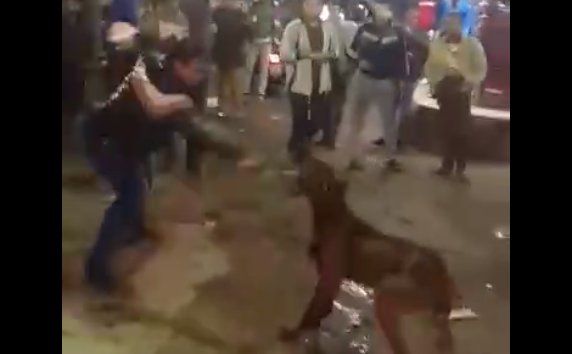 VIDEO:
SOURCE
http://www.barenakedislam.com/2016/02/07/egypt-gang-of-muslims-torment-and-then-brutally-beat-a-dog-to-death-viewer-discretion-advised/
IRAN TORTURES STRAY DOGS TO DEATH

by injecting them with an acid that corrodes their insides while the animal is still alive
WATCH HEARTBREAKING VIDEO
- Muslim hatred of dogs endorsed by religious texts
- Muslim animal abuse in Europe
- Links to articles of Muslim abuse of animals for fun
Continue reading
Among the many living beings that Muslims hate, despise and abuse, dogs are among the top.
Source
http://en.europenews.dk/-Graphic-Muslims-Killing-Thousands-Of-Dogs-With-Absolutely-Sick-Method-129351.html
- Dogs burned to death when Muslim arsonist sets fire to shelter in Arab town in Israel
-

Islam regards dogs as impure and are often the subject of severe abuse
- Palestinians shoot dogs and throw them still alive into garbage trucks
- Arab Bedouin children mutilate and burn dogs alive for fun
- Palestinians weaponize domestic animals to detonate them among Israelis
- Islamic dog hatred and animal rights activists' silence
Palestinians throw bundles with live puppies at Israeli soldiers over a tall wall. They are killed by impact once they hit the ground.
Read more
http://ottersandsciencenews.blogspot.ca/2015/09/dog-burned-to-death-when-arsonists-set.html
http://www.barenakedislam.com/2015/12/02/animals-australia-has-been-working-tirelessly-to-end-the-live-export-of-animals-to-muslim-countries/
http://www.barenakedislam.com/2013/06/17/sweden-four-tunisian-muslim-savages-behead-and-skin-a-cat-and-brag-about-it-on-facebook-and-twitter/
MORE EXAMPLES OF MUSLIM ANIMAL ABUSE:
arab-muslim-kids-burn-a-puppy-to-death-for-fun
sweden-four-tunisian-muslim-savages-behead-and-skin-a-cat-and-brag-about-it-on-facebook-and-twitter
ill-tie-you-all-up-and-throw-you-all-in-a-lake-of-fire-if-you-show-up-at-the-salahuddin-mosque-every-dog-will-be-shot-on-the-spot
iran-is-locking-up-peoples-pet-dogs-because-they-were-walking-them-in-public
iranian-doggie-death-camps-walk-your-dog-and-you-will-never-see-him-again-warns-government-gestapo
now-dogs-are-being-poisoned-in-britain-too
spain-muslims-carry-out-jihad-on-dogs
sweden-four-tunisian-muslim-savages-behead-and-skin-a-cat-and-brag-about-it-on-facebook-and-twitter
ill-tie-you-all-up-and-throw-you-all-in-a-lake-of-fire-if-you-show-up-at-the-salahuddin-mosque-every-dog-will-be-shot-on-the-spot
iran-is-locking-up-peoples-pet-dogs-because-they-were-walking-them-in-public
iranian-doggie-death-camps-walk-your-dog-and-you-will-never-see-him-again-warns-government-gestapo
now-dogs-are-being-poisoned-in-britain-too
spain-muslims-carry-out-jihad-on-dogs
arab-muslim-kids-burn-a-puppy-to-death-for-fun
LINK TO Otters and Science News article above
on the killing of dogs with acid, plus related news items
http://ottersandsciencenews.blogspot.ca/2015/12/iran-tortures-stray-dogs-to-death-by.html