~~~~~~~~~~~~~~~~~~~~~~~~~~~~~~~~~~~~~
EUROPEAN MEDIA-GOVERNMENT COLLUSION OVER MUSLIM MIGRANT CRIMINALITY MIRRORS ITS BLIND EYE TO PALESTINIAN VIOLENCE AGAINST THE JEWS…….

(Read more further down this page)
European government-media conspiracy of deception, and the ethnic cleansing of indigenous Europeans
Traditional news organizations are suffering badly, as much of the public abandoned them to turn to online alternative media, such as the very popular Drudge and Breitbart.
Mainstream media have not only
been accused of
bias and coverups over the years, but of outright distortions and falsehoods in news reporting.
This situation affects to some degree almost all of the traditional media, which tauts itself as being the freest in the world, while actually acting as puppets of powerful special interests.
The internet has changed everything by exposing their insidious agenda, and by reporting on news and ideas usually kept hidden from the public. This became apparent in the latest migrant crisis in Europe.
A conspiracy is exposed.

As we read how Muslim migrants had turned to crime, violence, and rape in Europe, we also learned how EU pro-migrant governments - along with their police departments and traditional media - had CONSPIRED to keep those facts hidden from the public.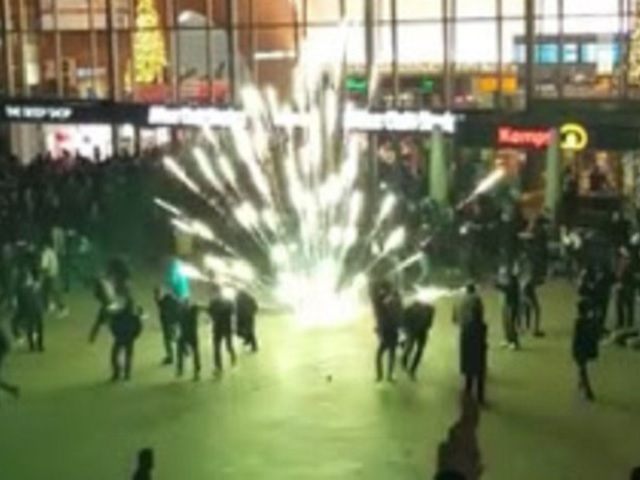 They almost succeeded except that migrants, emboldened by authorities' leniency to their crimes, organized a mass rape assault in Cologne on New Years' Eve where hundreds of women were groped and gang raped. This is one of those Muslim traditions that have been observed in crowded situations in Cairo and other places.
Security videos of the site of the crime were ordered erased by the German government, but no one can keep hundreds of victims quiet, so
the news inevitably leaked out.
And then a much wider conspiracy was exposed. It turned out that for years it has been standard operating procedure for police and media to hide reports of crimes whenever Muslims are the perpetrators, so as not to turn public opinion against them.
We knew that Muslims make up 70% of convicts in French jails, although they are only around 10% of the population. That is outstanding.
Alternative media had alerted us about Muslim crimes and the coverup, but unless you read it, you did not know about it.
Deception and treason.

European governments' actions border on actual treason. Scandinavian countries and Germany, among others, have been the most shameless practitioners of this reprehensible deception.
Importing Muslim migrants is not a humanitarian endeavor.
There is a darker agenda.
(1) Leftists want more voters.

There have been several political reasons for the importation of Muslims into Europe.
One of them is to increase the voting base for leftist parties.
(2) The ethnic cleansing of white Europe for its sins.

The other is more complex and it involves the deliberate replacement of indigenous Europeans with Muslims from the Middle East and Africa.
White Europeans have a negative reproduction rate (not enough babies to replace them). There are over 53 million Muslims in Europe reproducing at a rapid rate, much faster now with relentless immigration. Plain math demonstrates that over time Muslims will outnumber indigenous Europeans.
The first phase of this ethnic replacement by stealth took place under the Labour government in England.
Former Labour
PM TONY BLAIR
got away with a lot.
Still laughing.
The huge increases in migrants over the last decade were partly due to a politically motivated attempt by ministers

to radically change the country

and "

rub the Right's nose in diversity

", according to Andrew Neather, a former adviser to Tony Blair, Jack Straw and David Blunkett.
He said

Labour's relaxation of controls was a deliberate plan to "open up the UK to mass migration

" but that ministers were nervous and reluctant to discuss such a move publicly for fear it would alienate its "core working class vote". As a result, the public argument for immigration concentrated instead on the economic benefits and need for more migrants.
(Read more further down on this page.)
Although it is not an explicit agenda, the most radical pro-Muslim immigration activists have come out openly to declare that due to its sins, the white race must be eliminated.
Even Angela Merkel dismissed a German woman's legitimate question regarding security at a public meeting on Muslim immigration by saying more or less that - because of their World War II record - Germans don't have the moral right to criticize what Muslims do in Europe. End of discussion.
This same leftist agenda has been at work in Israel for decades, trying to dilute its Jewish majority to ultimately dismantle the state to turn it over to the Muslims.
The pro-Muslim immigration argument is manipulated with a different twist for Israelis. They are told that due to their history of suffering and persecution, they have no moral right to refuse entry to an unlimited number of Africans making the trek across the Egyptian Sinai desert and infiltrating into Israel.
You Jews, of all people, should feel compassion for these refugees, the Israeli left admonishes the government and the Israeli public. Of course everyone knows they are not refugees, but economic migrants.
Africans infiltrators
in Israel
And so for years the Israeli government went along with the leftist agenda and let Africans in. There are about 70,000 Muslim Africans in a country where Jews constitute merely 6 million in a general population of 8.5 million Israelis (that includes 20% Arabs and other ethnic groups).
African Muslim infiltrators, mostly from Sudan and Eritrea, engage in crime, violence, rape, and murder. And since there is no politically-correct way to remove them from Israel, they stay and reproduce. They have turned south Tel Aviv and other areas into places of high crime and violence.
The Israeli leftist Labour party has openly come out against French Jewish immigration into Israel, although Jews are fleeing France for their lives as Muslims continue to attack and murder them. Israeli leftists fear French Jews will increase the pro-right wing vote. So it's all about votes and about diluting the Jewish character of Israel. Yes to African Muslim infiltrators, no to French Jewish refugees.
Top German journalist admits live on-air that it is the government that imposes the national news media agenda
By Oliver J.J. Lane - for Breitbart
A retired media boss at a major German state broadcaster has admitted his network and others take orders from the government on what — and what not — to report.
National public service broadcaster Zweites Deutsches Fernsehen (ZDF), which was recently forced into a
humiliating
apology for their silence on migrant
violence
and sex assault is being drawn into a fresh scandal after one of their former bureau chiefs admitted the company takes orders from the government on what it reports.

He said journalists received instructions to write news that would be "to Ms. Merkel's liking".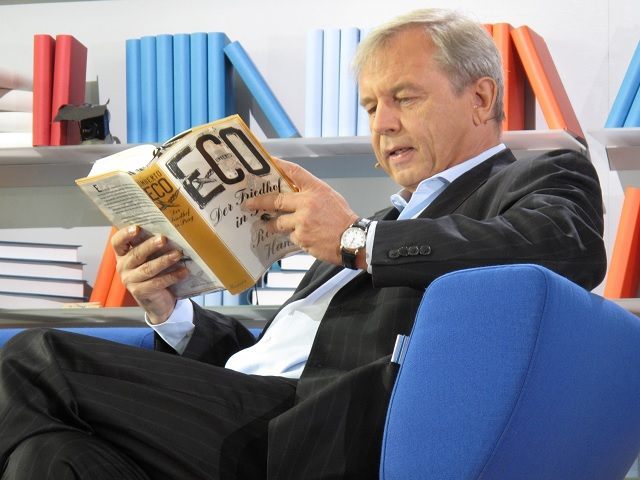 Former head of ZDF Bonn

Dr. Wolfgang Herles

make the remarks during a
radio
event in Berlin where journalists discussed the media landscape.
Moving on to the freedom of the press, the panel chair asked Dr. Herles whether things in Germany had got "seriously out of whack".
With an honesty perhaps unusual in Germany, Dr. Herles replied that ordinary Germans were totally losing faith in the media, something he called a "scandal". He said:
"We have the problem that – now I'm mainly talking about the public [state] media – we have a closeness to the government. Not only because commentary is mainly in line with the grand coalition (CSU, CDU, and SPD), with the spectrum of opinion, but also because we are completely taken in by the agenda laid down by the political class".
Worse than the mainstream, government controlled and poll-tax funded media in Germany just agreeing with the ruling coalition, the stations actually took orders on what was and was not to be reported on. He said:
"…the topics about which are reported are laid down by the government.
"There are many topics that would be more important than what the government wants. But they, of course, want to deflect attention away from what doesn't happen. Yet what doesn't happen is often more important than what does happen – more important than gesture politics".
While these orders are sent to media companies from unspecified places in the government, they are communicated to individual journalists by news executives using a new-speak jargon.
Dr. Herles explains that while "there are, in fact, instructions from above", when the editor in chief of ZDF communicated these instructions to his juniors he would merely say reporting should be framed in a way that "serves Europe and the public good".
There would be no need to add in brackets that this actually means it should be reported "to Ms. Merkel's liking", as they would be understood as the true meaning.
"Today, one is not allowed to say anything negative about the refugees" said Dr. Herles, concluding:

"This is government journalism and that leads to a situation in which people no longer trust us. This is a scandal."
There has been very little reporting of the comments in the German media, and what there was has been critical of the remarks.
Continue reading, watch video

of the interview with English translation,

and see links to many related articles
Focus
reported
the comments of one centre-left media figure, Der Freitag newspaper editor Jakob Augstein who when asked whether there had ever been such "instructions from above", said: "No, I deny vehemently there has ever been commands from the top".
That the German mainstream media is not free and routinely obscures or bends the truth has been a key criticism by the Patriotic Europeans Against the Islamisation of Europe (PEGIDA) movement, which has coined phrases like Lügenpresse — the liar press — to express their frustration.
Sources
http://www.breitbart.com/london/2016/02/02/top-german-journalist-admits-live-on-air-national-news-agenda-set-by-government/
http://www.dailymail.co.uk/news/article-3429621/German-journalist-claims-government-tells-media-t-report-following-outcry-Cologne-sex-attack-news-blackout.html
RELATED
VIDEO - How Breitbart broke the story of the migrant gang rape of hundreds of women at Cologne -
while the German media was still silent about this crime
More videos by Rebel Media
https://www.youtube.com/channel/UCGy6uV7yqGWDeUWTZzT3ZEg
THE MUSLIM INVASION OF EUROPE - GOOD BYE SWEDEN, GOOD BYE EUROPE

-
The rape of SWEDEN and the epidemic of rape in Europe
- Overwhelmed by Muslim migrants, the EU takes it out on the Jews by labeling and boycotting Israeli goods, inspired by the Nazi boycott of Jewish businesses
Read more
http://ottersandsciencenews.blogspot.ca/2015/11/the-muslim-invasion-of-europe-good-bye.html
VIDEO - THE RAPE OF SWEDEN - PAT CONDELL
THE RAPE AND SUICIDE OF EUROPE - AND WHY ISLAM CANNOT BE INTEGRATED INTO WESTERN SOCIETY
On this page are a couple of videos by Paul Joseph Watson that denounce the anti-white and suicidal policies of European leaders and leftists who invite millions of improperly vetted Moslem migrants to come into the continent, regardless of the mayhem they are already causing.
Read more
http://ottersandsciencenews.blogspot.ca/2016/01/the-rape-and-suicide-of-europe-and-why.html
No-Go Zones: German Police Admit To Losing Control Of Immigrant 'Problem Neighbourhoods'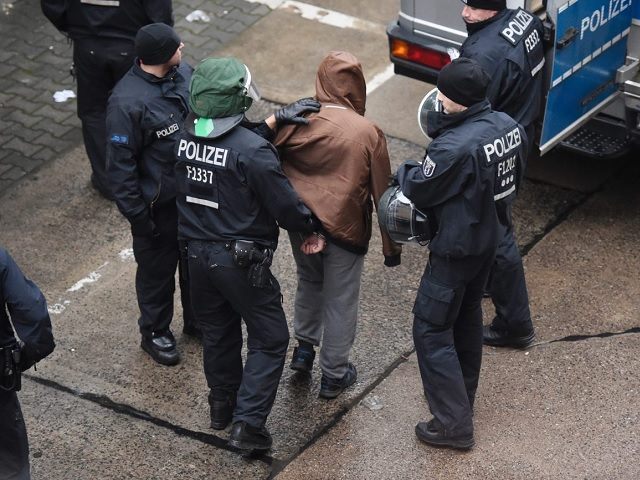 The development of so-called "problem neighbourhoods" or "lawless neighbourhoods" in Germany over the course of 2015 has made law enforcement impossible in some areas, according to police reports.
Read more
http://www.breitbart.com/london/2015/12/30/no-go-zones-german-police-admit-losing-control-immigrant-problem-neighbourhoods/
Excerpts:
http://tundratabloids.com/2016/01/europe-media-government-collusion-over-muslim-migrant-criminality-mirrors-its-blind-eye-to-palestinian-violence-against-the-jews/
Some of the hundreds of
Jews murdered by Arabs
Terror motive of the crime
covered up by police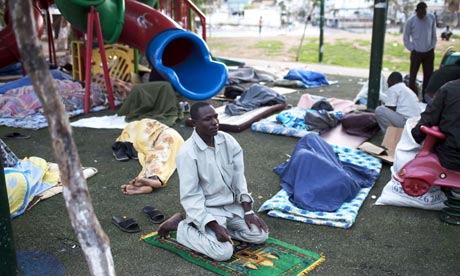 Taking over a children's playground
Golan warned the situation on the ground was "on the verge of an explosion", now that the Infiltrator Law had been shot down by the courts without offering any alternative to alleviating the social pressure cooker in neighborhoods such as hers.
Hanging out at Lewinsky Park, Tel Aviv
"It's worse than ever now," she lamented. "The infiltrators were already basically acting above the law,

openly operating illegal businesses, defecating and urinating in public, drinking and holding loud parties on the street, having fights, attacking and robbing people.
"Now they're under the impression that even crimes against us are above the law. They know they can do whatever they want against us and that the police are basically powerless against them, because the Bagatz is on their side."
"You can recognize the Jewish homes by the extra gates they have. This is the reality in south Tel Aviv," she added grimly.
The international press in Israel had become less an observer of the conflict than a player in it. It had moved away from careful explanation and toward a kind of political character assassination

Israel's flaws were dissected and magnified, while the flaws of its enemies were purposely erased

Something toxic is driving this – " Jews are troublemakers, a negative force in world events, and that if these people, as a collective, could somehow be made to vanish, we would all be better off".

When I worked in the AP's Jerusalem bureau, the Israel story was covered by more AP news staff than China, or India, or all of the fifty-odd countries of sub-Saharan Africa combined. This is representative of the industry as a whole.

People observing this conflict from afar have been led to believe that Israel faces a simple choice between occupation and peace. That choice is fiction.

The Palestinian choice, it is said, is between Israeli occupation and an independent democracy. That choice, too, is

fiction

(

Partition for the creation of an Islamic Palestinian state)

will bring the black-masked soldiers of radical Islam within yards of Israeli homes with mortars, rockets, and tunneling implements. Many thousands will die.

No international investment or guarantees, no Western-backed government or Western-trained military will be able to keep that from happening, as we have just seen in Iraq.

The only group of people subject to a systematic boycott at present in the Western world is Jews, appearing now under the convenient euphemism "Israelis."

The Jews of the Middle East are outnumbered by the Arabs of the Middle East 60 to 1, and by the world's Muslims 200 to 1.

Neo-Nazi rallies at Palestinian universities or in Palestinian cities are not covered — I saw images of such rallies suppressed on more than one occasion.

Jewish hatred of Arabs is a story. Arab hatred of Jews is not.

The time has come for everyone to admit that the fashionable disgust for Israel among many in the West is not liberal but is selective, disproportionate, and discriminatory.
Read more
http://ottersandsciencenews.blogspot.ca/2015/01/media-malpractice-in-coverage-of-israel.html
January 2015 - MUSLIM ANTI-SEMITISM
- A Special Kind of Hate, Video by Pat Condell
- Also: How Muslims have brought virulent and violent anti-Semitism back to the West
- Why the Left refuses to talk about Muslim Anti-Semitism
- And a summary of Muslim attacks against Jews in France
Read more
http://ottersandsciencenews.blogspot.ca/2015/01/muslim-anti-semitism-special-kind-of.html

LONDON TODAY
Daily Mail - LOOK AT COLONIZED LONDON AND SEE YOUR FUTURE, EUROPE
- Book examines how London now has a non-white majority
- THE RACIAL CLEANSING OF EUROPEANS
- Widespread third world criminality in England's capital.
Read more
http://ottersandsciencenews.blogspot.ca/2016/01/book-look-at-colonized-london-and-see.html
German TV station, ZDF, apologized for its decision to deliberately not report the Cologne sex attacks amid reports they had been ordered by German Chancellor Angela Merkel to censor or soften its reporting of crimes committed by Muslim immigrants.
Rather than worry about rape victims, Merkel is more concerned about the potential backlash against Muslim migrants after Germany took in 1.5 million refugees in 2015.
http://www.examiner.com/article/twitter-fury-after-1-000-muslims-rape-sexually-attack-women-cologne-Germany
UK: Muslim group boycotts,

threatens police over investigation of Muslim rape gangs that destroyed lives of 1,400 girls
Read more
http://www.jihadwatch.org/2015/10/uk-muslim-group-boycotts-threatens-police-over-investigation-of-muslim-rape-gangs-that-destroyed-lives-of-1400-girls
2015 - THE YEAR OF ABSURDITY
- Muslims cause terror, so GERMANY invites millions of them to settle in Europe
- LIBERALS cry over one baby migrant drowned, while they support the murder of millions of babies through abortion
- Europeans worship Jesus but push for the surrender of the Holy Land to Muslims who persecute Christians all over the Islamic world
Read more
http://ottersandsciencenews.blogspot.ca/2016/01/2015-year-of-absurdity-muslims-cause.html
The following is an article from the Edgar Davidson's Blog: