©
http://ottersandsciencenews.blogspot.ca/
.
Unauthorized duplication of this blog's material is
prohibited.
Excerpts and links may be used, provided that full credit and link is given to Otters and Science News Blogspot.
Link to this post:
http://ottersandsciencenews.blogspot.ca/2016/02/fact-check-of-obamas-speech-at-islamic.html
- Thank you for visiting my blog.
~~~~~~~~~~~~~~~~~~~~~~~~~~~~~~~~~~~~~~
By Clare M. Lopez, for Breitbart
Clare M. Lopez is Vice President for Research and Analysis at the Center for Security Policy.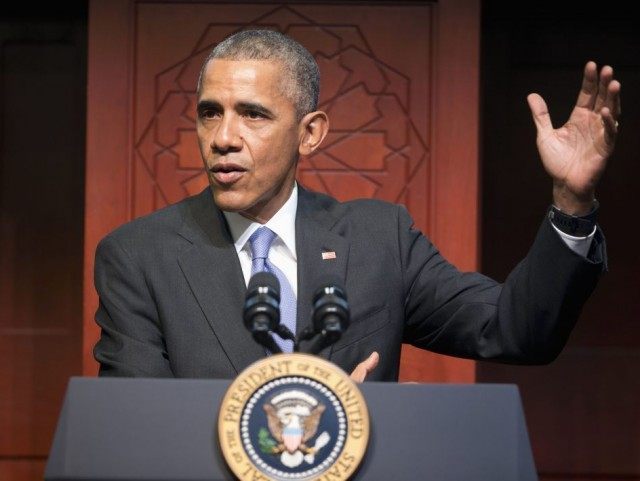 Perhaps it's because he was making faces in Qur'an class instead of paying attention to his teacher. Or maybe he just has a selective memory about what he was taught as a young Muslim student in Indonesia.
Things that are basic to doctrinal Islam are not only knowable because they are readily available in English but, it might be argued, obligatory that an American commander-in-chief should know in fulfillment of his oath to defend the Constitution against "all enemies foreign and domestic."
First, Mr. President, a mosque

is not simply the Muslim version of a church, synagogue or temple.
Continue reading

this fact-check analysis, see links for sources and graphic posters explaining Islam

ALSO READ UPDATE

column: "Why did the President tell brazen lies?"
Source
http://www.breitbart.com/national-security/2016/02/05/presidents-speech-at-islamic-center-of-baltimore-a-fact-check/
ALSO ON BREITBART:
By Tom Tancredo, for Breitbart
That President Obama told a series of brazen lies about Islam in his December 3 Baltimore speech is being
well documented
by experts on Islam.
Why he did it – and why the Left in America is defending those lies — is more important for patriots to understand.
Obama chose as the venue for his praise of Islam as a religion of peace and tolerance the

same Baltimore mosque that in 2012 was under FBI scrutiny

because its former imam
condoned suicide bombing
and
one of its members
was arrested for plotting to bomb a federal building.
Why did Obama feel a need to help "rehabilitate" the mosque reputation by selecting it as the site for his speech?
The full text of Obama's speech at the Baltimore mosque is available on the White House website and has been helpfully reprinted by the New York Times. Anyone who thinks my criticism of the speech is unwarranted is invited to read the full text and tell me where I have misrepresented his remarks.
Of course, the speech had some platitudes about our nation's history of tolerance and freedom of speech, and we all support the First Amendment's guarantee of freedom of worship. But even in recounting America's historic commitment to religious tolerance,

Obama misrepresents the Founders' views of Islam.
Jefferson did indeed include "Mohammadans" – as Muslims were known in those times– as entitled to freedom of worship, but he included them for the purpose of making clear that even the most extreme, non-Christian religions were welcome in America.

But in 1805, President Jefferson had a different encounter with Islam when he sent the U.S. Marines to fight the young nation's first battle on foreign soil –against Muslims in Tunisia and Tripoli who were kidnapping American, French and British sailors and holding them for ransom. They were called the Barbary Pirates.
But Obama's gift for fabrication was not limited to mischaracterizing Islam's place in American history.

He also misquoted the Koran—more than once.
Obama bizarrely invented a new translation of the word

"Islam" itself

, saying incorrectly that the word comes from the same root as the Muslim word for peace—salam, as in, "peace be with you." In fact, in Arabic, the word "Islam" means "submission," not peace, meaning submission to Allah and the teachings of his prophet, Mohammad.

This is remarkably – and not accidentally—parallel to orthodox Marxist-Leninist doctrine as spelled out in the Communist Manifesto that true world peace is possible only with the worldwide victory of communism, which brings the "classless society" — the end of the presumed source of all conflict, private property and capitalism. To the disciples of the Prophet Mohammad, peace is possible only with the subjugation of all infidels.

Obama also misquoted Islamic scripture in parts of his speech, even going so far as to suggest that Islamic teaching on killing is the same as the Christian, which is patently untrue. Several sections of the Koran and other sacred texts teach that infidels and "apostates" must be killed if they do not submit to Islam.

Contrary to Obama, Islam has no equivalent to the Christian biblical teaching of the Golden Rule. Obama's efforts to suggest a kindred spirit uniting Islam and Christianity is pure hogwash and can only be called propaganda.
Similar lies and whitewashes of Islam have been chronicled by respected scholars of Islam like Robert Spencer. You can start with Spencer's The Complete Infidel's Guide to the Koran, and then read The Muslim Brotherhood in America.
It is true that many Muslims – indeed, a majority of Muslims– do not follow the teachings of the Koran and the words of the Prophet Mohammad. There are indeed millions of "moderate Muslims" in the United States who do not support the goals of jihadists
But the important point is that those millions of "moderate" Muslims are moderate precisely because they are not devout and do not follow all of the teachings of the Koran. That is one of the truths tht Obama denies in his Baltimore speech.
But it's not enough to list the many lies in the Baltimore speech; that's the easy part.
The more important thing is to understand WHY Obama and the entire liberal-left establishment would want to lie about Islam.
Why does the President of the United States distort and defend the ideological fountainhead of America's number one enemy, radical Islam?

Why does the Left and practically the entire media establishment continually mislead Americans about the true character of Islam?

Why does Obama insist on saying "Islam must not be blamed for the actions of a few," when legitimate polls reveal that from 15% to 30% of all Muslims sympathize with the goals of the jihadists?
Why, Mr. President?
The easy answer would be if Obama is a secret Muslim and so, psychologically, cannot admit the truth about his own chosen religion when so many of his brethren are engaged in murderous attacks on this country. That may be true, but since we cannot read Obama's heart, we can't know that for certain.
Even if that were true, it would not explain the duplicity of millions of other Americans and Europeans who willingly put on blinders each morning, who knowingly and continuously spout lies about the "religion of peace."
The fundamental reason for the Orwellian passion for not only accepting the lie but actively promoting it is the commitment to the universal leftist maxim — blame the victim.
To a leftist crusader for "social justice," when a man walking down the street minding his own business is attacked, robbed and beaten to death by a gang of thugs, it was his own fault: he invited the attack by tolerating a society with inequality of wealth.

In the same way, to devout Muslims, a woman walking alone without a male escort is inviting rape. This is not a tenet of "radical" Islam, it is a tent of orthodox Islam.
In the same vein, to the Left, America is immutably and irredeemably so sinful and so guilty of so many historical wrongs that Islam is right to reject assimilation.
There are no "innocent civilians" killed by terrorists: Leftist University of Colorado pseudo scholar Ward Churchill was right when he said the 2000 Americans who died in the Twin Towers on 9/11 "deserved what they got."

America's historical sins of racism, sexism, and capitalist exploitation disqualify us from rendering any moral judgment against Islam.
While it is true that Islam's religious beliefs about women, gays and all "infidels" are repugnant to progressives, this does not mean progressives should criticize Islam.
To serious progressives, Islam is a victim, not an aggressor. Because Islam is waging war on the corrupt and sinful West, the maxim, "the enemy of my enemy is my friend" rules the day.
The Left has formed an unwritten but soulful strategic alliance with Islam against the traditional values and institutions of Western Civilization.
This unspoken strategic political alliance justifies – indeed requires– remaining silent about Islam's transgressions. It justifies calling the most intolerant religion on the planet a religion of peace.

It justifies telling fairytales about Islam, a religion which in its most sacred texts calls for the conquest and killing of other religious faithful if they will not voluntarily convert or submit to Islam and Islamic Sharia law.
Obama lies about Islam because admitting the truth would jeopardize the alliance between Islam and the Left, an alliance that threatens not only Israel but every nation on the plant that does not agree to shout "Allahu Akbar!" which translates not as Allah is great but "Allah is the greatest!"
Obama's speech to the Islamic Society of Baltimore was a predictable follow-up to his 2009 speech to the Muslim Brotherhood in Cairo, where he asked forgiveness for America's past sins and pledged to be an equal partner with Islamic nations.
The real question, then is not why Obama lies about Islam, it is why so many people tolerate it, applaud it, and join in the lies and the smears against those who dare to tell the truth.
Source
http://www.breitbart.com/big-government/2016/02/06/why-did-obama-tell-brazen-and-lies-at-the-baltimore-mosque/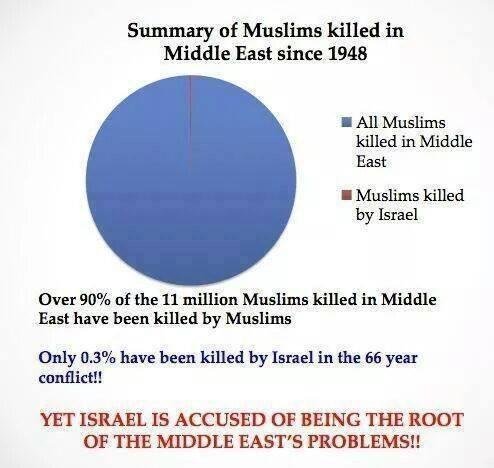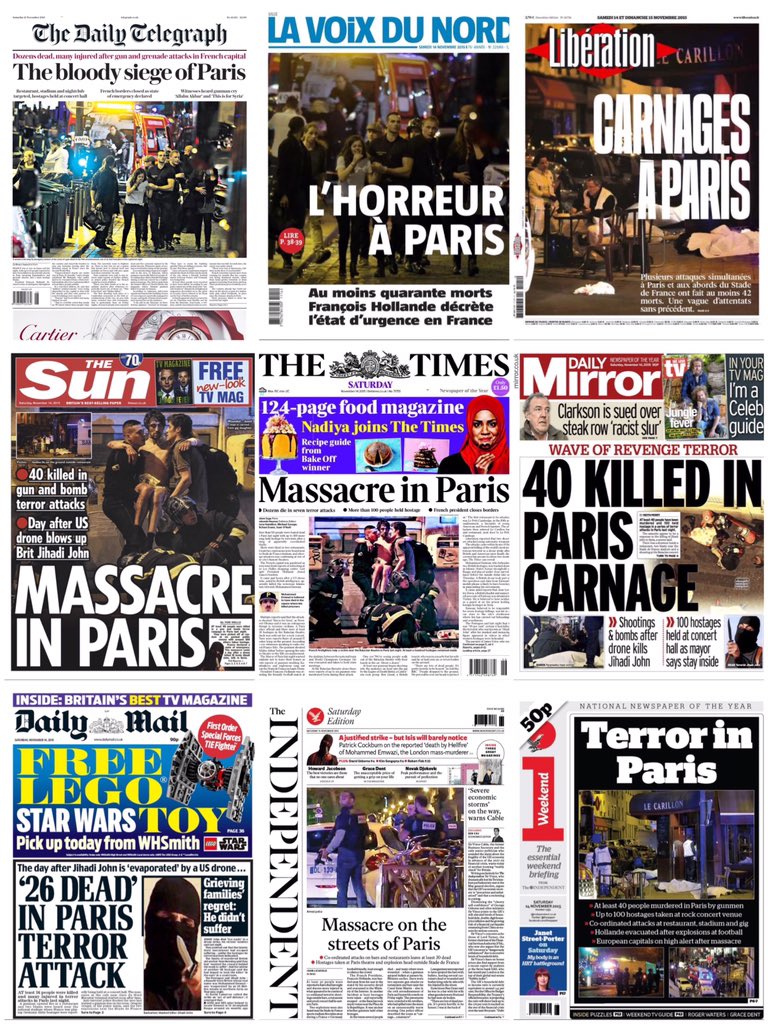 The Religion of Peace
http://www.thereligionofpeace.com/
The Myths of Islam
http://www.thereligionofpeace.com/Pages/Myths-of-Islam.htm
Islam's history
http://www.thereligionofpeace.com/Pages/History.htm
Islam not a religion of peace - ten reasons
http://www.thereligionofpeace.com/Pages/Top-10-Reasons.htm
Killings for Islam
http://markhumphrys.com/islam.killings.html
WikiIslam
http://wikiislam.net/wiki/Main_Page
Koran as hate speech
http://www.thereligionofpeace.com/Pages/Quran-Hate.htm
Islam

terror and genocide through the centuries
http://www.islam-watch.org/MA_Khan/IncessantTerrorism.htm
Professor Bill Warner: Video - Why we are afraid
The greatest genocide in history: Islam's slaughter of non-Muslims
Conservative estimate: 270 million killed
http://www.politicalislam.com/tears-of-jihad/
ISLAM IN THE WEST
BREITBART - Migrant crisis latest news
http://www.breitbart.com/tag/europe-migrant-crisis/
Bare Naked Islam
http://www.barenakedislam.com/
The Muslim Issue
https://themuslimissue.wordpress.com/
Tundra Tabloids
http://tundratabloids.com/
Soeren Kern
http://soerenkern.com/
Gates of Vienna
http://gatesofvienna.net/
Frontpage Magazine
http://www.frontpagemag.com/
Creeping Sharia
https://creepingsharia.wordpress.com/
Refugee Resettlement Watch
https://refugeeresettlementwatch.wordpress.com/
Money Jihad (recommended)
https://moneyjihad.wordpress.com/
Sharia Finance Watch
http://www.shariahfinancewatch.org/blog/
Geert Wilders
http://www.geertwilders.nl/
Vlad Tepes
http://vladtepesblog.com/
The Islamization of Europe and European Anti-Semitism
Columns by Dr Manfred Gerstenfeld
http://www.israelnationalnews.com/Articles/Author.aspx/908
Dr Bill Warner's YouTube Channel POLITICAL ISLAM
https://www.youtube.com/channel/UC0Uu4XnRS1hiz3JCpNFIuUg
SAUDI OFFICIAL ADMITS ISLAM IS A CULTURE IMMERSED IN HATRED

- ISLAM is responsible for the greatest genocide in human history: 270 MILLION non-Muslims murdered by conquest and jihad since the 7th century, according to conservative estimates
The root of this hatred is in the words of the Koran, the very basis of Islam, the book that followers consider the sacred word of their god, Allah.
The real Islam is not peaceful. It advocates violent conquest and the forced conversion or subjugation of non-Muslims.
The greatest genocide in the history of humankind is the one still being perpetrated by Islam: 270 MILLION non-Muslims murdered.
Read more
http://ottersandsciencenews.
blogspot.ca/2015/12/saudi-official-admits-islam-is-culture.html
What does the
Religion of Peace
Teach About...


Question: Does the Quran really contain dozens of verses promoting violence?

Summary Answer: The Quran contains at least 109 verses that call Muslims to war with nonbelievers for the sake of Islamic rule. Some are quite graphic, with commands to chop off heads and fingers and kill infidels wherever they may be hiding. Muslims who do not join the fight are

called

'hypocrites' and warned that Allah will send them to Hell if they do not join the slaughter.Unlike nearly all of the

Old Testament verses of violence

, the verses of violence in the Quran are mostly open-ended, meaning that they are not restrained by the historical context of the surrounding text (although many Muslims choose to think of them that way). They are part of the eternal, unchanging word of Allah, and just as relevant or subject to interpretation as anything else in the Quran. The context of violent passages is more ambiguous than might be expected of a perfect book from a loving God. Most contemporary Muslims exercise a personal choice to interpret their holy book's call to arms according to their own moral preconceptions about justifiable violence. Their apologists cater to these preferences with tenuous arguments that gloss over historical fact and generally do not stand up to scrutiny. Still, it is important to note that the problem is not bad people, but bad ideology.Unfortunately, there are very few verses of tolerance and peace to abrogate or even balance out the many that call for nonbelievers to be fought and subdued until they either accept humiliation, convert to Islam, or are killed. Muhammad's own martial legacy, along with the remarkable stress on violence found in the Quran, have produced a trail of blood and tears across world history.

The Quran:



Additional Notes:

Other than the fact that Muslims haven't killed every non-Muslim under their domain, there is very little else that they can point to as proof that theirs is a peaceful, tolerant religion. Where Islam is dominant (as in the Middle East and Pakistan) religious minorities suffer brutal persecution with little resistance. Where Islam is in the minority (as in Thailand, the Philippines and Europe) there is the threat of violence if Muslim demands are not met. Either situation seems to provide a justification for religious terrorism, which is persistent and endemic to Islamic fundamentalism.

The reasons are obvious and begin with the Quran. Few verses of Islam's most sacred text can be construed to fit the contemporary virtues of religious tolerance and universal brotherhood. Those that do are earlier "Meccan" verses which are obviously abrogated by later ones. The example of Muhammad is that Islam is a religion of peace when Muslims do not have the power and numbers on their side. Once they do, things change.

Many Muslims are peaceful and do not want to believe what the Quran really says. They prefer a more narrow interpretation that is closer to the Judeo-Christian ethic. Some just ignore harsher passages. Others reach for "textual context" across different suras to subjectively mitigate these verses with others so that the message fits their personal moral preferences. Although the Quran itself claims to be clear and complete, these apologists speak of the "risks" of trying to interpret verses without their "assistance."

The violent verses of the Quran have played a key role in very real massacre and genocide. This includes the brutal slaughter of tens of millions of Hindus for five centuries beginning around 1000 AD with Mahmud of Ghazni's bloody conquest. Both he and the later Tamerlane (Islam's Genghis Khan) slaughtered an untold number merely for defending their temples from destruction. Buddhism was very nearly wiped off the Indian subcontinent. Judaism and Christianity met the same fate (albeit more slowly) in areas conquered by Muslim armies, including the Middle East, North Africa and parts of Europe, including today's Turkey. Zoroastrianism, the ancient religion of a proud Persian people is despised by Muslims and barely survives in modern Iran.

Violence is so ingrained in Islam that it has never really stopped being at war, either with other religions or with itself.

Muhammad was a military leader, laying siege to towns,

massacring

the men,

raping

their women, enslaving their children, and taking the property of others as his own. On several occasions he rejected offers of surrender from the besieged inhabitants and even butchered

captives

. He inspired his followers to battle when they did not feel it was right to fight, promising them slaves and booty if they did and threatening them with Hell if they did not. Muhammad allowed his men to rape traumatized women captured in battle, usually on the very day their husbands and family members were slaughtered.

It is important to emphasize that, for the most part, Muslim armies waged aggressive campaigns, and the religion's most dramatic military conquests were made by the actual companions of Muhammad in the decades following his death.

The early Islamic principle of warfare was that the civilian population of a town was to be destroyed (ie. men executed, women and children taken as slaves) if they defended themselves and resisted Islamic hegemony. Although modern apologists often claim that Muslims are only supposed to "attack in self-defense", this oxymoron is

flatly contradicted

by the accounts of Islamic historians and others that go back to the time of Muhammad.

Some modern-day scholars are more candid than others. One of the most respected Sunni theologians is al-Qaradawi, who justifies terror attacks against Western targets by noting that there is no such thing as a civilian population in a time of war:


"It has been determined by Islamic law that the blood and property of people of Dar Al—Harb [ie. non-Muslim people who resist Islamic conquest] is not protected... In modern war, all of society, with all its classes and ethnic groups, is mobilized to participate in the war, to aid its continuation, and to provide it with the material and human fuel required for it to assure the victory of the state fighting its enemies. Every citizen in society must take upon himself a role in the effort to provide for the battle. The entire domestic front, including professionals, laborers, and industrialists, stands behind the fighting army, even if it does not bear arms."

Consider the example of the

Qurayza

Jews, who were completely obliterated only five years after Muhammad arrived in Medina. Their leader opted to stay neutral when their town was besieged by a Meccan army that was sent to take revenge for Muhammad's deadly caravan raids. The tribe killed no one from either side and even surrendered peacefully to Muhammad after the Meccans had been turned back. Yet the prophet of Islam had every male member of the Qurayza beheaded, and every woman and child enslaved, even raping one of the captives himself (what Muslim apologists might refer to as "same day marriage").

One of Islam's most revered modern scholars, Sheikh Yusuf al-Qaradawi, openly sanctions offensive Jihad:

"In the Jihad which you are seeking, you look for the enemy and invade him. This type of Jihad

takes place only when the Islamic state is invading other

[countries]

in order to spread the word of Islam and to remove obstacles standing in its way."

Elsewhere, he notes:

"Islam has the right to take the initiative…this is God's religion and it is for the whole world. It has the right to destroy all obstacles in the form of institutions and traditions … it attacks institutions and traditions to release human beings from their poisonous influences, which distort human nature and curtail human freedom. Those who say that Islamic Jihad was merely for the defense of the 'homeland of Islam' diminish the greatness of the Islamic way of life."

The widely respected

Dictionary of Islam

defines Jihad as

"A religious war with those who are unbelievers in the mission of Muhammad. It is an incumbent religious duty, established in the Qur'an and in the Traditions as a divine institution, and enjoined specially for the purpose of advancing Islam and of repelling evil from Muslims…[Quoting from the Hanafi school, Hedaya, 2:140, 141.], "The destruction of the sword is incurred by infidels, although they be not the first aggressors, as appears from various passages in the traditions which are generally received to this effect."

Dr. Salah al-Sawy, the chief member of the Assembly of Muslim Jurists in America, stated in 2009 that "

the Islamic community does not possess the strength to engage in offensive jihad at this time

," tacitly affirming the legitimacy of violence for the cause of Islamic rule - bound only by the capacity for success. (

source

)

Muhammad's failure to leave a clear line of succession resulted in perpetual internal war following his death. Those who knew him best first fought afterwards to keep remote tribes from leaving Islam and reverting to their preferred religion (the Ridda or 'Apostasy wars'). Then the violence turned within. Early Meccan converts battled later ones as hostility developed between those immigrants who had traveled with Muhammad to Mecca and the Ansar at Medina who had helped them settle in. Finally there was a violent struggle within Muhammad's own family between his favorite wife and favorite daughter - a jagged schism that has left Shias and Sunnis at each others' throats to this day.

The strangest and most untrue thing that can be said about Islam is that it is a Religion of Peace. If every standard by which the West is judged and condemned (slavery, imperialism, intolerance, misogyny, sexual repression, warfare...) were applied equally to Islam, the verdict would be devastating. Islam never gives up what it conquers, be it religion, culture, language or life. Neither does it make apologies or any real effort at moral progress. It is the least open to dialogue and the most self-absorbed. It is convinced of its own perfection, yet brutally shuns self-examination and represses criticism.

This is what makes the Quran's verses of violence so dangerous. They are given the weight of divine command. While Muslim terrorists take them as literally as anything else in their holy book, and understand that Islam is incomplete without Jihad, moderates offer little to contradict them - outside of personal opinion. Indeed, what do they have? Speaking of peace and love may win over the ignorant, but when every twelfth verse of Islam's holiest book either speaks to Allah's hatred for non-Muslims or calls for their death, forced conversion, or subjugation, it's little wonder that sympathy for terrorism runs as

deeply

as it does in the broader community - even if most Muslims personally prefer not to interpret their religion in this way.

Although scholars like Ibn Khaldun, one of Islam's most respected philosophers, understood that

"the holy war is a religious duty, because of the universalism of the Muslim mission and (the obligation to) convert everybody to Islam either by persuasion or by force",

many other Muslims are either unaware or willfully ignorant of the Quran's near absence of verses that preach universal non-violence. Their understanding of Islam comes from what they are taught by others. In the West, it is typical for believers to think that their religion must be like Christianity - preaching the New Testament virtues of peace, love, and tolerance - because Muslims are taught that Islam is supposed to be

superior

in every way. They are somewhat surprised and embarrassed to find that this is contradicted by the Quran and the bloody history of Islam's genesis.

Others simply accept the violence. In 1991, a Palestinian couple in America was convicted of stabbing their daughter to death for being too Westernized. A family friend came to their defense, excoriating the jury for not understanding the "culture", claiming that the father was merely following "the religion" and saying that the couple had to "discipline their daughter or lose respect." (

source

). In 2011, unrepentant Palestinian terrorists, responsible for the brutal

murders

of civilians, women and children

explicitly

in the name of Allah were treated to a luxurious "holy pilgrimage" to Mecca by the Saudi king - without a single Muslim voice raised in protest.

For their part, Western liberals would do well not to sacrifice critical thinking to the god of political correctness, or look for reasons to bring other religion down to the level of Islam merely to avoid the existential truth that this it is both different and dangerous.

There are just too many Muslims who take the Quran literally... and too many others who couldn't care less about the violence done in the name of Islam.