©
http://ottersandsciencenews.blogspot.ca/
.
Unauthorized duplication of this blog's material is
prohibited.
Excerpts and links may be used, provided that full credit and link is given to Otters and Science News Blogspot.
Link to this post:
http://ottersandsciencenews.blogspot.ca/2015/04/satire-hamas-upgrading-human-dome.html
- Thank you for visiting my blog.
~~~~~~~~~~~~~~~~~~~~~~~~~~~~~~~~~~~~~~
SATIRE
by PreOccupied Territory
Hamas retains a sizable pool of humans with which to equip its low-tech system.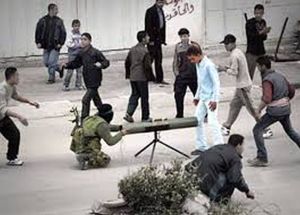 Gaza City, April 14 – Military observers are reporting that Hamas, the militant Islamist movement that runs the Gaza Strip, appears to be rebuilding and improving its Human Dome system in the wake of a punishing war with Israel last summer.
Human Dome proved effective during the 51-day war in both deterring certain Israeli strikes and by massive exploitation by the Hamas media apparatus of images of the dead or injured following strikes that did take a civilian toll.
The system in fact became Hamas's primary offensive weapon, which it wielded to much effectiveness with assistance from international sympathizers and news organizations.
Satellite and other surveillance data indicate that the militant organization has nearly completed its repair and upgrade of the system, which, unlike more technically sophisticated equipment, does not require parts and machinery currently in short supply in the coastal territory.
Human Dome only needs people, preferably women and children, to be strategically positioned in, near, or atop facilities of military value, and observers foresee no shortage of people in the Gaza Strip, of which children account for a disproportionate number.
Military analysts see Hamas improving both the number and severity of casualties to those tactical assets to leverage that harm to hurt Israel politically and thus extract concessions.
Whereas in the previous several conflicts with Israel Hamas merely positioned Human Dome units in proximity to fighters, caches, tunnels, or bunkers, then waited for Israel to strike them and inflict casualties, analysts expect that in the next war the organization will not wait for incoming IDF missiles or shells to kill the civilians.
Instead, bolstered by the international media's haste to accept Israeli culpability for any casualties in Gaza, even those from misfired Hamas rockets, Hamas will itself target those civilians, and simply tell the media Israel did so.
Such a tactic, says analyst Hugh Manshield, is aimed at accelerating the pace of Human Dome's political impact so as to conserve bona fide military assets. While improvements to Hamas's rocket arsenal and underground infrastructure have occurred, access to genuine military gear remains limited. "Missiles, explosives, and guns have to be smuggled in, but people are homegrown," explains Manshield.
Analysis of the available data indicates that although nearly half of the Gaza population of nearly 2 million wishes to leave, they are effectively barred from doing so in significant numbers.
Israel maintains a tight border along the northern and eastern sides of the Gaza Strip, allowing only certain workers, patients, and goods across.
To the south, Egypt has blockaded the strip and begun destroying the smuggling tunnels that once connected the territory with the Sinai, alleging that Hamas provides support for Islamist guerrillas there.
That leaves the Mediterranean Sea to the west as a possible exit, but few Gazans are prepared to take the risks involved in a maritime journey to Europe with smugglers liable to abandon or rob them. As such, Hamas retains a sizable pool of humans with which to equip its low-tech system.
Source
http://www.preoccupiedterritory.com/hamas-upgrading-human-dome-defense-system/
See more cartoons and satire on this blog
******************************************************