©
http://ottersandsciencenews.blogspot.ca/
.
Unauthorized duplication of this blog's material is
prohibited.
Excerpts and links may be used, provided that full credit and link is given to Otters and Science News Blogspot.
Link to this post:
http://ottersandsciencenews.blogspot.ca/2015/04/new-book-hillary-and-bill-clintons.html
- Thank you for visiting my blog.
~~~~~~~~~~~~~~~~~~~~~~~~~~~~~~~~~~~~~~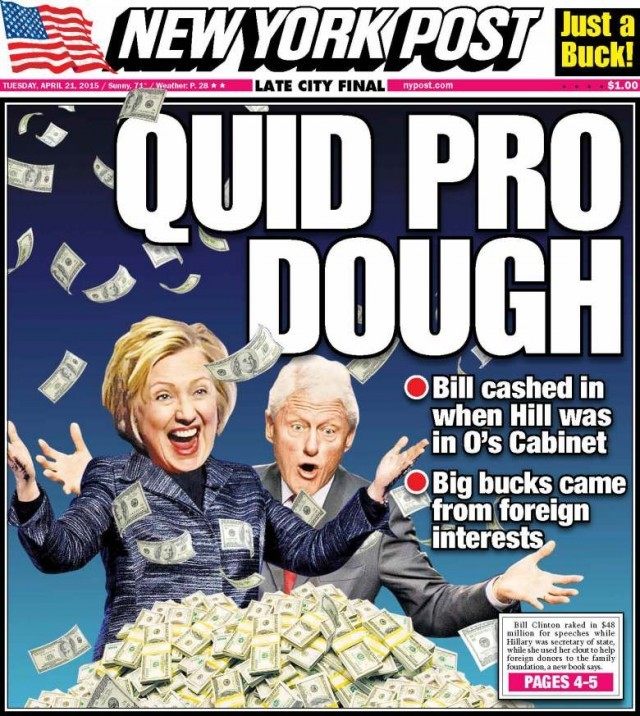 Hillary Rodham Clinton
used her clout as secretary of state to do favors for foreign donors who gave millions to her family foundation — and who paid millions more to her husband,
Bill
, in speaking fees, a new book charges.
Records show that of the $105 million the former president raked in from speeches over 12 years, about half came during his wife's four-year tenure at the State Department.
The claims in "Clinton Cash: The Untold Story of How and Why Foreign Governments and Businesses Helped Make Bill and Hillary Rich" come just a week after she launched her presidential campaign.
They raise questions about shady foreign money flowing into the
Clinton Foundation
— and what actions Hillary took in her official capacity in exchange for the cash.
"During Hillary's years of public service, the Clintons have conducted or facilitated hundreds of large transactions," writes author Peter Schweizer, according to
The New York Times
, which first reported the story.
"Some of these transactions have put millions in their own pockets."
Continue reading this, as well as related articles on top government officials, including presidents, who have taken money from Muslim donors.
Schweizer — a former speech-writing consultant for President
George W. Bush
— said he found a clear "pattern of financial transactions involving the Clintons that occurred contemporaneous with favorable US policy decisions benefiting those providing the funds."
One example of an alleged quid pro quo cited by the Times and other sources involved the State Department's backing of a free-trade agreement with Colombia that benefited a company founded by a big donor to the Clinton Foundation.
Hillary opposed the trade deal when running for president in 2008 because of the South American country's poor record on workers' rights.
But then the company, Canadian-based Pacific Rubiales, and its founder, Clinton Foundation board member Frank Giustra, donated "millions" to the foundation,
The International Business Times
reported.
In 2010, the State Department under Hillary lauded Colombia's human rights record, allowing Giustra's company to reap huge profits.
The book also examines lucrative development contracts awarded to foundation donors following the devastating Haitian earthquake in 2010. And it reports that Hillary's brother, Tony Rodham, sat on the board of a small North Carolina mining company that in 2012 got one of only two coveted "gold exploitation permits" from the government of Haiti — the first issued in more than 50 years, according to the website Breitbart.
Bill Clinton himself was paid $1 million by a Canadian bank and major shareholder in the Keystone XL oil pipeline as the State Department was considering the project, Schweizer charges.
Records show that Bill's earnings from appearance fees — both foreign and domestic — spiked at $17 million in 2012, Hillary's last year at State.
During Hillary's four-year stint as secretary of state, the ex-president earned about $48 million of a $105 million speaking haul amassed between 2001 and 2013.
More than half of the $48 million was paid by companies in China, Japan, Canada, Russia, Saudi Arabia, the United Arab Emirates and the Cayman Islands, among others.
The author writes that "of the 13 Clinton speeches that fetched $500,000 or more, only two occurred during the years his wife was not secretary of state."
Bill Clinton is believed to be the richest living ex-president and one of the 10 wealthiest ever.
Most estimates put the power couple's combined net worth at $100 million to $200 million.
Some of the fees were paid at the Clintons' request to their foundation — netting domestic donors a fat tax break. But most went directly to Bill, and the fees make up the family's main source of income, The Washington Post reported.
Following Hillary's
decision to run for president
, the foundation itself announced last week it would accept donations only from Australia, the United Kingdom, the Netherlands, Canada, Germany and Norway.
The 186-page book will go on sale May 5, but Hillary wasted no time dismissing it.
"We're back into the political season and, therefore, we will be subjected to all kinds of distraction and attacks and I'm ready for that. I know that that comes, unfortunately, with the territory," she said Monday in Keene, NH.
"It is, I think, worth noting that the Republicans seem to only be talking about me. I don't know what they'd talk about if I wasn't in the race, but I am in the race and hopefully we'll get on to the issues," she added.
Allison Moore, spokeswoman for the Republican National Committee, responded by bringing up Hillary's use of a private email account for official business and her deletion of thousands of emails.
http://www.breitbart.com/big-government/2015/04/21/ny-post-foreign-cash-made-clintons-filthy-rich/
Saudi Arabia was her third largest foreign donor.
Wall Street Journal: The Clinton Foundation swore off donations from foreign governments when
Hillary Clinton
was secretary of state. That didn't stop the foundation from raising millions of dollars from foreigners with connections to their home governments, a review of foundation disclosures shows.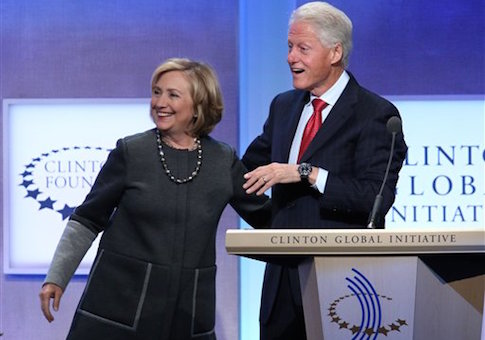 March 2015 -
The Clintons refused to return money from Iranian government front group. Man pardoned by Bill Clinton tied to Iranian foundation.
Tina Brown Won't Comment on

Clinton Foundation Taking Money from Nations That Oppress Women
Read more
http://freebeacon.com/issues/tina-brown-wont-comment-on-clinton-foundation-taking-money-from-nations-that-oppress-women/
As Secretary of State,

Hillary Clinton refused to designate Boko Haram a terrorist organization

despite the repeated urging of the FBI, CIA, and DOJ
Read more
http://www.barenakedislam.com/2014/05/08/as-secretary-of-state-hillary-clinton-refused-to-designate-boko-haram-a-terrorist-despite-the-repeated-urging-of-the-fbi-cia-and-doj/
Did you know that the

Islamization of American Public Schools actually started under Bill Clinton

?
Read more
http://www.barenakedislam.com/2014/03/23/did-you-know-that-the-islamization-of-american-public-schools-actually-started-under-bill-clinton/
March 31, 2015 - Agents of the enemy.
Kerry should recuse himself from participating in the Switzerland nuclear talks due to his longstanding close relationship with his Iranian counterpart, Mohammad Javad Zarif. Kerry's daughter is married to an Iranian, and has been to Iran to meet her in-laws. Zarif's son was best man at the wedding.
The subject of Kerry's links to Iran
never came up
in his Senate confirmation hearing, either because Kerry never disclosed it, or because his former colleagues were too polite to bring it up. An Iranian journalist tells how Kerry is acting on behalf of Iran at the talks.
Read more
http://www.frontpagemag.com/2015/kenneth-r-timmerman/agents-of-the-enemy/
March 31, 2015 - Obama adviser on Iran worked on pro-regime lobby
The White House released a list of its high-ranking officials who took part in a video conference with President Obama late Tuesday. Among them appears Sahar Nowrouzzadeh, who apparently has formerly worked for the National Iranian-American Council.
Read more
http://www.breitbart.com/national-security/2015/03/31/obama-adviser-on-iran-worked-for-pro-regime-lobby/
March 2015 - DOES IRAN NOW CONTROL WASHINGTON DC AS WELL? -
Iranians brag that they control FOUR Arab capitals - The White House acting as an agent for Iran and doing Iran's bidding at Geneva meeting to make Iran's nuclear dreams come true - White House threatening and BULLYING US ALLIES to make them submit to the deal without criticism
Read more
http://ottersandsciencenews.blogspot.ca/2015/03/does-iran-now-control-washington-dc-as.html
March 2015 - THE WHITE HOUSE TWO-FACED POLICY TOWARDS ISRAEL - OBAMA TURNED IRAN INTO HIS MAIN ALLY IN THE MIDDLE EAST -
Secret talks and secret arrangements -
Helping Iran become a nuclear power and a regional thug tasked with keeping order and subduing the Sunnis -
Iran's military already THREATENING ISRAEL IN THE NORTH
Read more
http://ottersandsciencenews.blogspot.ca/2015/03/the-white-house-two-faced-policy.html
FIVE DEMOCRATS RECIPIENT OF MUSLIM DONATIONS -

Jimmy Carter, Bill Clinton, Al Gore, John Kerry, and Barack Obama.
Photo on right, top:
Bill Clinton & Sheikh Al-Amoudi
Photo on right, below:
Former president Jimmy Carter warmly embraces terror Hamas group leader Khaled Mashaal, responsible for the murder of many thousands of innocent victims.
Read more
http://ottersandsciencenews.blogspot.ca/2014/09/five-democrats-recipient-of-muslim.html
John Kerry advocated for giving Iran nuclear fuel in 2004 campaign
- His top fundraiser was Iranian-American multimillionaire Hassan Nemazee, who also became chief fundraiser for

Hillary Clinton.
- Nemazee was accused of being an Iranian government agent - He is now in federal prison for bank fraud.
Key points:
Multimillionare Hassan Nemazee served as campaign chief fundraiser for John Kerry. and then for Hillary Clinton.

Nemazee advocated for a resumption of normal diplomatic relations with Iran.

John Kerry, in his keynote address to the American Iranian Council, lamented President Bush's inclusion of Iran in his "Axis of Evil".

John Kerry advocated for providing nuclear fuel to Iran during his 2004 presidential campaign, while Bush was in favor of sanctions against Iran (let's not forget that the Bush family was closely linked to the Sunni Saudis, traditional adversaries of Shia Iran).

Investigative journalist Ken Timmerman said Iran, by funneling campaign contributions to Kerry-Edwards, was "seeking from Mr. Kerry a series of concessions that would allow them to become a nuclear weapons power."

Nemazee's history with Democratic Party politics stretches back to the Clinton administration, when Bill Clinton nominated him for an ambassadorial post.

President Clinton, with mediation from former president Jimmy Carter, provided nuclear fuel to North Korea (a friend of Iran), according to a deal that NK promptly violated.

Nemazee was accused by an Iranian dissident of being an agent for the Iranian government.

He was eventually charged with fraud and is now serving sentence in a federal prison.

The Clintons refused to return money from Iranian government front group. Man pardoned by Bill Clinton tied to Iranian foundation.

The Clinton Foundation's many foreign donors. Saudi Arabia is their third largest donor. Fundraising continued even while Hillary was Secretary of State.

White House accused of acting as an agent for Iran during the nuclear talks in Switzerland, and bullying other members to submit to Iran's demands without criticism.

Five Democrats who have received donations from Muslim countries:

Jimmy Carter, Bill Clinton, Al Gore, John Kerry, and Barack Obama
Breaking news:

Obama adviser on Iran worked for pro-regime lobby

Update:

John Kerry's daughter is married to an Iranian American, and John Kerry has had a long, close and friendly relationship with his Iranian counterpart at the Switzerland nuclear talks. Link to this article at bottom of the page.
http://ottersandsciencenews.blogspot.ca/2015/03/john-kerry-advocated-for-giving-iran.html
VISIT IMPORTANT NEWS ARCHIVES ON THE CLINTONS
Read disturbing news archive on Hillary and Bill Clinton on the website MONEY JIHAD
https://moneyjihad.wordpress.com/?s=CLINTON
News archive on Hillary and Bill Clinton at the Washington Free Beacon
http://freebeacon.com/?s=clinton&submit=Search
News archive on Hillary and Bill Clinton at the Bare Naked Islam website
http://www.barenakedislam.com/?s=clinton
*******************************************************************************