©
http://ottersandsciencenews.blogspot.ca/
.
Unauthorized duplication of this blog's material is
prohibited.
Excerpts and links may be used, provided that full credit and link is given to Otters and Science News Blogspot.
Link to this post:
http://ottersandsciencenews.blogspot.ca/2015/03/why-are-white-house-democrats-and-left.html
- Thank you for visiting my blog.
~~~~~~~~~~~~~~~~~~~~~~~~~~~~~~~~~~~~~
This article will be
updated
during the next few days, as more news come in.
And as you read about some American Jewish leaders outspoken support for PM Netanyahu's denunciation of the bad deal with Iran that will allow them to develop nuclear weapons, be reminded that during the Holocaust a large majority of American Jews remained passive and silent because they did not want to jeopardize their status in America with pro-European Jews demonstrations, and be perceived as having double loyalties.
The result is that the US government continued to deny visas to European Jews, and during the war the US along with Britain refused to bomb the crematoria and the railroads leading to death camps because (unofficially) the Allies did not want to deal with too many survivors after the war.
That shameful chapter in American Jewish history must not be repeated.
National Security Advisor Susan Rice calls the speech "destructive"

This prompts a US rabbi to place a controversial ad reminding readers of Susan Rice playing politics with the Rwanda Genocide. Now she plays politics with the genocide Iran may unleash in the Middle East.

See ad.

Related cartoon.

Free Beacon's list of Susan Rice's five worst moments

Photo of then candidate Obama's photo op praying at the Western Wall in Jerusalem during his own electoral campaign in 2008. No problem then mixing US elections and Israeli issues.

US Senate unanimously welcomes PM Netanyahu.

Nobel Prize winner and Holocaust survivor Elie Wiesel supports PM Netanyahu's speech to Congress

Senator Dianne Feinstein said that PM Netanyahu did not speak for her when he said he came to Washington in the name of the Jewish people.

But it turns out that Dianne Feinstein is NOT Jewish according to Jewish law because she had a Catholic mother. Dianne herself was educated in a Catholic school.
~~~~~~~~~~~~~~~~~~~~~~~~~~~~~~~~~~~~~~~~
PM NETANYAHU
Israeli PM Benyamin Netanyahu will give a speech in Congress at the invitation of the Speaker, with wide support by Republican majority, and on an issue of extreme importance not only for Americans but for the whole world: How the Islamic State of Iran is developing nuclear weapons capability thanks to appeasing policies by the White House.
Advanced reaction to this speech has been polarized.
Just the other day none other than National Security Adviser Susan Rice characterized Netanyahu's visit and speech as "DESTRUCTIVE"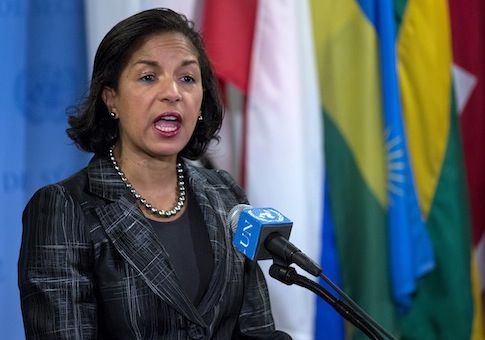 Breitbart - According to Rice, the address injects politics into the U.S.-Israel relationship, which she deemed to be "destructive.... What has happened over the last several weeks, by virtue of the invitation that was issued by the Speaker and the acceptance of it by PM Netanyahu on two weeks in advance of his election, is that on both sides, there has now been injected a degree of partisanship, which I think is not only unfortunate. It is destructive of the fabric of that relationship."
Watch video segment here:
http://www.breitbart.com/video/2015/02/25/susan-rice-netanyahus-address-to-congress-destructive/
Destructive? Compared to what?
The government of Iran has repeatedly threatened Israel with complete annihilation.
And a nuclear Iran would unleash a nuclear arms race in the Muslim Middle East - an area well known for its continuous violence, incidents of terrorism and carnage, and long-held animosities. To say nothing of their difficulty controlling anger.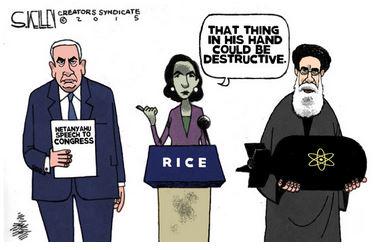 The controversial ad about Susan Rice
Her words prompted Rabbi Shmuley Boteach, a New Jersey-based author and pro-Israel advocate, took out this ad in the NY Times. It is factual. It reminds us of historical facts. Why would anyone support the silencing of these facts?
Continue reading
(Sorry about not being able to fit the ad properly on the page.
The next smaller size is unreadable. Blogger).
The ad notes Rice's recent complaints about Israeli Prime Minister Benjamin Netanyahu's speech to Congress next week.
Netanyahu plans to speak against nuclear talks between Iran and the major powers, which Obama backs.
Rice said last week that the way the speech was organized was "destructive" to the U.S.-Israel relationship.



The ad also notes a controversy from the 1990s, when Rice was on President Bill Clinton's National Security Council staff and reportedly advised against describing the mass killings in Rwanda as "genocide."



"Ms. Rice may be blind to the issue of genocide, but should treat our ally with at least as much diplomatic courtesy as she does the committed enemy of both our nations," it said.
Source:
http://www.jpost.com/Diaspora/Jewish-groups-line-up-to-denounce-Boteach-ad-on-Susan-Rice-392519

Rabbi Shmuley Boteach
REACTION:
Several Jewish groups have condemned the ads, but they are mostly the same groups that support President Obama's policies no matter what, and who have failed to expose the 'Land for Peace' hoax, in which Jews are asked to donate their ancestral land of Judea and Samaria (West Bank) for the creation of an Islamic terror Palestinian state.
On the issue of Rwanda,

The Free Beacon

has this to say about Susan Rice's record:
- Susan Rice played politics with the Rwanda genocide.
As a member of Clinton's National Security Council, Rice pushed back against labeling the mass slaughter of an ethnic minority. She questioned what type of political fallout would result from using the term genocide:
"If we use the word 'genocide' and are seen as doing nothing, what will be the effect on the November election?"
- Rice Delayed a U.N. Report that Blamed Rwandan President Paul Kagame for Supplying the M23 Movement in Eastern Congo.
Rice

delayed

the publication of a U.N. report that detailed ongoing violence in eastern Congo and blamed the M23 rebel group on Rwandan President Paul Kagame. Rice and Kagame have a "long and close relationship." Bosco Ntaganda, the leader of the M23 rebel group, is

accused

of multiple atrocities and is wanted by the International Criminal Court. When confronted by the French ambassador about doing more to combat M23, Rice

said

: "It's the eastern DRC. If it's not M23, it's going to be some other group."
- Rice Claimed the Attack in Benghazi Was a Spontaneous Protest of a YouTube Video
The CIA and the State Department
were aware
of prior terrorist attacks in Benghazi and the involvement of Islamic extremists in the attack.
- Rice Attacked Israel for Its Settlement Policy as Threatening 'the Prospects for Peace'
(this in a region where carnage is unleashed daily by Muslim factions).
- Rice Gave a Eulogy to Stalin-Inspired Ethiopian Prime Minister Meles Zenawi
Meles Zenawi was a

hardline

communist inspired by Stalin who won a guerrilla campaign to overthrow the ruling military government in Ethiopia in 1991. He was known for his

dictatorial style

and the dominance of state and party controlled companies. Delivering her eulogy, Rice described Meles Zenawi as "brilliant".
Source
http://freebeacon.com/politics/susan-rices-worst-5-moments/
2008 FLASH BACK:

Then candidate Obama visited the sacred Western Wall in Jerusalem to ingratiate himself with Jewish voters and donors. So here he is in a photo op in the middle of an election campaign.
http://israelmatzav.blogspot.co.il/2015/03/sauce-for-goose-is-sauce-for-gander.html#links
By the way, these days the White House spokesman calls Jewish construction in Jerusalem "illegitimate" - implying that Jewish presence itself in their ancient capital is "illegitimate".
White House calls Jewish construction in Jerusalem "illegitimate"
http://www.israelnationalnews.com/News/News.aspx/190724#.VPNfW5s5CM8
The Senate on Thursday unanimously passed a resolution welcoming Prime Minister Benjamin Netanyahu to America and endorsing his speech before a joint session of Congress.
Critics of the Obama administration view the unanimous approval as a rebuke to the White House and Democrats, who have vowed to boycott Netanyahu's address and work to counter his warnings about the dangers of a nuclear Iran.
Read more

-
http://freebeacon.com/national-security/senate-unanimously-welcomes-netanyahu-to-america/
NOBEL PRIZE WINNER AND HOLOCAUST SURVIVOR ELIE WIESEL
SUPPORTS PM NETANYAHU'S SPEECH
Outspoken New Jersey Orthodox rabbi Shmuley Boteach is placing full-page advertisements in The New York Times and The Washington Post featuring Wiesel's endorsement of Netanyahu's speech. The ad quotes Wiesel as saying he plans to attend Netanyahu's address 'on the catastrophic danger of a nuclear Iran,' and asks Obama and lawmakers to join him in 'hearing the case for keeping weapons from those who preach death to Israel and America'
Source
:
http://www.dailymail.co.uk/news/article-2951607/Nobel-winner-Elie-Wiesel-lends-support-Netanyahus-U-S-speech.html
Elie Wiesel supports PM Netanyahu's speech
http://www.israelnationalnews.com/News/News.aspx/191326#.VPNu1ps5CM9
Senator Dianne Feinstein: Netanyahu is arrogant and does not speak for me
http://www.bloomberg.com/politics/articles/2015-03-01/feinstein-netanyahu-arrogant-to-say-he-speaks-for-all-jews
Dianne Feinstein not Jewish according to Jewish law because of her Catholic mother.
To be considered a Jew a person must have a Jewish mother or have officially converted. There is no such thing as a half-Jew in Judaism.
Dianne Feinstein was educated in a religious Catholic school, where she must have participated in Catholic ritual along with other girls.
http://www.notablebiographies.com/Du-Fi/Feinstein-Dianne.html