©
http://ottersandsciencenews.blogspot.ca/
.
Unauthorized duplication of this blog's material is
prohibited.
Excerpts and links may be used, provided that full credit and link is
given to Otters and Science News Blogspot.
Link to this post:
http://ottersandsciencenews.blogspot.ca/2015/03/timeline-of-us-presidents-war-against.html
- Thank you for visiting my blog.
~~~~~~~~~~~~~~~~~~~~~~~~~~~~~~~~~~~~~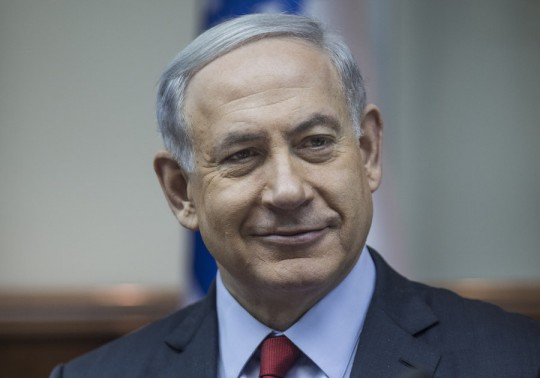 The victorious Israeli PM Benjamin Netanyahu
battling Muslim terror at home,
and an aggressively hostile US administration
By Ben Shapiro, Breitbart
On Thursday, the press announced that the Obama administration would fully consider abandoning Israel in international bodies like the United Nations.
According to reports, President Obama finally called Prime Minister Benjamin Netanyahu to congratulate him – but the "congratulations" was actually a lecture directed at forcing Netanyahu to surrender to the terrorist Palestinian regime.
For some odd reason, many in the media and Congress reacted with surprise to Obama's supposedly sudden turn on Israel.
The media, in an attempt to defend Obama's radicalism, pretend that Netanyahu's comments in the late stages of his campaign prompted Obama's anti-Israel action.
But, in truth, this is the culmination of a long-time Obama policy of destroying the US-Israel relationship.
Obama has spent his entire life surrounded by haters of Israel, such as:
former Palestine Liberation Organization spokesman Rashid Khalidi

former Jimmy Carter National Security Advisor Zbigniew Brzezinski,

pro-Hamas negotiator Robert Malley

UN Ambassador Samantha Power (who once suggested using American troops to guard Palestinians from Israelis),

Jeremiah Wright (who said "Them Jews ain't going to let him talk to me")

Professor Derrick Bell ("Jewish neoconservative racists…are undermining blacks in every way they can").
February 2008
:
Obama says while campaigning, 'There is a strain within the pro-Israel community that says unless you adopt an unwavering pro-Likud approach to Israel that you're anti-Israel."
At the time, as
Dan Senor pointed out in The Wall Street Journal
, Israel was run by the Kadima government run by Ehud Olmert, Tzipi Livni, and Shimon Peres, and was attempting desperately to bring the Palestinians to the table. Instead, the Palestinians launch war, as always.
June 2008:
Obama tells the American Israel Public Affairs Conference that Jerusalem ought to remain undivided, attempting to woo Jewish votes. He then walks that back the next day, saying only that the capital shouldn't be divided by barbed wire.
March 2009:

The Obama administration reverses the Bush era policy of not joining the United Nations Human Rights Council. Secretary of State Clinton said, "Human rights are an essential element of American global foreign policy," completely neglecting the UNHRC's abysmally anti-Semitic record.
The
Washington Post
reported that the administration joined the Human Rights Council even though they conceded that it "has devoted excessive attention to alleged abuses by Israel and too little to abuses in places such as Darfur, Sri Lanka and Zimbabwe."
May 2009:

Obama tells Netanyahu that "settlements have to be stopped in order for us to move forward." Netanyahu announces a settlement freeze to comply. The Palestinians refuse to negotiate. Obama then slams Israel: "they still found it very hard to move with any bold gestures."
Continue reading
Ben Shapiro is Senior Editor-At-Large of Breitbart News and author of the new book,
The People vs. Barack Obama
: The Criminal Case Against The Obama Administration (Threshold Editions, June 10, 2014). He is also Editor-in-Chief of
TruthRevolt.org
.
Follow Ben Shapiro on Twitter @benshapiro.
PM Netanyahu:
To the items listed by PM Netanyahu we should add a few more:
The US exerted heavy pressure on Israel to give up the Sinai - for "peace". The Sinai today is a cauldron of jihadists that threaten both Israel and Egypt.

The US made Israel give up Gaza - for "peace". Since then Gaza has relentlessly attacked Israel. Today it hosts all the worst jihadist terror organizations, including ISIS.

The US tried for years to make Israel give up the Golan Heights. Israel almost did, except that the Arab Spring interrupted the process.

What's on the Syrian side of the Golan Heights now is a mix of jihadi groups. The Iranian military is also organizing some of those groups to attack Israel.

The Heights protect Israeli communities. Without them the whole country would be even more vulnerable to terror.

And the White House has exerted brutal pressure on Israel to partition its land along the 1967 borders to create an Islamic terror Palestinian state on ancient Judea and Samaria (West Bank). In the name of "peace".

Like a salesman without principles, the US government has for decades used the slogan of "PEACE" to sell policies that are meant to unleash terror on Israel, and even the destruction of the country and the massacre of its Jewish inhabitants.