©
http://ottersandsciencenews.blogspot.ca/
.
Unauthorized duplication of this blog's material is
prohibited.
Excerpts and links may be used, provided that full credit and link is given to Otters and Science News Blogspot.
Link to this post:
http://ottersandsciencenews.blogspot.ca/2015/02/the-irony-progressive-jews-who-have.html
- Thank you for visiting my blog.
~~~~~~~~~~~~~~~~~~~~~~~~~~~~~~~~~~~~~~
American Jews should be in cultural shock.
As a large majority of them have indulged for decades in embracing leftist causes - while slowly distancing themselves from Israel - they are now confronting a new America that hates them with virulence, and pushes them aside.
Their children and grandchildren face daily violence and ostracism in American campuses, because they are Jews.
And yet, progressive American Jews are still in denial, steadfast in their loyalty to Democrat causes and to President Obama, the most anti-Israel US president in history.
Clueless and disconnected
Jewish Jon Stewart calls Hamas "freedom fighters" - The same Hamas that calls for the murder of Jews and the destruction of Israel.
Judaism itself is the basis of the best of traditional American values.
Jews have contributed in a disproportionate amount to advancements in science, technology, arts, and in the development of the United States. They have been profoundly patriotic and given their lives for their country during armed conflicts.
Jews have donated to countless institutions that are the cultural infrastructure of the nation.
But invariably, over the years, they have turned their backs on Judaism and on Israel.
Today nearly 80% of Jews support president Obama and his agenda. When polled about their priorities, Israel does not even make the first ten items of American Jews' concerns.
During the Nazi years American Jews endeavored to distance themselves from the plight of European Jews.
Concerned with not jeopardizing their status in America, they did not want to even give the impression of having double loyalties. So they remained silent. They did not flood the streets demanding asylum for their European brothers and sisters. They did not protest the Democrat government of F.D. Roosevelt's systematic denial of visas for Jews persecuted by the Nazis.
Now, as Israel faces another Holocaust at the hands of a nuclear Iran, or its partition and eventual dismantlement "in the name of peace," American Jews remain steadfastly loyal to the most anti-Israel US president in history.
That is not all. Many of them have embraced liberal causes that include pro-Palestinian advocacy - oblivious to the anti-Semitic ideology of Islam, and to the genocidal intentions of Palestinian Arabs in particular.
Three times have the armies of Arab countries ganged up on tiny Israel with genocidal intentions - and yet, at least two thirds of American Jews support the partition of Israel for the creation of a terror Arab state that would mean the end of Israel.
American Jews voted 78 percent for Obama in 2008, and 69 percent in 2012. Why do Jews vote leftist? The answer is simple: the vast majority of Jews don't care about Judaism or Israel. They care about secular leftism, which is their religion.
So, what does being Jewish mean to most Jews? According to the Pew poll, 73 percent of Jews said it was about remembering the Holocaust. Just 19 percent said it was about observing Jewish law, and only 28 percent said it was about being part of a Jewish community. Jews, in other words, are not religious. Just 30 percent of Jews say they are very attached to Israel.
And the emotional gap between American Jews and Israel grows as US Jews assimilate, intermarry, and disappear into the melting pot.
But now a completely unexpected element has been thrown into this picture:
Hating Israel and the Jews
on campus is considered cool.
The children and grandchildren of liberal Jews are being harassed, hated, persecuted, and even assaulted on campus. Because of being Jews.
It's not only students that participate in anti-Semitic behavior, but professors as well - many of them imports from Muslim countries.
At the same time the media and political organizations raise the level of anti-Semitic rhetoric.
All thanks, in part, to this administration's immigration policies that have encouraged Muslim legal and illegal immigration, along with the president's open endorsement of Islamic causes and ideology, in tandem with his relentless condemnation of Israel.
Jews went through this once before in Russia, when they embraced Communism as a liberating ideology that would free them from everything that had made them the target of pogroms and discrimination. They would be comrades, equal to everyone, valued for their loyalty to the Marxist cause. But it did not take long for the Russian Communist Party to turn on the Jews as well.
Well, they thought that America would be different. And it seemed so for a while. Barriers between Gentiles and Jews began to dissolve. Jews could live anywhere, even join exclusive Gentile clubs. They became advisors to the president, Congressmen, presidents of important institutions.
It seemed too good to be true, and it was.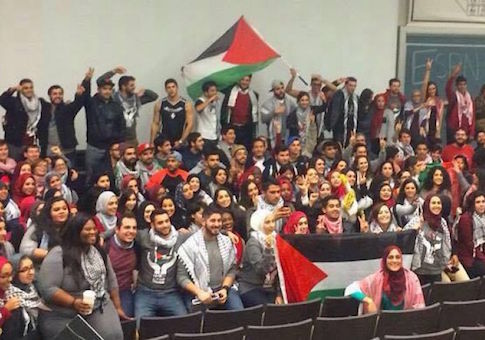 Jews no longer welcome or safe in Obama's America.
Gone is even the pretence of civilized academic dialogue.
It's open war against the Jews on campus.
Continue reading, including references
At U.C. Davis, Students for Justice in Palestine chant "Allahu Akbar," endorse terrorism
Activists waving Palestinian flags shouted at the Jewish and pro-Israel students as they left the meeting room ahead of an
eight to two vote in favor
of the divestment resolution, which is part of a larger movement by anti-Israel groups to attack Israel and pro-Israel students on campus.
New Study: Over Half of Jewish Students Face Anti-Semitism in U.S. Colleges.
A

study

titled "National Demographic Survey of American Jewish College Students 2014," conducted in the spring of 2014 by Trinity College in Hartford, Connecticut, revealed that over half of Jewish college students have experienced anti-Semitism on campus. This study was conducted prior to last summer's war between Hamas and Israel that led to an increase in anti-Semitism worldwide.
Video exposes massive and violent anti-Semitism in US campuses.
The reaction of American Jewish leaders, let alone non-Jews, has had zero effect. Even worse, there is no lack of American Jews, totally detached from Israel and from Judaism, who throw fuel on the fires of hate by damning Israel for its very existence.
The American psyche, still imagining that God, Mom, and Apple Pie are the foundations of the country, cannot even consider that the radical Muslim revolution in Europe has sown its seeds of hate and anarchy in the Land of the Free and the Home of the Brave.
Jews on campus are too afraid to be brave. The same goes for Canada, where a University of Calgary student says he is "paranoid" and sometimes "afraid to walk by myself" on campus.
"Being against Israel has become the cool thing to so," according to Harvard University student Michael.
Violent anti-Jewish and anti-Israel rallies have sent dozens of Jewish students to hospitals.
Anti-Semites, whites, blacks, Hispanics, Muslim – you name it – are cursing and physically attacking Jews and burning Israeli flags, and it is "sad?"
Is anyone listening?

Campus officials utter empty statements "condemning" violence. Jewish leaders rant and rave. And violence continues.
Shawn of the University of Calgary recalls a violent demonstration in the city. "There were 800 of them on one side and six of us on the other. About 50 of them crossed over the road and yelled 'kill the Jews' and 'Hitler was right.

I had a concussion. My sister was punched in the face and pulled to the ground. My mom was punched in the stomach and pushed to the ground.

The group that hosted the rally is on campus…. I fear for my life."
Why do Jews vote leftist?
http://www.truthrevolt.org/videos/ben-shapiro-why-jews-vote-leftist
Jewish Jon Stewart calls Hamas "freedom fighters"
http://www.truthrevolt.org/israel-revolt/jon-stewart-calls-hamas-freedom-fighters
New Study: Over Half of Jewish Students Face Anti-Semitism in U.S. Colleges
http://www.breitbart.com/national-security/2015/02/23/new-study-over-half-of-jewish-students-face-anti-semitism-in-u-s-colleges/
Study: Jewish and pro-Israel students on US campuses are not considered "legitimate" victims
It's open season on the Jews.
http://www.jewishpress.com/news/breaking-news/new-study-jewish-pro-israel-students-on-us-campuses-not-legitimate-victims/2015/02/23/
Hamas on campus.
UC Davis students shout Allahu Akbar, while issuing condemnation and boycott of Israel and endorsing terrorism. Jewish fraternities vandalized.
http://freebeacon.com/issues/hamas-on-campus/
Jewish student punched at Temple University by pro-Palestinian Middle Eastern student
http://www.breitbart.com/national-security/2014/08/21/jewish-student-punched-by-pro-palestinian-student-at-temple-university/
Video exposes massive and violent anti-Semitism in US campuses
http://www.jewishpress.com/news/breaking-news/video-exposes-massive-and-violent-anti-semitism-on-us-campuses-video/2014/10/06/0/
The ten most anti-Semitic American campuses
1. Columbia University
2. Cornell University
3. George Mason University
4. Loyola University Chicago
5. Portland State University
6. San Diego State University
7. San Francisco State University
8. Temple University
9. University of California Los Angeles
10. Vassar College
Read more
http://www.truthrevolt.org/commentary/10-worst-anti-semitic-campuses
America was built on Jewish values
The United States was the first country to be created, from its inception, as a democracy. And the Jewish Bible played a major role in the process.
Read more
http://www.simpletoremember.com/articles/a/jewsamerica/
Jews in the Civil Rights movement
http://www.myjewishlearning.com/history/Modern_History/1948-1980/America/Liberal_Politics/Black-Jewish_Relations/Civil_Rights_Movement.shtml
Black American Anti-Semitism, Ingratitude and betrayal
Writer who fought along with many other Jews for Afro-American civil rights looks back feeling betrayed -
Although quick to denounce "racism", blacks have a long history of anti-Semitism in America.
Read more
http://ottersandsciencenews.blogspot.ca/2014/11/black-american-anti-semitism.html
Fifty years ago two Jewish young men were murdered by the KKK
while campaigning for black civil rights in the South.
In spite of historic Jewish pro-black activism, blacks have turned viciously against Jews.
Even the NAACP has erased the name of its Jewish founder .
The 1991 black pogrom against Jews in Crown Heights NY
Read more
The genocidal ideology of 'moderate' Palestinian Authority, in their own words
http://www.palwatch.org/
Palestinians - Nazis then, Nazis now
The historical Nazi-Palestinian collaboration
http://ottersandsciencenews.blogspot.ca/2014/09/palestinian-arabs-nazis-then-nazis-now.html
***************************************************************************