©
http://ottersandsciencenews.blogspot.ca/
.
Unauthorized duplication of this blog's material is
prohibited.
Excerpts and links may be used, provided that full credit and link is given to Otters and Science News Blogspot.
Link to this post:
http://ottersandsciencenews.blogspot.ca/2015/02/satire-europe-insists-jews-have-place.html
- Thank you for visiting my blog.
~~~~~~~~~~~~~~~~~~~~~~~~~~~~~~~~~~~~~
SATIRE by PreOccupied Territory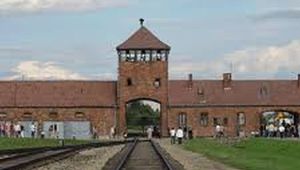 Paris, February 16 – Prime Minister of Israel Binyamin Netanyahu reiterated a call for European Jews to move to Israel this week in the wake of yet another attack on Jews on the Continent.
This prompted outrage from European governments, who cited mass graves, death camps, and killing sites as evidence that Europe has always had a special place for Jews.
"A Jew who leaves France is a piece of France that is gone," insisted French Prime Minister Manuel Valls, just hours after attackers vandalized hundreds of Jewish tombstones in the eastern part of the country.
"We Europeans have always preferred Jews die in large numbers on our own soil and not rush off to distant shores where the Islamists we export have to find them and kill them. Few sites move me, as a Frenchman, more than thousands of Jewish graves."
France's Jewish communities numbers approximately half a million, but deadly attacks by French Muslims in the last several years have driven the emigration rate up; about 7,000 Jews moved from France to Israel in 2014 alone, double the figure from the previous year.
It is the largest Jewish community in Europe, and the third-largest after Israel and the US, which each number in the millions. French Jewish emigration to Israel surpassed that of any other country last year, driven largely by homegrown anti-Semitism and the increasing fear that there is no future for the community in Europe.
The same sentiment has pervaded British Jewry, where pro-Palestinian and anti-Israel sentiment thinly mask naked Jew-hatred. Nazi Germany never conquered or occupied Britain, but the country has the distinction of hosting the first blood libel in history, in 1144.
"The British Isles, and England in particular, have a rich history when it comes to massacres of Jews," proclaimed British Minister of Foreign Affairs Phillip Hammond.
"One of our biggest regret, as a culture, involves the wholesale expulsion of Jews from the realm in 1290, because that meant leaving the killing of Jews to others."
He recalled fondly the massacres of Jews at London and York in 1189 and 1190, and said he could only imagine the thrill medieval English monarchs felt when they declared Jewish property forfeit to the crown, and all debts to them null and void.
Danish authorities expressed similar resistance to Netanyahu's offer of a safe haven for Europe's Jews after Saturday night's deadly shooting attack near a Copenhagen synagogue.
"Our country did more than any other during the Nazi occupation to protect Jews," noted Prime Minister Helle Thorning-Schmidt. "Just because we used up all of our goodwill toward Jews during the wartime years does not mean we want them fleeing where we can't keep an eye on them."
Thorning-Schmidt pointed to several hundred places on the Continent already surrounded safely by barbed wire where Jews could be resettled for their own protection if necessary.
Source
http://www.preoccupiedterritory.com/europe-insists-jews-have-place-there-point-to-auschwitz/
BOYCOTT ISRAEL
No matter what happens in the real world, Western governments and organizations, including Christian churches, continue to target Israel for boycotts, isolation, and general bullying.
So for boycotters' convenience, here is an extended list of items that are A MUST for any self-respecting boycotter of Israel.
http://ottersandsciencenews.blogspot.ca/2014/11/boycott-israel-for-your-convenience.html
More satire and political cartoons on this blog
http://ottersandsciencenews.blogspot.ca/search/label/Humor
~~~~~~~~~~~~~~~~~~~~~~~~~~~~
ALL EUROPEAN LIFE DIED IN AUSCHWITZ
Europe refused to save the talented, patriotic and productive Jews. Today it submits to the invasion of people who hate Europe and its culture, and who use violence to impose their views.
Next follows a brief essay published by a newspaper in Spain many years ago.
It is still a poignant reflection on an irreparable loss.
Read more
http://ottersandsciencenews.blogspot.ca/2014/08/all-european-life-died-in-auschwitz.html
***************************************************************************