©
http://ottersandsciencenews.blogspot.ca/
.
Unauthorized duplication of this blog's material is
prohibited.
Excerpts and links may be used, provided that full credit and link is given to Otters and Science News Blogspot.
Link to this post:
http://ottersandsciencenews.blogspot.ca/2017/09/why-are-muslims-so-angry-and-why-do.html
- Thank you for visiting my blog.
~~~~~~~~~~~~~~~~~~~~~~~~~~~~~~~~~~~~~
Why do we need to educate ourselves about Islam?

Europe will have a Muslim majority in twenty or thirty years.

Nuclear countries such as France and Britain will be among the first in western Europe to have a Muslim majority.

Islam is the fastest growing religion on the planet.

There are now 1.8 BILLION Muslims influencing policy all over the world.

Their large polygamous families with many children will outpace the slow demographic growth of all other ethnic groups.

Western governments and national institutions are implementing an aggressive program of affirmative action, in an effort to include Muslim citizens at all levels of authority. This allows a relatively small number of Muslims to exercise significant influence in governmental and cultural policies.

Will there ever be peace in Islam?

The Shia-Sunni conflict based on a 7th century dispute over rights of succession to Muhammad has resulted in 1400 years of Muslim-on-Muslim carnage. It will never be resolved, and the violence will continue forever.

While the West has contributed to almost all current advances in science, technology, and human rights, Islam has not, in part due to its orthodoxy forbidding independent and rational thinking.

A world where individuals with a 7th century mindset of jihad can inherit western science, technology, and nuclear armaments is the stuff of nightmares.

It is a certainty now that Europe will become Islamized. Election results show that in spite of living in a climate of terror and fear, the population does not have the will to defend their borders, their children, their women, and their culture. The Europe we knew is dying by suicide.

On the following article Ambassador Yoram Ettinger, regular columnist and an expert on Middle East politics and Islam, asks some pertinent questions about Islam.
Excerpts of topics discussed on his column:
In August, 2017, there were 180 Islamic terrorist attacks in 32 countries, resulting in 1,014 murdered and 1,090 injured.

Is the current hate-education and anti-"infidel" incitement in Muslim kindergartens, schools and mosques at variance or consistent with Islam?

Is there anything we can do to bring peace to Islam?

According to eminent expert, and author, Professor Bernard Lewis,

Muslims have a religious obligation to engage in a

perpetual state of holy jihad in the name of Allah

,

which will continue until the whole world either accepts the message of Islam or submits as second-class citizens to the rule of those who bring it.
Continue reading full article and related material
Source
http://www.jewishpress.com/indepth/analysis/the-ettinger-report/islamic-terrorism-extrinsic-or-intrinsic/2017/09/25/
Read more articles on Ambassador Yoram Ettinger's website
http://www.theettingerreport.com/Home.aspx
Twitter
https://twitter.com/yoramettinger?lang=en
Facebook
https://www.facebook.com/Yoram.Ettinger
IS THERE A CONNECTION BETWEEN ISLAM AND MENTAL ILLNESS?
- Early indoctrination advocating supremacy, violent conquest, gruesome punishments, as well as the forced suppression of normal sexuality and rational secular thinking produce inheritable detrimental effects on the genome, according to the science of EPIGENETICS
- Widespread child abuse, inbreeding and backwardness aggravate the situation even further
READ MORE
http://ottersandsciencenews.blogspot.ca/2016/07/is-there-connection-between-islam-and.html
Source
https://www.politicalislam.com/tears-of-jihad/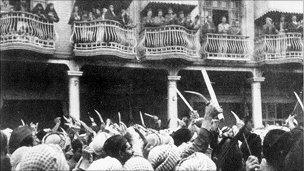 THE FARHUD, the 1941 massacre of Iraqi Jews by Arab Nazis
- THE GRUESOME MASSACRES PERPETRATED BY MUSLIMS AGAINST JEWS BEFORE Israel's independence, and before there was talk of "occupation"
- ISIS reflects what Islam is like when unleashed against those they hate.
READ MORE
http://ottersandsciencenews.blogspot.ca/2015/06/the-farhud-1941-massacre-of-iraqi-jews.html