©
http://ottersandsciencenews.blogspot.ca/
.
Unauthorized duplication of this blog's material is
prohibited.
Excerpts and links may be used, provided that full credit and link is given to Otters and Science News Blogspot.
Link to this post:
http://ottersandsciencenews.blogspot.ca/2017/09/trumps-assault-on-freedom-of-speech-and.html
- Thank you for visiting my blog.
~~~~~~~~~~~~~~~~~~~~~~~~~~~~~~~~~~~~~
In fact, it is no secret that Hitler and the Mufti worked together on expediting the Final Solution to include all Jews living in the Middle East.
This Nazi-Palestinian alliance and collaboration was so strong that the Mufti himself headed a Nazi SS Division of mostly Bosnian Muslims, later on charged with perpetrating gruesome mass killings in Eastern Europe.
Photos of the Palestinian Mufti of Jerusalem with Hitler and his cohorts have been around for decades, but are avoided by media sympathetic to the Palestinian cause. Until only recently even Israeli politicians avoided delving into the subject of Nazi-Palestinian alliance, until PM Netanyahu finally said it out loud on a speech that caused dismay on the left. The obvious question is how can the PM be in favor of portioning Israel to create a terror state for Arab Nazi collaborators? Germany had to pay reparations, but the Palestinians feel entitled to the gift of a country of their own on ancient biblical Jewish land.
The war on freedom of speech comes to America

,
with help from Trump
Americans are already subjected to restrictions on what they publish on social media, since the monopolies of Facebook, Twitter, and YouTube can censor not only what they consider offensive, but they can also censor mainstream conservative views.

Americans are still proud of their First Amendment, knowing that freedom of speech is protected, and that any abuses can be dealt with by using laws concerning libel, obscenity, etc. What they are slowly realizing is that they are being betrayed by politicians conspiring to restrict freedom of speech to ever higher levels, all in the name of tolerance.
Congress shall make no law respecting an establishment of religion, or prohibiting the free exercise thereof; or abridging the freedom of speech, or of the press; or the right of the people peaceably to assemble, and to petition the Government for a redress of grievances.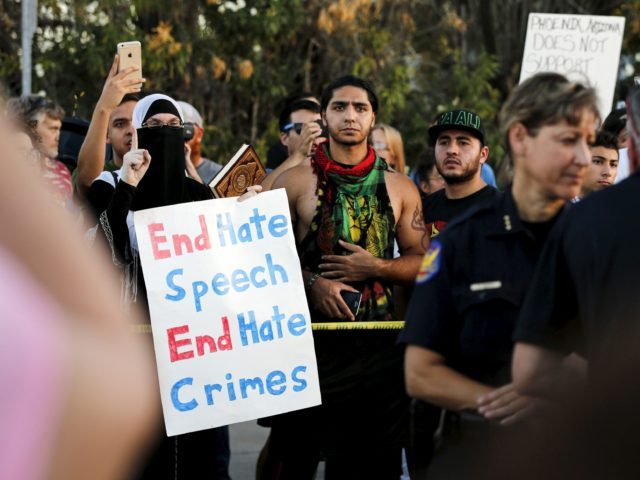 Breitbart just published the following commentary with great alarm:
Continue reading
this article, see references, and related items
Today, a "racist" is someone who believes in legal immigration. An "extremist" is someone who doesn't believe in mass, state-funded abortion. A "xenophobe" is someone who takes pride in their nation. An "anti-Semite" is — curiously — someone who supports the State of Israel, and "white supremacy" now occupies the Oval Office. The Overton window has shifted so far that even practicing Muslims are now decried by the most heavily quoted sources as "Islamophobes".
UK - THE EQUIVALENT OF A NEW TOWN EACH WEEK
arrives from the third world
http://www.breitbart.com/london/2017/09/10/report-uk-population-gains-equivalent-new-town-every-week/
Security chief says UK is home to 35,000 Islamic jihadis
https://www.jihadwatch.org/2017/09/security-chief-says-uk-is-home-to-35000-islamic-jihadis
Tony Blair worried anti-immigration feeling

is leading to Brexit - Calls for more controls over immigration, after having opened the floodgates himself.
http://www.breitbart.com/london/2017/09/10/blair-immigration-controls-stop-brexit/
Nigel Farage arrested for quoting Churchill

on Islam
Accused of religious and racial harassment for simply reading Churchill's book aloud.
http://www.dailymail.co.uk/news/article-2614834/Arrested-quoting-Winston-Churchill-European-election-candidate-accused-religious-racial-harassment-repeats-wartime-prime-ministers-words-Islam-campaign-speech.html