©
http://ottersandsciencenews.blogspot.ca/
.
Unauthorized duplication of this blog's material is
prohibited.
Excerpts and links may be used, provided that full credit and link is given to Otters and Science News Blogspot.
Link to this post:
http://ottersandsciencenews.blogspot.ca/2017/09/swedish-experts-tell-swedes-to-have.html
- Thank you for visiting my blog.
~~~~~~~~~~~~~~~~~~~~~~~~~~~~~~~~~~
Sweden's government spends roughly $17,000 per year, per adult migrant, on general asylum costs (housing, food etc.). Given that there are 181,000 adult migrants, this works out to $3.1 billion—already 50% higher than Sweden's budgeted "migration" costs.

Sweden also has a very generous system for underage migrants—their subsidies actually work out to $74,000 per year (they get a daily stipend for food etc.). Since there are an estimated 57,000 migrant children in Sweden, this works out to $4.2 billion.

The cost of social services is enormous: migrants get access to Swedish state-funded education, healthcare etc. However, since Sweden's government excludes migrant status from usage statistics, it's impossible to know their exact burden. The exception is education—we know that migrant children are educated at a cost of $250,000 per year. This works out to $14 billion a year.
Hidden Costs: Sweden's Migrant Crime Epidemic
Sources
http://www.barenakedislam.com/2017/04/05/will-massive-muslim-immigration-bankrupt-and-destroy-sweden/
https://www.theguardian.com/environment/2017/jul/12/want-to-fight-climate-change-have-fewer-children
https://sputniknews.com/art_living/201709201057548263-sweden-children-environment/
http://blackpigeonspeaks.com/2017/02/swedens-migrants-cost-32-7-billion-only-500-have-jobs/
READ MORE
https://muslimstatistics.wordpress.com/2016/08/21/sweden-migrants-responsible-for-95-of-all-crimes-overrepresented-by-430/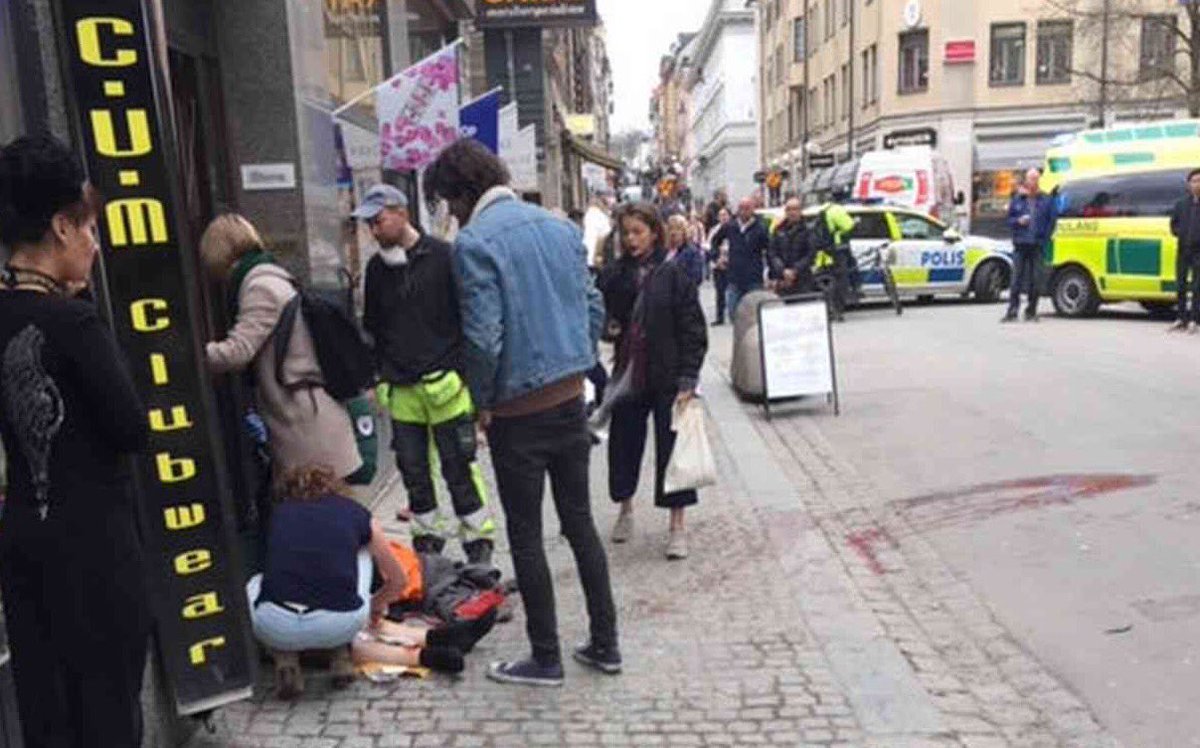 Photos:
http://www.dailymail.co.uk/news/article-4392312/Was-Trump-right-Sweden-terror-attack.html
NEWS HEADLINES
Sweden: Police officer exposes (Muslim) migrant crime rate – faces criminal investigation
Sweden: Too Many (Muslim) Rapes, Too Few Investigators
Sweden: Muslim crept up behind police officer, stabbed him in the neck
Stockholm Terrorist Tells Police 'Attack was REVENGE for Bombing in Syria' (Sweden Has Never Bombed Syria)
Sweden: 'Middle Eastern Looking Men' Gang Rape Woman at Stockholm Hotel
Sweden: Muslims Laugh and Give Thumbs-up After Jihad Attack in Stockholm
Terror in Sweden: Muslim drives truck into pedestrians in Stockholm and gunman opens fire
Muslim Refugees Will Cost Sweden $18.6 Billion This Year—9.3x Over-Budget
Sweden: Malmo residents gather in front of city hall to protest against a wave of violence
Major evacuations in train stations across Sweden after multiple bomb threats
Sweden: Afghan migrants arrested over three-hour rape streamed on Facebook Live
MORE HEADLINES FROM SWEDEN HERE:
https://themuslimissue.wordpress.com/?s=SWEDEN