©
http://ottersandsciencenews.blogspot.ca/
.
Unauthorized duplication of this blog's material is
prohibited.
Excerpts and links may be used, provided that full credit and link is given to Otters and Science News Blogspot.
Link to this post:
http://ottersandsciencenews.blogspot.ca/2017/05/trump-to-arabs-drive-out-terrorists.html
- Thank you for visiting my blog.
~~~~~~~~~~~~~~~~~~~~~~~~~~~~~~~~~~~~~~
Character is fate, and Donald Trump's character will be his undoing. Furthermore, no Arab or Jewish leader will respect a man who breaks fundamental promises, as Trump has done regarding Israel since he took office.

Americans who still support Trump are actually backing his agenda, not the very flawed man whose erratic behavior in office has turned a great opportunity for the American people into a messy and heartbreaking series of crises.

Trump's huge arms deal with Saudi Arabia puts Israeli and Mideast security in even greater jeopardy. With it Trump has only added gasoline to a combustible region.

Trump is obsequious and generous to Arab countries that trample on human rights and fund terrorists who kills Americans, while he pressures Jews to make major concessions to terrorists.

He tells the Arabs to "drive Islamists out of this earth" (meaning, kill them), while he tells the Jews to surrender their ancient land of Judea, Samaria and Jerusalem to create a terror Arab state whose only purpose will be the annihilation of Israel!
President Trump's words to the Arab summit in Saudi Arabia:
But the nations of the Middle East cannot wait for American power to crush this enemy for them. The nations of the Middle East will have to decide what kind of future they want for themselves, for their countries, and for their children. It is a choice between two futures – and it is a choice America CANNOT make for you. A better future is only possible if your nations drive out the terrorists and extremists. Drive. Them. Out.
DRIVE THEM OUT of your places of worship.
DRIVE THEM OUT of your communities.
DRIVE THEM OUT of your holy land, and
DRIVE THEM OUT OF THIS EARTH

.
President's Trump message to Israel has been quite different since he won the election, breaking many promises made to Jewish voters and the world. His new agenda for Israel:
No to moving the US embassy to Jerusalem.

No to recognizing the Temple Mount - the most sacred site in Judaism - as belonging to Israel.

No to allowing Israeli officials to be present during Trump's visit to the Western Wall, so as not to imply Israel's ownership.

No to making pre-visit demands to the genocidal Palestinians.

But plenty of pre-visit demands to the victims of terror, the Jews of Israel: G

ive terrorists more and more concessions and facts on the ground before he even arrives in Israel, in order to prepare the ground for the eventual surrender of Jewish land for the creation of a terror state.
Continue reading
TRANSCRIPT of Trump's speech in Saudi Arabia
http://www.breitbart.com/national-security/2017/05/21/full-text-donald-trumps-speech-saudi-arabia/
White House deletes half of Israel off the map: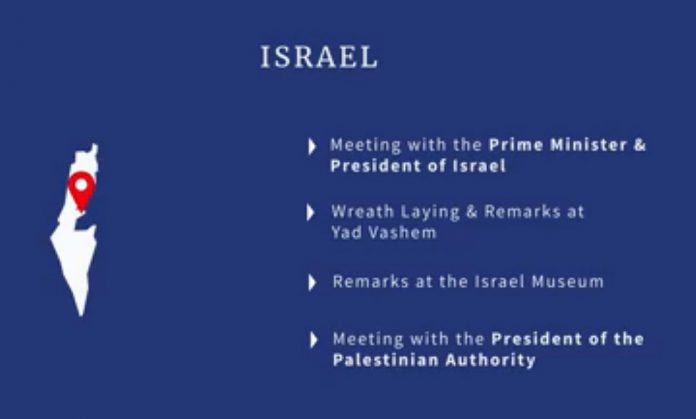 The White House released a video detailing President Trumps current trip to the Middle East. In the map of Israel that is shown in the video,

the Golan Heights, Judea, Samaria, and half of Jerusalem have been ripped out

. We won't even mention Gaza. Justice Minister Ayelet Shaked said that she hoped the omission by the White House was done out of ignorance and not policy. Earlier in the week, a member of the US Consulate in Israel said that
the Kotel (the Western Wall) is not part of Israel
.
Arrival in Israel. No sharia-compliant neck-to-toe gown for her this time.
Tentative Schedule of Trump's visit.
http://www.jewishpress.com/news/israel/jerusalem/up-to-the-minute-updates-on-president-trumps-itinerary-in-israel/2017/05/22/
Notice Trump will visit Yad Vashem to commemorate dead Jews, but will not speak at the Knesset (parliament) or visit living Jews in Judea and Samaria, who still struggling to survive terror attacks in their ancestral home of Israel. Previously Trump rejected a visit to Masada, a site of Jewish resistance to the Roman invaders.
A dominant gesture, pressing his hands on both President Rivlin's and PM Netanyahu's knees.
TRUMP BOWS TO SAUDI ARABIA
- Will sell them hundreds of billions in sophisticated weapons and military technology, helping them become a superpower and a major threat to ISRAEL
- TRUMP also gave Saudis OWNERSHIP OF USA LARGEST REFINERY
The largest oil refinery in America — and the 600,000 barrels processed per day in Texas — is now officially owned by

Saudi Aramco

.

Saudis unexpected success

The Gulf Coast

refinery

deal comes less than two months after President Trump met with Deputy Crown Prince Mohammed bin Salman at the White House.

Saudi Arabia "is hoping the Aramco IPO [in 2018] will be valued at a stunning $2 trillion

At the same time Trump is aiming to build up what he calls an Arab NATO, although there is already such an organization in place called the Arab League with 22 members.

The arms deal could be worth as much as $350 billion over 10 years, and would include sales of ships, armored personnel carriers, missiles, bombs and munitions for the Saudi army and navy.

It would be one of the largest deals of its kind in US history. The intermediary in this deal is Jared Kushner, Trump's son in law, and notorious New York Democrat and former supporter of the Clintons.

The sales include huge upgrades for the Saudi army and navy to include Littoral Combat Ships and THAAD missile defense systems.

The deal is made even sweeter by locating some production and assembly in Saudi Arabia itself - in other words, giving them US technology to attack other Arab countries and ISRAEL.

There is a good probability that these weapons and military technology will one day soon pass into the hands of radical Islamists, as Saudi royalty are in peril of eventually being toppled by insurgents.

In the meantime the Israeli military continues to slide downward, with top brass appointed from among liberal and globalists officers, and a comparatively inferior strength.

There is incontrovertible evidence that Saudi Arabia was connected to the 9/11 attacks on the US. Much of this evidence was covered up by the US government because of politics and shady alliances between American politicians and the Saudis.
READ MORE
http://ottersandsciencenews.blogspot.ca/2017/05/trump-bows-to-saudi-arabia-will-sell.html
TRUMP TWEETS HE IS "HONORED" TO HOST ARCH-TERRORIST AND HOLOCAUST DENIER MAHMOUD ABBAS, AKA Abu Mazen -

Then, too late, he deletes his tweet
He is currently chief inciter to terror against Jews, while paying generous salaries to terrorists who kill Jews.

His media, particularly TV children programs, are full of genocidal content against Jews. Palestinian children are being officially indoctrinated from infancy to the and kill Jews.

Donald Trump has already broken several promises made during his campaign, among them to move the US embassy to Israel's capital, Jerusalem.

Trump has expressed his support for the partition of Israel through the Two States Final Solution.

Partitioning tiny Israel to create a terror state is not a solution but a certain formula for the destruction of Israel.

The best thing Trump should do is to stop funding terrorists, starting with Mahmoud Abbas and the Palestinians, and to leave Arabs and Jews alone to find their own way of coexistence.

What happened to candidate Trump's promise to stop meddling on other countries border issues and to concentrate on US border security instead?
READ MORE
http://ottersandsciencenews.blogspot.ca/2017/05/trump-tweets-he-is-honored-to-host-arch.html
RECENT HEADLINES
Israeli officials concerned about US-Saudi military deal
Israel Ministers worry $110 billion deal between President Trump and Saudi Arabia could erode Israeli's qualitative edge.
http://www.israelnationalnews.com/News/News.aspx/229954
Report: Embassy won't move to Jerusalem
White House official says Trump has decided it is not "wise" to move the Embassy to Jerusalem at this time.
http://www.israelnationalnews.com/News/News.aspx/229799
It's Final: Trump Will Not Move Embassy
60 Evangelical Leaders to Trump: Move Embassy to Jerusalem
ZOA: Trump administration's new aide is pro-Hamas
Pro-Israel group claims new Trump administration National Security Council advisor hostile to Israel, sympathetic to Hamas terror regime.
http://www.israelnationalnews.com/News/News.aspx/229849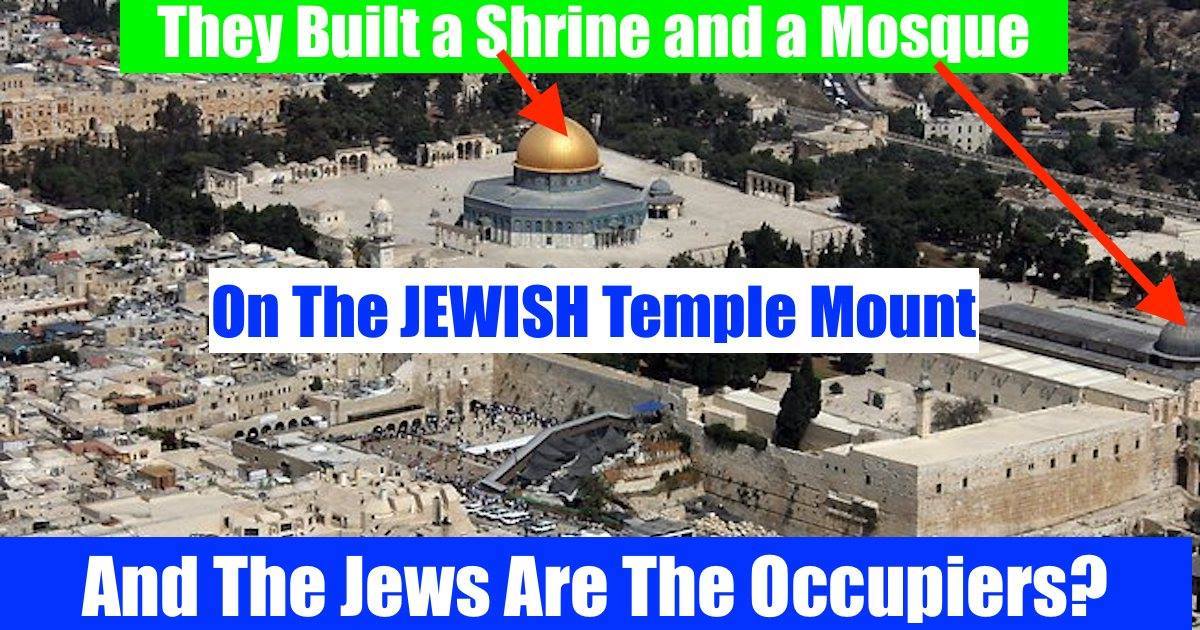 Trump rejects Israeli officials presence while visiting the Western Wall
- because he thinks it's not Israeli -

White House press secretary Sean Spicer would only say the West Wall is in Jerusalem, without clarifying whether the administration believes the Western Wall is in Israel.
The Western Wall, part of the retaining walls of the Second Temple compound, is the closest point of prayer for Jews to the site of the Temple itself and thus the Jewish people's holiest place of prayer. It was liberated from Arab occupation in 1967. Arabs invaded Israel in he 7th century and built a mosque on Temple Mount.
'There is a limit to the trampling of our national honor'
MK Smotrich calls on PM to insist that Israeli officials accompany US President to Western Wall, vows to have MKs at site during visit.
http://www.israelnationalnews.com/News/News.aspx/229788
Mark Levin: Trump has sold out and is playing footsie with terrorist Abbas
TEL AVIV –
Radio talk show
star Mark Levin slammed President Donald Trump for playing "footsie" with "known terrorist" Palestinian Authority President Mahmoud Abbas, saying, "This is turning into Obama 2.0."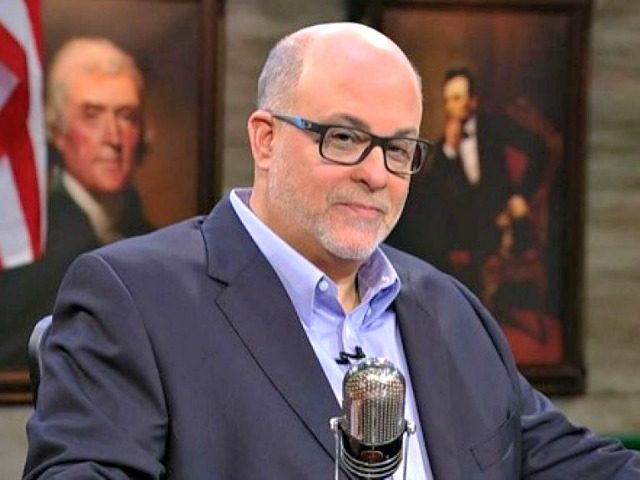 "Why is the president of the United States playing footsie with Abbas, who is a known terrorist?" Levin
asked
.
"Abbas dresses nicely, he comes to the U.S. and he makes what people consider reasonable demands and then when he goes back, the [PA] continue[s] to fund terrorism, they continue to encourage their children in elementary schools – and even in preschool – to become suicide bombers. I'm not even talking about Hamas, I'm talking about Fatah – the moderates!"
Abbas, who Levin notes received his PhD for a thesis denying the Holocaust, is a "gruesome, loathsome, genocidal maniac who is treated as if he's some kind of statesman."
Trump met with Abbas on May 3 in Washington and is due to meet him again next week in Bethlehem during his visit to Israel.
According to Levin, Trump "may not be informed" and instead has been placing his trust in people like Secretary of State Rex Tillerson and "military bureaucrat" H.R. McMaster, Trump's national security advisor, both of whom, Levin argued, are "pushing the agenda" that a two state solution is still possible.
Levin said, "So quickly and easily has the president of the United States fallen into the lap of the leftists, of the bureaucrats, of the State Department, of the swamp."
Moroever, Levin said, despite Trump's "vigorous and unequivocal" campaign pledge to move the U.S. embassy from Tel Aviv to Jerusalem, he now appears to be "betraying that promise."
"Why did the president say he would move our embassy to Jerusalem when he didn't mean it?" he asked.
Levin referred to Tillerson's remarks to NBC's Meet the Press – an
interview
the radio host said was "an abomination" – in which the secretary of state said the impact of an embassy move on a future peace deal was being considered and the president "was listening to input from all interested parties."
"What is the president's obsession now with a peace negotiation? Where did this come from? In many respects a two state solution for Israel is a final solution for Israel," Levin said.
Later on the show, Levin lambasted Tillerson for using the phrase "Israel and Palestine" when the latter does not yet exist, saying Tillerson "has just given the Palestinians, effectively, a country."
"I am stunned. I am shocked at how quickly the president of the United States reversed course and appears to have sold out.
I hope I'm wrong. I hope I'm wrong. Nothing effectively has been done yet, but this is really quite shocking to me."
Source
http://www.breitbart.com/jerusalem/2017/05/17/listen-mark-levin-trump-playing-footsie-with-known-terrorist-abbas/