©
http://ottersandsciencenews.blogspot.ca/
.
Unauthorized duplication of this blog's material is
prohibited.
Excerpts and links may be used, provided that full credit and link is given to Otters and Science News Blogspot.
Link to this post:
http://ottersandsciencenews.blogspot.ca/2017/05/france-rejects-le-pen-but-embraces-eu.html
- Thank you for visiting my blog.
~~~~~~~~~~~~~~~~~~~~~~~~~~~~~~~~~~~~~~
EUROPEANS TODAY
AND THE BOILING FROG SYNDROME
* If you throw a frog into a pot of boiling water, he will jump out.
* But if you place a frog into a pot of cold water and gradually turn up the heat, the frog will sink into a tranquil stupor.
* Before long, with a smile on his face, he will allow himself to be boiled to death.
And like the proverbial frog slowly boiling to death, Europeans have capitulated to globalism, demographic replacement, and Islam - and don't even seem to realize what they are actually doing.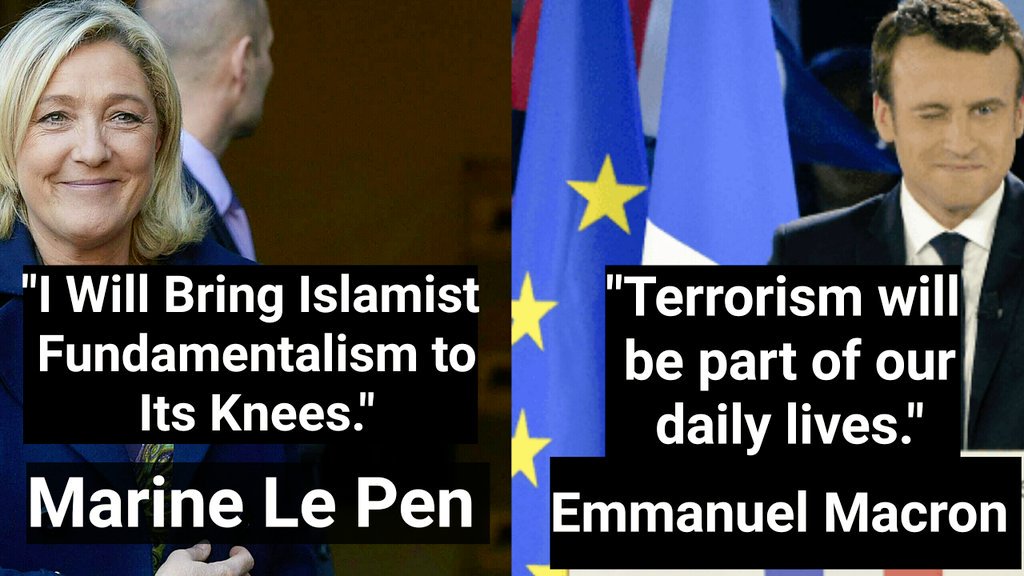 Today's election of globalist Emmanuel Macron as president of France represents a pivotal change in the fate of Europe and western civilization.
Two thirds of French voters

rejected Marine Le Pen, democracy and national sovereignty, and voted for a future of submission to the European Union, globalism, and Islam instead.
This is the beginning of the end of an intellectual and social experiment that started in ancient Greece, adopted Judeo-Christian values, and created great art, science, philosophy, and much more.
In a couple of generations western civilization will be only a memory, weakened and eventually replaced by the Islamic ideology now ruling over 1.7 billion faithful.
The process has already begun as Europeans continue to submit - pusillanimous souls that they are - too terrified of offending a hostile and invading culture to protect and defend their own.
Neither relentless immigration from Africa and the Middle East, nor rising crime and recurrent acts of Islamic terror, nor the loss of national sovereignty over entire migrant neighborhoods in EU cities, nor the tyranny of the EU bureaucracy quashing basic democratic rights, seem to have had any significant effect on voters.
Brexit was an aberration. Opponents to the EU and mass immigration haven't reached anywhere close to a majority in recent European elections. Europe is finished.
Nationalist opposition has failed to make enough gains in Germany, the Netherlands, France, and other EU countries, to stop this march into cultural and demographic suicide.
Nothing will stop the globalists and Islam now because the European people have shown they don't have the guts to defend their civilization.
Marine Le Pen vowed to keep on working for better results in the next election, but by then it will be too late. Any percentage of new supporters she gains will be overridden by many more voters from the ever increasing Muslim population.
Continue reading this, and

watch shocking video

documenting how the European Union was created by prominent Nazis who attained positions of influence after World War II
Now, why should some of us be thankful?
We should be thankful for what we HAD.

Those of us who had the privilege of living in post-war years had a reasonable amount of personal safety and freedoms, democratic rights, opportunities for education and decent jobs, and above all optimism about the future. We were able to travel to Europe and not feel victimized by terror, and to attend university and exchange ideas without feeling threated with physical violence.
Not that it was an idyllic situation for all, but there was a sense that things could get better, and indeed they were getting better.
We were the last generations to know democracy and to proudly embrace western civilization.
T
he fatal Muslim-Leftist-globalist alliance put an end to all that.
This alliance has turned university campuses into leftist ideological fiefdoms where opposing ideas are violently suppressed. The left controls the media and funds institutions of learning and activist groups. It constantly comes up with new tentacles to destroy the present social order. Billionaire George Soros is one of them. His money corrupts legislators and cultural institutions.
With only the common goal of dismantling our culture, leftists, globalists and Muslims have joined forces to impose censorship, social and political oppression, and the demographic replacement of western people with millions of migrants from Africa and the Middle East.
Even though the left does not have the numbers to forcibly impose its ideology, Muslims are gathering strength to impose their own, one way or another. So while leftists and progressives see themselves as agents of change, they are actually Islam's useful tools for the destruction of their own western civilization.
"The French must accept Islam. Refusing multiculturalism is treason." Emmanuel Macron.
Macron's secret plans for the Islamization of France were leaked a day before the election.
Just one day before the French election, a massive pile of emails and documents were released about Marcron's secret proposals that would lead to the islamization of Rance and Europe, prepared by the Institute Montaigne and Hakim El Karoui
The document recommends the introduction of Arabic teaching to French schools, including bilingual classes. In other words, "soft Islamization" is being advocated as the remedy for "hard Islamization" and that this represents a kind of de facto reward being offered to jihad violence. Jihad gets results. It leads to societies being Islamized one way or another.
Other plans include mosque construction. These and other measures are aimed at creating a "French Islam".
Emmanuel Macron, a "Useful Infidel," is not a supporter of terrorism or Islamism. It is worse: he does not even see the threat.
Is Macron an open promoter of Islamism in France? It is more politically correct to say that he is a "globalist" and an "open promoter of multiculturalism".
As such, he apparently does not consider Islamism a national threat because, for him, the French nation, or, as he has said, French culture, does not really exist.
Macron has, in fact, denied that France is a country with a specific culture, a specific history, and a specific literature or art.
On February 22, visiting the French expatriates in London, Macron
said
: "French culture does not exist, there is a culture in France and it is diverse".
In other words, on French territory, French culture and French traditions have no prominence or importance over imported migrant cultures.
The same day, in London, he
repeated
the offense: "French art? I never met it!"
Conversely, in an interview with the anti-Islamist magazine, Causeur, he
said
: "France never was and never will be a multiculturalist country".
After 6 Deadly Islamic Attacks and 238 Deaths in 3 Years – Paris Votes 90% for Macron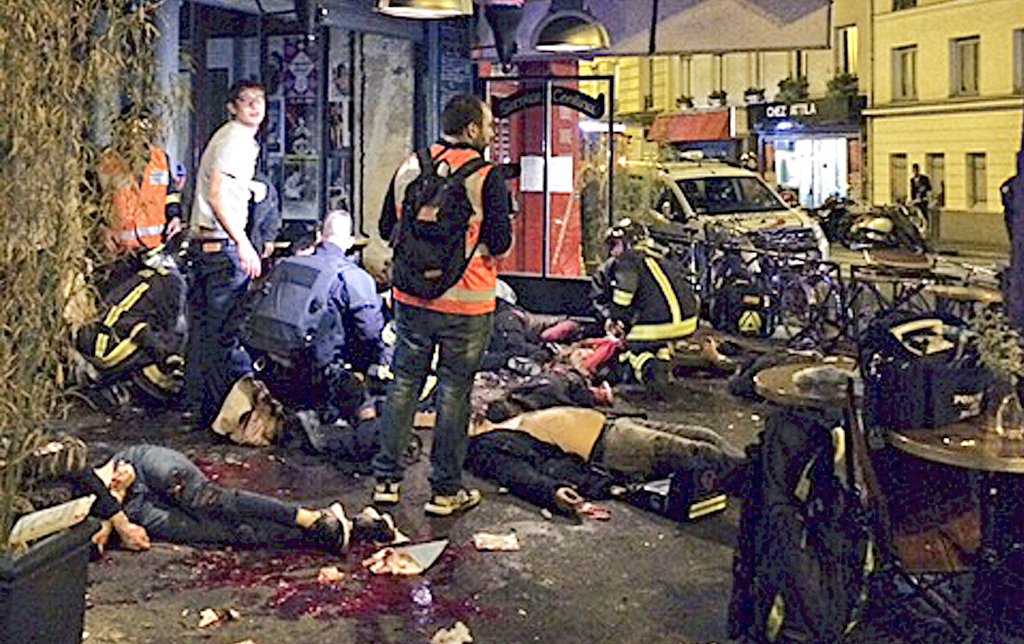 HAPPY GERMANS - Merkel's conservative party does well in German local vote
FRANKFURT, Germany (AP) — German Chancellor Angela Merkel's conservatives came in first Sunday in a local election seen as a warm-up for her bid for a fourth term in a national election in the fall.
***********************************************