©
http://ottersandsciencenews.blogspot.ca/
.
Unauthorized duplication of this blog's material is
prohibited.
Excerpts and links may be used, provided that full credit and link is given to Otters and Science News Blogspot.
Link to this post:
http://ottersandsciencenews.blogspot.ca/2017/05/terror-at-manchester-video-on-europes.html
- Thank you for visiting my blog.
~~~~~~~~~~~~~~~~~~~~
When bombs filled with nails are detonated by Palestinians in Israel, the world shrugs and excuses the act as one of 'justified resistance'. The terror that has besieged Israelis for decades has now come to Europe and it's killing the children of those who fund and sympathize with Arabs who kill Jews. Britain is a top funder of Palestinian terror.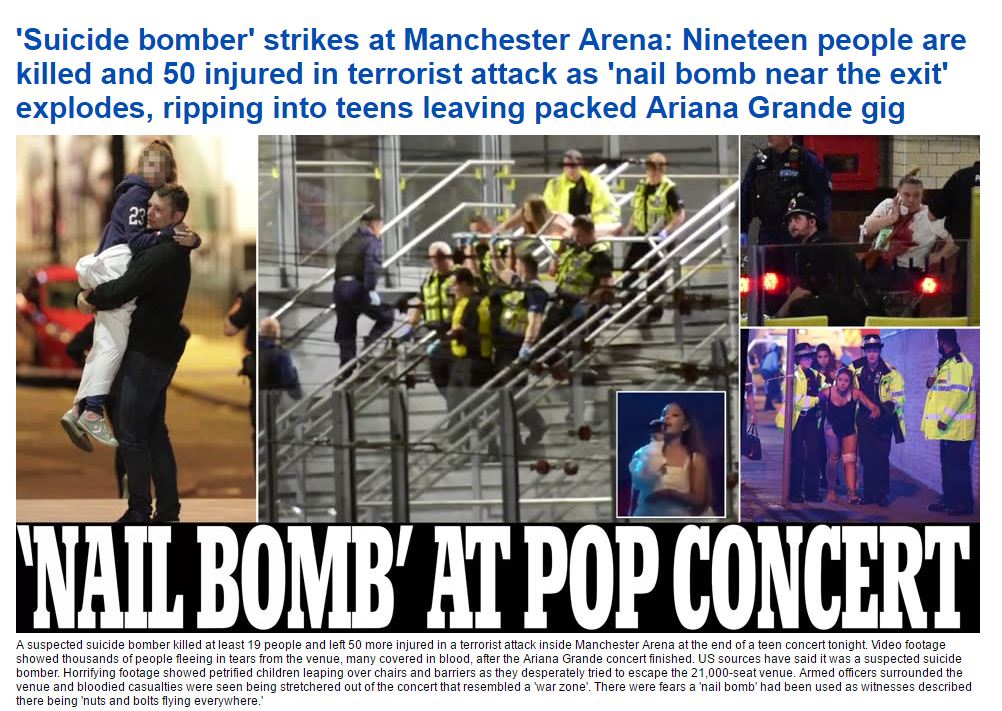 UPDATE

- The number of murdered victims has climbed to 22.
The dozens who survive their injuries may suffer life-long disability and pain.
London Muslim mayor has called for
unlimited immigration from Muslim countries into Britain.
VIDEO

- 8 MINUTE VIDEO BY STEFAN MOLYNEUX on the
Terrorist Attack at the Ariana Grande Concert in Manchester, England
More videos by Stefan Molyneux
Continue reading
about the Manchester attack, and about Britain's funding of Palestinian terror.
DAILY MAIL - At least 22 people - including children - are dead and 59 more injured after a suicide bomber targeted youngsters leaving a packed pop concert at Manchester Arena last night in Britain's worst terror attack since 7/7.
Witnesses told of nuts and bolts tearing into young gig-goers when the blast was detonated in the foyer area between the arena and the next-door Victoria station just after the Ariana Grande performance ended.
One image captured bodies of the dead and injured lying in an area between the arena and the next-door Victoria station, which had been packed with people leaving the venue as the gig wound down.
Police this morning confirmed that the suicide bomber died inside the arena after an improvised explosive device was detonated.
As the explosion tore through the lobby, terrified youngsters stampeded for the sold-out 21,000-seater stadium's exits in horrifying scenes caught on mobile phone cameras.

Witnesses described the carnage as being 'like a war zone'.
Armed police, the bomb squad and scores of emergency vehicles descended on the venue in the aftermath of the explosion, which took place at 10:35pm last night.
Shortly after 1.30am, a controlled explosion was carried out in the Cathedral Gardens near Manchester Arena, but police later confirmed the suspicious package had been an item of clothing.
Officials in the US said their UK counterparts had identified a possible male suicide bomber as being responsible for the atrocity. In a 3am press conference, Greater Manchester Police Chief Constable Ian Hopkins confirmed his force were treating it as a terror attack.
http://www.dailymail.co.uk/news/article-4531940/Emergency-services-rush-Manchester-Arena.html
HOW BRITAIN FUNDS PALESTINIAN TERROR, TORTURE, AND MURDER
- The machete attack against Kay Wilson and Kristine Luken.
- The murderers and all other terrorists receive salaries paid for by British, European, and US taxpayers through generous funding of the Palestinian Authority
An entire Israeli family, including little children murdered in the name of Palestinian resistance.
All
paid

for by you, the European and US taxpayers.
DAILY MAIL - Revealed, how UK aid funds TERRORISTS: After yet more budget cuts, another £12bn of your taxes are being splurged on foreign hand-outs for militants, killers, Palestinian palaces and jobs that don't exist.
Mail On Sunday investigation shows that UK money has funded terrorists
£72million was given to Palestine, which spent £8million on a new palac
One Hamas master bomber has reportedly been given more than £100,000.
Other 'salaries' go to the families of suicide bombers and even teenagers involved in the latest upsurge of deadly attacks on Israel.
The UK Department for International Development - (Dfid) confirms that the PLO makes such payments, calling them 'social welfare' provisions for prisoners' families.
A Mail on Sunday investigation found that Britain funded the PLO until last year and that the PA openly boasts of still funding salaries of convicted terrorists, even in its own official statements.
Europe funds Palestinian corruption and terror
READ MORE
http://ottersandsciencenews.blogspot.ca/2016/04/how-britain-funds-palestinian-terror.html