©
http://ottersandsciencenews.blogspot.ca/
.
Unauthorized duplication of this blog's material is
prohibited.
Excerpts and links may be used, provided that full credit and link is given to Otters and Science News Blogspot.
Link to this post:
http://ottersandsciencenews.blogspot.ca/2017/05/study-cartoons-are-more-effective-than.html
- Thank you for visiting my blog.
~~~~~~~~~~~~~~~~~~~~~~~~~~~~~~~~~~~~~~
This blog loves good political cartoons. A scientific study found that they are more persuasive than photos in helping you understand a point of view and make up your mind.

The reason is that a good political cartoon, such as the dozens published regularly here on

THE NEWS IN CARTOONS

can powerfully summarize in a single image a message that a photograph alone cannot.

A cartoon more than a photo will go straight to our heart and our mind. And then there is the irresistible element of good quality humor, which we love.

Of course this is a communication method that can be used for good or for evil. The National Socialist Party of Germany - AKA Nazis - used cartoons to incite racial hatred and violence.

On the other side of the pond American cartoonists availed themselves of cartoons to inspire patriotism and the need to fight tyranny and genocide in Europe.
Leftist ideologues desperate to persuade the increasingly skeptical public about global warming and climate change were the instigators of this study.

A cartoon can become a medium for flawed or misleading scientific messages such as many of those advocated by the left. Leftists defend wind farms in spite of the fact that they kill millions of birds and make people who live in the vicinity very sick.

The same environmentalists have remained completely silent at the scourge of nuclear power plants, although nuclear waste and nuclear meltdowns are more dangerous to life on the planet than anything climate change may do in the next thousand years.

In the end,

all is fair in love and war.

It is up to us to be skeptical of what the media are selling.
The left wants to learn more about mind manipulation through cartoons
SCIENCE DAILY -

If you're creating a message to educate, inform, or persuade, don't underestimate the power of a well-executed cartoon. A new study suggests if you're trying to convince the public to change their stance on a topic, you may be more successful if you use a cartoon rather than a photograph.
Source: University of Illinois College of Agricultural, Consumer and Environmental Sciences (ACES).
"Photographs were shown to be more credible, but cartoons were more likely to change behavior," says U of I agricultural communications professor Lulu Rodriguez who led the study. "
Participants in the study said the content was better in the cartoon brochures (even though the text was identical), but the credibility was lower than the brochures using photographs.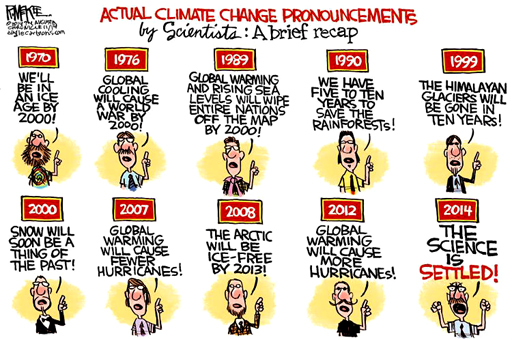 A cartoon grabs people's attention long enough to deliver the message. That's what you need in today's message-heavy atmosphere. Why not use a tool that has proven ability to cut through the others and inform people in a way that actually works?" "It may be because of the more light-hearted approach of cartoons," Rodriquez says.
Continue reading and see more related cartoons
"Cartoons make a topic like wind energy, which may be a bit scary to people, more accessible. But this notion of credibility is a different issue. We teach students to be conversational in writing. Don't put on your 'tuxedo' language. And yet, people associate big words with credibility."
Rodriguez says the use of comics has already been shown to be effective in explaining scientific concepts and principles in high school chemistry classrooms. (Rodriguez is also the director of the agricultural communications program in the College of Agricultural, Consumer and Environmental Sciences and the College of Media.) She says she has not seen the comparison of photos versus cartoons studied in non-classroom settings.
When facts don't support their message, leftists re-word their message
In addition to educational settings, the power of cartoons to persuade can be of value to agencies working to educate the public about a science-laden concept -- one for which they would like to change opinion, intentions, or behaviors.
"My interest is in making science more accessible to the public," Rodriguez says. "This study offers real recommendations to communicate science better to a general audience. Understanding the science helps get people past whatever might be controversial about a scientific breakthrough or innovation. The controversies usually arise out of a lack of understanding."
In terms of wind energy, Rodriguez says, people worry about claims that the turbines kill birds, when in fact, cars kill more birds. "We kept hearing scientists say that people do not fully understand wind energy. So we thought, how can we deflect that misunderstanding?"
(BLOGGER: Actually,

Ms Rodriguez's facts are wrong

.

Windfarms kill 10-20 times more than previously thought
* A government study claims wind farms will kill "only" 1.4 million birds yearly by 2030. This report is just one of many, financed with taxpayers' money, aimed at convincing the public that additional mortality caused by wind plants is sustainable. – It is not.
* By 2030, the United States plans to produce 20% of its electricity from wind. That's nearly six times as much as today, from three or four times as many turbines, striking more flying creatures due to their bigger size (even the mendacious study predicting 1.4 million bird kills recognizes this).
* Using the higher but still underestimated level of mortality published by Smallwood in 2013, by 2030 our wind turbines would be killing over 3 million birds and 5 million bats annually.



* But this is shy of reality by a factor of ten, because 90% of casualties land outside the search perimeter and are not counted. We are thus really talking about an unsustainable death toll of 30 million birds and 50 million bats a year – and more still if we factor in other hide-the-mortality tricks documented by STEI.

Full report: http://savetheeaglesinternational.org/new/us-windfarms-kill-10-20-times-more-than-previously-thought.html

)
Rodriguez admits that text and photos may be the easier route to take.
"Truth be told, this is easy to recommend, but cartoons and effective information graphics are difficult to create. You have to hire someone with real skills to do it. Making things easier to understand is a difficult thing to do," she says.
"And, when people hire an advertising agency to create a brochure for their product or cause, they may lean toward using photos because they convey prestige or credibility. It may be difficult to convince them to use a cartoon because they think it reduces the classiness of the brochure."
The article, "The impact of comics on knowledge, attitude and behavioural intentions related to wind energy," is published in an issue of the Journal of Visual Literacy.
---
Journal Reference
:
Lulu Rodriguez, Xiao Lin. The impact of comics on knowledge, attitude and behavioural intentions related to wind energy. Journal of Visual Literacy, 2017; 35 (4): 237 DOI: 10.1080/1051144X.2016.1278090
Sources for this post:
https://www.sciencedaily.com/releases/2017/05/170511120025.htm
Windfarms kill 10-20 times more than previously thought
http://savetheeaglesinternational.org/new/us-windfarms-kill-10-20-times-more-than-previously-thought.html
DAILY MAIL - Exposed: How world leaders were duped into investing billions over manipulated global warming data
The Mail on Sunday can reveal a landmark paper exaggerated global warming

It was rushed through and timed to influence the Paris agreement on climate change

America's National Oceanic and Atmospheric Administration broke its own rules

The report claimed the pause in global warming never existed, but it was based on misleading, 'unverified' data
The Mail on Sunday today reveals astonishing evidence that the organisation that is the world's leading source of climate data rushed to publish a landmark paper that exaggerated global warming and was timed to influence the historic Paris Agreement on climate change.
A high-level whistleblower has told this newspaper that America's National Oceanic and Atmospheric Administration (NOAA) breached its own rules on scientific integrity when it published the sensational but flawed report, aimed at making the maximum possible impact on world leaders including Barack Obama and David Cameron at the UN climate conference in Paris in 2015.
The report claimed that the 'pause' or 'slowdown' in global warming in the period since 1998 – revealed by UN scientists in 2013 – never existed, and that world temperatures had been rising faster than scientists expected. Launched by NOAA with a public relations fanfare, it was splashed across the world's media, and cited repeatedly by politicians and policy makers.
But the whistleblower, Dr John Bates, a top NOAA scientist with an impeccable reputation, has shown The Mail on Sunday irrefutable evidence that the paper was based on misleading, 'unverified' data.
It was never subjected to NOAA's rigorous internal evaluation process – which Dr Bates devised.
His vehement objections to the publication of the faulty data were overridden by his NOAA superiors in what he describes as a 'blatant attempt to intensify the impact' of what became known as the Pausebuster paper.
His disclosures are likely to stiffen President Trump's determination to enact his pledges to reverse his predecessor's 'green' policies, and to withdraw from the Paris deal – so triggering an intense political row.
In an exclusive interview, Dr Bates accused the lead author of the paper, Thomas Karl, who was until last year director of the NOAA section that produces climate data – the National Centers for Environmental Information (NCEI) – of 'insisting on decisions and scientific choices that maximised warming and minimised documentation… in an effort to discredit the notion of a global warming pause, rushed so that he could time publication to influence national and international deliberations on climate policy'.
Dr Bates was one of two Principal Scientists at NCEI, based in Asheville, North Carolina.
Wind turbines making people sick with mysterious illnesses
Wind turbines create low frequencies that can cause health problems, admit experts
Wind turbines emit brain-disrupting 'ultrasound pollution' that affects people for miles around
READ MORE
http://www.naturalnews.com/042735_wind_turbines_mysterious_illnesses_low_frequency_sound.html
http://www.naturalnews.com/050506_wind_turbines_infrasound_brain_disturbances.html
MORE ON WIND TURBINES - NEWS ARTICLES
http://www.naturalnews.com/SearchResults.asp?query=WIND+TURBINES&pr=NN
POLITICAL CARTOONS ON THIS BLOG: