©
http://ottersandsciencenews.blogspot.ca/
.
Unauthorized duplication of this blog's material is
prohibited.
Excerpts and links may be used, provided that full credit and link is given to Otters and Science News Blogspot.
Link to this post:
http://ottersandsciencenews.blogspot.ca/2017/05/the-wikileaks-murder-dnc-staffer-seth.html
- Thank you for visiting my blog.
~~~~~~~~~~~~~~~~~~~~~~~~~~~~~~~~~~~~~~
For months it has been suggested that the true source of the DNC leaks to Wikileaks was not the Russians but DNC staffer Seth Rich, who was gunned down in Washington DC as he walked home from a bar
DC police claimed the DNC data analyst, 27, was killed in a 'botched robbery' but nothing appeared to be missing from his person when found by police.
Rod Wheeler, a private investigator working on the case, claims Mr Rich was in email contact with Wikileaks before being murdered
The official investigation has dragged on for months, and it is believed police and the FBI were ordered by higher authorities to stand down and do nothing.
Wheeler believes his death is being covered up and that

authorities have been ordered to drop the investigation
Investigator Wheeler's services were offered to the family and paid for by a third party
Seth's computer and evidence of his emails to Wikileaks are in possession of the DC police or the FBI, says Wheeler.
Wikileaks's boss Julian Assange has never denied Seth Rich was the source of the DNC email leaks, but he has been firm in denying it was the Russians.
Releasing evidence of Seth Rich's DNC leaks to Wikileaks would weaken or put an end to the current narrative of blaming the Russians for the hacking

.
The mainstream media have been silent regarding these developments.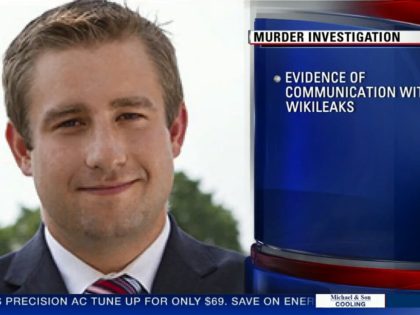 Malia Zimmerman of Fox News writes that murdered Democratic National Committee staffer Seth Rich "leaked thousands of internal [DNC] emails to WikiLeaks" and that the FBI is in possession of their correspondence.
WikiLeaks

leader Julian Assange has stopped short of identifying Rich as the source of the emails, but has taken a keen interest in the case, and

has not denied working with Rich.
From
Fox News
:
The Democratic National Committee staffer who was gunned down on July 10 on a Washington, D.C., street last July just steps from his home had leaked thousands of internal emails to WikiLeaks, law enforcement sources told Fox News.
A federal investigator

who reviewed an FBI forensic report detailing the contents of DNC staffer Seth Rich's computer generated within 96 hours after his murder, said Rich made contact with Wikileaks through Gavin MacFadyen, a now-deceased American investigative reporter, documentary filmmaker, and director of WikiLeaks who was living in London at the time.
"I have seen and read the emails between Seth Rich and Wikileaks," the federal investigator told Fox News, confirming the MacFadyen connection. He said the emails are in possession of the FBI, while

the stalled case is in the hands of the Washington Police Department.
VIDEO

-

FOX NEWS REPORT AND INTERVIEW WITH PRIVATE INVESTIGATOR
Continue reading and watch additional video by Stefan Molyneux
Rich was fiercely patriotic, say family members.
The revelation is consistent with the findings of Rod Wheeler, a retired Washington homicide detective and Fox News contributor hired by a third party on behalf of Rich's family to investigate the case made the WikiLeaks claim, which was corroborated by a federal investigator who spoke to Fox News
"My investigation up to this point shows there was some degree of email exchange between Seth Rich and WikiLeaks," Wheeler said. "I do believe that the answers to who murdered Seth Rich sits on his computer on a shelf at the DC police or FBI headquarters."
The federal investigator, who requested anonymity, said 44,053 emails and 17,761 attachments between Democratic National Committee leaders, spanning from January 2015 through late May 2016, were transferred from Rich to MacFadyen before May 21.
'(Neither) the police department nor the FBI have been forthcoming,' Wheeler told
Fox News
in a report to be aired today.
'They haven't been cooperating at all. I believe that the answer to solving his death lies on that computer, which I believe is either at the police department or either at the FBI. I have been told both.'
Mr Wheeler claimed sources have given him 'confirmed' evidence that Mr Rich was in contact with WikiLeaks while a DC police insider has told him they were 'told to stand down on this case'.
On July 22, just 12 days after Rich was killed, WikiLeaks published internal DNC emails that appeared to show top party officials conspired to stop Sen. Bernie Sanders of Vermont from becoming the party's presidential nominee. That controversy resulted in Debbie Wasserman Schultz resigning as DNC chairperson.
"WikiLeaks has decided to issue a US$20k reward for information leading to conviction for the murder of DNC staffer Seth Rich," the organization announced.
Assange has not returned a series of recent emails from Fox News about Rich. MacFadyen, who was considered a mentor by Assange, died of lung cancer on Oct. 22 at age 76.
Washington's Metropolitan Police Department has no suspects and no substantial leads as to who the killer or killers may be, sources close to the investigation said. Metropolitan Police, including the police chief, have refused to discuss the case, despite requests from Fox News dating back 10 months.
The department released a statement on the case saying it remains an active investigation and that detectives are working with Rich's family.
"If there are any individuals who feel they have information, we urge them to call us at (202) 727-9099 or text us at 50411," read the statement. "The department is offering a reward of up to $25,000 for information on this case that leads to the arrest and conviction of the person or persons responsible."
The FBI's national office declined to comment, but sources said the bureau provided cyber expertise to examine Rich's computer.
D.C. police have announced a $25,000 reward for information leading to the conviction of Rich's killer. Republican lobbyist Jack Burkman has offered a separate $130,000 reward.
Since the murder has set off a flurry of international speculation and conspiracy theories including claims that Rich, who worked in the voter access department, was about the blow the whistle on Democratic voting fraud.
A spokesman for Rich's family on Tuesday said Wheeler was not authorized to speak for the family and called assertions Seth Rich sent emails to WikiLeaks "unsubstantiated." Brad Bauman said even if purported emails were to surface, it would not necessarily mean Rich had helped WikiLeaks.
The family has been sensitive to speculation that Rich could have leaked emails damaging to the DNC since he was murdered during the height of the presidential campaign in a case that remains unsolved. Wheeler and the federal investigator insist that there is evidence to back their claims.
The family confirmed that a private investigator was obtained for the family and paid for by a third party, but that he was contractually barred from speaking to individuals outside of law enforcement.
Seth Rich, shown here with his mother, was idealistic and wanted to change the world, his father said.
According to staff at Lou's City Bar, a sports pub Rich frequented five or six nights a week, it started off as any typical Saturday.

He showed up alone that evening and sat at his usual leather stool in the corner of the bar.

He was a regular at the pub, often showing up straight from the office in a shirt and tie and lugging his laptop bag.

By closing time, around 1.45am, Rich was unusually drunk. (Were his drinks spiked?)

He would normally throw back Bell's beer for hours without a problem, but that night he was uncharacteristically unsteady on his feet as he made his way out the door.

Police responding to the sound of multiple gunshots found Rich lying on the street with bullet wounds at around 4.19am.

Rich's father said he was told by investigators that his son was shot in the back, and that he still had his cell phone, wallet and watch on him when he was found.

Rich was taken to a nearby hospital where he was pronounced dead shortly before 6am.

The coroner's office said it does not publicly release reports, but confirmed that cause of death was gunshots to the torso.
--------------------------
WAS THE DNC HACK AN INSIDE JOB,
For several months, the consensus within the intelligence services and the mainstream media has been that Russia hacked the emails of the Democratic National Committee (DNC) and Hilary Clinton campaign chair John Podesta during the 2016 presidential election.
Some critics of that view, however, suggested that the "Russian hack" may have been an inside job by a disgruntled Bernie Sanders supporter or a rogue campaign staffer, in part or in whole.
On Monday night, the local Washington, D.C. Fox affiliate
reported
that a private investigator working for the family of murdered DNC staffer Seth Rich believes that "there is tangible evidence on Rich's laptop that confirms he was communicating with WikiLeaks prior to his death."
Wikileaks released the DNC and Podesta emails, and is widely believed to have connections with Russian intelligence, although the organization has denied that claim.
Rich was murdered in the early hours of July 20, 2016, and the case has never been solved.
His shocking death "set off a flurry of international speculation and conspiracy theories" the Daily Mail
reported
last August, "including claims that Rich, who worked in the voter access department, leaked sensitive DNC documents to Wikileaks."
One of those "conspiracy theories" may now be more substantive than initially suspected, if the laptop claim is true.
Rod Wheeler, the private investigator, told Fox 5 that the laptop is in the possession of the FBI or the local police, but he has not been able to confirm either. Nor has anyone provided public evidence of a motive in the Rich murder, other than robbery.
Pending further evidence, the idea that the DNC hack was an inside job is still just a conspiracy theory — but no crazier than the idea that Russia colluded with Donald Trump, for which no evidence has emerged.
Four Unanswered Questions Surrounding Murdered DNC Staffer Seth Rich
1. If Rich was murdered in a robbery gone wrong, why was his wallet, watch, and phone left behind?
Following Rich's July 2016 death in the Bloomingdale neighborhood of Washington D.C., police officers claimed that it was likely the DNC staffer was shot during a robbery gone wrong.
This doesn't explain, however, why Rich was found to still be in possession of all of his personal items, including wallet, watch, and mobile phone, which are often the primary targets during a street robbery.
"There had been a struggle. His hands were bruised, his knees are bruised, his face is bruised, and yet he had two shots to his back, and yet they never took anything," said Rich's girlfriend to
NBC News
. "They didn't finish robbing him, they just took his life."
2. Why haven't the DNC offered a reward for information related to his murder?
Numerous groups, organizations, and individuals offered a reward for information related to Rich's murder, including
WikiLeaks
, GOP lobbyist
Jack Burkman
, crowdfunding bounty site
WeSearchr
, and author
Mike Cernovich
. The DNC and other Democratic Party organizations, however, have not.
Rich's death was
memorialized
by the DNC with a bike rack and plaque.
3. Why are the left-wing and mainstream media ignoring the case?
The murder of Seth Rich has been a hot topic among conservative, libertarian, and alternative news outlets since the incident took place last year, however the left-wing and mainstream media has largely ignored the case, only mentioning the staffer's name during conspiracy articles about Russian hacking.
A quick Google search of "Seth Rich" will return dozens of news articles on the subject from sources such as Fox News, The Washington Examiner, and Heat Street, but few from outlets such as CNN or MSNBC.
The Washington Post did
publish a story related to Rich
Wednesday afternoon but focused on Rich's parents' claim that reports of him contacting WikiLeaks were without evidence.
Those articles which do appear on left-wing sites all feature headlines which immediately brand questions surrounding his death as "conspiracy theories" and seek to deter investigations.
The Washington Post published an
article
in August 2016 titled "Trump allies, WikiLeaks and Russia are pushing a nonsensical conspiracy theory about the DNC hacks," while
The Huffington Post
's
coverage
of Rich's murder last year consisted of stories such as "Donald Trump Has A History Of Linking His Political Opponents To People's Deaths," and "Conspiracy Theorists Won't Stop Accusing The Clintons Of Murder."
CNN published
one single story
on Seth Rich's death last year– a straight news article on the murder with a quote from former DNC Chairman Debbie Wasserman Schultz.
The majority of left-wing sites have also completely ignored the recent reports that Rich was the source of "thousands of internal emails" leaked to WikiLeaks before his death, despite the fact that they worked consistently to refute these claims beforehand.
4. Will the Democrats still push that Russia hacked the DNC?
Despite the increasing amount of evidence proving the opposite, a frequent left-wing talking point is to claim that it was "Russia who hacked the DNC" and leaked information to WikiLeaks.
This argument, however, ignores the fact that WikiLeaks founder Julian Assange stated on numerous occasions that Russia was not a source of the leaks,
implying instead
that it was Rich. DNC hacker Guccifer 2.0 also
allegedly claimed
in messages to an actress that Rich was one of his whistleblowers, while a private detective
claimed
this week that Rich was in contact with WikiLeaks before his death.
Most of the claims that Russia "hacked the election" are based on reports from
CrowdStrike
, a cybersecurity firm which has been
reported
to have ties with Google and the Obama administration, while the FBI did not examine the DNC's server themselves.
CrowdStrike's report was heavily refuted by DNC hacker Guccifer 2.0 in a
report
of his own.
VIDEO -
The Truth About Seth Rich
The DNC/Wikileaks Scandal
Published on May 16, 2017
On July 10th, 2016, Democratic National Committee (DNC) staffer Seth Rich was shot twice and killed near his home in Northwest Washington's Bloomingdale neighborhood. In August 2016, WikiLeaks founder Julian Assange strongly implied that Seth Rich was the source of the Democratic National Committee email leak. Recent reports by Private Investigator Rod Wheeler and Fox News have reignited significant interest in the Seth Rich investigation.

DNC Fraud: Bernie Sanders Donors File Lawsuit
https://www.youtube.com/watch?v=2ktse...
Sources:
http://www.fdrurl.com/seth-rich
Your support is essential to Freedomain Radio, which is 100% funded by viewers like you. Please support the show by making a one time donation or signing up for a monthly recurring donation at:
http://www.freedomainradio.com/donate
Get more from Stefan Molyneux and Freedomain Radio including books, podcasts and other info at:
http://www.freedomainradio.com
More videos by Stefan Molyneux
Fox News: Seth Rich, Murdered DNC Staffer, 'Leaked Thousands of Internal Emails to WikiLeaks'
FBI HAS SETH"S EMAILS TO WIKILEAKS
Seth Rich's family demands facts