©
http://ottersandsciencenews.blogspot.ca/
.
Unauthorized duplication of this blog's material is
prohibited.
Excerpts and links may be used, provided that full credit and link is given to Otters and Science News Blogspot.
Link to this post:
http://ottersandsciencenews.blogspot.ca/2015/08/the-ayatollahs-thank-america-bus-ny.html
- Thank you for visiting my blog.
#
AyatollahThanksAmerica
bus tour.
New York Assemblyman Dov Hikind rides on bus with ads depicting Ayatollah Ali Khamenei thanking US for the deal. Hikind hopes to convince politicians to change their minds.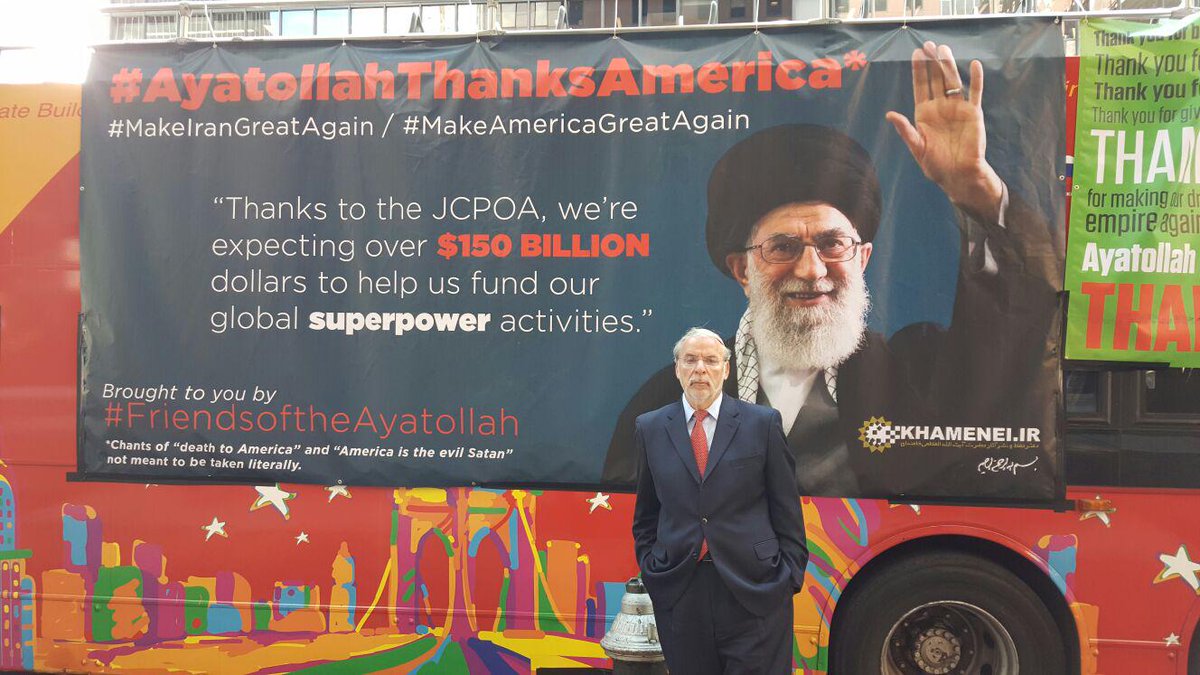 Assemblyman Dov Hikind (D - Brooklyn) promoted an anti-Iran parody

ad campaign

Friday, by riding a bus with #AyatollahThanksAmerica ads throughout New York.
Hikind made stops at the offices of Senator Kirsten Gillibrand and Representative Jerrold Nadler, both of whom recently declared support for the deal between the West and Iran, as part of satire tour "thanking" members of Congress and the American people.
The bus featured posters of Iran's Supreme Leader Ayatollah Khomenei with messages thanking members of Congress for their support of the Iran deal with the tagline "brought to you by #FriendsoftheAyatollah."
New York Assemblyman Dov Hivkind is protesting the US surrender to Iran by riding the AYATOLLAHS THANK AMERICA BUS.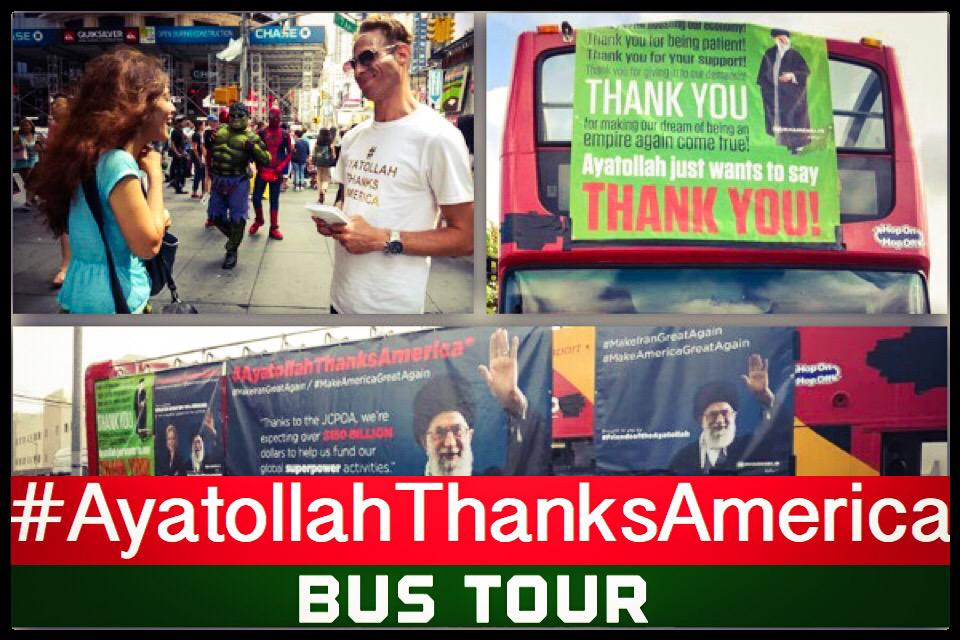 "Today we stood outside of Gillibrand's and Nadler's offices to make our voices heard and urge them to reconsider their support of the Iran deal," Hikind said in a statement. "Our community is massively disappointed in their decision."
"With the recent AP report of one of the side deals reached between Iran and the UN's International

Atomic Energy

Agency, the latest news reads like a headline from the Onion," he continued. "So we decided that satire is the best way to demonstrate this point."
Continue reading and see more images
http://www.israelnationalnews.com/News/News.aspx/199765#.VdeVSptRGM8
https://twitter.com/hashtag/AyatollahThanksAmerica?src=hash
https://twitter.com/hikinddov
FLASHBACK:
SATIRE:
Obama awoke abruptly.
http://www.israellycool.com/2015/08/20/who-better-to-inspect-than-the-iranians/