©
http://ottersandsciencenews.blogspot.ca/
.
Unauthorized duplication of this blog's material is
prohibited.
Excerpts and links may be used, provided that full credit and link is given to Otters and Science News Blogspot.
Link to this post:
http://ottersandsciencenews.blogspot.ca/2015/08/no-us-sovereignty-70-miles-inside.html
- Thank you for visiting my blog.
~~~~~~~~~~~~~~~~~~~~~~~~~~~~~~~~~~~~~~
White House open border policy is undermining American society, bringing crime into US cities, and causing injury and death of American citizens at the hands of illegal alien thugs.
Mexican drug cartels control large swaths of territory inside the USA. Dr. Ben Carson's helicopter tour of the sites.

DHS policy of releasing violent aliens into US communities.

Senator Ted Cruz demands answers as to why Muslims with links to terror are allowed into the country.

The White House 'hands off' list that allows Muslims with links to terror to LEGALLY enter the country.

Already identified Muslim terrorists got into the US by crossing the open border with Mexico.
Breitbart exclusive: Arizona sheriff takes presidential candidate Ben Carson on helicopter tour of US cartel sites.

FLORENCE, Arizona — "Nobody does," Pinal County Sheriff Paul Babeu told Breitbart News when asked who has operational control of this region of the United States of America.
DR. BEN CARSON
Babeu was on a helicopter tour of Mexican drug cartel scout locations in caves in the side of mountains throughout the desert about 70 miles inside the U.S. border.
Essentially, that means U.S. sovereignty is gone for hundreds, perhaps thousands, of square miles throughout the American southwest.
Babeu was leading the helicopter tour with Dr. Ben Carson, a GOP presidential candidate, after briefing Carson on everything happening at the border.
Among other things that Babeu showed Carson and Breitbart News on this helicopter tour were how this far inside the border on high ground there are scores of scout sites where cartel operatives serve as lookouts for smugglers bringing drugs, people and other contraband into the country.
Continue reading,
including article about the DHS release of violent alien criminals into US cities, and a White House 'hands off' list allowing people with links to Muslim terror into the country.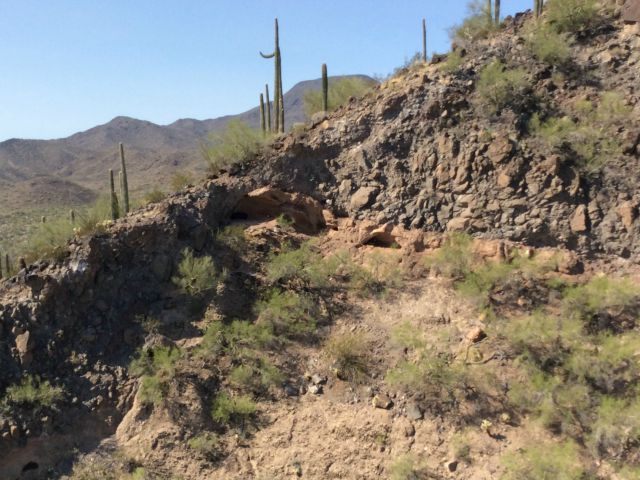 "If they can operate up to this degree, 70 miles north of the border, in law enforcement we call that a clue," Babeu said in a brief exclusive interview outside the helicopter after landing back at the Pinal County Sheriff's Office.
The lack of United States sovereignty this deep into the country is highly concerning to Carson, who told Breitbart News that this shouldn't be happening.
"We should stop them at the border," Carson said. "They shouldn't be 70 miles inside the border. We should stop them at the border. As the sheriff indicated, if we were to take like 6,000 troops and put them at the border, you wouldn't have those people coming inside the border."
From here, Carson is taking his presidential campaign bus down to the border—and Breitbart News is accompanying him, his campaign team, and a couple other reporters along the way. More details will be forthcoming throughout the next several days from this exclusive tour.
Source
http://www.breitbart.com/big-government/2015/08/19/exclusive-az-sheriff-takes-dr-ben-carson-on-helicopter-tour-of-cartel-sites/
More news stories on the US-Mexican border on Breitbart
http://www.breitbart.com/tag/border-2/
GOP candidate Dr. Ben Carson's official website
https://www.bencarson.com/meet-ben/
Dr. Ben Carson - Wikipedia
https://en.wikipedia.org/wiki/Ben_Carson
RELATED
Letter: Obama Administration Releasing Violent Illegal Immigrants Back into U.S. Towns
The Department of Homeland Security (DHS) has been releasing illegal immigrants with violent criminal records back into local U.S. communities, where they have often gone on to commit violent crimes against American citizens, according to new disclosures by a leading lawmaker and local law enforcement agencies.
Rep. Matt Salmon (R., Ariz.) and law enforcement officials petitioned the Obama administration on Wednesday to end a policy that enables illegal immigrants with criminal records to be released back into the United States.
Arizona law enforcement officials announced on Tuesday that three illegal aliens with violent criminal records had been released by DHS and Immigration and Customs Enforcement (ICE) back onto the streets, where they went on to commit crimes including kidnapping and murdering an infant.
The ongoing release of criminals from countries such as Iraq, Sudan, and Russia prompted Salmon to petition DHS "to stop freeing violent criminals who are in our country illegally," according to a copy of letter sent to the department and obtained by the Washington Free Beacon.
At least three illegal aliens released by DHS in recent weeks have been charged with serious crimes, including the beating of a 7-week-old baby and immolation of a person, according to local law enforcement and Salmon.
"Despite the repeated attacks on American citizens by illegal aliens released from our jails, DHS refuses to stop freeing violent criminals who are in our country illegally," Salmon wrote in his letter to DHS.
"Just today, we learned of three more individuals set free on law-abiding Arizonans by the Department of Homeland Security. Their crimes included the beating to death of a seven-week-old baby and the stabbing, beating, and immolation of a police informant."
One of those released is accused of kidnapping and murdering a police informant "by taking him to a wilderness area where he beat, stabbed, and lit his gasoline-soaked body on fire," according to Salmon.
"Instead of immediately deporting them to their country of origin, ICE released these criminals into Arizona and … chose not to inform local law enforcement before the release of these criminals was completed," Salmon wrote.
Salmon and officials in Arizona law enforcement are demanding DHS do more to prevent such releases.
"U.S. Immigration and Customs Enforcement under current law can no longer legally hold the three individuals," ICE press secretary Gillian Christensen said.
"To further promote public safety and transparency, ICE notified local law enforcement agencies of the release of the individuals."
"To be clear, the backgrounds of the individuals in question would generally make them enforcement priorities for ICE," Christensen continued. "However, ICE has no legal basis for continuing to hold these individuals."
Christensen said one individual is a lawful permanent resident and the other two were released due to a Supreme Court decision.
"ICE has been releasing these criminal illegal immigrants into local communities, that we as Sheriffs are sworn to protect," the Arizona Sheriff's Association (ASA) warned in a
statement
issued Tuesday.
"You don't have to be the Sheriff or a uniformed patrol deputy to realize that these dangerous criminals will reoffend and victimize our Arizona families."
Just last week, ICE began to notify local law enforcement agencies of the release of violent illegal aliens. The implementation of this notification system comes after years of pressure from local law enforcement officials.
ICE notified Arizona law officials that three violent illegal aliens had been released back into the community.
"This first such notification of three dangerous criminal illegals has Arizona Sheriffs angry and concerned for the public's safety," the ASA said in its statement.
The issue has long plagued local law enforcement agencies, which have found themselves struggling to protect local communities after the Obama administration frees criminal illegal aliens.
In 2013, ICE freed 36,007 illegal aliens with criminal convictions across the nation,
according to statistics
compiled by Arizona law enforcement. At least 193 of those aliens released were convicted of homicides, 426 were convicted of sex crimes, and 303 convicted of kidnapping.
"The releases typically occurred without formal notice to local law enforcement agencies and victims," according to the ASA.
In 2014, federal authorities released another 30,558 illegal aliens with criminal records.
"By simply notifying Sheriffs of the release of dangerous criminals doesn't address the core problem that these dangerous criminals remain in America," the ASA said.
Salmon says he is seeking a larger fix to the problem.
"Our Department of Homeland Security needs to focus more on securing our homeland, not on cornering the market as a transportation option for illegal aliens in the United States," he wrote to DHS. "Americans need protection from violent criminals and an explanation for why DHS has been so miserably failing at their primary task."
"How many more Americans must be murdered by illegal alien criminals before this administration begins taking the safety of Americans seriously?" the lawmaker asked.
Salmon went on to note that in one instance a illegal alien released by ICE was later apprehended and charged with "kidnapping, aggravated assault with a deadly weapon, armed robbery, sexual abuse, and child molestation."
"Obviously this is a direct result of this administration's dangerous policy of releasing tens of thousands of criminal illegal aliens onto our streets and into our communities," Salmon said.
Salmon has championed
several
pieces
of federal
legislation
that would end the policy of "catch and release" and also establish mandatory minimum prison sentences for illegal aliens.
"Simply, put, there is no excuse for ICE to be releasing violent, criminal illegal aliens back onto our streets and into our communities," Salmon wrote.
Source
http://freebeacon.com/national-security/obama-administration-releasing-violent-illegal-immigrants-back-into-u-s-towns/
MUSLIM TERRORISTS EASILY
GETTING INTO THE USA
New fear as aliens linked to Muslim terrorism get into the US each year. Many already identified. Senators Ted Cruz and Jeff Sessions demand answers from the Departments of Justice, State and HS.
"Based on publicly available information, we have identified at least 72 individuals in the United States who, over the last year: have engaged in or attempted to engage in acts of terrorism; conspired or attempted to conspire to provide material support to a terrorist organization; engaged in criminal conduct inspired by terrorist ideology; or who have been sentenced for any of the foregoing. We would like to understand more about these individuals, and others similarly situated in recent history, and the nexus between terrorism and our immigration system," they wrote.
Read more
http://www.washingtonexaminer.com/new-immigrant-fear-22-linked-to-terrorism-from-yemen-syria-in-last-year/article/2570064
Muslim terrorists also sneaking across the open border with Mexico.
The White House has a 'hands off' list that allows individuals with links to terror to LEGALLY enter the USA.
As if it weren't bad enough that terrorists are entering the U.S. legally thanks to our weak immigration policies, the Obama administration also has a terrorist
"hands off"
list that permits individuals with extremist ties to enter the country.
The disturbing details of this secret list come from internal Department of Homeland Security (DHS) documents exposed last year by a U.S. senator. Specifically, an electronic email exchange between U.S. Immigration and Customs Enforcement (ICE) and U.S. Customs and Border Protection (CBP) asks whether to admit an individual with ties to various terrorist groups.
The individual had scheduled an upcoming flight into the U.S. and was believed to be a member of the Muslim Brotherhood and a close associate and supporter of Hamas, Hezbollah and the Palestinian Islamic Jihad.
Islamic terrorists are also sneaking into the U.S. through the porous southern border. Judicial Watch has reported this for years and, more recently, published a series of stories documenting how Mexican drug cartels are
smuggling foreigners with terrorist links
into the El Paso, Texas region.
The foreigners are classified as Special Interest Aliens (SIA) by the government and they are being transported to stash areas in Acala, a rural crossroads located around 54 miles from El Paso on a state road – Highway 20.
Once in the U.S., the SIAs wait for pick-up in the area's sand hills just across Highway 20. JW has also
reported
that Mexican smugglers are moving ISIS operatives through the desert and across the U.S.-Mexico border with tremendous ease.
Read more
http://www.judicialwatch.org/blog/2015/08/chart-lists-terrorists-in-u-s-due-to-lax-immigration-policies/
*********************************************************************