©
http://ottersandsciencenews.blogspot.ca/
.
Unauthorized duplication of this blog's material is
prohibited.
Excerpts and links may be used, provided that full credit and link is given to Otters and Science News Blogspot.
Link to this post:
http://ottersandsciencenews.blogspot.ca/2015/05/derailed-philadelphia-to-nyc-amtrak.html
- Thank you for visiting my blog.
~~~~~~~~~~~~~~~~~~~~~~~~~~~~~~~~~~~~~~
Amtrak derailment that killed at least seven as it emerges train was traveling at 100 mph on a dangerous curve in a 50 mph zone
Train engineer
Brandon Bostian
Train engineer Brandon Bostian refuses to talk to police.
graduated from the University of Missouri-Columbia in 2006
with a degree in business management and administration.
He now lives in Queens, New York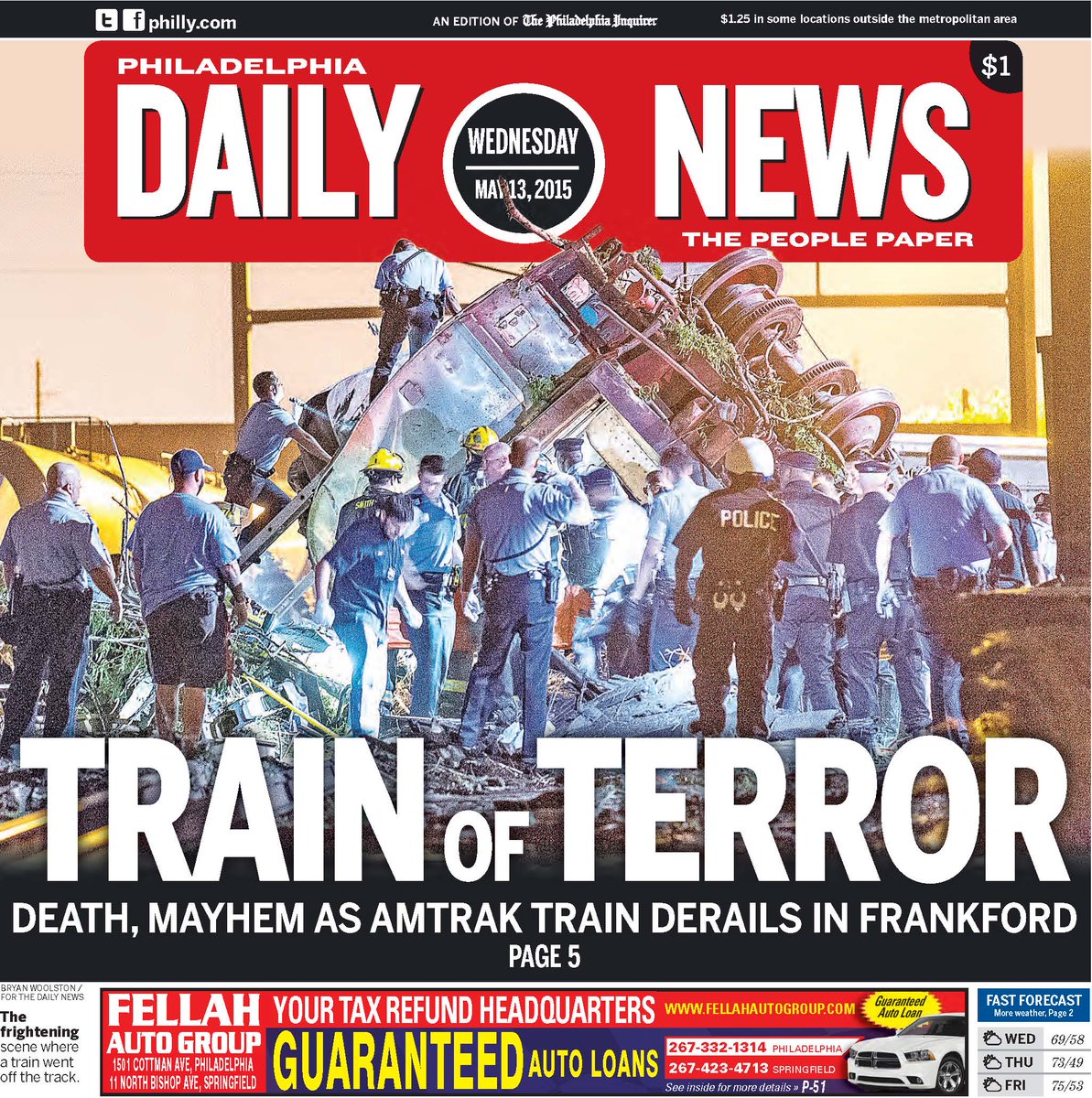 Continue reading and see more images
CBS - SEPTA Says Commuter Train Hit By Projectile
Before Amtrak Train Derailed
PHILADELPHIA (CBS/AP) – A Philadelphia commuter train was hit by a projectile about 20 minutes before an Amtrak train derailed a few miles up the track.
A spokeswoman for the Southeastern Pennsylvania Transportation Authority says there's no indication that the incident is related to the derailment.
SEPTA spokeswoman Jerri Williams says they don't know what the projectile was. It broke the engineer's window around 9:25 p.m. Tuesday near SEPTA's North Philadelphia station. No injuries were reported.
Williams says the Trenton-bound commuter train was stopped and the incident was being investigated when the Amtrak derailment happened about 3½ miles away.
Source
http://philadelphia.cbslocal.com/2015/05/13/septa-says-commuter-train-hit-by-projectile-just-before-amtrak-train-derailed/
~~~~~~~~~~~~~~~~~~~~~~
Daily Mail:
Seven cars from Train 188 derailed near Philadelphia just after 9pm on Tuesday as it traveled from Washington D.C. with more than 240 people on board
Seven people have died, eight are in critical condition and more than 200 received medical treatment
The train's engineer was injured and has declined to give a statement to investigators
On Wednesday morning, investigators from the Transportation Safety Board and the Federal Railroad Administration started arriving at the scene and have taken away the train's 'black box' for analysis
Tragic: An incredible aerial photo shows how the front car of the train (seen bottom, center) careened off the tracks while the second car apparently detached and was destroyed. The wreckage from this second car can be seen beside the tracks, right
The Wall Street Journal reported that Northeast Regional Train 188 was zipping toward New York at more than 100 mph when the engine and its seven passenger cars skidded off the rails.
Authorities confirmed they were still trying to locate an unspecified number of the 238 passengers and five crew members traveling from Philadelphia to Penn Station in Manhattan.
Reports and photos from:
http://www.dailymail.co.uk/news/article-3079313/Amtrak-train-derails-killing-7-people-investigation-begins.html
http://www.nydailynews.com/news/national/derailed-amtrak-train-traveling-100-mph-article-1.2220766
http://www.nydailynews.com/news/amtrak-train-derails-gallery-1.2220132
Gateway Pundit Flashback of FBI warnings of train derailment threats
http://www.thegatewaypundit.com/2015/05/flashback-fbi-warns-of-train-derailment-threat/
Amtrak crash survivors recall horror of Philadelphia derailment
http://www.nydailynews.com/news/national/amtrak-passengers-recall-horror-philadelphia-crash-article-1.2220377
Another train hit by a projectile before the Philadelphia-NYC derailment
http://philadelphia.cbslocal.com/2015/05/13/septa-says-commuter-train-hit-by-projectile-just-before-amtrak-train-derailed/
DRUDGE REPORT'S HEADLINES
Train cars ripped apart...
'Disastrous mess'...
Passengers 'Didn't Care About Anyone Else, Stepping Over People'...
'Dozens' Remain Unaccounted For...
Horror video from inside...
Commuter Train Hit By Projectile Just Before AMTRAK Crash...
FLASHBACK: FBI Warns of Train Derailment Threat...
2013 MUSLIM TERROR PLOT AGAINST CANADIAN VIA RAIL
One was a Palestinian, the other a Tunisian, both living in Canada
Two men accused of planning a terrorist attack on a passenger train travelling between Canada and the U.S. were motivated by Islamic extremism and spent months plotting to murder as many people as they could, their trial heard on Monday.
Raed Jaser and Chiheb Esseghaier both face multiple charges in the alleged Via Rail plot. Not-guilty pleas have been entered for both of them.
Read more
**************************************************************************