©
http://ottersandsciencenews.blogspot.ca/
.
Unauthorized duplication of this blog's material is
prohibited.
Excerpts and links may be used, provided that full credit and link is given to Otters and Science News Blogspot.
Link to this post:
http://ottersandsciencenews.blogspot.ca/2015/01/the-pegida-anti-islamization-movement.html
- Thank you for visiting my blog
~~~~~~~~~~~~~~~~~~~~~~~~~~~~~~~~~~~~~~~~~~~~~~~~~~~~~~~~~~~~
Wrapped under the banner of multiculturalism and anti-fascism there is actually a surge of violent intolerance against the rights to free speech and free assembly of anyone opposing the Islamization of Europe.
In fact, embedded within the "anti-racist" movement there is a pro-Islamization agenda prompted by the growing Muslim population of Germany and Europe, and their allies on the Left.
The government of Angela Merkel appears to be colluding with this agenda with its repeated attempts to ban anti-Islamization marches by branding them as "racist," although there is no evidence so far that they are being motivated by racism.
Merkel and German Muslim leader
Having failed at banning them under the excuse of their being racist, the government banned a march a week ago based on vague allusions to death "threats" against one of PEGIDA organizers.
But neither the government nor the left-Muslim alliance can stop the increasing unease that Europeans feel at the negative consequences of Muslim immigration.
Merkel has openly supported a German-Muslim organization linked to the Muslim Brotherhood, and has officially attended at least one of its rallies.
As this blog stated already, if these so-far peaceful and non-racist demonstrations of discontent are stifled, the people will turn to the extreme right to protect whatever is left of European culture in their countries. And the right will have no qualms at using whatever methods they find most effective.
"

Mrs Merkel, this is the people

"
By stubbornly ignoring the public outcry against the Islamization of the West and by denying the role of Islam in terror attacks, our leaders, media, and elites will help empower the extreme right and unleash disaster.
The following article by Oliver Lane is a first-hand account, and therefore limited in its scope. There is, however, much more that the media is hiding so as not to alarm the people about the nefarious effects of Muslim immigration to the West. For more information please access the links provided as reference further on.
~~~~~~~~~~~~~~~~~~~~~~~~~~~~~
What the mainstream media does not want you to know
about the anti-Islamization marches
LEIPZIG, Germany – Wednesday night saw a flare of violence and an accompanying police operation on a scale without precedent in recent German history.
A group opposing militant Islam in Europe has called a demonstration, the city is deafened by political slogans played over loudspeakers, property is vandalised, and explosives are thrown at police in colossal running battles that involve thousands of people.
LEGIDA, the city of Leipzig's own PEGIDA organization.
PEGIDA stands for Patriotische Europäer Gegen die Islamisierung des Abendlandes" or "

Patriotic Europeans Against the Islamization of the West

,"
Associated demonstrations have sprung up in several cities around Germany -
"Kagida" in Kassel, "Wügida" in Würzburg, "Bogida" in Bonn, and "Dügida" in Düsseldorf.
How the biased media picks, distorts, sensationalizes, and outright lies about what they want you to read.
The case of a "racist" murder that was actually perpetrated by another black immigrant and out of criminal motives.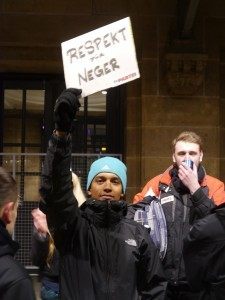 "Respect for Negroes"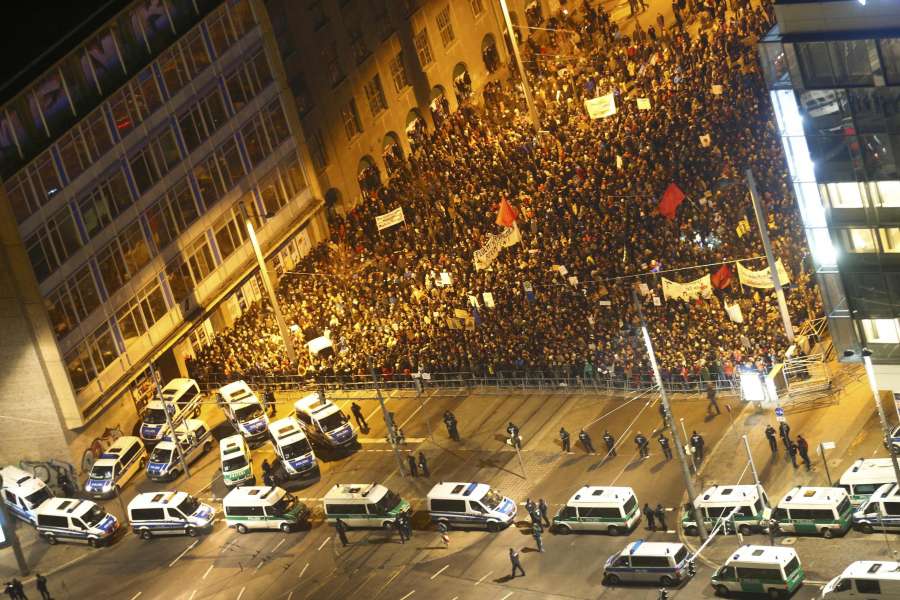 Anti-PEGIDA protesters held behind police barrier
Bringing terror and murder to European Jews
Regular Muslim riots in Sweden

No, Mr. President, Islamics are the real Islam -
Their behavior is based on the Koran and the Hadith.
http://ottersandsciencenews.blogspot.ca/2014/08/no-mr-president-islamics-are-real-islam.html
Six times the White House said its job is to promote Islam
http://ottersandsciencenews.blogspot.ca/2015/01/six-times-white-house-said-its-job-is.html
Professor of Middle East studies says

there is no religious difference between ISIS and Saudi Arabia. They both govern based on the same religious texts. The difference is only one of degrees in the application of religious texts.
http://ottersandsciencenews.blogspot.ca/2015/01/no-religious-difference-between-isis.html
Islam and the Koran
Verses of violence on the Koran
Example:
Quran (8:12)
- "I will cast terror into the hearts of those who disbelieve. Therefore strike off their heads and strike off every fingertip of them" No reasonable person would interpret this to mean a spiritual struggle.
Read more
http://www.thereligionofpeace.com/Quran/023-violence.htm
More on Islam
The Myths of Islam
http://www.thereligionofpeace.com/Pages/Myths-of-Islam.htm
Islam's history
http://www.thereligionofpeace.com/Pages/History.htm
Islam not a religion of peace - ten reasons
http://www.thereligionofpeace.com/Pages/Top-10-Reasons.htm
Koran as hate speech
http://www.thereligionofpeace.com/Pages/Quran-Hate.htm
Islam

terror and genocide through the centuries
http://www.islam-watch.org/MA_Khan/IncessantTerrorism.htm
Daily news from the world of Islam
http://www.thereligionofpeace.com/
~~~~~~~~~~~~~~~~~~~
More Islam-related articles on this blog
http://ottersandsciencenews.blogspot.ca/search/label/Ideologies%20-%20Religions%20-%20Cults%20-%20Islam